12 Best printing fabric process of garments
12 Best printing fabric process of garments for you in this article.The printing process is the process of printing patterns on fabrics with dyes or pigments. Is one of the essential technology in the field of fashion design, printing fabric is rich in artistic products, according to the design of patterns to choose corresponding printing process, so the following printing process you need to know.
Here below are 12 best printings we are doing:
Ⅰ Water printing
Water print Advantage:
This printing technique finishing with an ultra soft hand feeling, the color of slurry penetrates into the fiber, the color fastness is stronger than the offset printing;
The colors / printed are very beautiful & homogeneous on the fabric surface or interior.
Water printing disadvantage:
Light color will very hard to print on dark fabrics;
Similar to hues printed on base fabrics cannot print, or the color will change.
For example: A red fabric prints on a rosy base fabric, you will get a violet or purple color. It's may easy to make color changed while using of Multi-colors water slurry printing.
Water printings are use more & easier to do for people; For stock fabric, you can buy a very small quantity you want, but it has a minimum order quantity 1500 meters for YOUR new pattern.
We're good at doing this, any of your pattern we can do for you.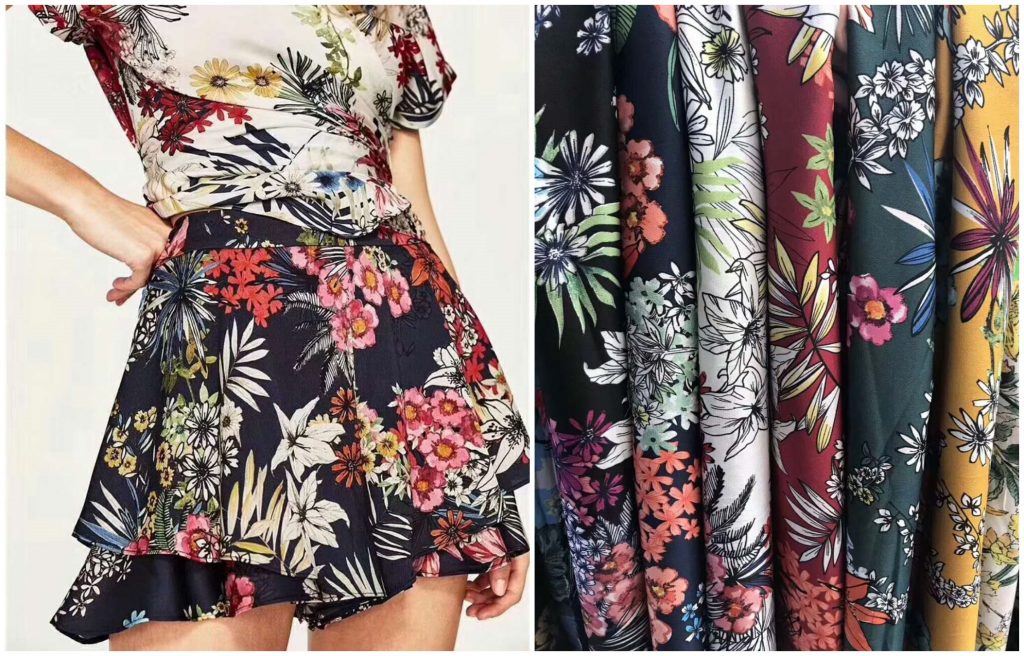 ▲Pic' of Floral pattern we did for our customer.
Ⅱ Digital print
Production process of digital printing:
Use digitization process, to scan the photos / images upload to the computer, after dealing with the dividing color printing system, use a dedicated RIP software operation to dye all different kinds of printing on the fabric directly , to get high precision printing on base fabric.
Digital printing Advantage:
Accept very Small order quantity, production time very short;
Accept any pattern Design, Color;
Very easy to make sample of pattern, and very quickly;
Factories are willing to accept various kinds of orders or small order;
Without slurry printing, so no environment pollution, no noise pollution.
Digital printing disadvantage:
Machine & equipment cost high,
Printing & Original material – ink cost high, cause the finished products very high;
Print can only be printed on the surface of the base fabric, and the effectiveness is not good as water printing.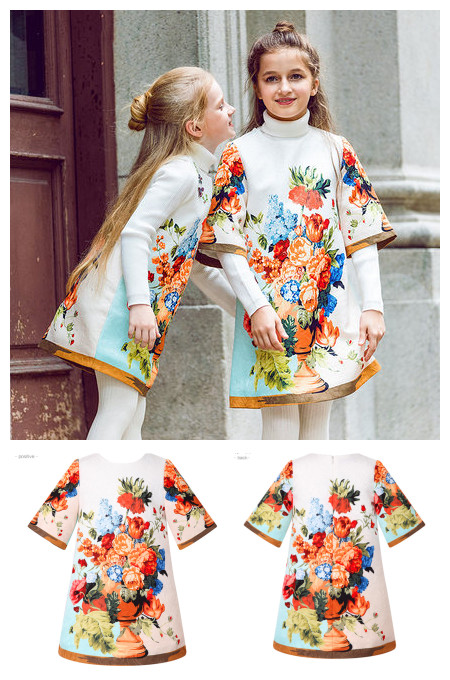 ▲Pic' of Digital printing on clothing.
III. Tropical Printing
Make the pigment printed on paper and transfer into printing paper first, then use high heat transfer color (on the back of paper using high pressure & heating) to the base fabric. Generally this printing technique make on chemical fiber fabrics.
Tropical Printing Advantage & characteristic:
The printing will be very bright & brilliant
Pattern is clear, vivid and strong artistic
Simple printing technique, easy to make & production
Easy operate and very fashion on market
Makes the garments look more high grade.
Tropical Printing disadvantage:
This Tropical Printing technique can only use on synthetic fibre;
Machine & equipment cost high, so makes the fabric finishing cost higher.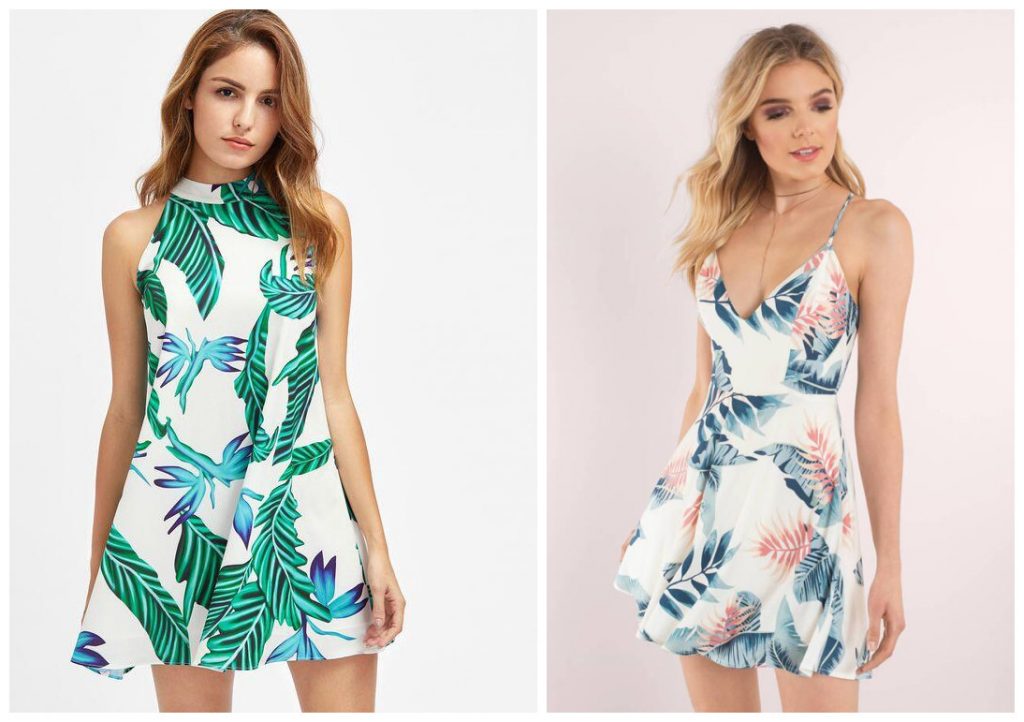 ▲Pic' of Tropical Printing on garments
Ⅳ Flocking printing
 Flocking printing is a kind of solid printing process.
Theoretical speaking, it is use high-strength with professional & special chemical solvent, to print your pattern / material on the base fabric;
Than Let the fibrous villus 'HIT' vertically and evenly to the adhesive by the supper static & high-voltage electrical field. Make the surface of the fabric full covered with villus.
Flocking Printing Advantage & characteristic:
Rich in stereoscopic feeling;
Color will be brilliant & vivid;
Soft hand feeling
Anti – Scratch, villus not easy to drop off
Can use on cotton, silk, leather, nylon cloth, PVC, denim etc..
Flocking Printing disadvantage:
This printing technique not easy to control;
Machine & equipment cost high, so makes the fabric finishing cost higher;
The villus sometimes will drop off after times of washing.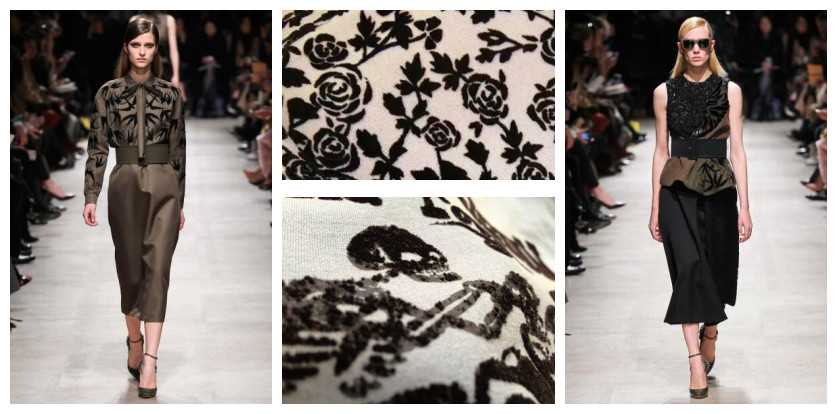 Ⅴ Discharge printing
The Discharge Printing process refers to the process of removing the original white or colored decorative pattern on the dyed fabric.
The Discharge Printing characteristic:
Is to be able to print more detailed pattern on the base fabric, the finishing printing is colorful & very clear;
Advantage:
Soft hand feeling;
The finishing printing is colorful & very clear;
Usually apply on high grade fashion
Disadvantage:
The process is complicated, color very hard to control;
the printing defect is not easy to check out in time,
Bad smell on the beginning of finishing fabric and not easy to wash off;
The machine / equipment is very large and high cost;
The fabric finishing cost very high.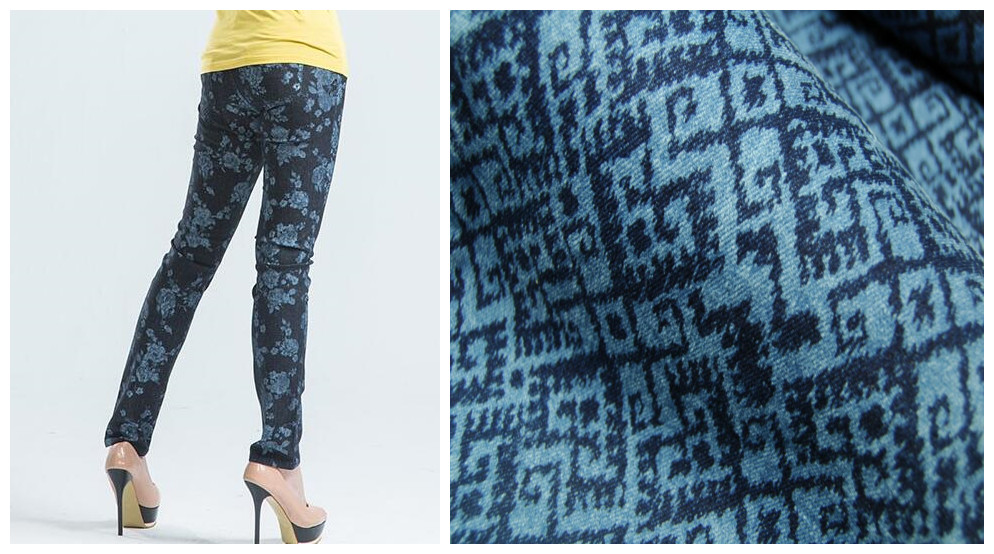 ▲ Pic' of Discharge Printing on garments
Ⅵ Rubber printing
Rubber printing, sometimes people also called Gel printing.
It's a process of printing on base fabrics directly with rubber cement.
Characteristic & advantage:
Rubber printing is applicative on many usual fabric.
Can make many different colors together;
Easy to handle, price is not high
It can achieve different & special color vision that after professional blending.
Adding different kinds of shining powder such as pearl / aluminum or other metal powder to achieve special visual effects.
Good quality base fabric can make very good fastness of pattern & not easy to drop off.
Disadvantage:
The hand feeling will be a little hard;
When meeting heat, easy to stick itself;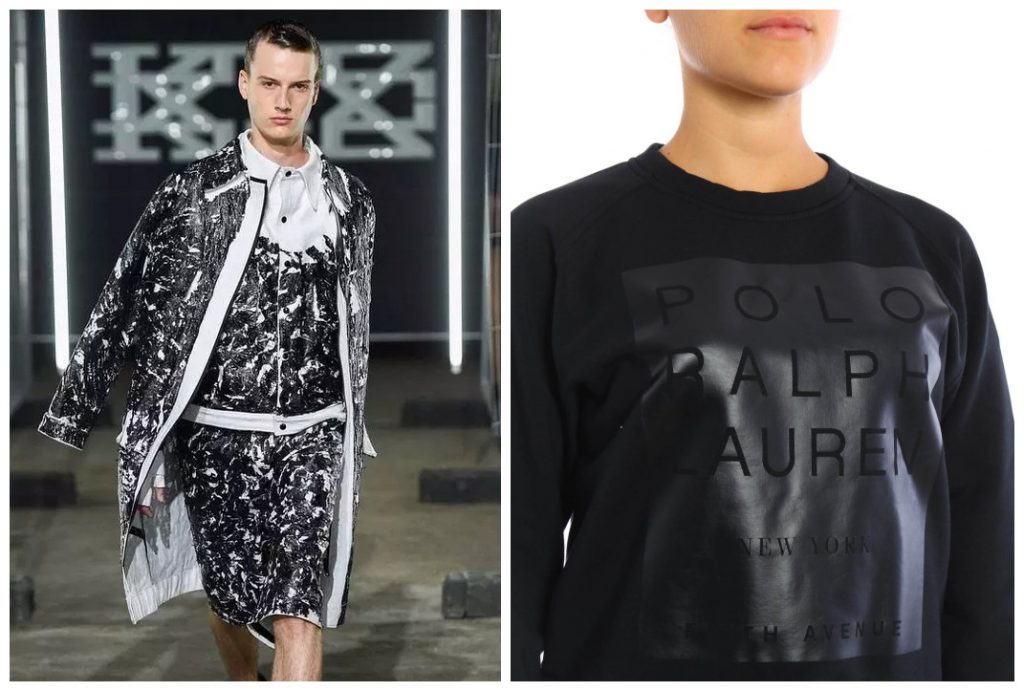 ▲ Pic' of Rubber Printing on garments
Ⅶ Crack Printing
Crack Printing process & characteristic:
Is similar to Rubber printing, to put two different layers of special slurry on the garment step by step, after the crackle come out, then use HTHP (high temperature & high pressure) to make sure the fastness.
How much the crack & the size of the crack printing, can be controlled by the proportion of the intermatch and the thickness of slurry.
Crack printing advantage:
Rubber printing is applied on most usual fabric;
Soft hand feeling, not easy to stick itself while meeting heat;
Durable and Washable;
Strong fastness.
Crack printing Disadvantage:
Difficult to control the size & the thinness of the crackle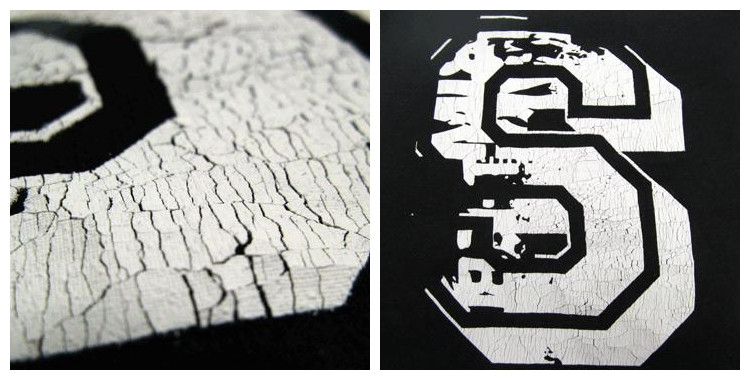 ▲ Pic' of Crack Printing on garments
Ⅷ Foaming printing
Foaming printing is also called the stereoscopic printing, is on the basis of the rubber paste printing process and the principle of it is to be in a certain proportion adding several kinds of mucilage printing dye chemicals, high expansion coefficient of the printing after drying with 200-300 degrees high-temperature foaming, is similar to "relief" stereo effectiveness.
The biggest advantage is the stereo feeling is very strong, the printing surface is prominent, expands.Widely used in cotton, nylon cloth, and other materials.
Foaming printing advantage:
Strong stereo visual feeling, is similar to artificial embroidery;
Soft hand feeling;
Durable to wear & washable;
Elastic, not easy to crack;
Use on many different kinds of fabric.
Crack printing Disadvantage:
Hard to control the thinness of slurry
Hard to control the fastness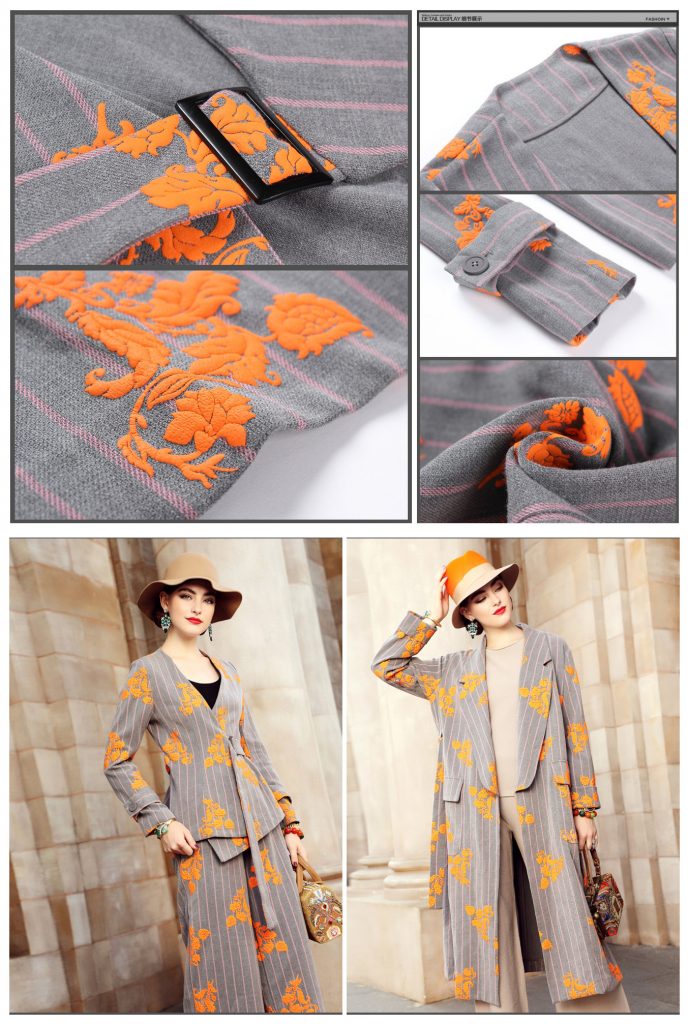 ▲ Pic' of Foaming Printing on garments
Ⅸ Ink Printing
Characteristic of Ink Printing:
The process of Ink Printing is similar to Water / Rubber Printing, mainly use on coast, nylon, leather, down fabric and so on.
The advantage of Ink Printing:
bright color and exquisite;
Strong fastness;
Flexible & soft hand feeling
Image clear, allow multi-color combined
The disadvantage of Ink Printing:
Bad smell during production the fabric
Not suitable for rough fabric.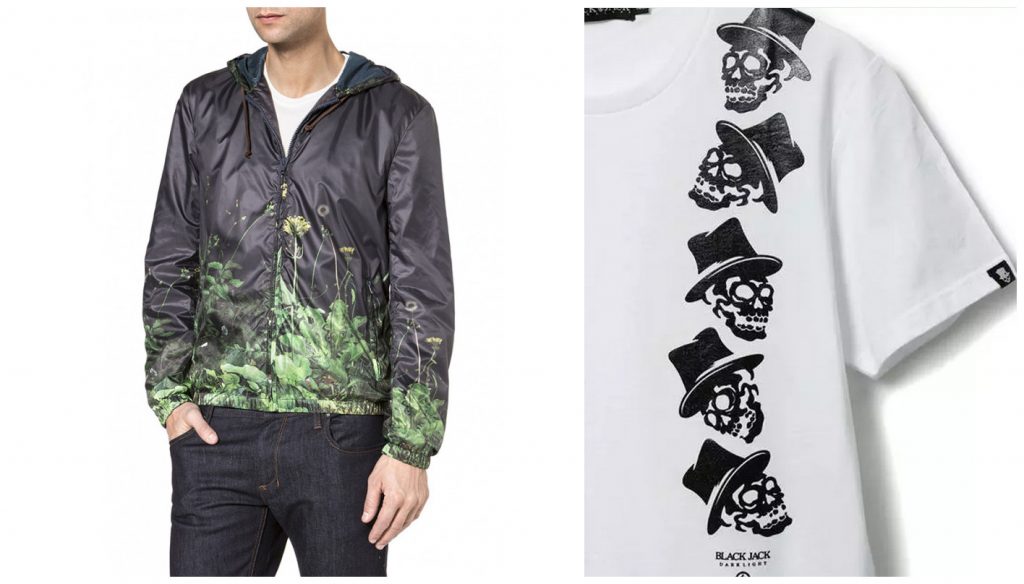 ▲ Pic' of Ink Printing on garments
Ⅹ Hot Stamping printing
Characteristic of Hot stamping printing
Use special material of gilding pulp, then transfer to the garments, to get the new of metal texture printing on the garments.
This printing finishing with a very exquisite effectiveness and durable.
The advantage of Hot stamping printing:
Show high grade of garments;
Shining & pattern clear
The disadvantage of Hot stamping printing:
The gilding pulp is instability at present;
Not durable & washable;
Small quantity not easy to make;
This printing technique needs good experience worker operated.

▲ Pic' of Hot Stamping printing on garments
ⅩⅠ High-Density printing
High-Density print is on the basis of Rubber printing, it's like repeatedly printed lots of rubber cement layers, it can achieve a very neat stereo effect.
But it needs higher requirement on this technique of printing, so the general printing small factory without a good machine, will hard to do it.
We can say it is the currently fashionable global printing technique!
People use more on sportswear, and use a pattern such as numeral, letter, geometric pattern, the line on the designs.
Also, some people use floral pattern on winter style & thinner fabric.
▲ Pic' of High-Density printing on garments
ⅩⅡ Fluorescent print
Fluorescent printing is a new kind of special printing technique.
The principle is that:
Use a special process & materials blend into the base fabrics, by absorbing all kinds of visible light to achieve the light-emitting functions automatically.
The kind of combination of others fabric / printing it has:
Fluorescent pigment printing process,
Fluorescent coating & common printing;
Fluorescent coating and common direct printing reactive dyes;
Combined with Reactive dyes printing,
Combined with Phthalocyanine resist printing.
Etc..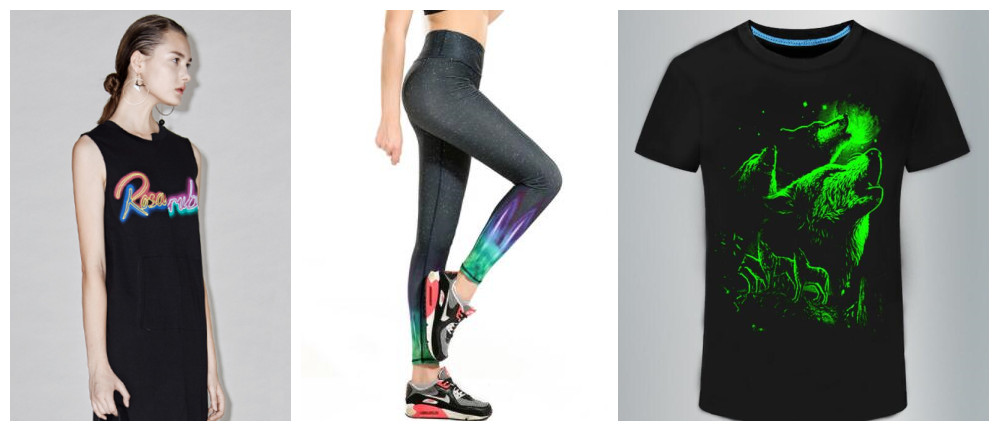 More details about us, pls check on our website below:
Contact: Jessica Liu
Email:  dc@cndc.co
Tel:  +86 (020)36012286
Mobile/ WhatsApp: +86 13428886594