How to find a good factory/manufacturer?This is one of the biggest challenges for all companies or person
In this article, you can find answers to these following questions:
Where you can find the right clothing & garment manufacturer in China?
The important factors in choosing a clothing/textile factory
How to manage the clothing & garment developing and production
Frequently asked questions in the clothing & garments industry
Why the wholesale clothing directly from China is not feasible?
Where you can find the right clothing & garment manufacturer in China?
Fairs of the apparel industry in China or others countries
Linked in
Online B2B in China
Sourcing companies, agents or buying offices in China
Search on Google
SNS:Facebook, Twitter, Instagram…
Friends recommended to you
1) Got clothing manufactures in fashion exhibitions in China
If your budget allows you to attend the exhibition, it will be the best choice, you can find a very professional garment manufacture there.
And generally, the MOQ in the fair will be a little higher.
One of the most biggest & famous Fair is Canton Fair in Guangzhou China.
Every year it will be held twice in Spring & Autumn, you can find any kind of industry factory there. And this exhibition is free.
Here we prepare a list of details that how to attend this amazing CANTON FAIR for you:
Click this link to register the fair for free:
Here is the official website of the Canton Fair: http://www.cantonfair.org.cn/en/index.aspx

If you are the new of apparel industry, or you are the first time going to attend the Canton Fair, do you know some questions you can ask at the Canton Fair that will make you look more professional?
We have prepared a FAQ form, if you need it, please email us via dc@cndc.co
Just tell us what's your main products, we can send you for free.
Besides, there are also some others famous Fairs of the apparel industry in China:
2) Got information from Linked-in
If your budget is limited. Here will be another good choice to find a supplier on Linked in.
Just typing the keywords then can find & matching suppliers.
Learn more about us via our linked-in: https://www.linkedin.com/in/jessicaliu64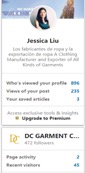 3) B2B Online plateform in China
As we all know, some online B2B platforms have been widely used for a long time. Until now, most suppliers are still using them.
Whether you are experienced or novice, these B2B online platforms are a very good choice for you.
The following platforms are currently one of the most widely used and largest platforms in China.
● Alibaba



4) Sourcing companies, agents or buying offices in China
If your budget is limited and you are not professional enough.
Then to find an agent or sourcing company will be a very good choice. They are professional, There are some well-established companies that can even provide one-stop services, from product development to delivery, saving you a lot of time.
And yes, we have such kind of company, if you want to learn more, pls contact us via dc@cndc.co
Our website below: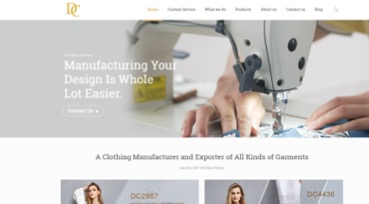 5) Searching on Google/others Search Engines
If you want to find the right manufacturer at a lower cost, you can also find suppliers through some search engines.
Simple search methods are as follows:
"keywords" + factory/manufacturer + China
"keywords" + factory/wholesale + manufacturer + China
For example:
knit factory/manufacturer in China
Jean factory/manufacturer in China
sport suit wholesale/manufacturer in China
Generally speaking, the suppliers/manufacturers searched by the above methods are experienced, and the company/factory system is relatively mature, but MOQ (minimum order quantity) will be higher and the price will be higher.
Unfortunately, there are many middle/small factories in China.
They are also very experienced and have been engaged in the garment industry for many years. However, due to the limitation of the network, they do not know how to promote themselves and can only serve for some large factories/foreign trade companies.
Only some Chinese who are familiar with the garment industry can find these experienced small factories, MOQ is OK, PRICE IS OK.

We have been in the garment industry for more than 15 years and have worked with hundreds of small factories like this.
If you need it, please let us know.
In addition, you can get to know some reliable factories in China through SNS (Facebook, Twitter, Instagram, etc.) or your friend's recommendation.
Three key points help you choose textile and garment factories faster and better
Not all fabrics or textile manufacturers produce the same quality.
If you randomly select factories online without auditing whether suppliers/factories can meet your quality requirements, it will probably to be a disaster.
Here are three main factors that really matter when choosing a garment/fabric manufacturer in China.
a) BSCI and Sedex & IntertekAudit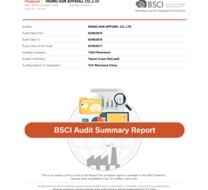 BSCI and SEDEX are the member organizations performing regular social compliance audits in factories throughout the world.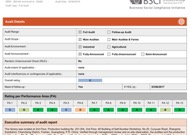 Apparel factories that already are BSCI or Sedex audited tend to be better managed than those that lack such audit reports. There are various reasons for this, but BSCI and Sedex (SMETA) audit reports are among the primary selection criteria we use when sourcing textiles factories in China, and other Asian countries.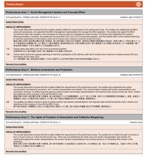 Intertek: Material control and compliance with foreign textile regulations
Clothing textiles are regulated in most countries, including the United States, Europe, and Australia. Most applicable safety standards, such as AZO-colors, and washing, formaldehyde,etc.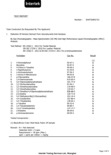 Most Chinese manufacturers, especially the smaller ones, are not strong aware of the substance contained in their textiles.
Ensuring that no non-compliant fabric slips through requires the supplier to test a large number of samples, which most small factories consider too expensive and time-consuming.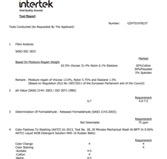 b) Fabric quality
Have you ever had the following experience? When you are in urgent need of testing your fabric at INTERTEK, fabric auditing is very slow and sometimes the first test is unsuccessful. Then you have to make the second test.
It wastes a lot of time and energy.
One strategy that we have applied is to source 2 sets of suppliers:
Fabrics supplier
Apparel manufacturer
We are near the biggest fabric market in Guangzhou China, any kind of fabric you can find here:
It can help you solve the fabric problem and send fabric directly to the garment supplier.
We make sourcing easily!
If you need help of fabric sourcing/ One-stop services, see what we can do for you:
Pls contact us by e-mail via dc@cndc.co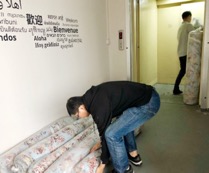 c) Textiles labeling requirements(main label ,size label, washing label, packaging label, etc)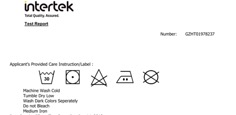 Clothing and textile regulations are not only limited to substances, but also product and packaging labeling. These labeling requirements vary greatly between different countries.
What should you do?
You need to provide the relevant design and sample of the clothing supplier. The clothing supplier can issue the draft according to your needs and print for your final confirmation.
How to manage the clothing & garment developing and production
Now that you've contact several clothing suppliers, it is time to work with them.
You will need the design drafting and sketches/patter, material selection and size specifications.
There are usually several ways to solve your design problem.
You can provide your own design: sketch, style drawing, original sample

2.You can choose the style from the clothing supplier, get the sample, and then make modifications according to your own market and brand revised.

Before you start to operate your order, you need to specify the size/specifications of your product.
These include, but are not limited to, the following:
Patterns
Fabric type (e.g. 100%polyester)
Fabric weight (e.g. 150 gsm)
Printing (e.g. water print, digital print)
Pantone colors
Seams
Textile label (design files and dimensions)
Size Spec.
Example: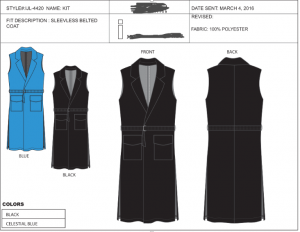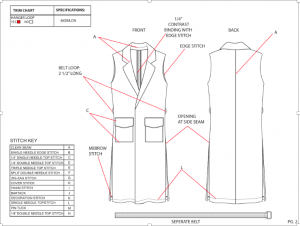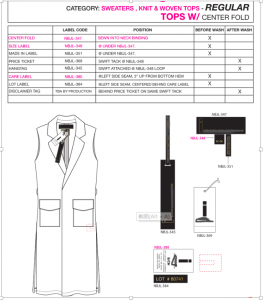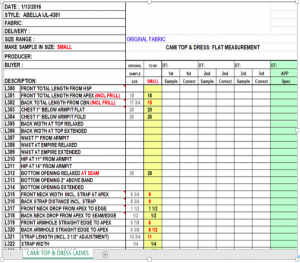 If you provide sufficient product specifications , your sample quality is better.
If do not provide detailed information can lead to misunderstanding. The sample quality maybe poor quality.
But the misunderstandings occur easier than you could possibly imagine, and there's no universal definition of what "good quality" is. Nothing should be left out of your product specification.
1)How to create your own pattern files?
Upwork.com Find a pattern maker on a freelance.
Sure, we can provide you model of pattern file .
2) clothing sample & production
You can choose 3 to 5 clothing suppliers to production you sample.
Then choose the best one you think.
3) Fabric and accessories testing
First sample to final confirmed the order and ready to bulk production , it may have been 2-3 months after.
The final all had confirmed you should need PP sample(production sample) to check and testing all the material and accessories and garment test.
The pp sample have to select from the bulk material, and it must be the final approval.
Shipping sample that must to have all set of packing finished.
Fabric and garment test report to for you ref.: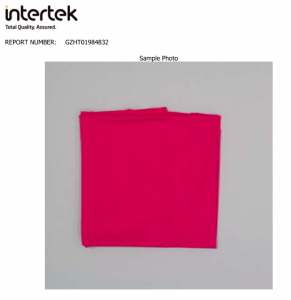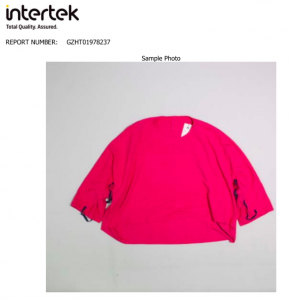 4)Sales contract
Sales contract include product specifications, design drafts, material specifications, and color samples, price, quantity, shipment date, payment terms, quality control delay & discounts, claims .etc.
You may also attach physical samples, for the supplier to sign and stamp.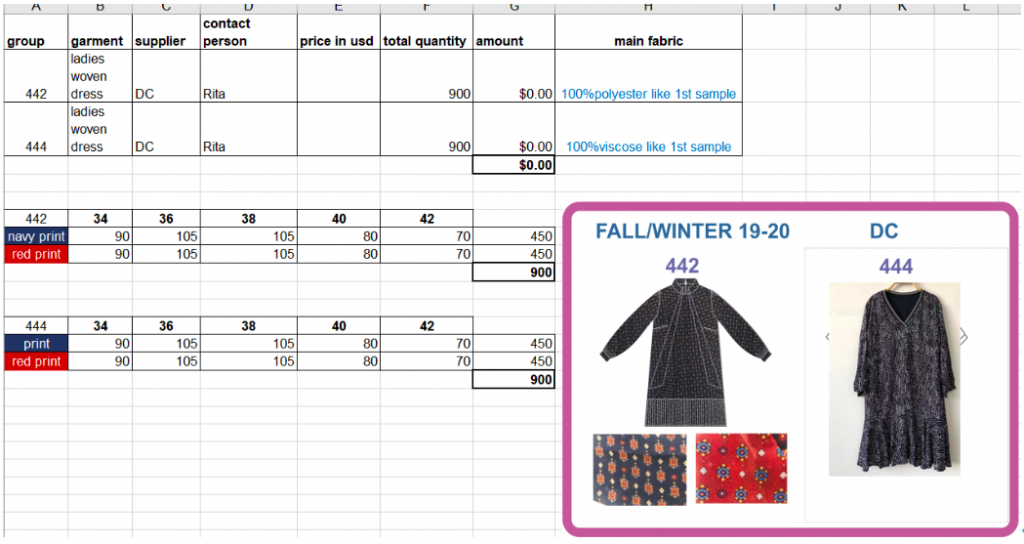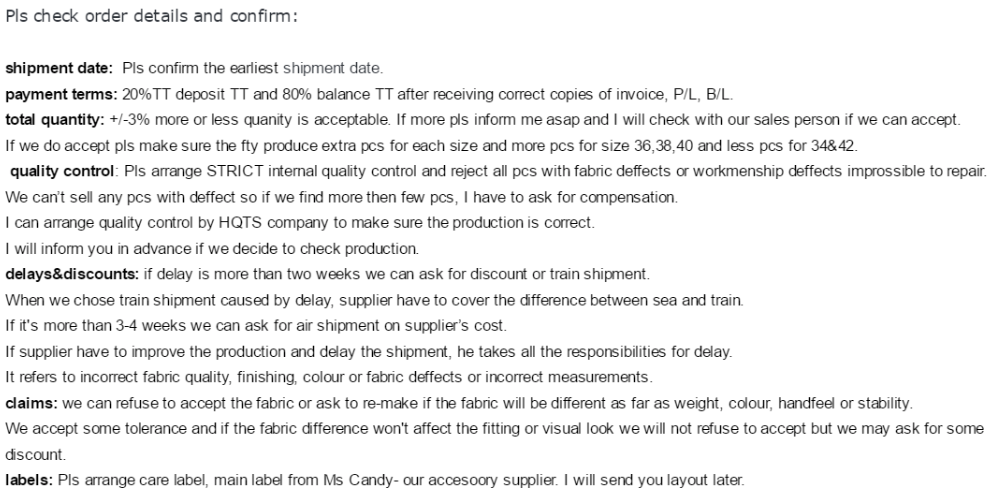 5)quality control
Quality Inspection shall be executed in the manufacturer's facility, after production –final production , but before shipment.
Poor seams (e.g. the hem not straight, loose threads)
Discoloration
Skewed embroidery
Incorrect dimensions
Loose buttons or zippers
Dust and dirt
Manufacturing is not scientific research, it can not make all products 100% exactly the same.
Quality issues are certain to occur, to a varying degree.
They can't be completely eliminated, but they can be managed and reduced to a degree that they don't affect the viability of the selling.
Forget about returning defective items to China. Low-cost manufacturing is cheap for a reason.
Instead, it's bettwe to verify your clothing reaches your quality requirements before it's packed and shipped, you can take inspection to ensure the quality:
You can inspection by your team.
Asked for the third party inspection.
Feel free to contact us, if you have further questions about finding reliable and compliant Clothing manufacturers in China.
6) Shipment
Usually clothing & garments shipping by sea. And need shipping instructions.
See the below shipping instructions. You may need them:

7)Follow up orders
The idea is that you establish a long-term with one supplier, that you can work with for future re-orders.
With a contract in place and complete tech packs, you don't need to go through the supplier vetting and product development process each time you order.
That is said, the quality assurance procedure must be repeated for each order:
Submit Tech-packs for supplier confirmation (all documents must be stamped)
Performa invoice is issued by the supplier
Pay 30% deposit
Production start
During production quality control (optional)
Pre-shipment quality control
Lab testing
Pay 70% deposit (if the quality is approved)
Shipment
As textiles are mostly shipped by sea, you need to place your orders at least 4 months before the deadline.
We said no good clothing and garment manufacturers , only suitable clothing and garment manufacturers.
Some businesses are looking for cheap clothing factories; then the price competitive clothing manufacturers is sometimes the best for them.
Others will look for quality oriented clothing manufacturers, those vendors with professional industry certificate and qualified factory management will be the best choice.
It's crucial for you to understand your business and requirement first, then you can set up a goal to approach the "good clothing manufacturers".
We can send matches list to you.
Why the wholesale clothing directly from China is not feasible?
In China there are tens of thousands of wholesalers trade items manufactured for the Chinese market. Take a look at Taobao.com (China's eBay) and see for yourself.
You can get a cheap garment. But, China is not a magic land where basic economics don't apply.
In other words, you do get what you pay for.
In fact, you might get a bit more than really want.
At least in terms of regulated substances, such as AZO-colors & Formaldehyde.
China's substance regulations are laxer than those in the west.
Thus, buying wholesale clothing from China is rarely (if ever) an option, unless you are willing to risk having your items seized by customs – or face a forced recall.
Do you want to launch your own clothing product?
It can be hard to go from a design drawing to finished product. To help you manage the entire process – from creating a specification to sampling and quality control – we created a Starter Package for clothing:
a) Clothing Manufacturer Lists
b) Product Specification Templates
c) Clothing Label Samples
d) Tutorials, Video Walkthroughs and Task Lists that guide you step-by-step through the entire process
In addition, you can also book quality inspections, lab testing and shipping directly from the platform.