Recently, we are writing some articles on various types of fashion wholesale markets in (Guangzhou)China.
We will introduce the market of functions, types, products of that market in great details and help friends how to buy the best and most affordable goods in Guangzhou wholesale markets.
Those wholesale markets we are going to introduce are as follows:
Fabric/Textile Wholesale Market
Garment wholesale market
Jewelry Wholesale Market
Leather/Luggage/Bag Wholesale Market
Electronic products wholesale market
Cosmetics Market
And others
If you are interested in those above markets, here we have different links to those articles of different market details, which will introduce each market in great details.
Medium and high-end men's/women's wear market:
Xin Da Di Fashion wholesale market(广州新大地服装城)
Guangzhou Kapok International Fashion City(Hongmian garment market 广州红棉国际服装城)
Guangzhou HuiMei Fashion City(广州汇美国际时装城)
Guangzhou UUS garment market(广州UUS服装城)
.
Click here direct to these market and learn the details:
.
Or China's largest and most comprehensive beauty/cosmetic/hairdressing product wholesale market in Guangzhou, Beauty Exchange Center (Meibo City 美博城):
.
Or you want to know may be the Mid-lower grade Men's wear/Women's wear market:
Guangzhou Thirteen-Hong garment wholesale market (广州十三行服装批发市场)
.
Or if you are interested in Mid-lower grade and cheaper garments, please click the link below to check:
Or maybe you are an old-hand in Apparel Industry, you have your own brand or service for a clothing company, maybe you are interested in the Textile/Fabric:
👇 This article can help you:
.
And today, the market we will go to is the largest Jewelry Wholesale Market in China.
Some customers familiar with the Chinese jewellery market may know that there are five famous jewellery wholesale markets in China. They are:
Guangzhou: South China International Commodity City(Xijiao Building)// Guangzhou Taikang (Jewelry)Plaza // Liwan Jewelry Wholesale Market
Yiwu: Yiwu International Wholesale Market
Qingdao: Sino-Korea International Commodities market
There are three very large jewellery markets in Guangzhou.
Today we are going to the largest jewellery market is:

Xijiao Building, also known as South China International Commodity City, is one of the most famous and largest jewellery wholesale markets in China.
.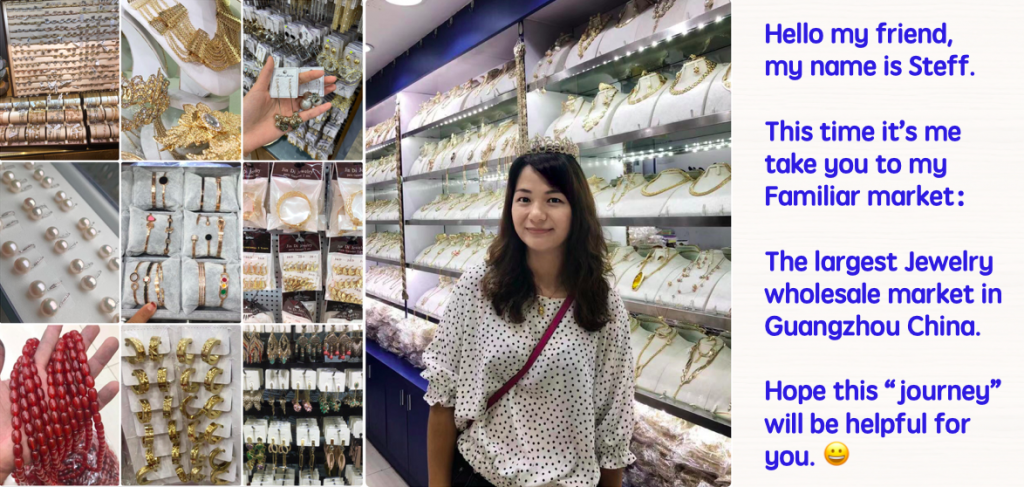 Hello, my name is Steffi.
I have been engaged in the foreign trade purchasing a business for 14 years. I am mainly responsible for the jewellery industry. Our products are exported to Southeast Asia, India, Middle East, South America, Russia, Mexico and other countries.
I am very familiar with the jewellery industry. On average, every month, I lead customers from different countries to come to know about Guangzhou's jewellery market.

Now the COVID-19 has spread all over the world and cannot come to China. Sure, contact us. We can provide you with the most professional jewellery service.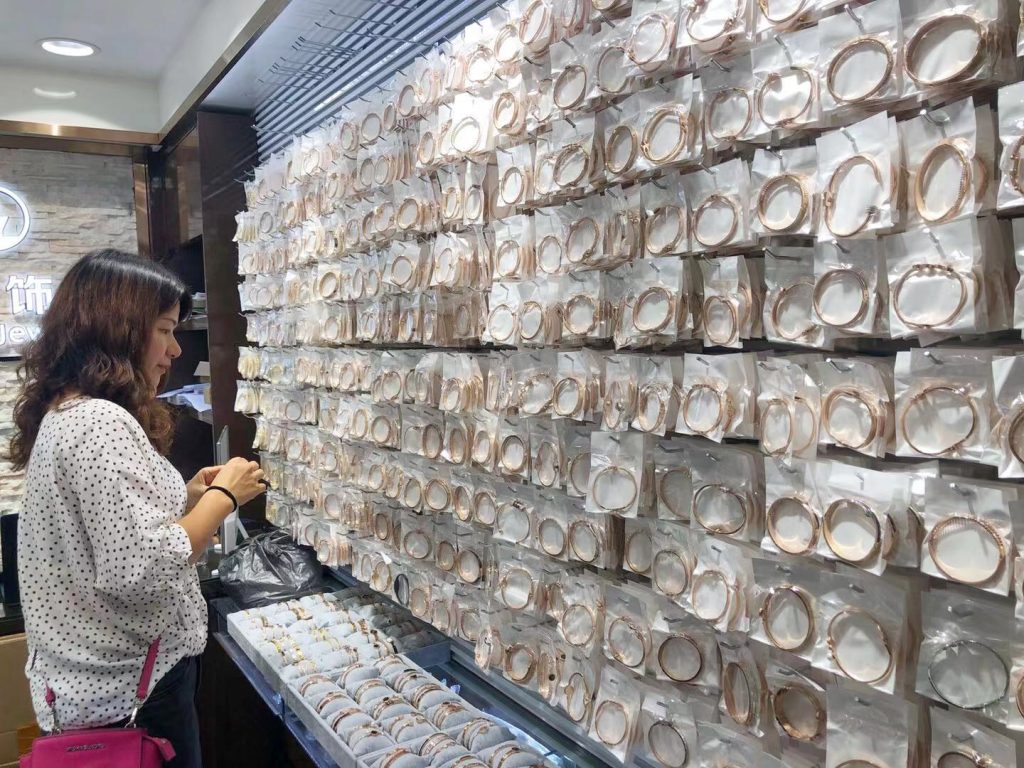 Guangzhou Xijiao Building/South China International Commodity Wholesale Market is the largest jewellery wholesale market in Guangzhou and even in China.
Address: No. 2, Zhanqian Road, Liwan District, Guangzhou (Xijiao Building)
Metro: Metro Line 2/5, Guangzhou Railway Station,
Bus: business No. 3 or 301a: Station of "Zhanqian Road" (Xijiao Building Station)
Business hours: 8:30am – 5:30pm
Yeap, if you familiar with the Guangzhou Bus station,well this is the best & close route to the Xijiao building, the station is in front of this Building, very close. 👇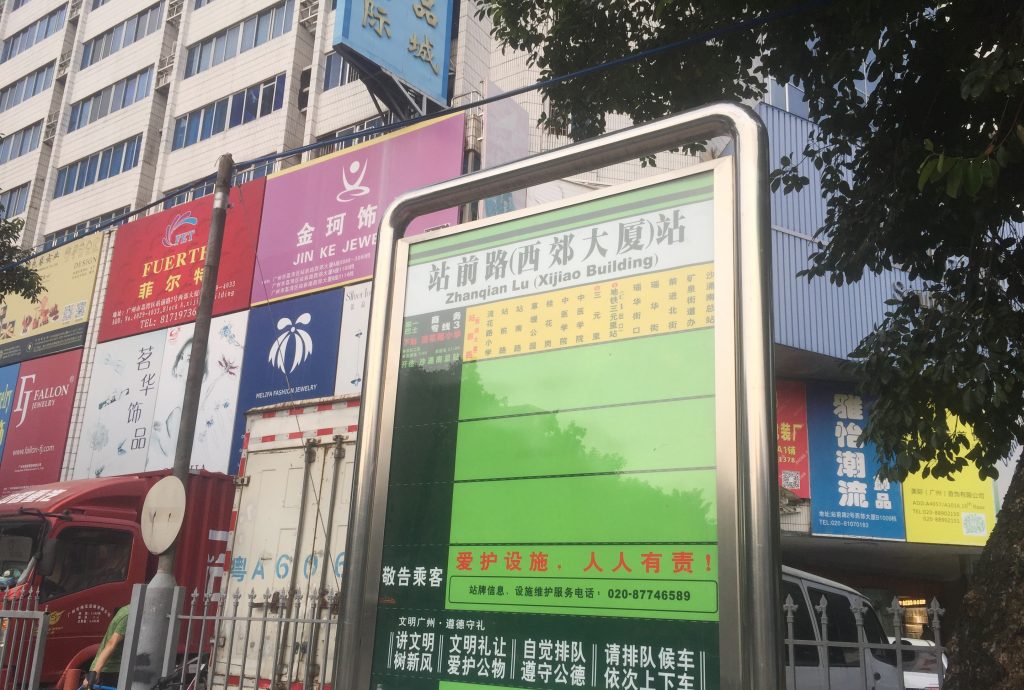 Almost all kinds of jewellery are covered and we can find them at this market. At present, there are hundreds of shops selling a different kind of jewellery on this market, such as necklaces, bracelets, earrings, pendants, bangle, etc.
The market consists of two buildings, A and B, with an area of more than 35,000 square meters and a total of more than 1,400 berths.
Since 2000, it has developed into the most famous jewellery wholesale market, which has a wide range of small commodities and a large shopping mall. It is the place where the largest number of manufacturers, suppliers, distributors, domestic and overseas buyers are gathered.
If you haven't been to the Xijiao Building. Now, please follow us: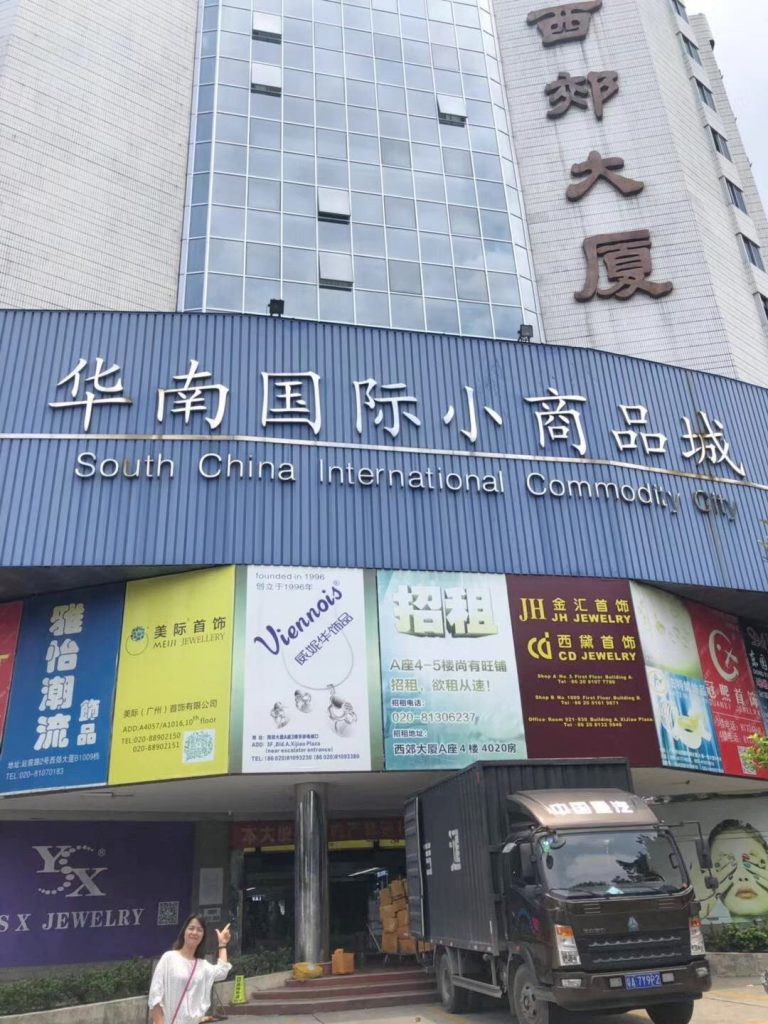 Building A:
The first floor is mainly selling copper products; These products like necklaces, bracelets, earrings, bangle, rings, pendants can be found on this floor.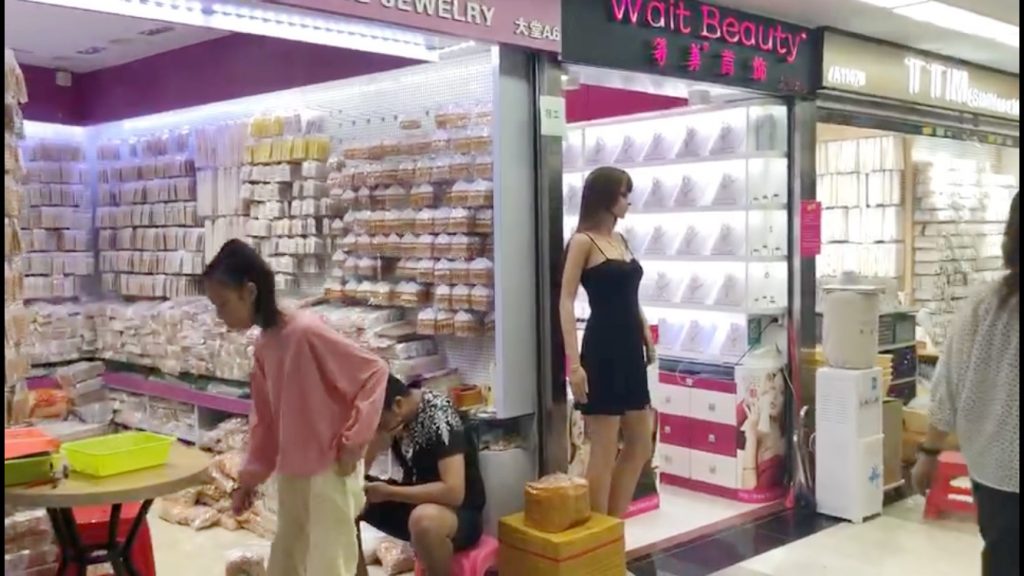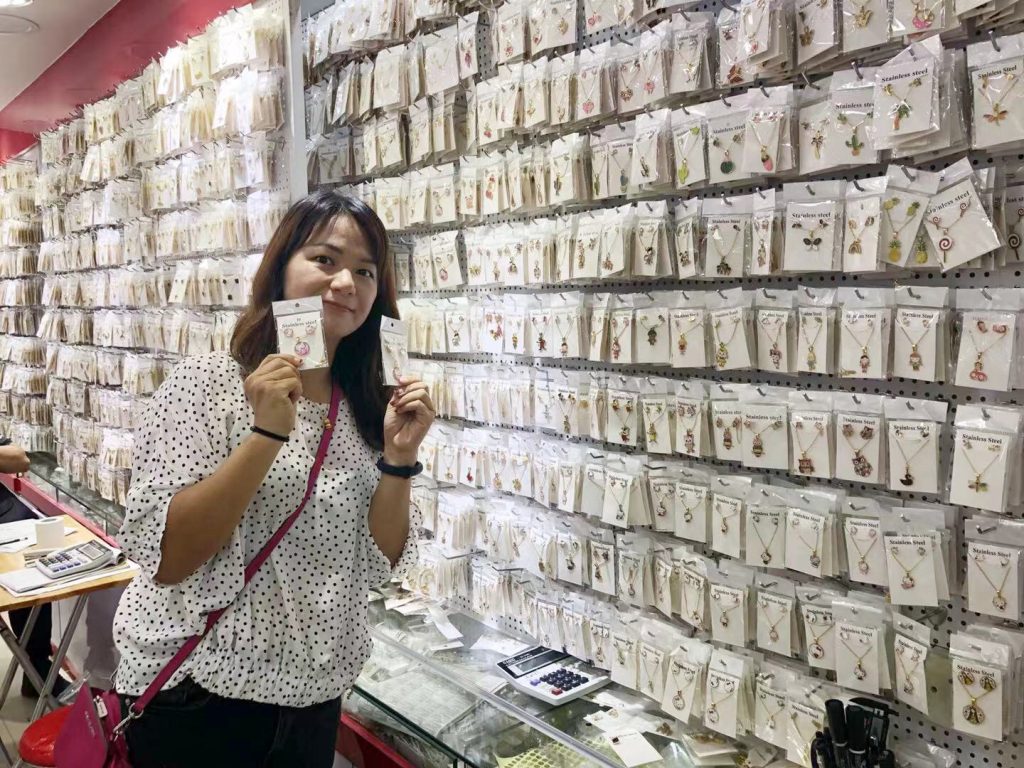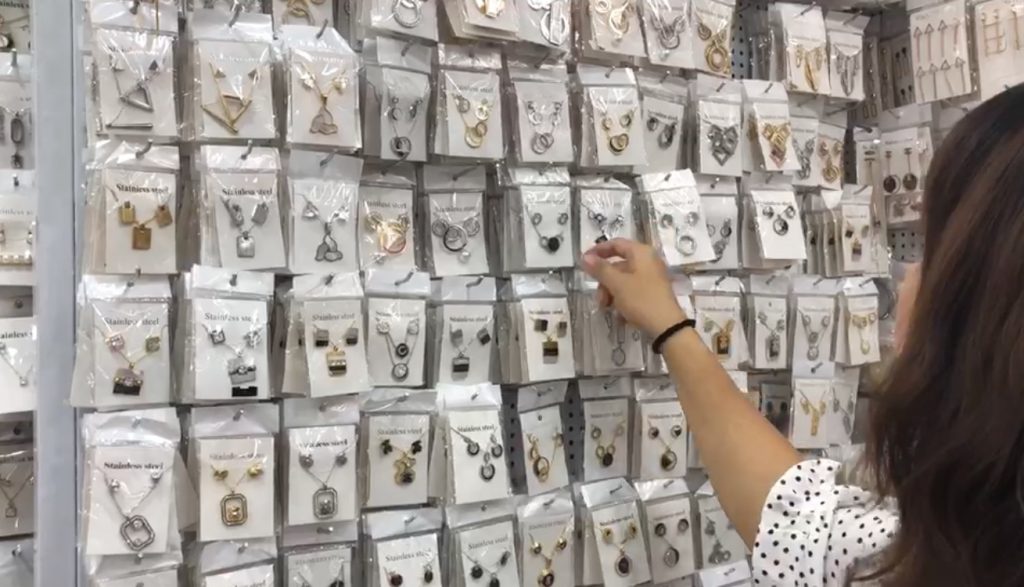 Necklace sets shop
.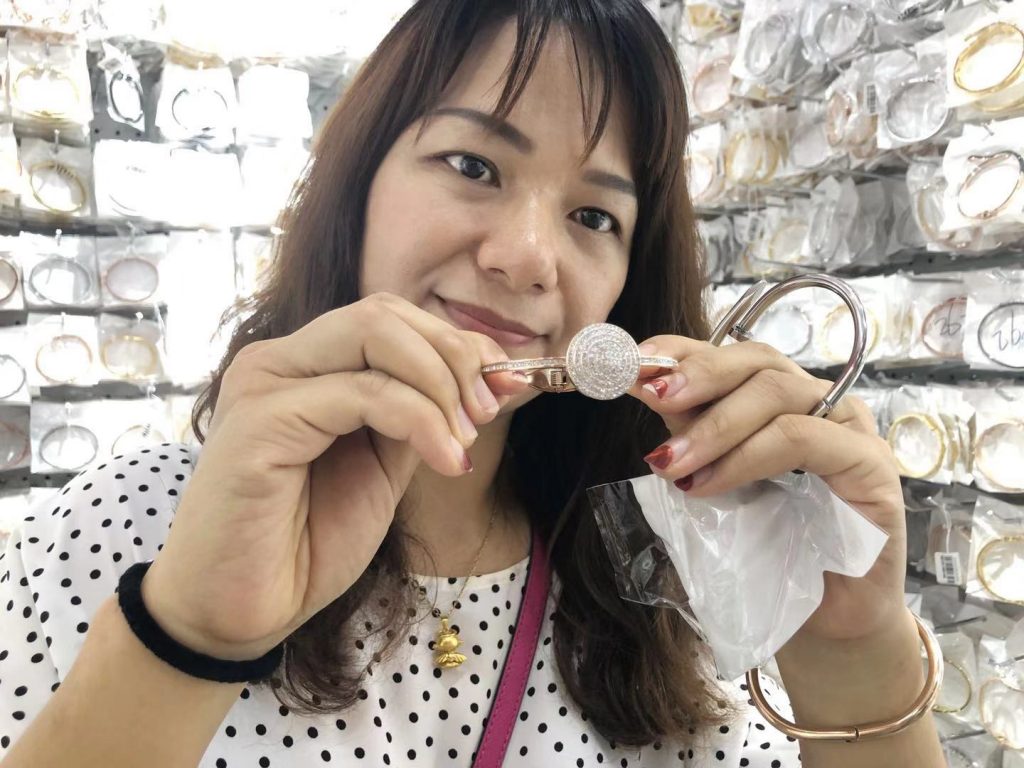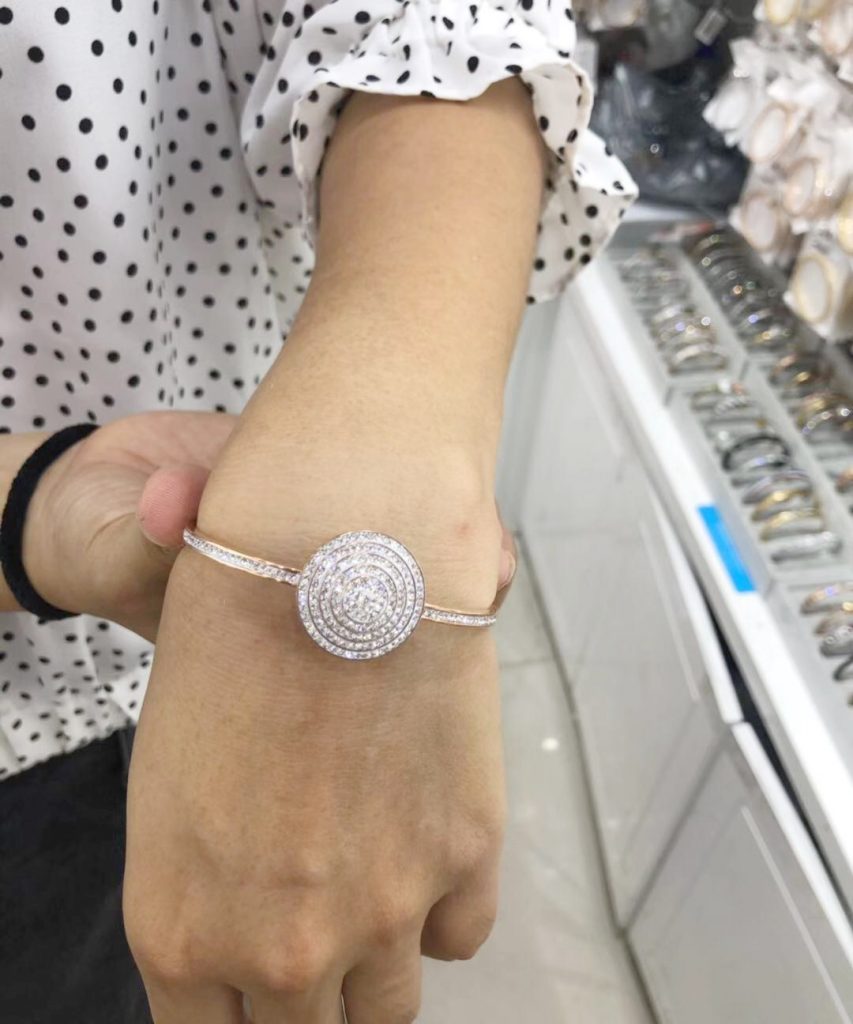 Women's Bracelet shop
.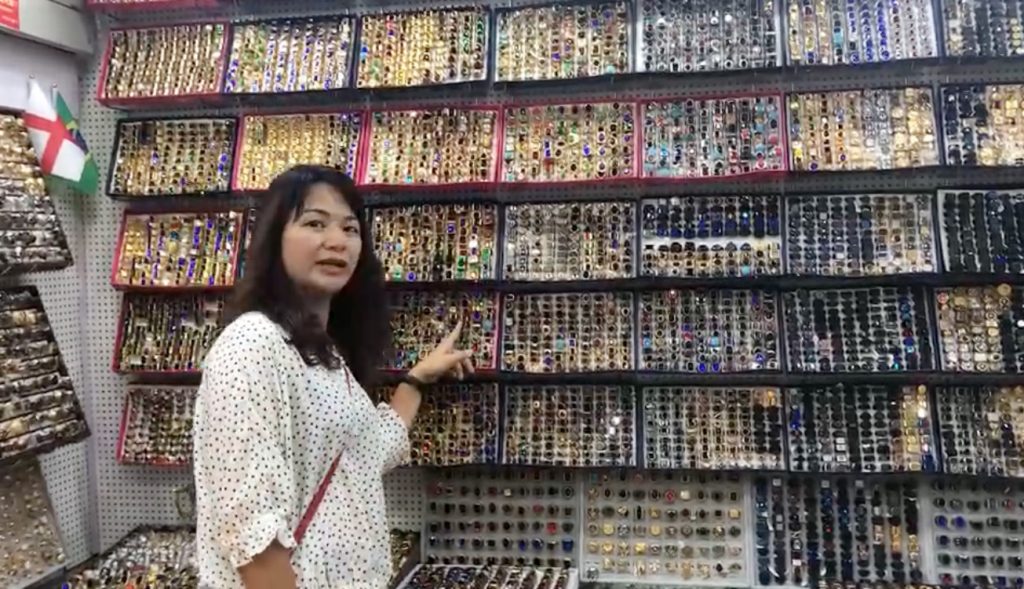 Shop of Rings for man
.
The environment here is very good, clean and tidy; as soon as we enter the gate, we can see rows of shops, one by one, forming like No.#1 street, No.#2 street, No.#3 street, etc.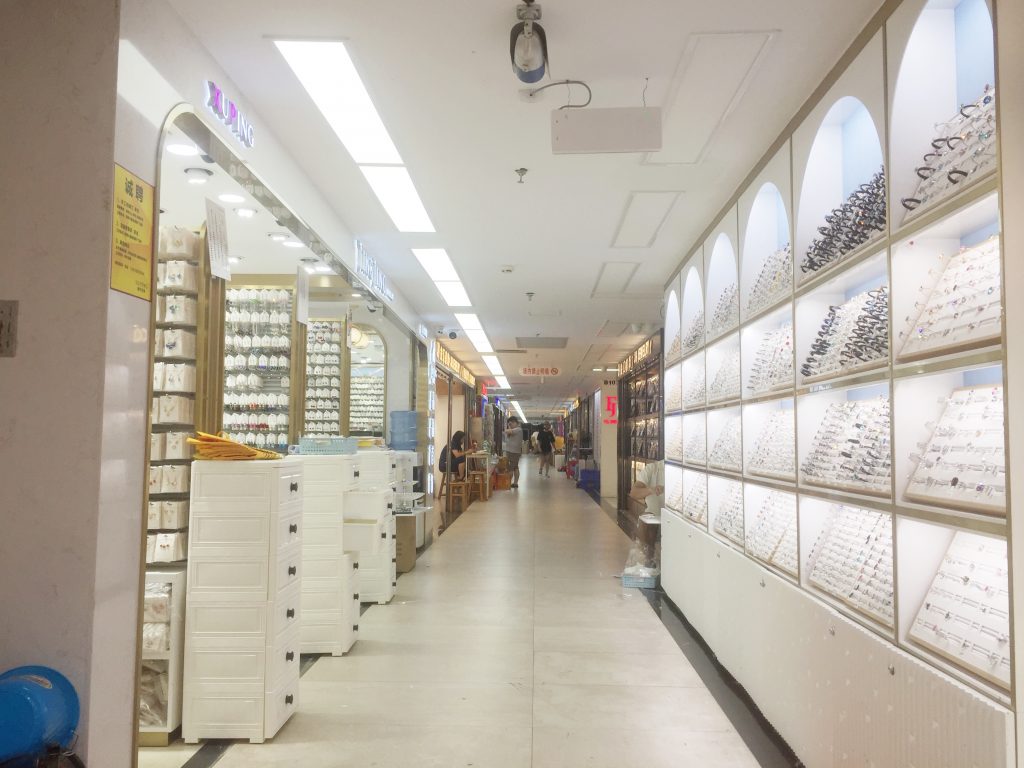 Those shops are in different size, which is also related to the size of their brand, where you will feel like walking on the Canton Fair, which is like a smaller or bigger booth in the exhibition hall.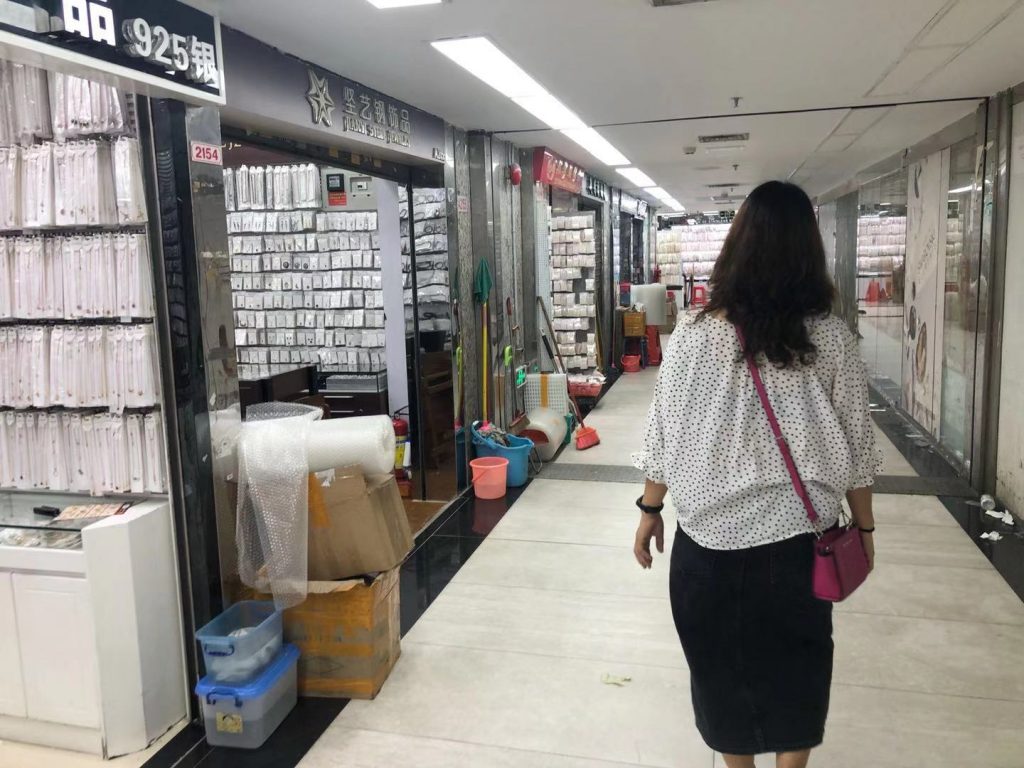 This floor is selling more than 925 silver jewellery products.
.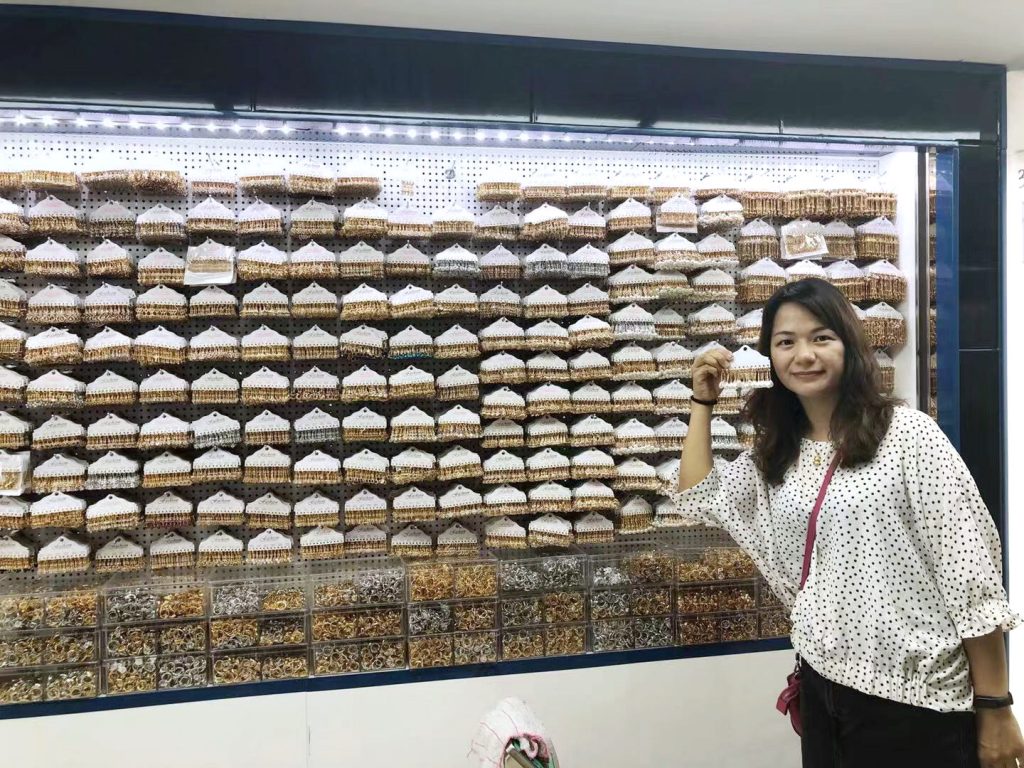 Earrings shop
.
Of course, the rent of shops here is also super expensive, those shops are relatively large, which can show that his company has strong financial resources, the general shop is relatively large, and they do a variety of products, also the business almost doing better as well, the stores bigger then it is more attractive, so the customer coming.
Second floor:
This floor sells more stainless steel jewellery, mainly bracelets, necklace and ring type of shops, and some tungsten steel jewellery, ceramic jewellery.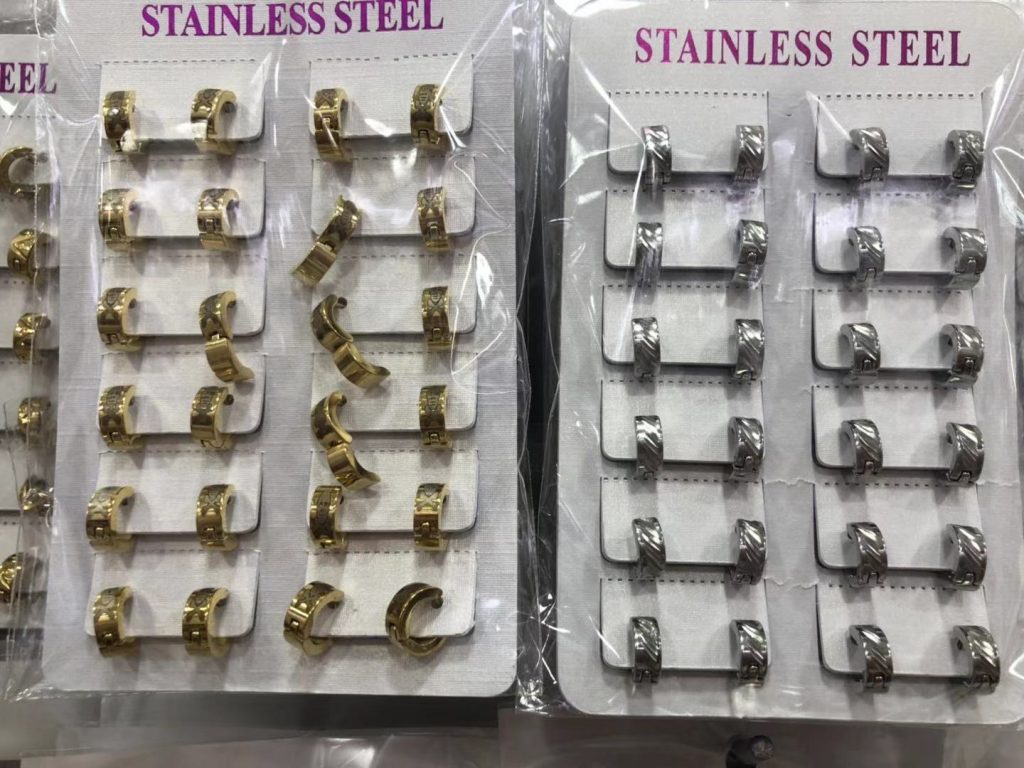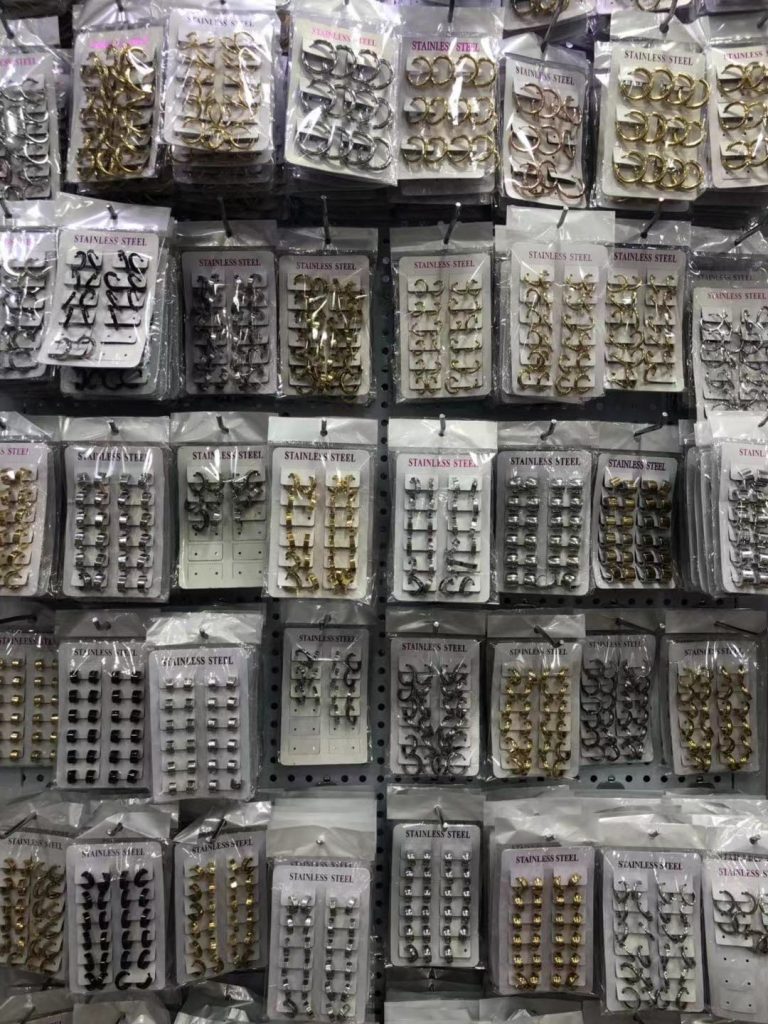 .
Stainless steel jewellery, earrings, necklace, rings and bracelet.
.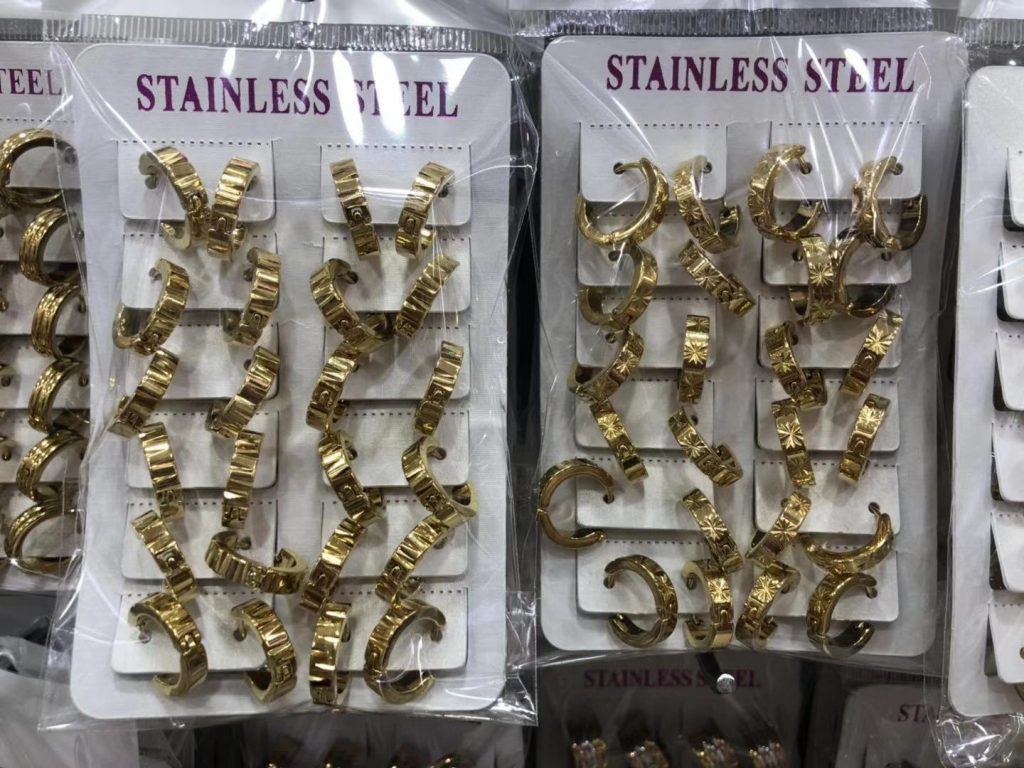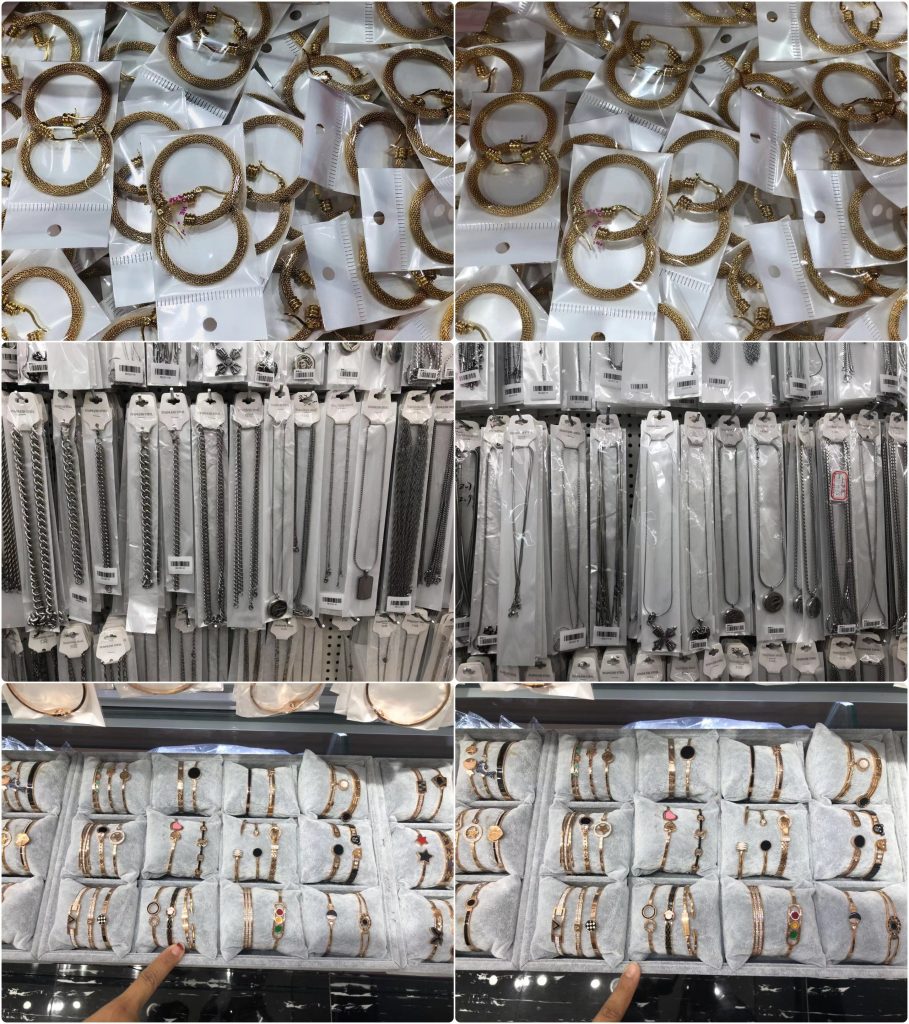 The size of the shop is smaller than that of the first floor. Shop and shop between it's also dense, and almost every shop is open and busy.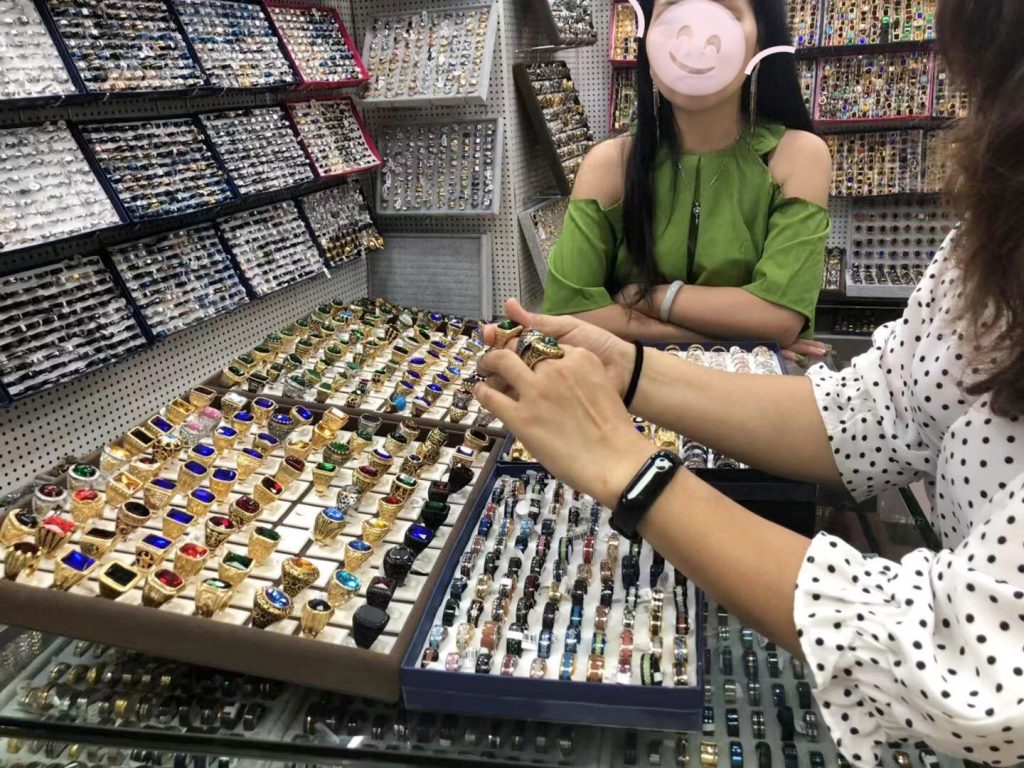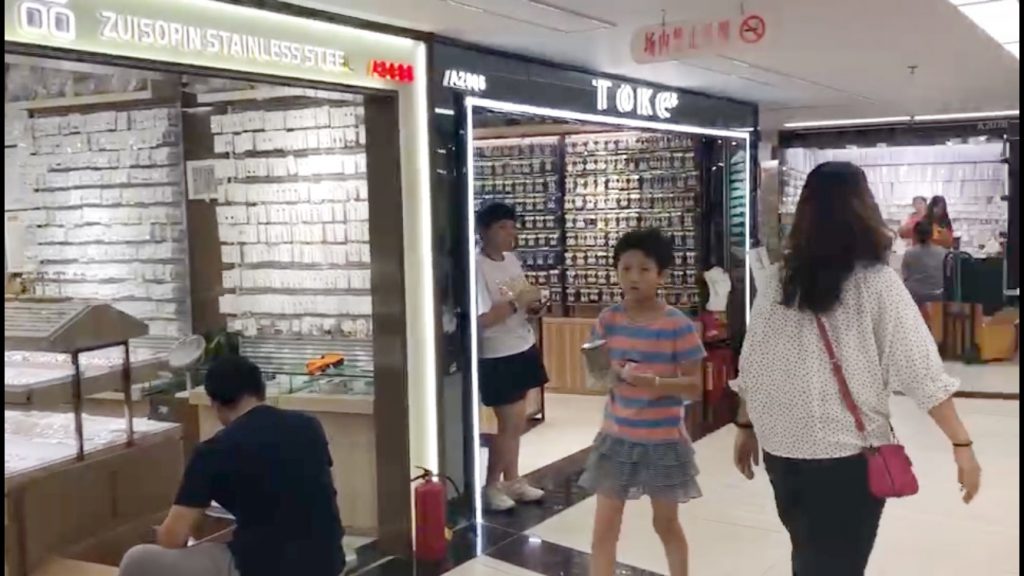 Third floor:
There are also many small stores. Some stores sell ingredients and assemblies,like the basic accessories and packing boxes/accessories.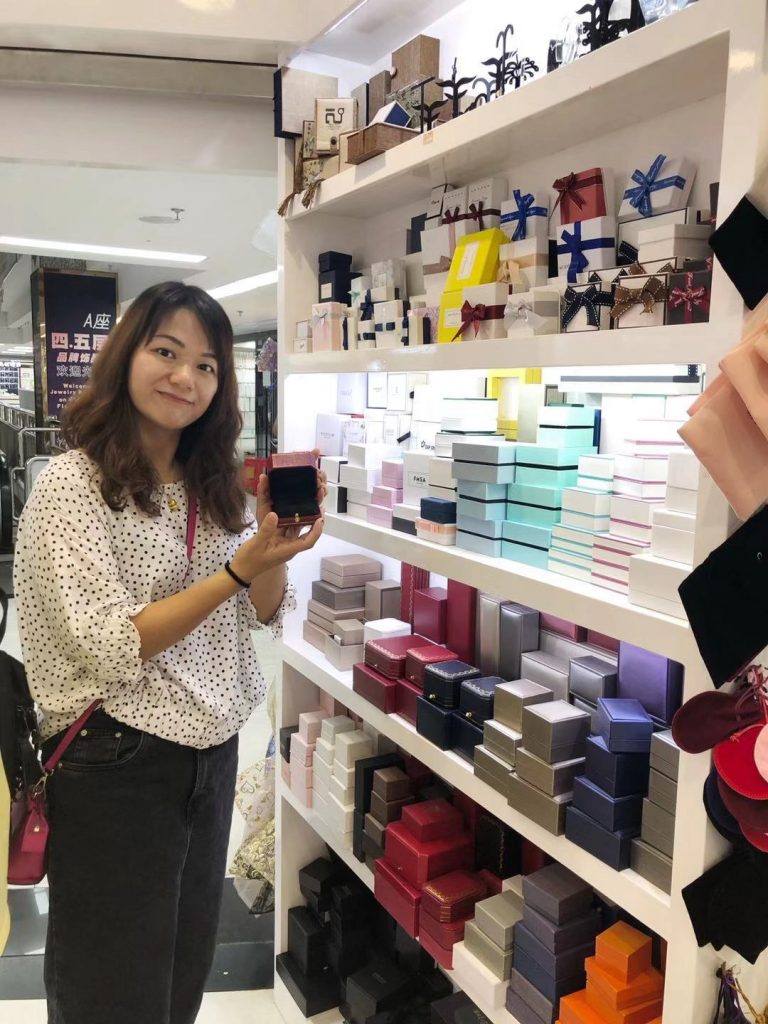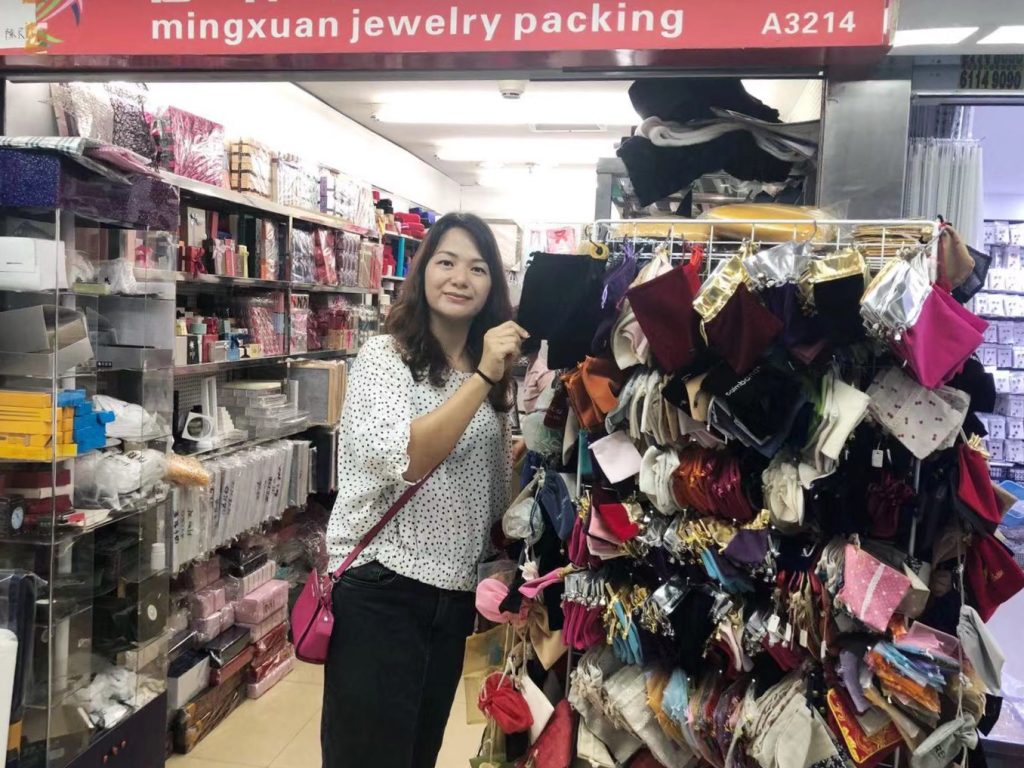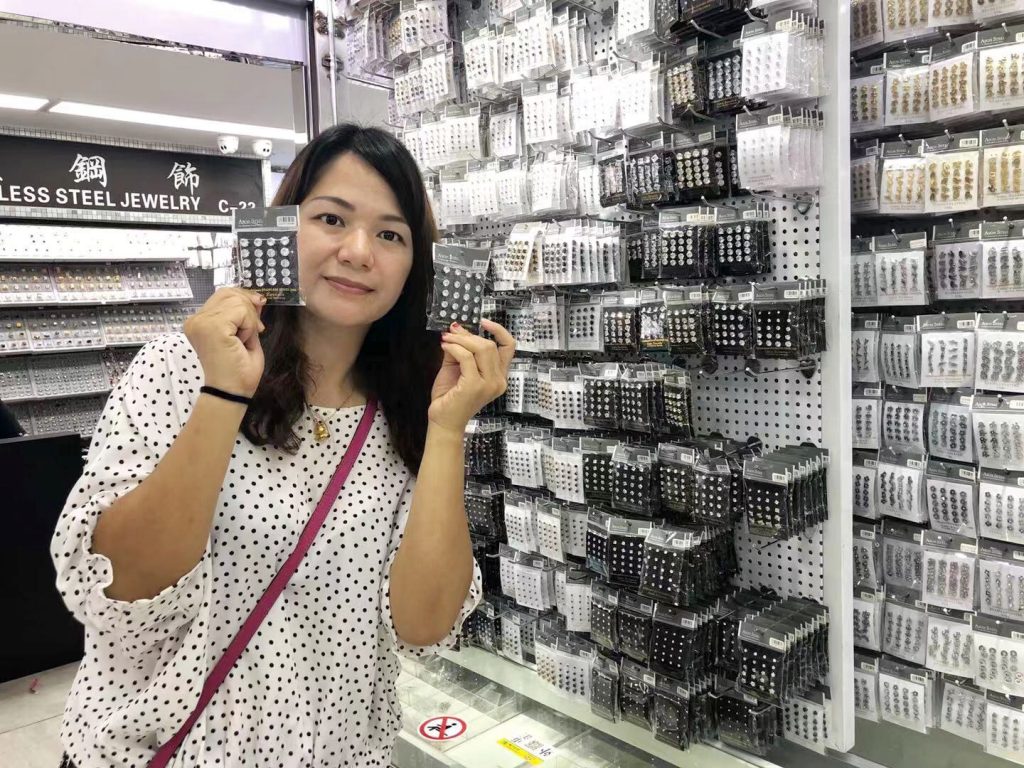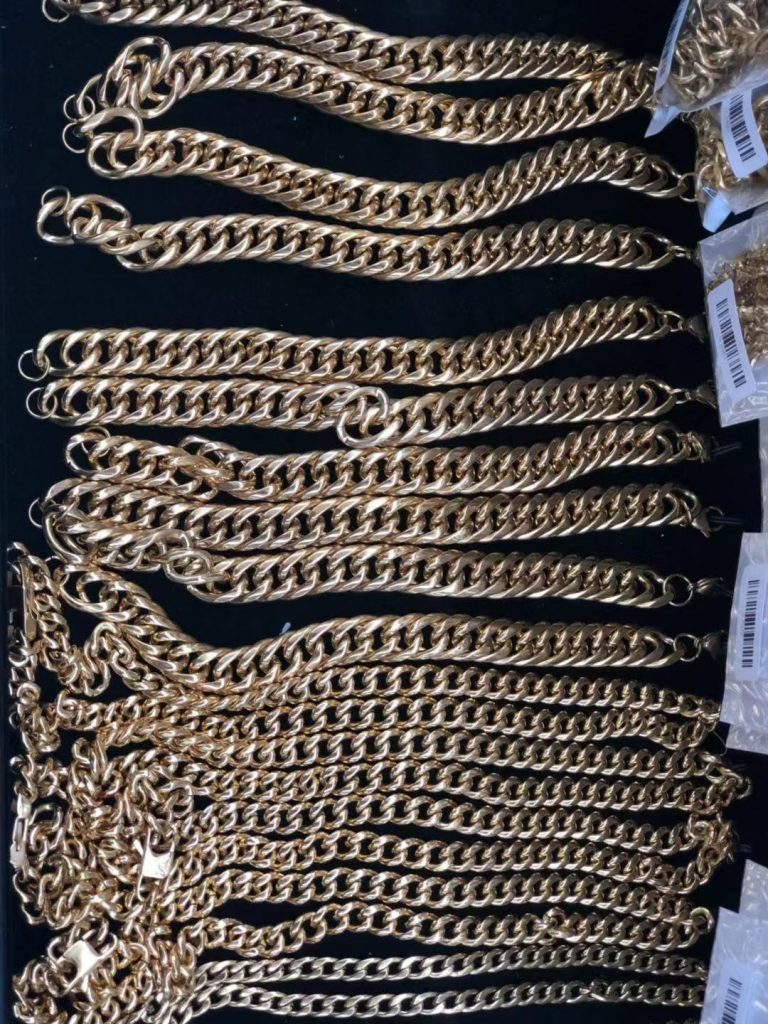 You can buy these basic accessories and assemble your own necklaces/earrings in different shapes. Earring sets and necklaces/chain are selling more in this floor.
Fourth/Fifth Floor:
Here we can see that the two floors are brand areas, most of the stores are to do their own brand, have their own factories and their own designers. They will be off earlier on usual days, sometimes if you come here 15:00pm, there may be many stores are close.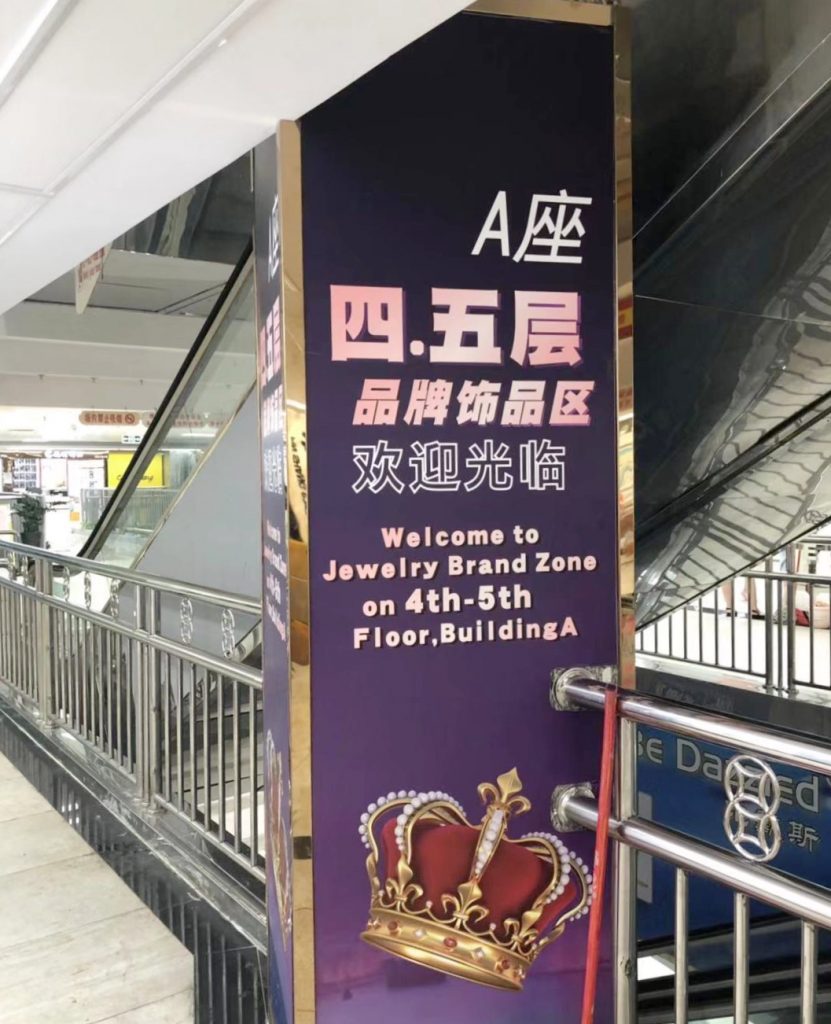 And it's also some ingredient stores that we see on these two floors.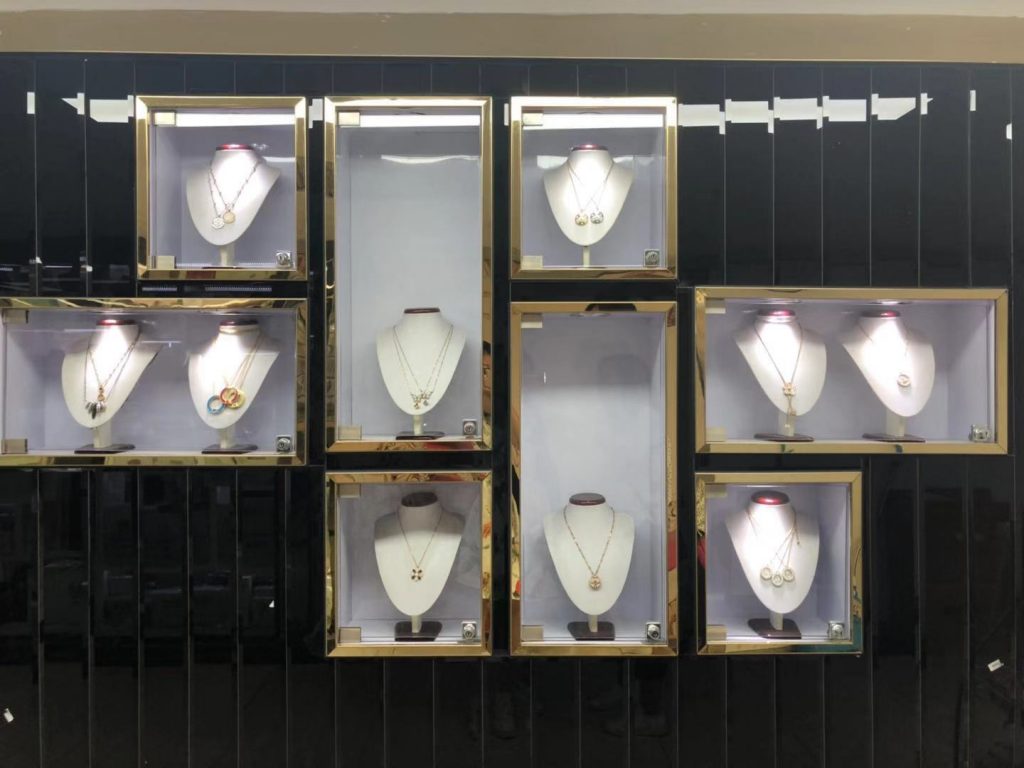 Some jewellery stores here on this floor making their own Brand.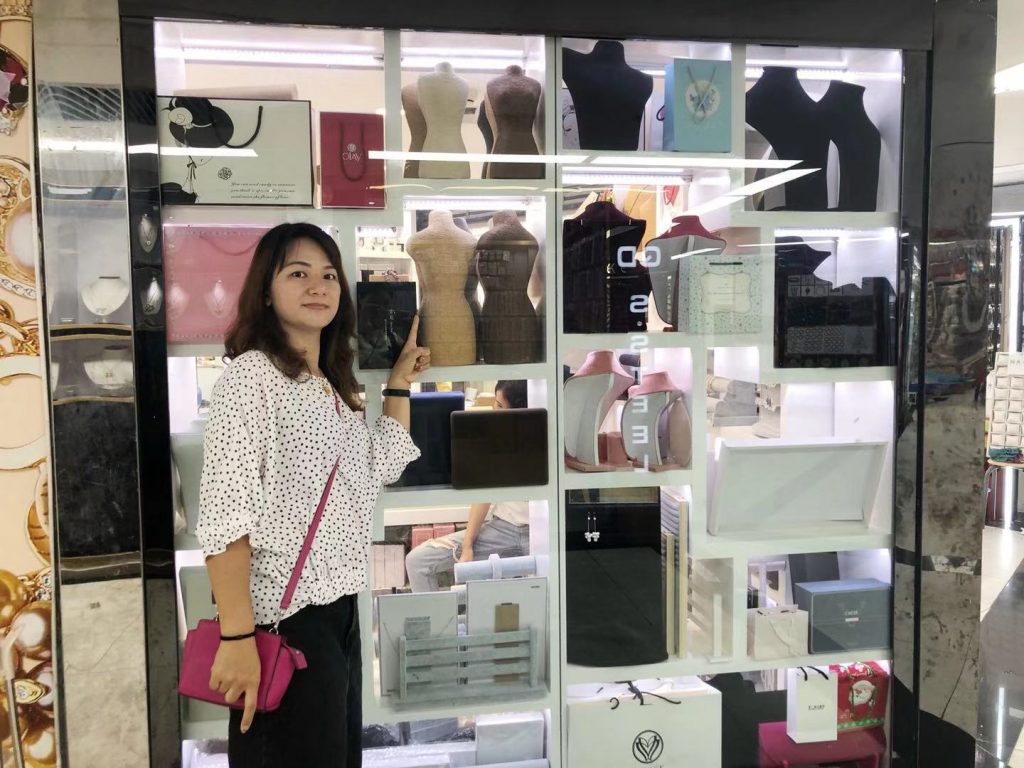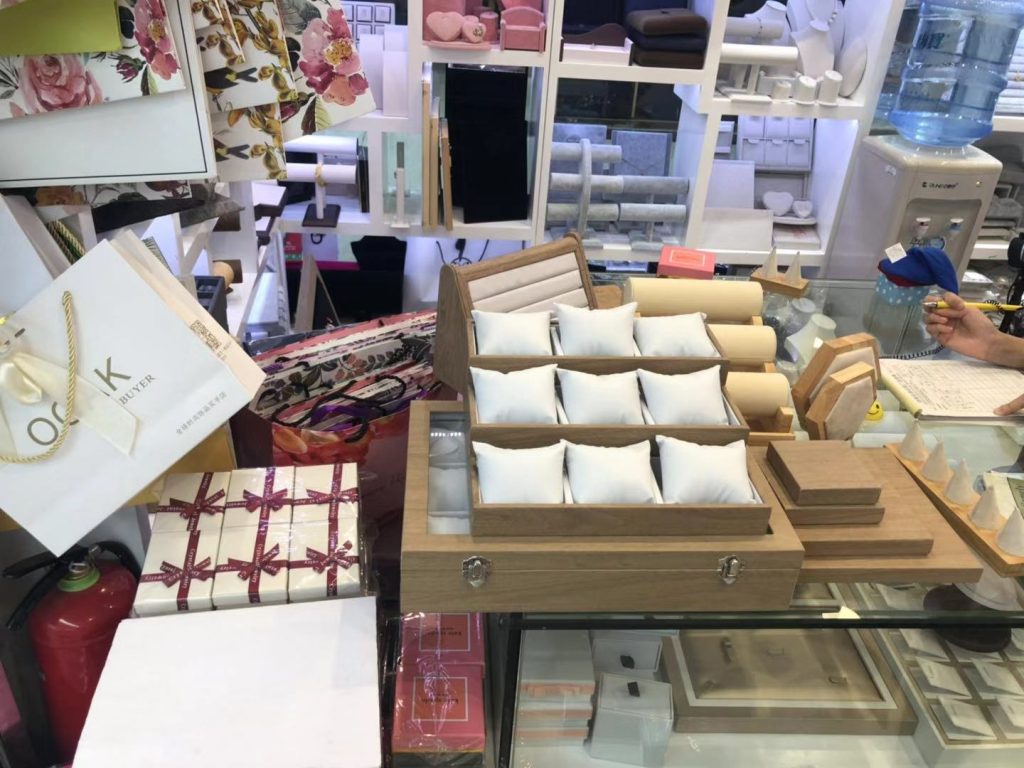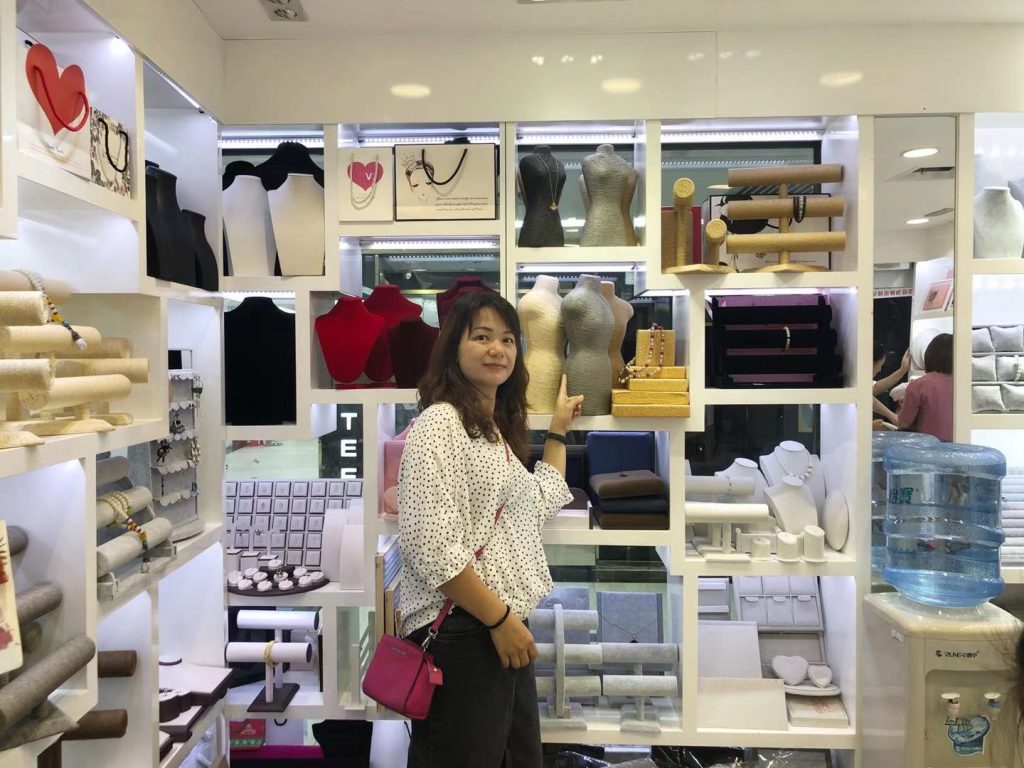 .
In fact, Building A and Building B are connected, and there is a corridor between the two buildings.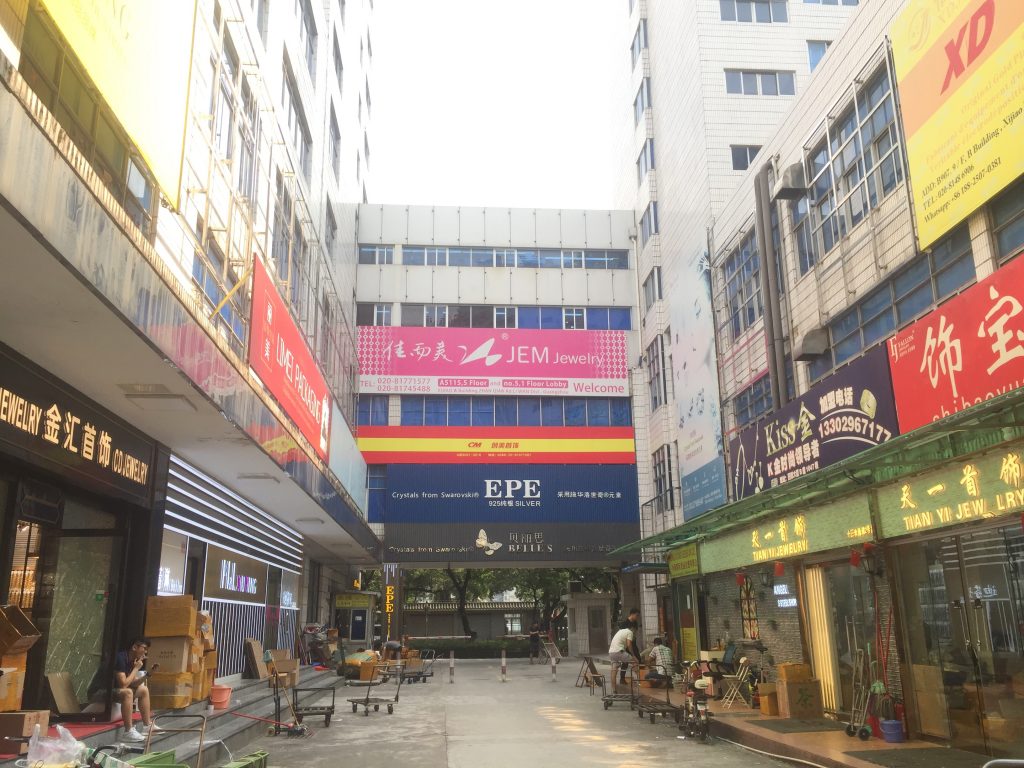 .
Building B:
B building also has four floors selling various jewellery, and 925 silver jewellery is more, this building area is larger than A Building, where the average floor has about 200 stores.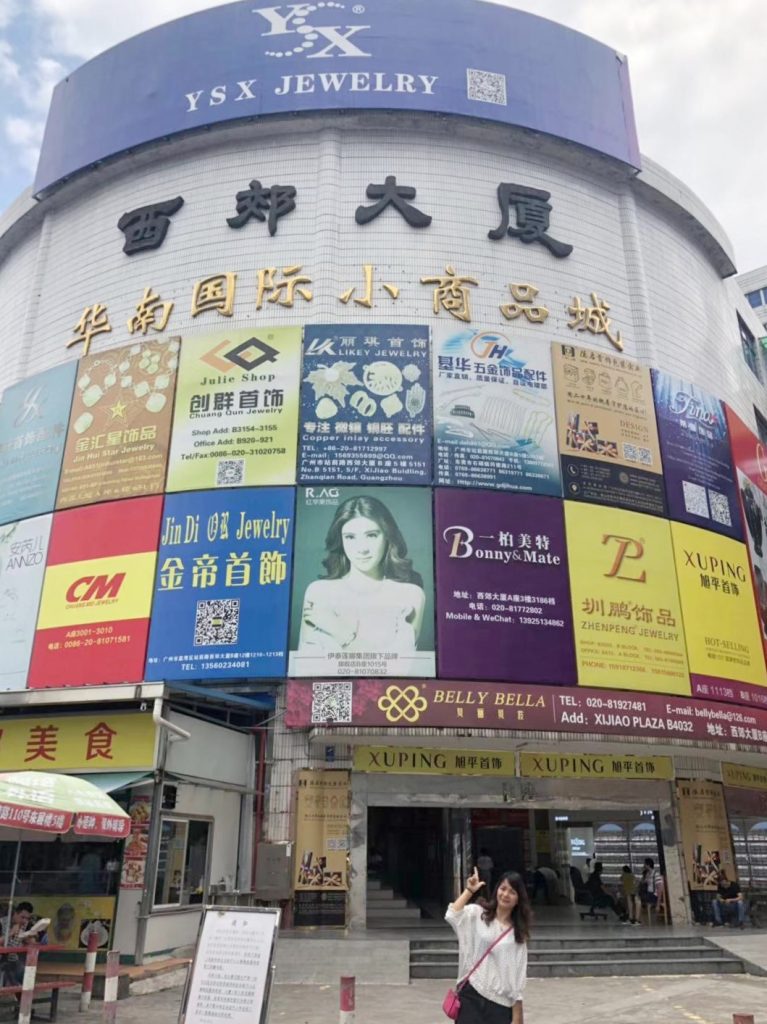 The first floor:
There are many brands and their stores are larger on this floor, and Korean/Japanese/South American style jewellery is the most sold here, especially earrings sets, necklaces, pendants and rings, the quality is medium and high, and many stores support custom-made your own style.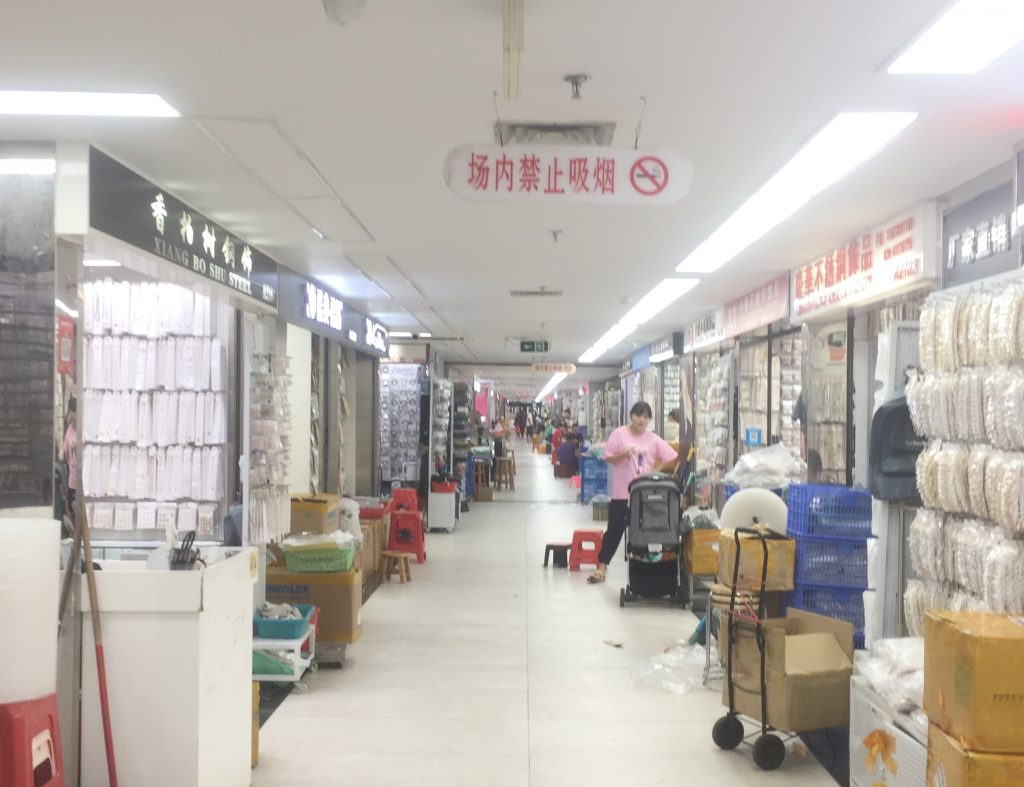 If you have enough time, you can certainly buy a lot of very beautiful and affordable jewellery.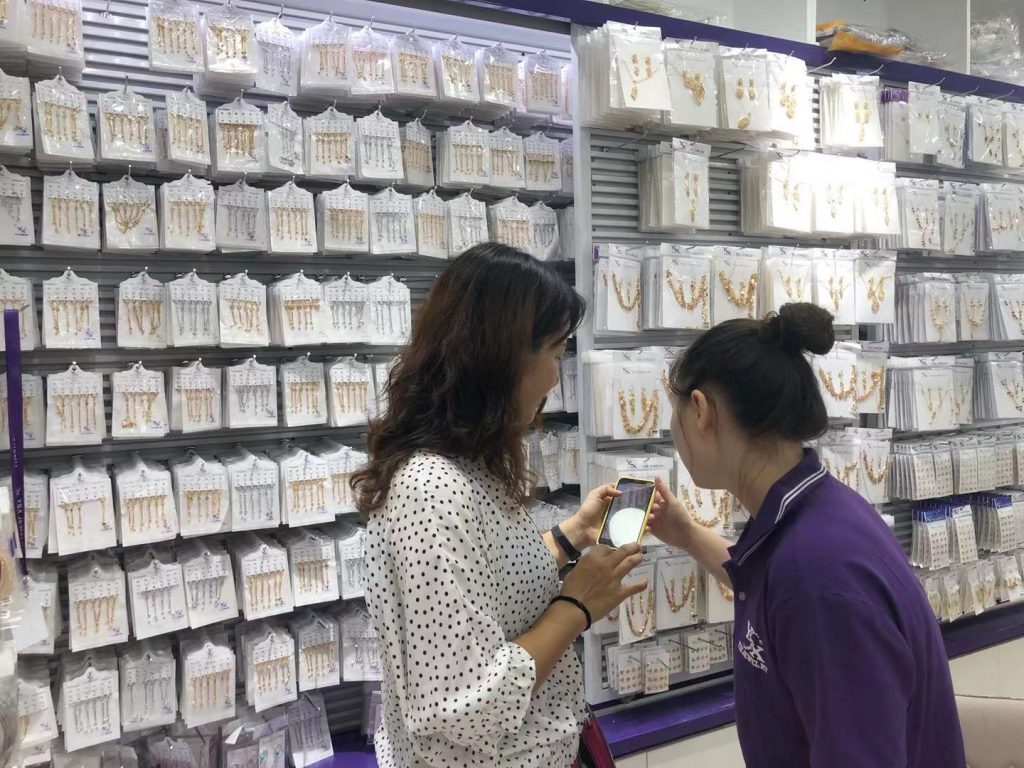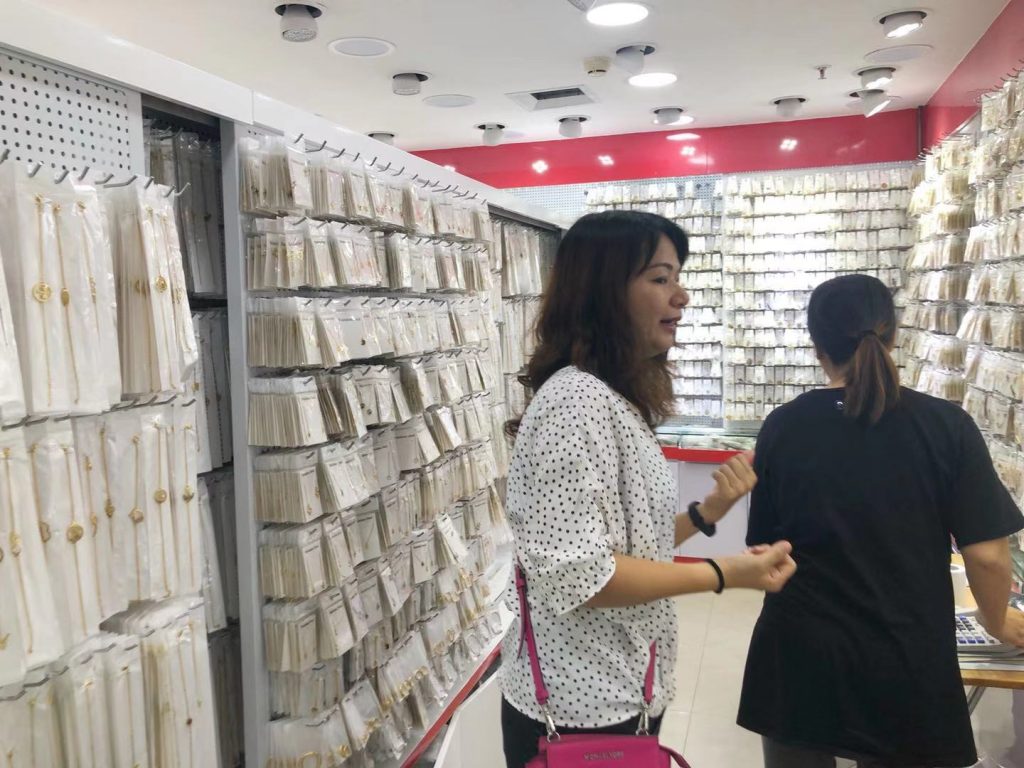 Second floor:
The stores on the second floor seem to be more, because each shop is smaller than the first floor, so it looks like a booth one by one, and there are also dense stores and stores.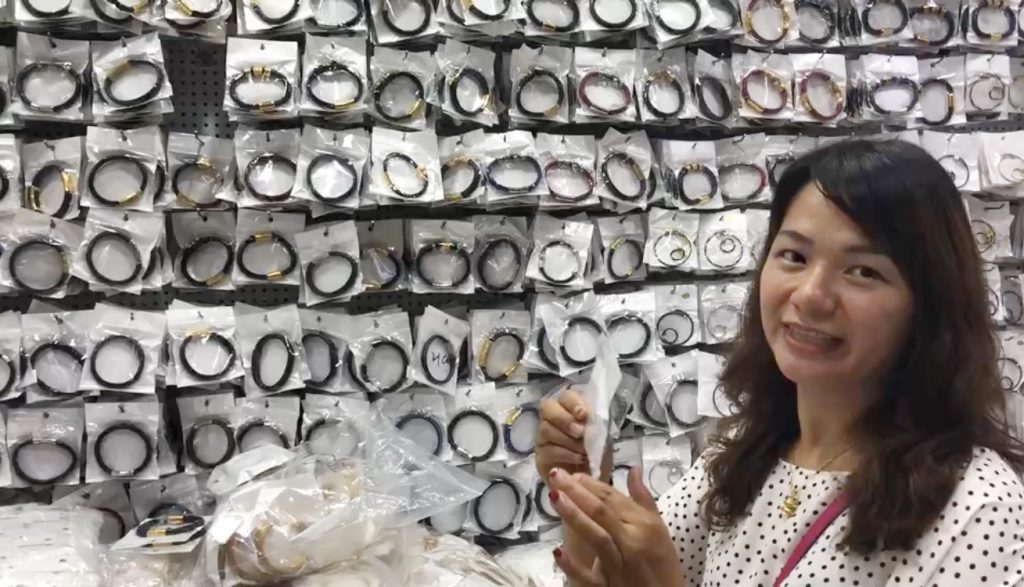 On this floor, there are more jewellery products for man, like bracelet, necklace and rings of man designs.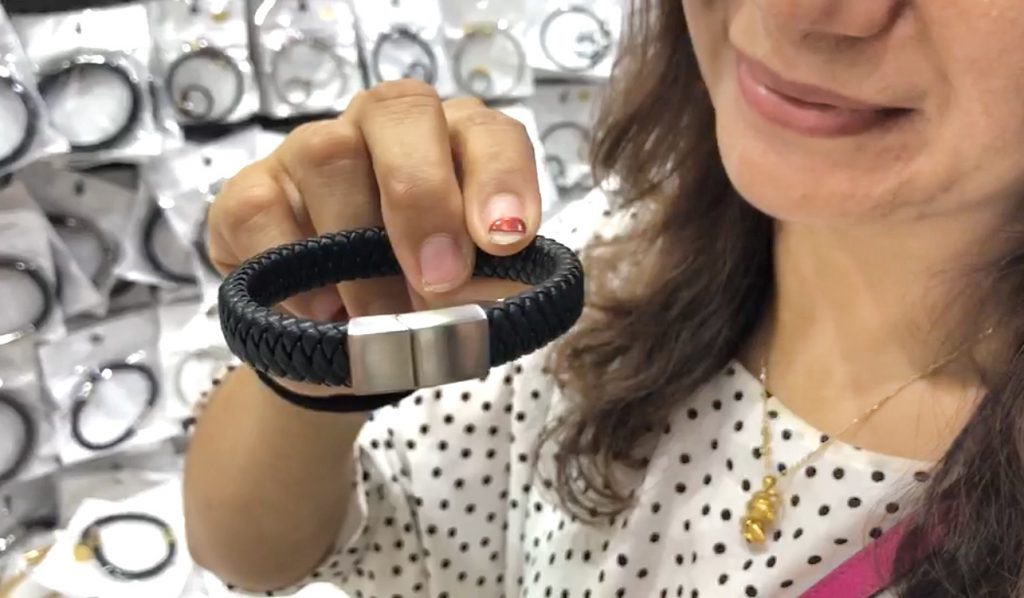 Braid-shaped Bracelets for man.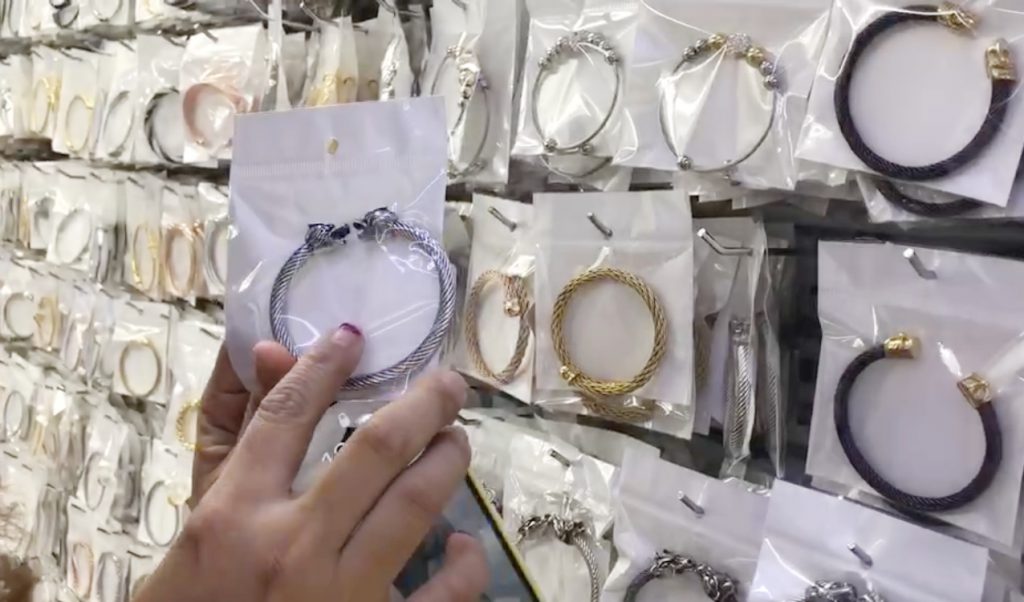 Wolf head bracelet for man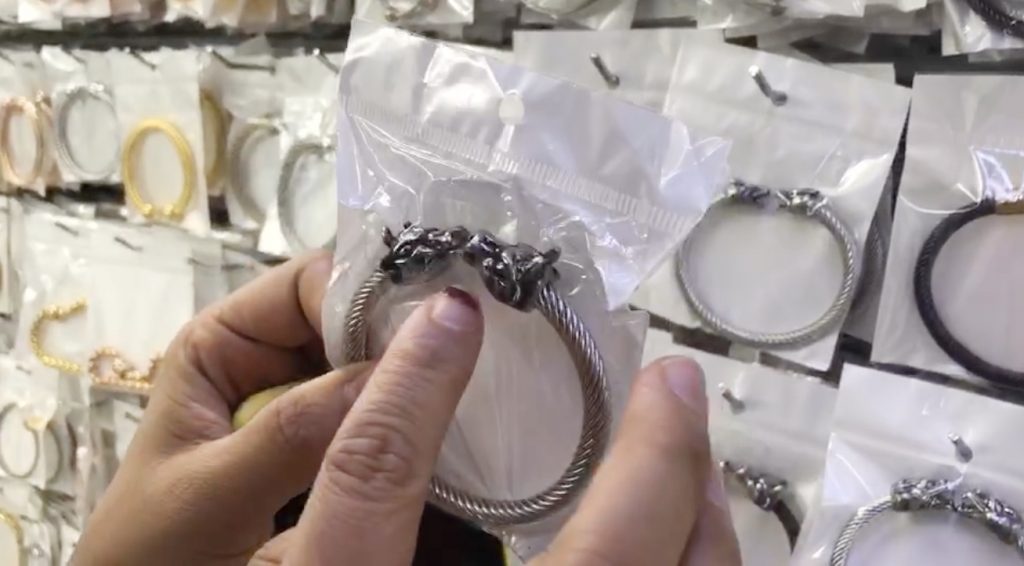 Dragon face bracelet for man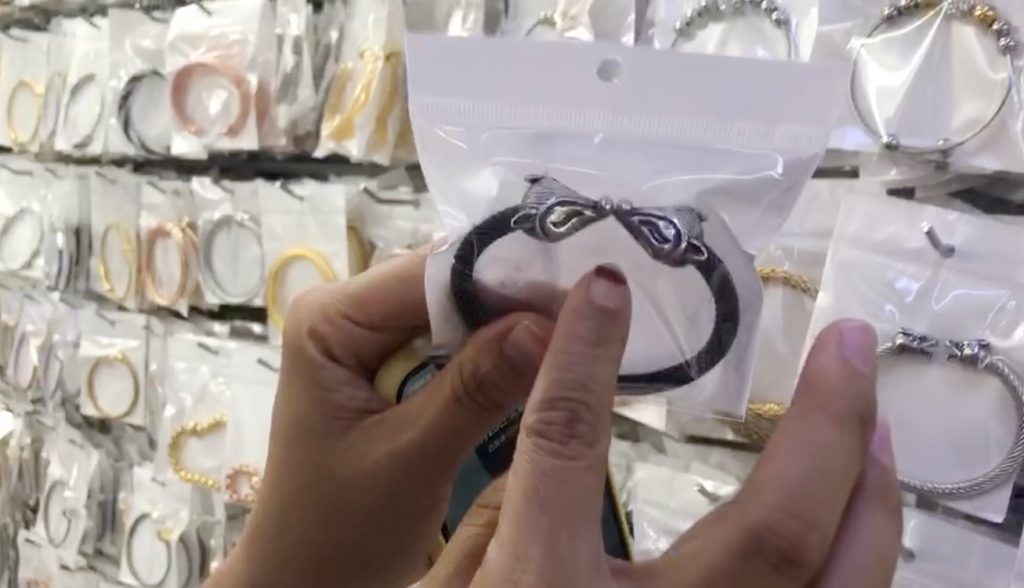 Fox head bracelet for man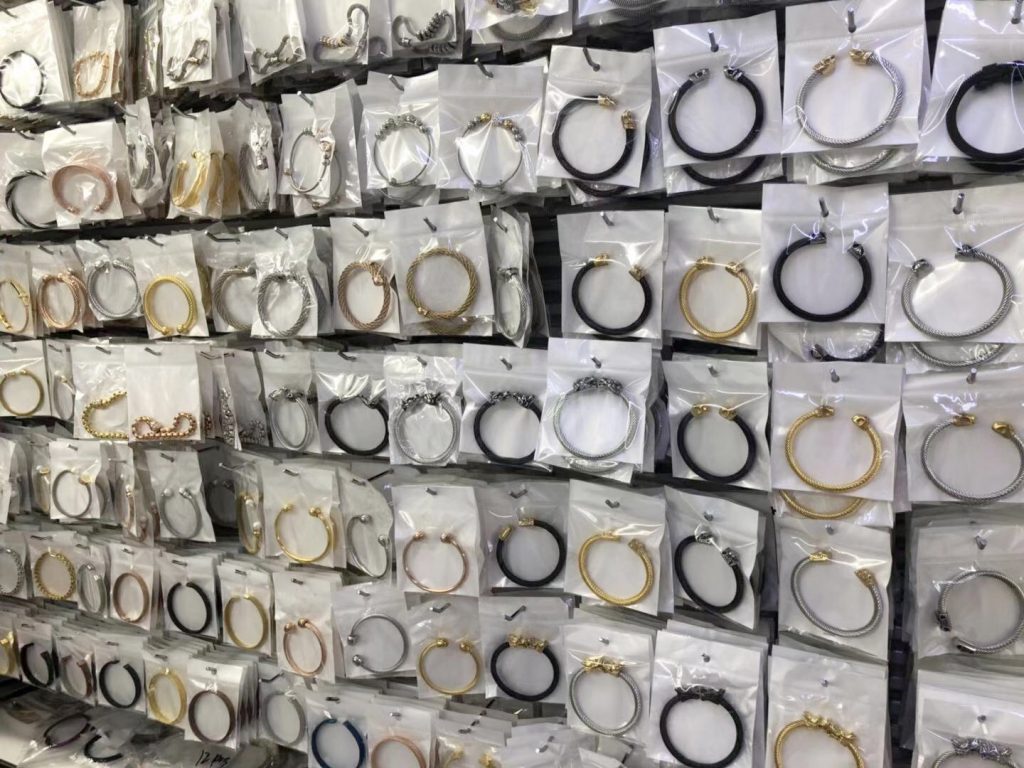 Most of the stores on this floor sell stainless steel products. There are more shops for bracelets, especially men's bracelets and bangles. Others are women's necklaces and earrings sets.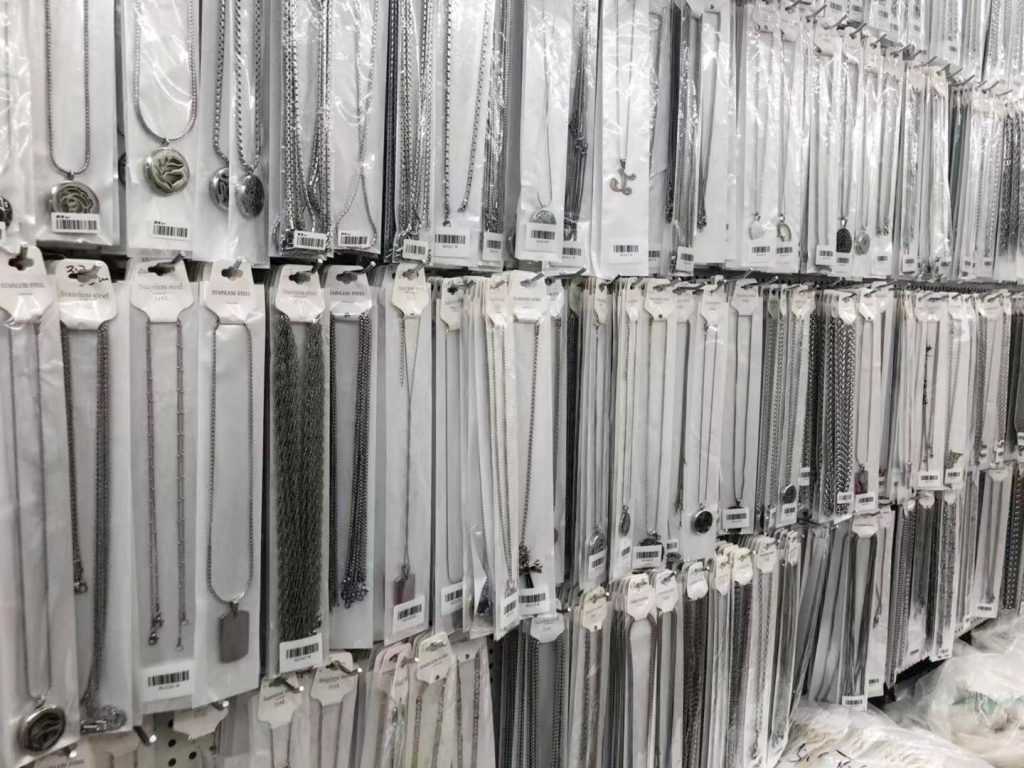 The shop of Necklace, chains for man.
.
Third floor:
Most of the stores on this floor sell copper products.
So when we are on the third floor, we can find that many jewellery products are a golden colour, especially many chains, bracelets and rings.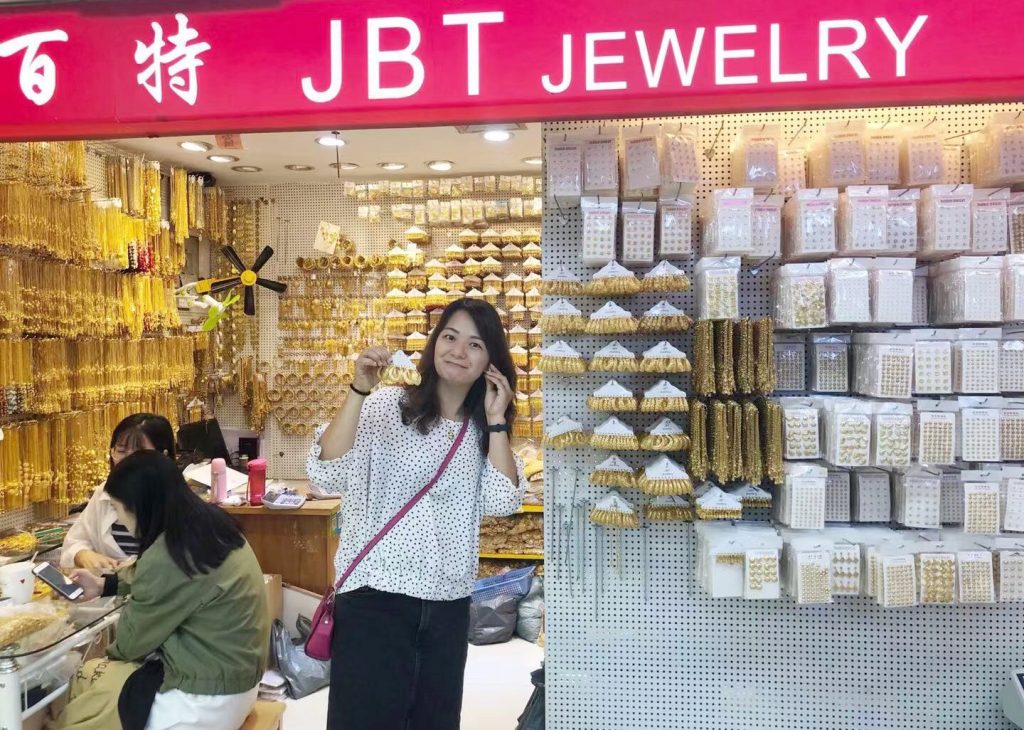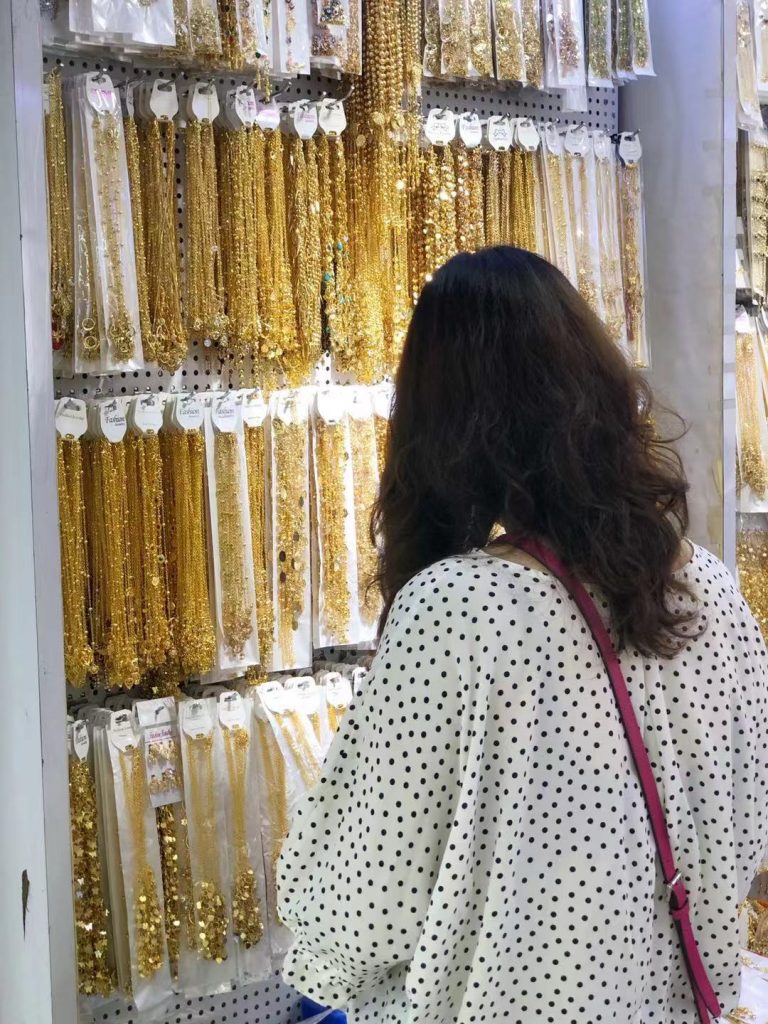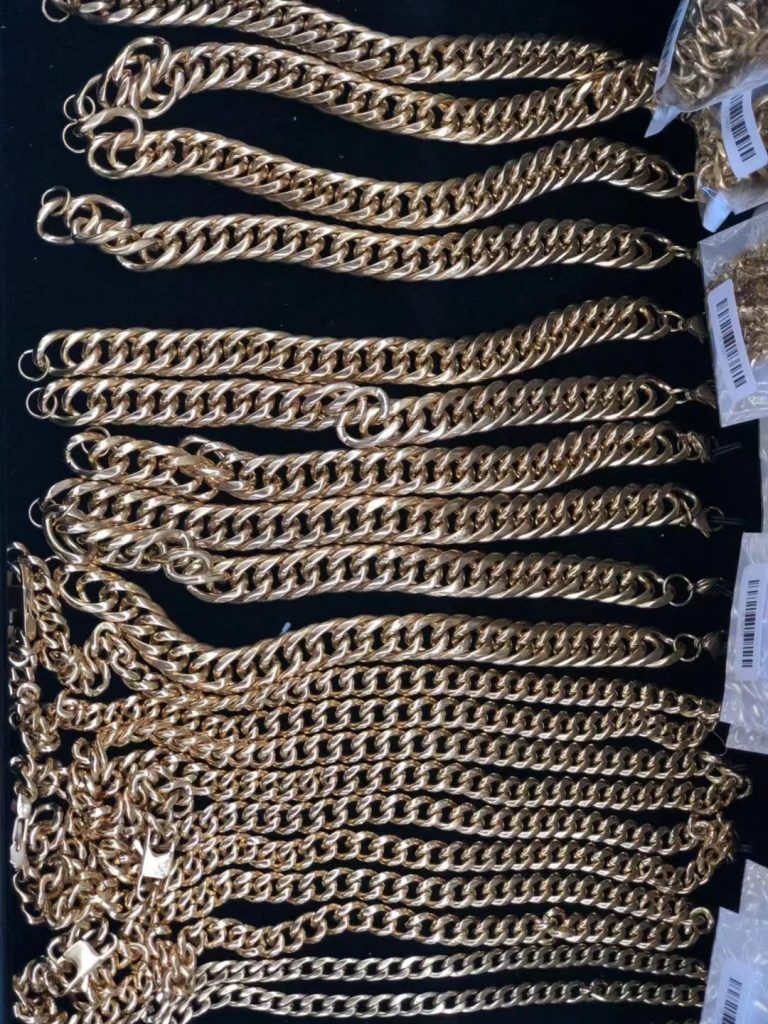 The golden chain, for a man or for women.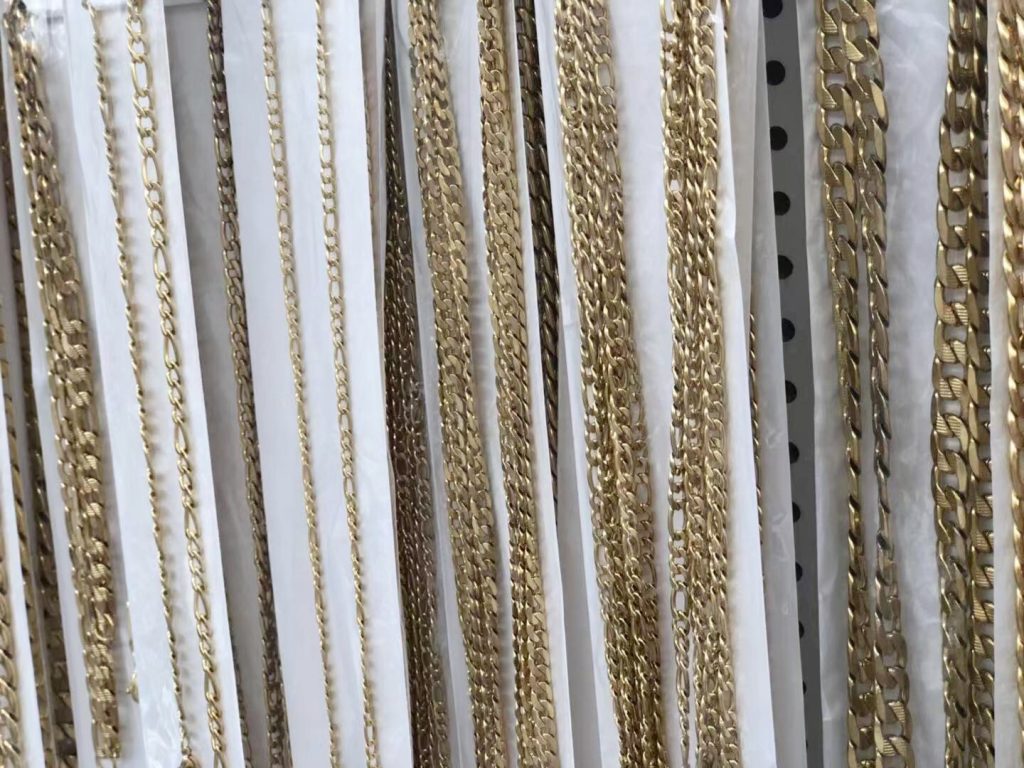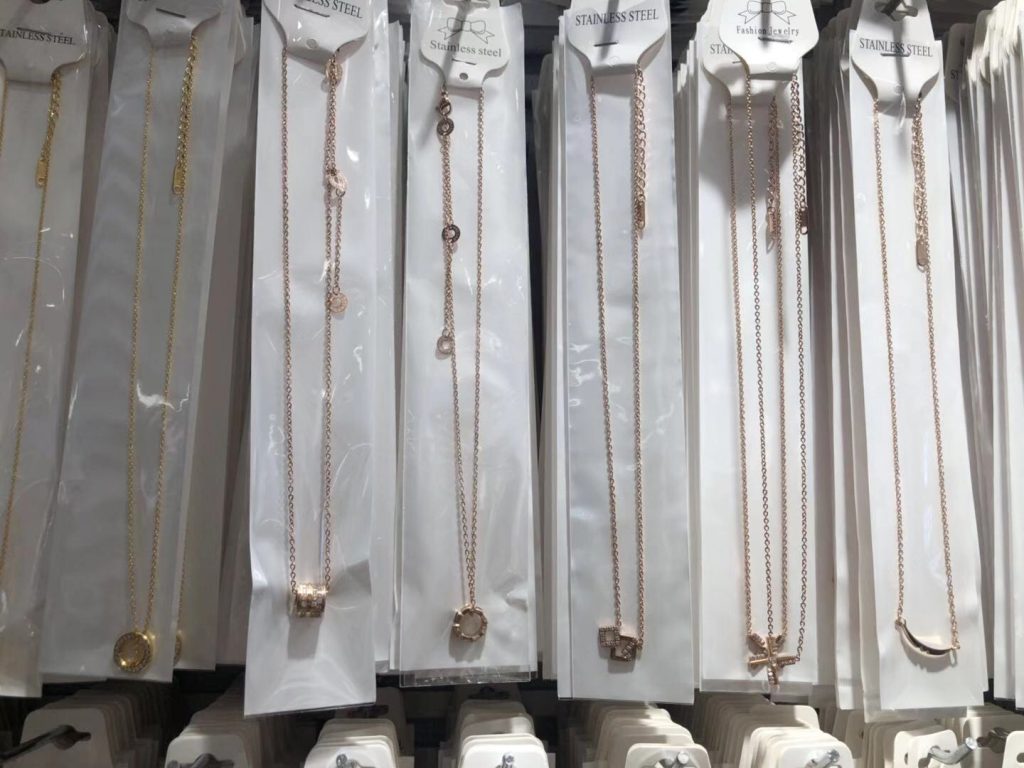 The necklace for women's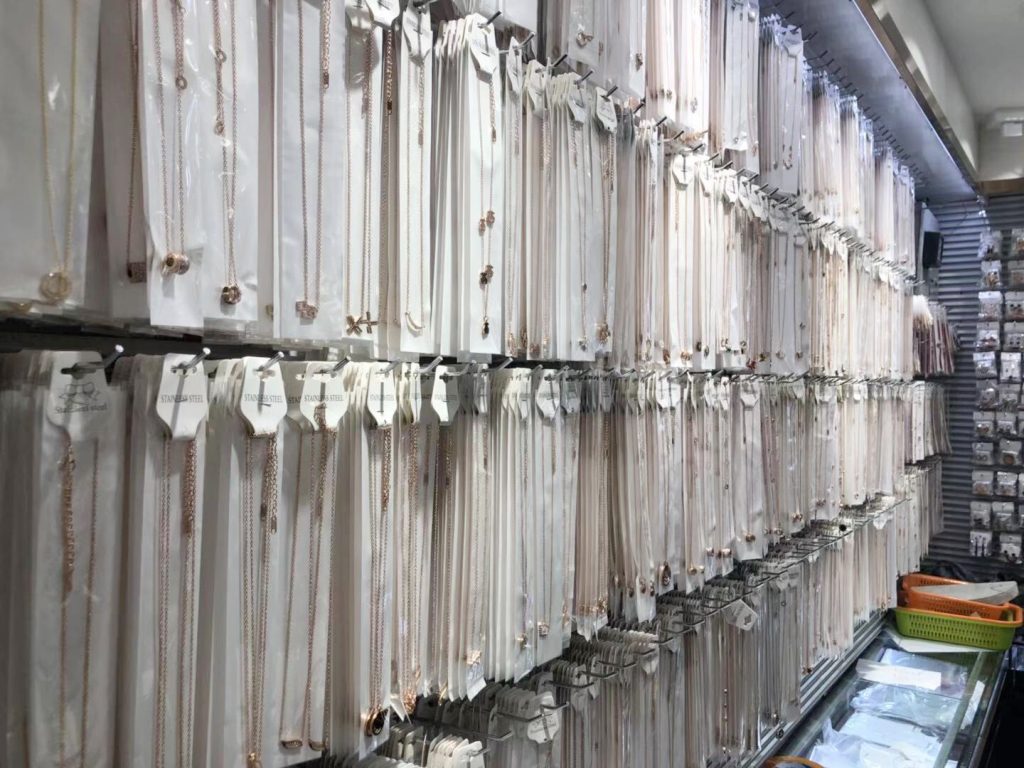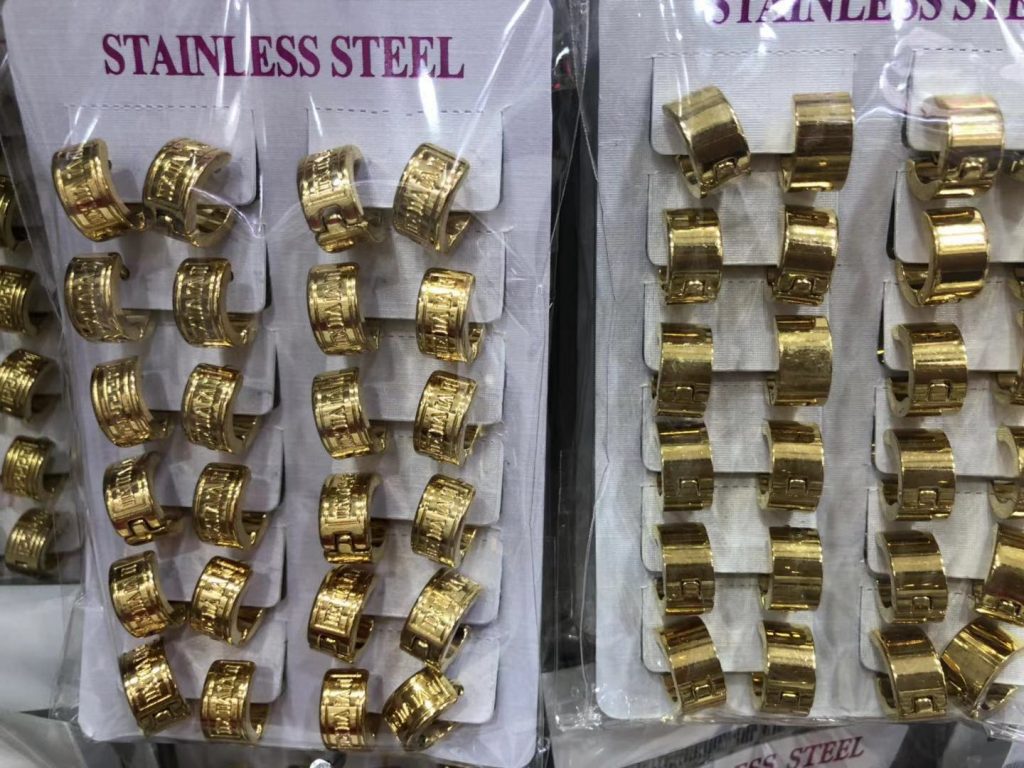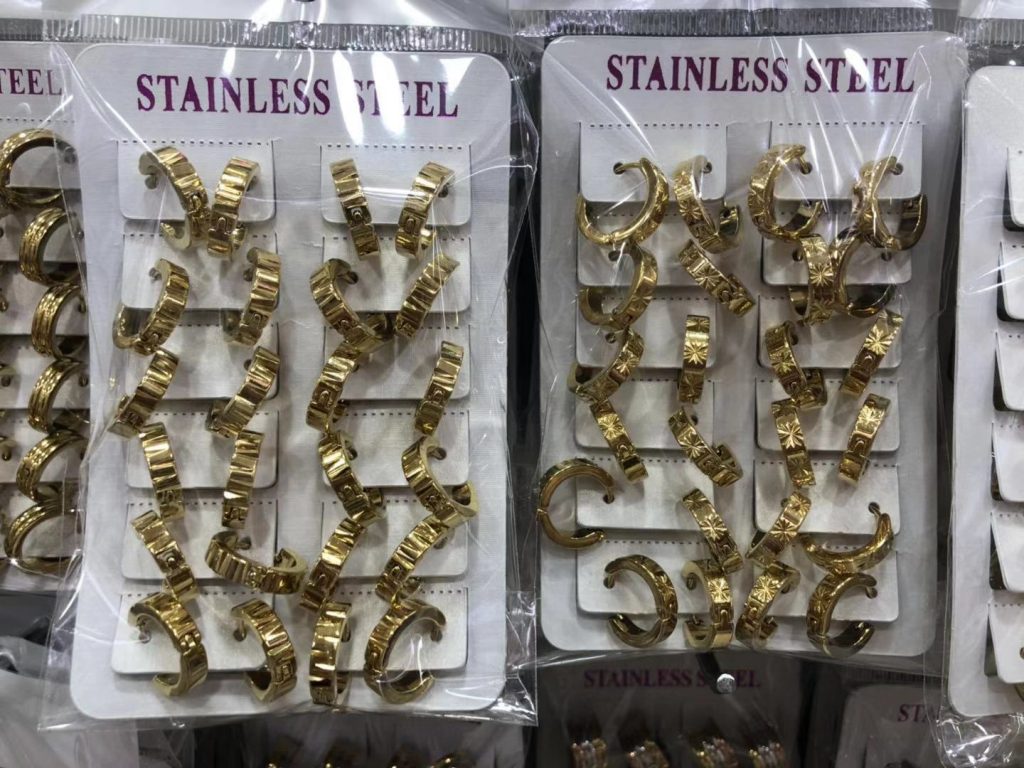 The golden earring & rings.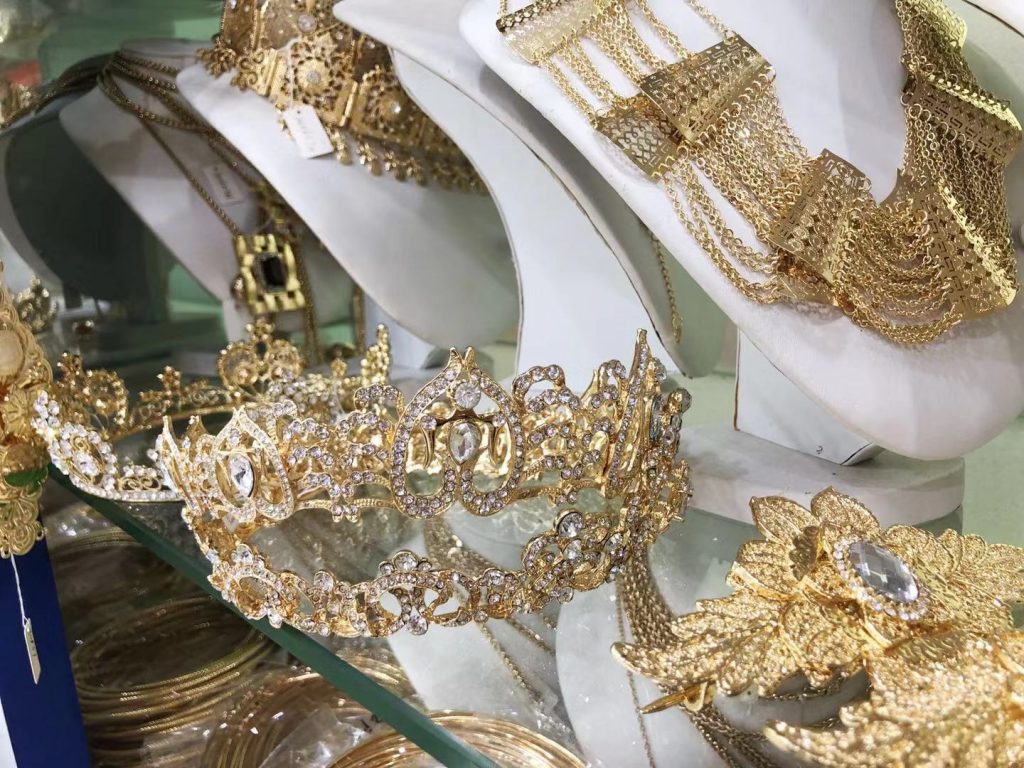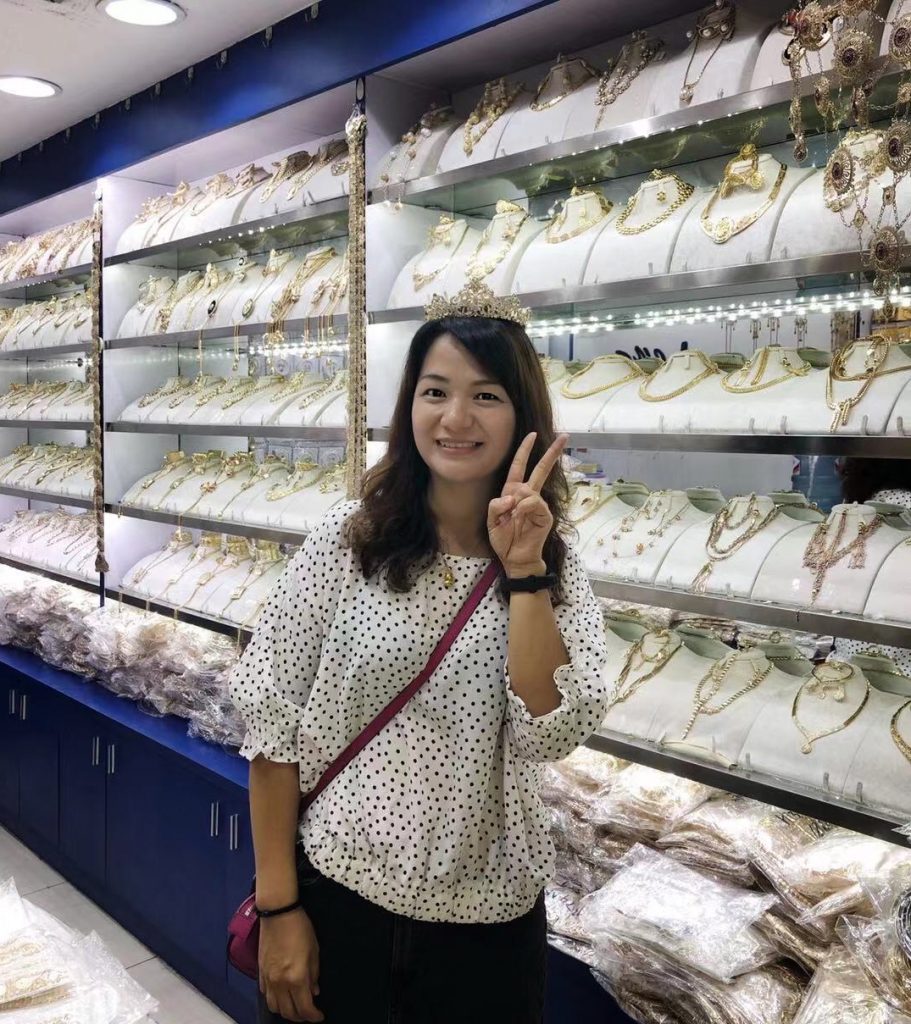 The golden Crown jewellery and Accessories of jewellery products.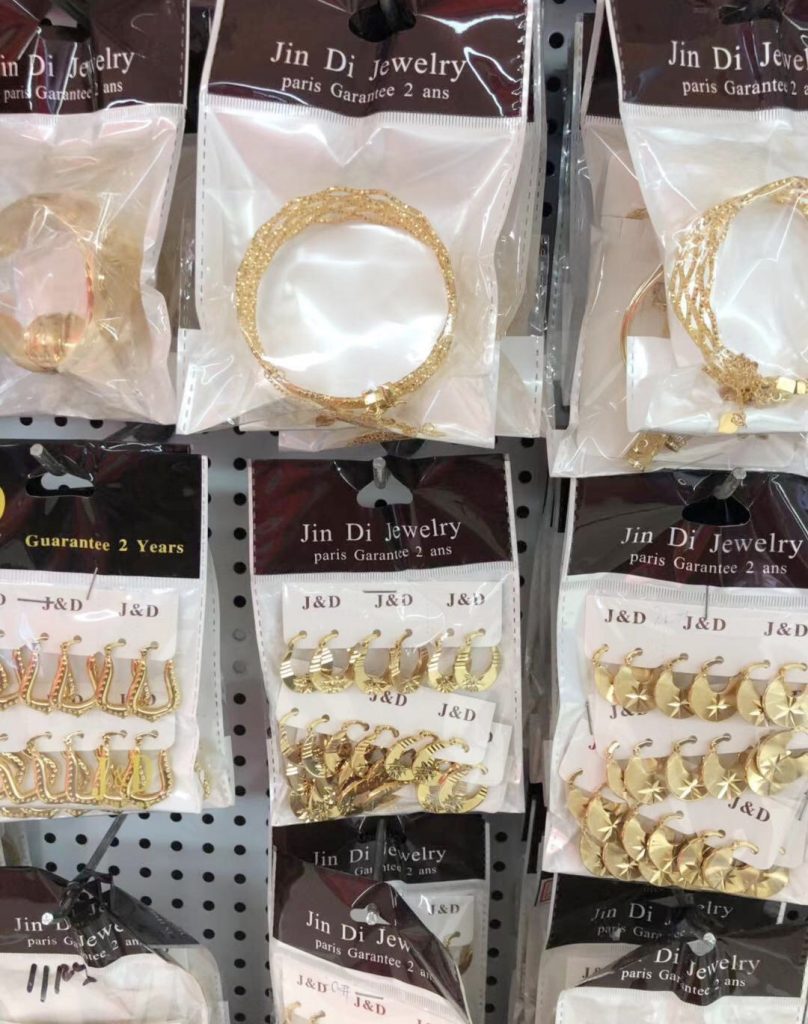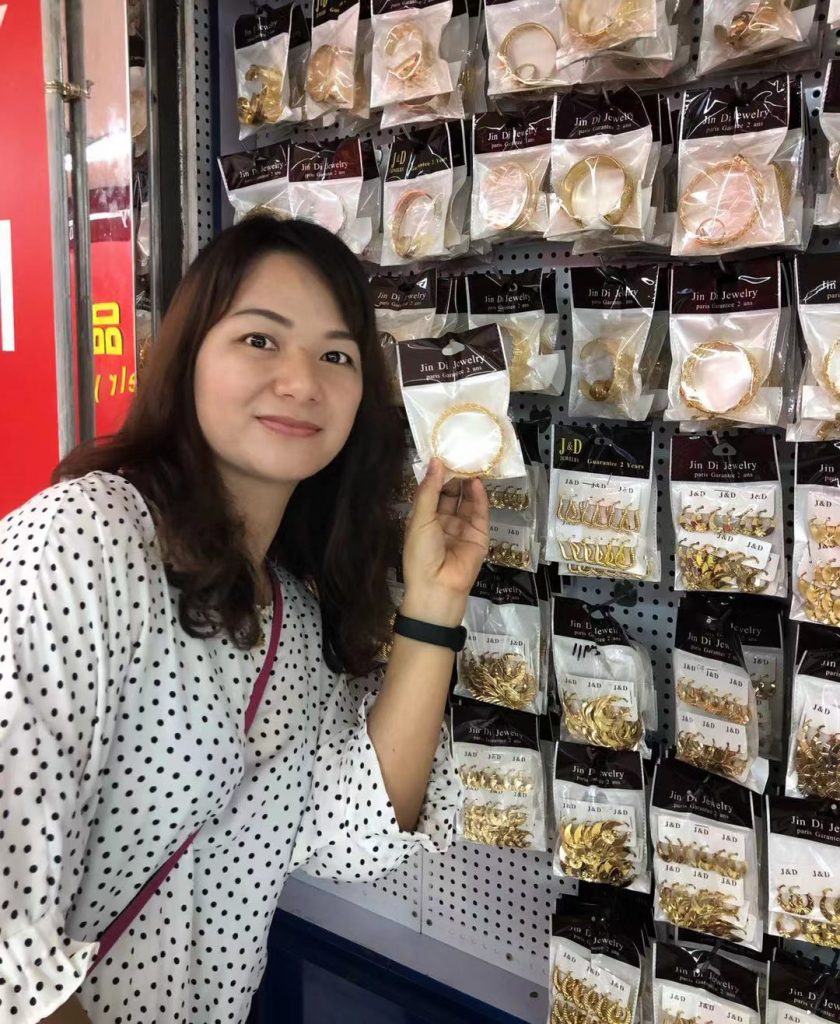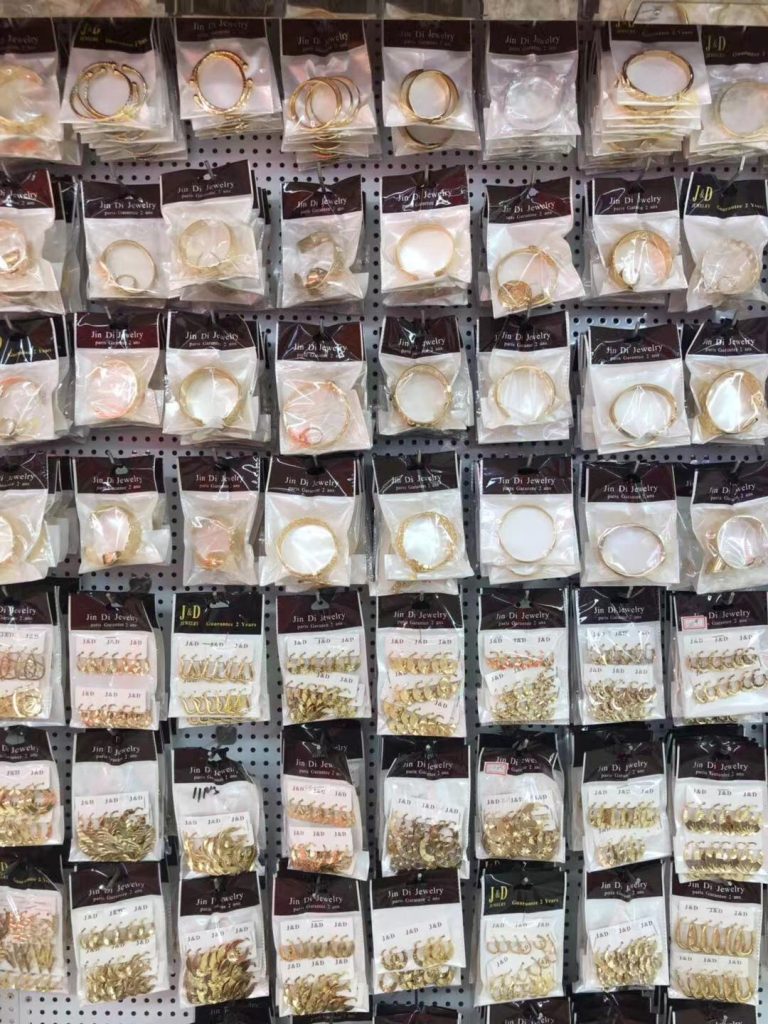 Four floors:
Most stores on this floor sell basic accessories, which you can buy it then assemble freely into your desired styles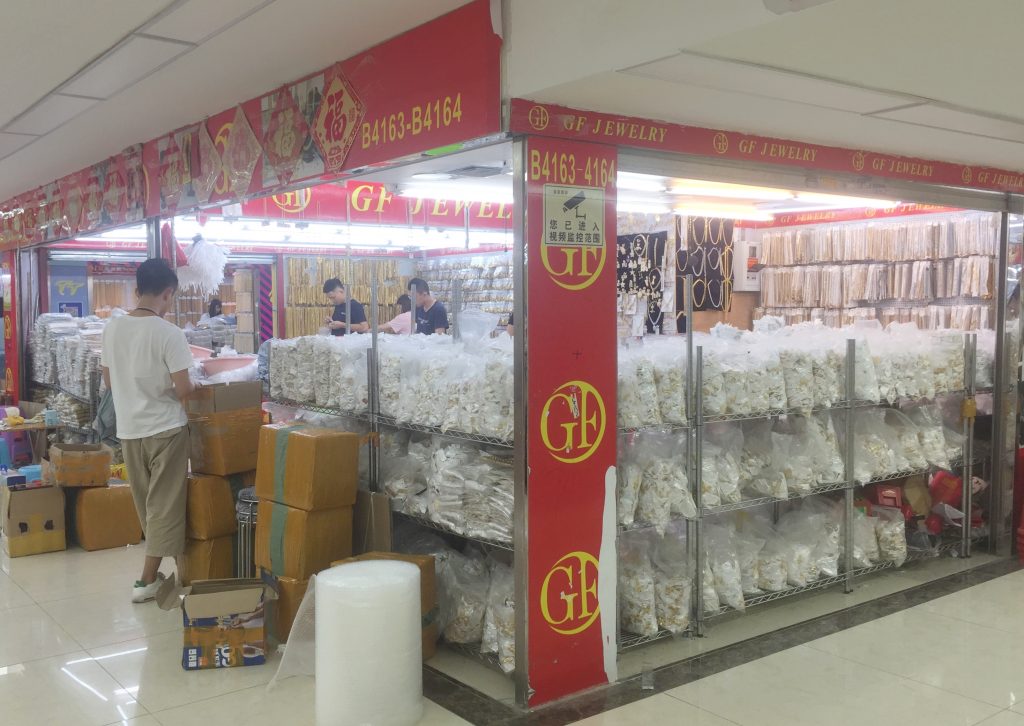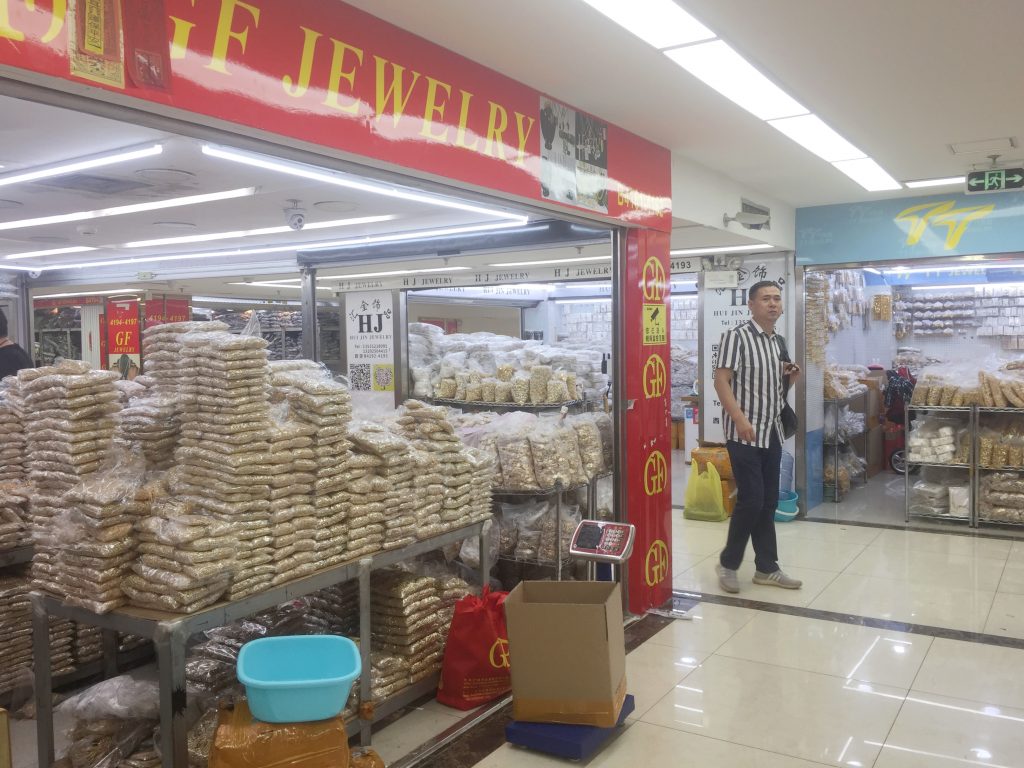 These shops are selling basic jewellery accessories/materials on this floor.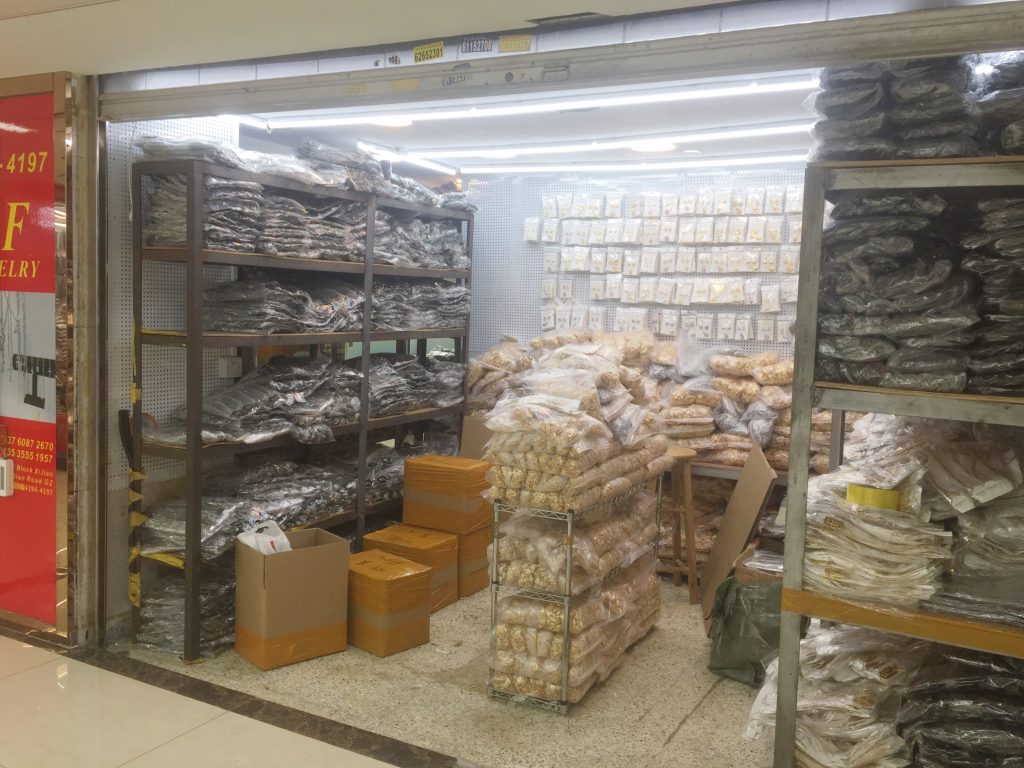 We can see all they had packed one by one little package on the shelves.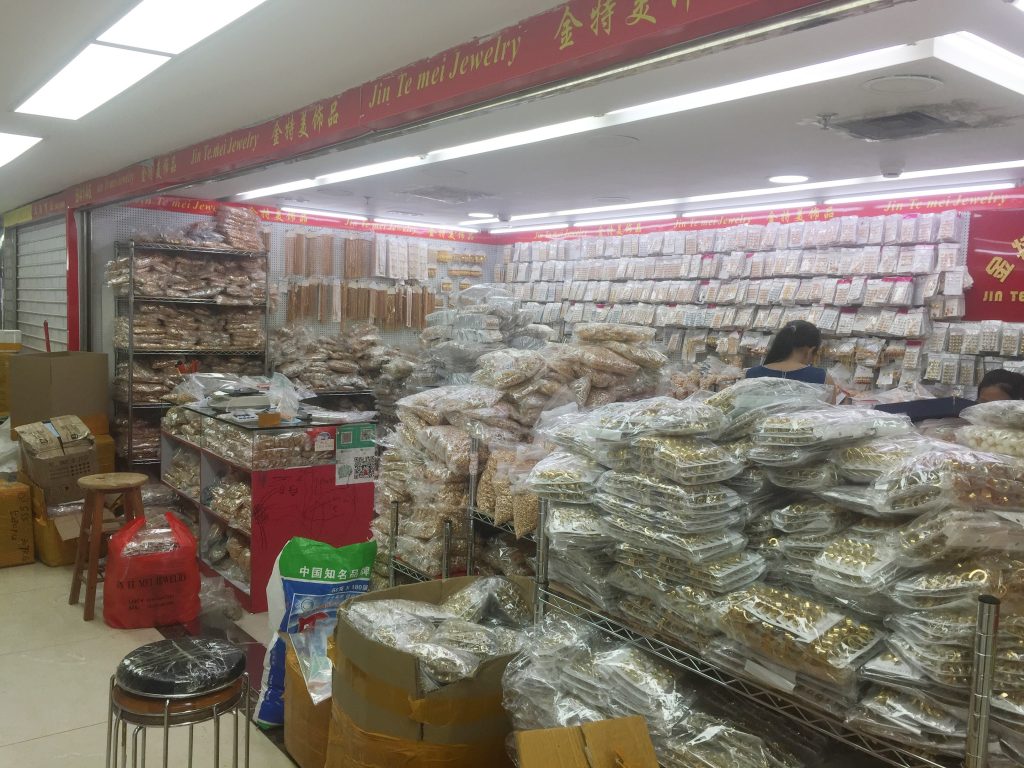 This kind of shop not selling finished jewellery product, just selling the basic jewellery accessories, many retailer shopkeepers they buy these accessories and go back and assemble them freely.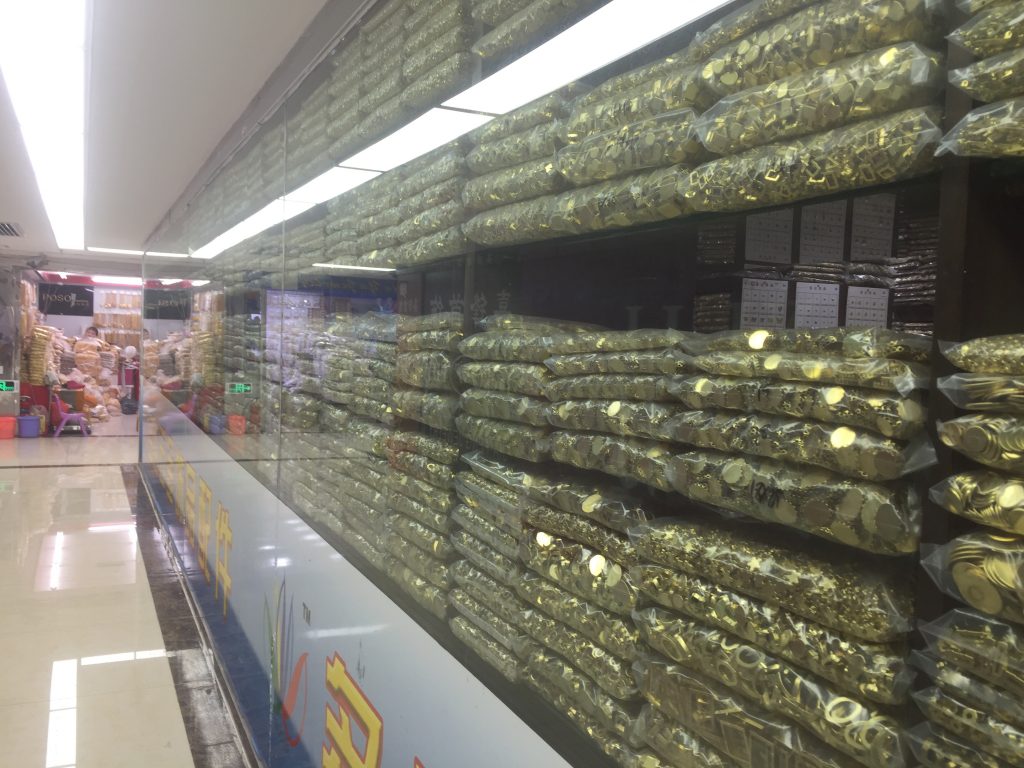 Because this is a jewellery wholesale market, there are almost no retail sales here, but the order quantity of each store is not very high.
For example, earrings products are usually 30 pairs / mixed style, bracelets are 20 pieces / mixed style, and necklaces are usually 20 – 30 piece/ style, so the wholesale price can be obtained.
If you want to customize your own style, the number of orders will vary according to the style, there will be different initial orders, usually 500-1000 each.
Logistics here is also very convenient.
Whether you are a customer from a domestic city in China or a customer from overseas, the logistics company here can satisfy you.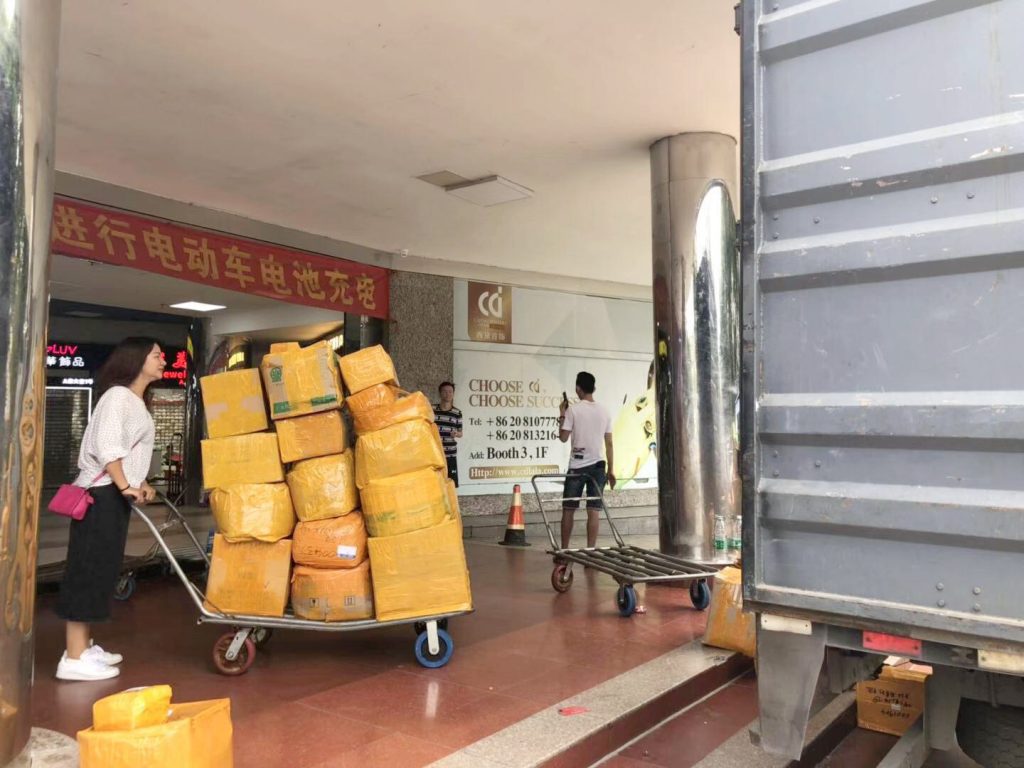 👆 This is a small container loading for one of our India customers today.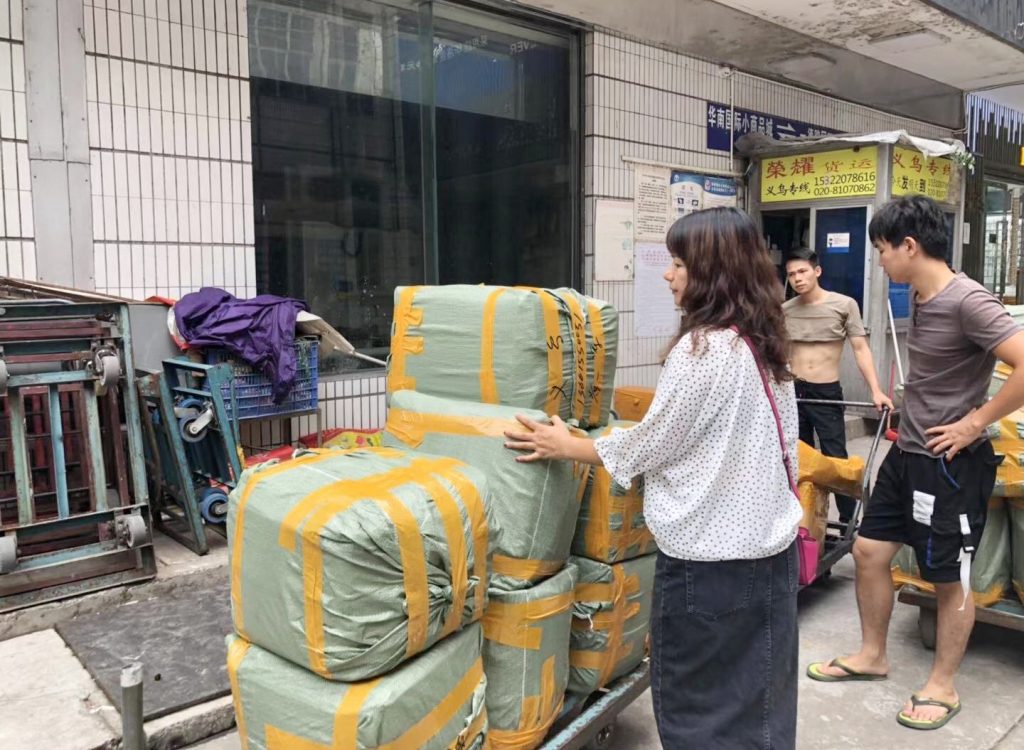 👆 These are the goods are going to send to Yiwu – a famous city in China.

There are several large logistics companies for you to choose from: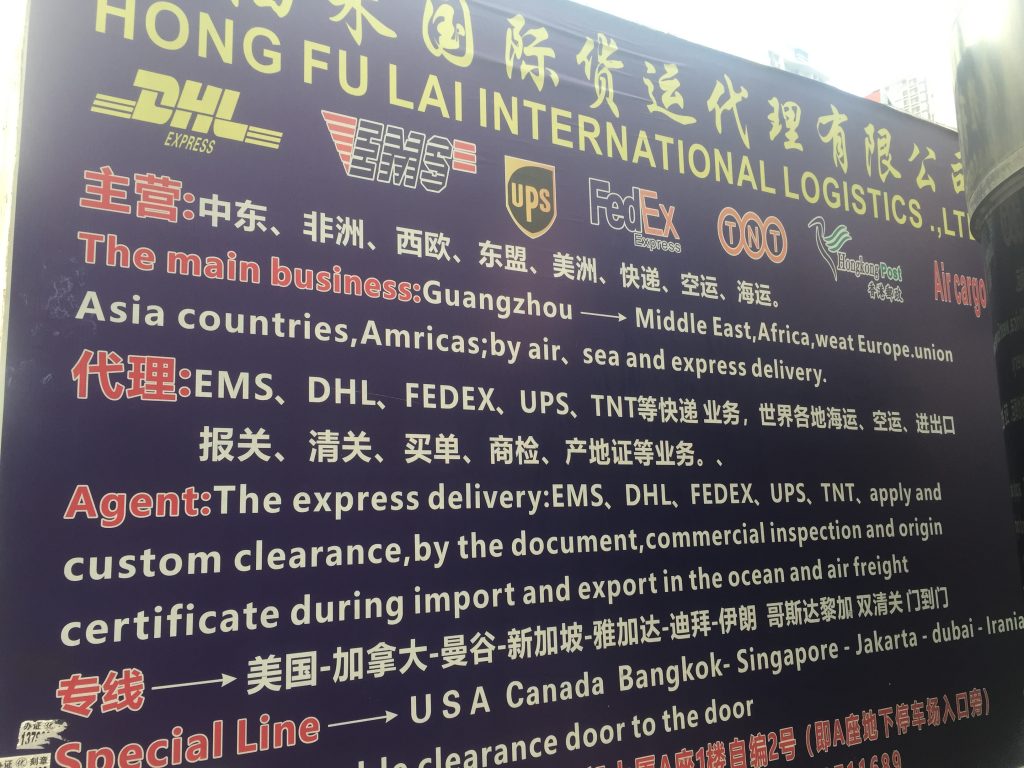 .
And on the opposite of the West Xijiao Building, we can see a building specializing in logistics, especially international logistics, as well as a small number of jewellery shops.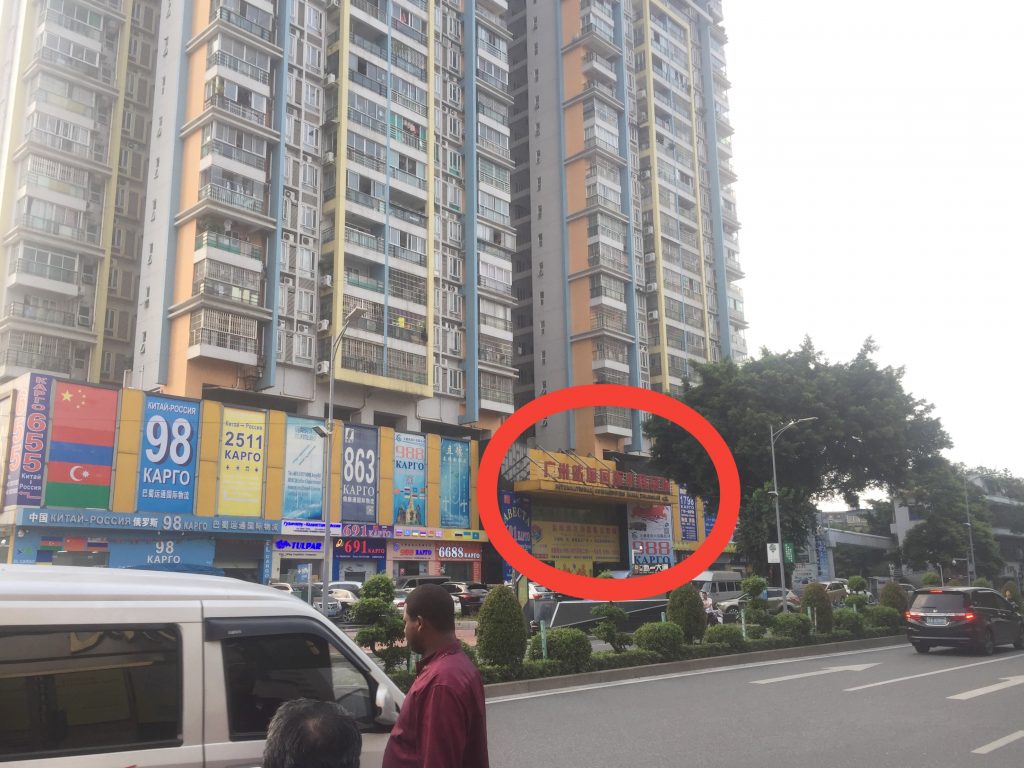 .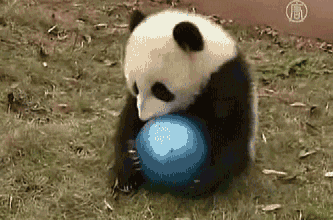 Guangzhou Liwan Plaza(广州荔湾广场)
There is two part of Guangzhou Liwan Plaza, South Tower & North Tower.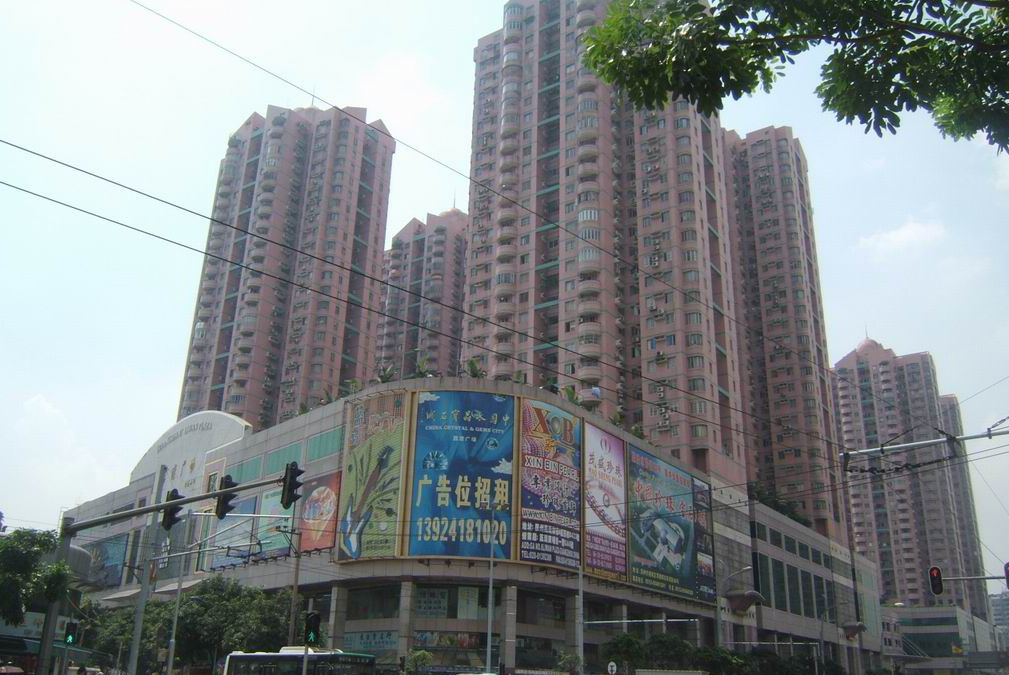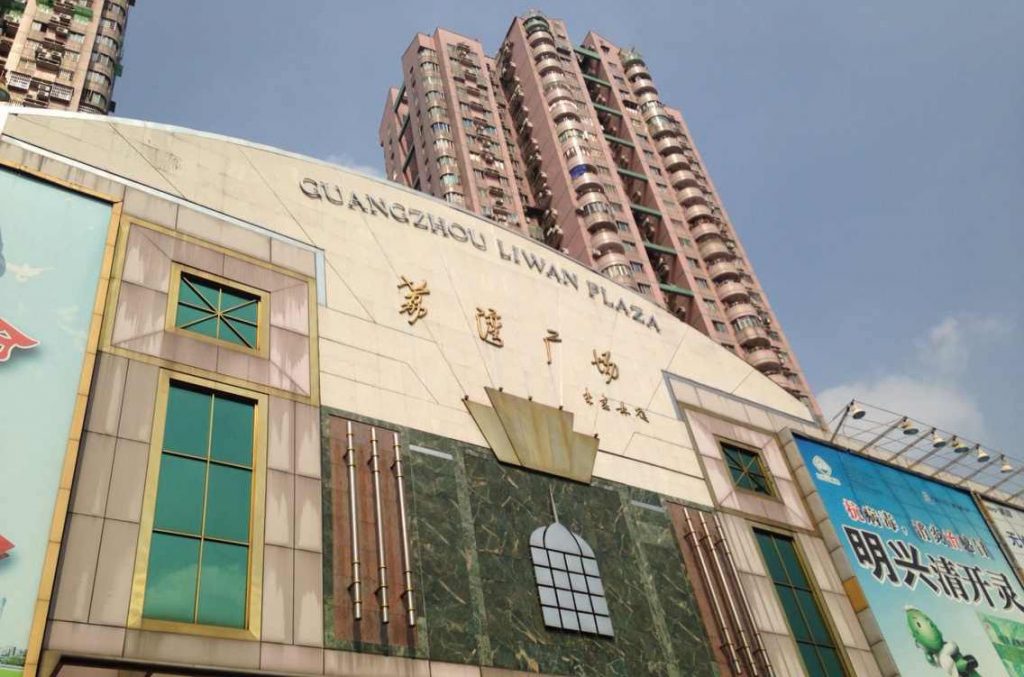 The South Tower in usually for people shopping and for delicious food.
The North Tower is the one for us, there are many jewellery shops here.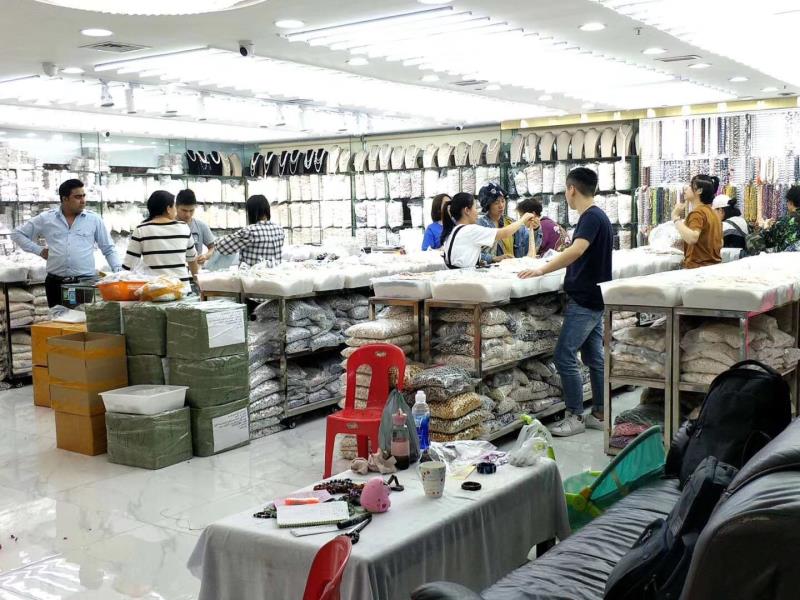 The shops on the Basement first and second floors of the North Tower of Liwan Plaza are mainly the crystal market.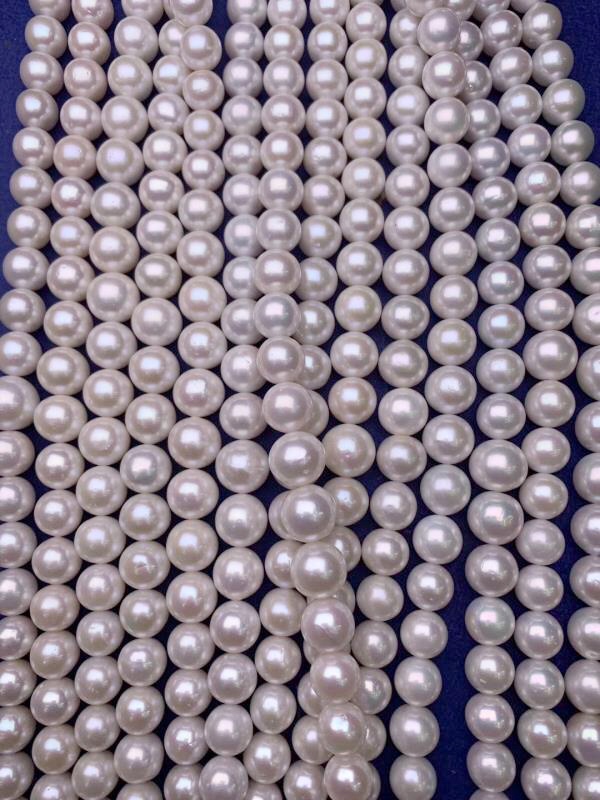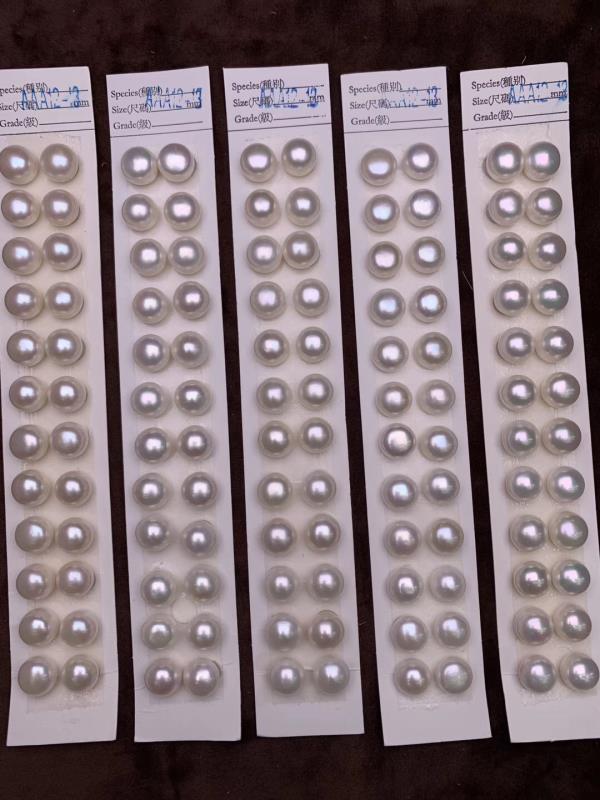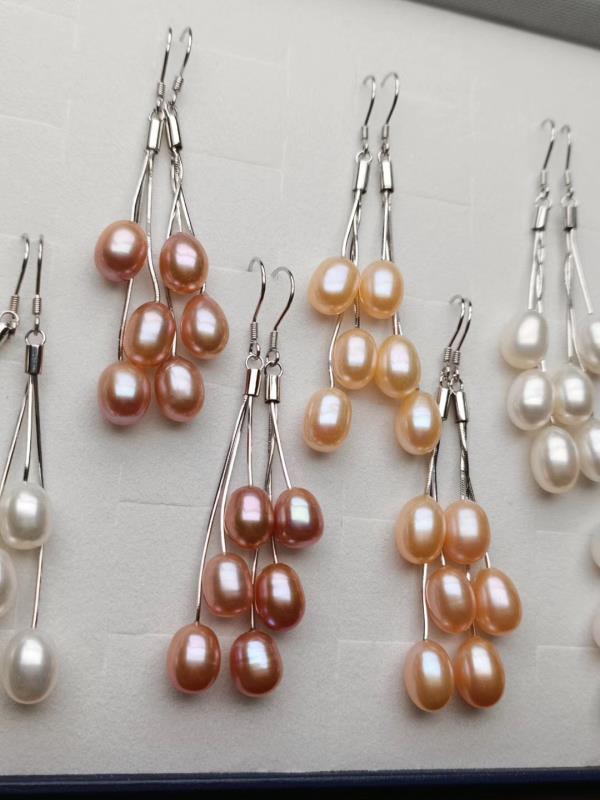 Different kinds/colours of pearls can be found in this jewellery market.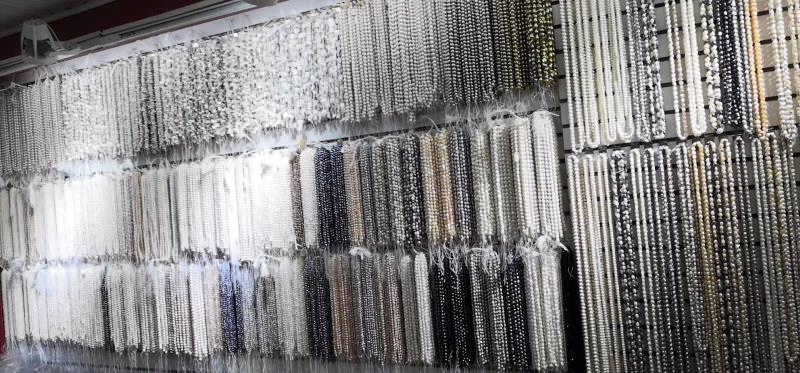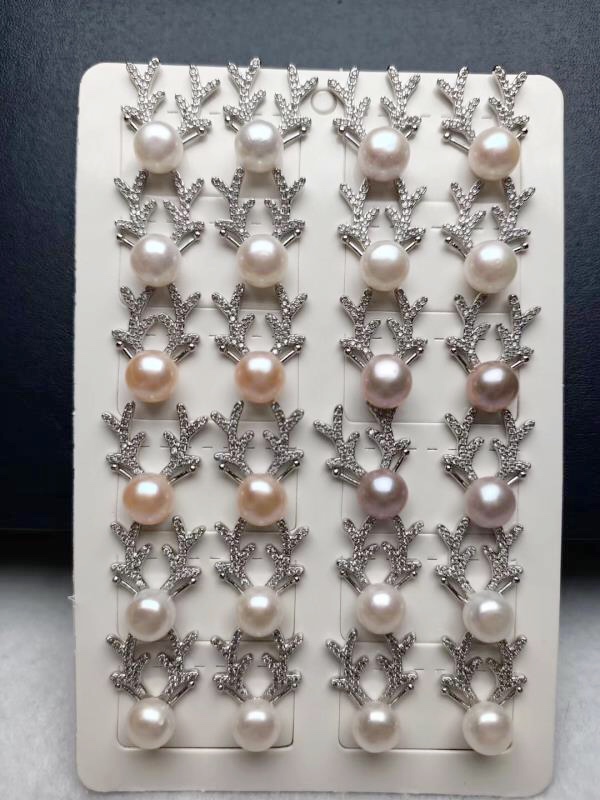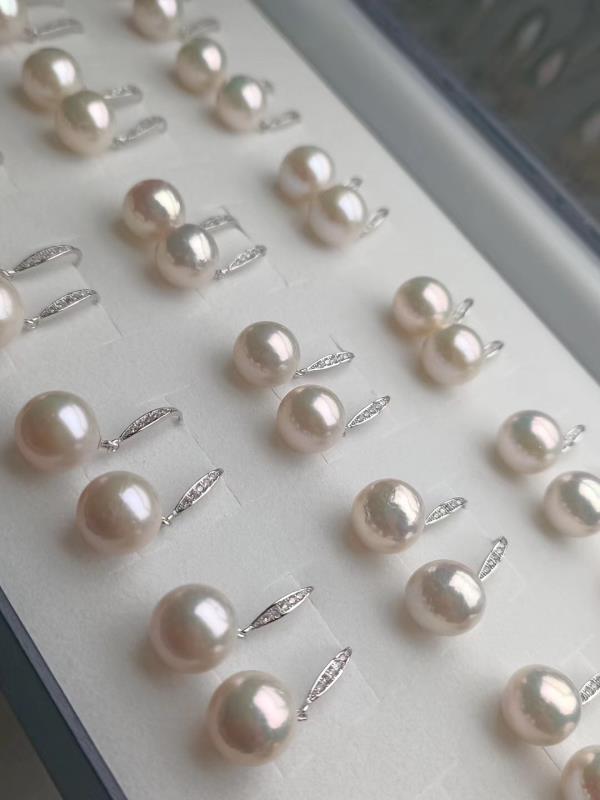 Unprocessed pearls can be found here and also much jewellery made of pearls selling here.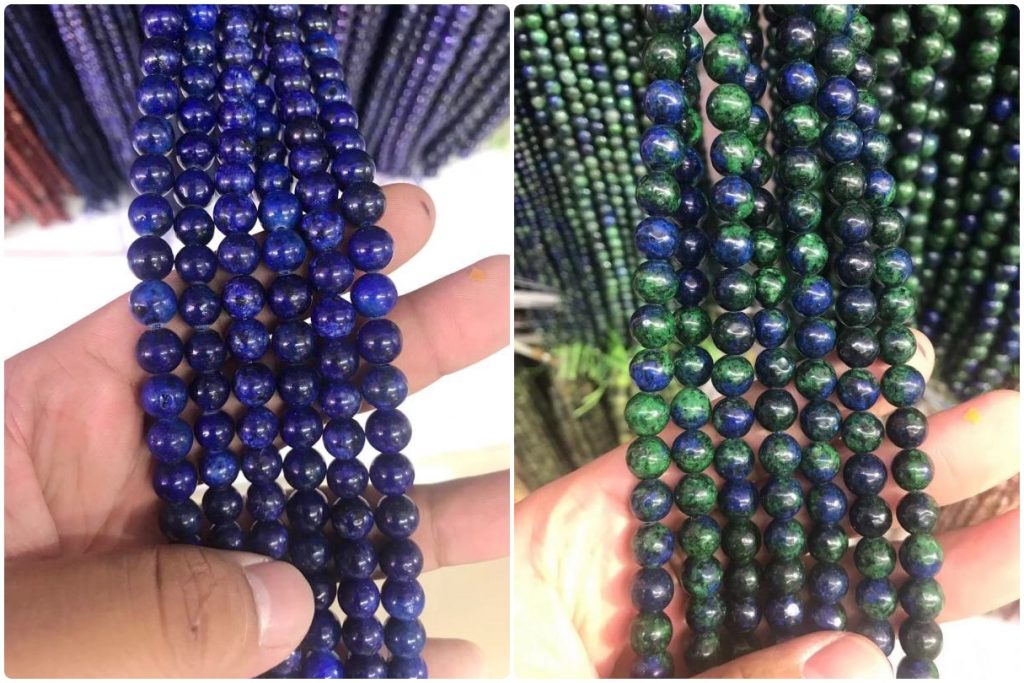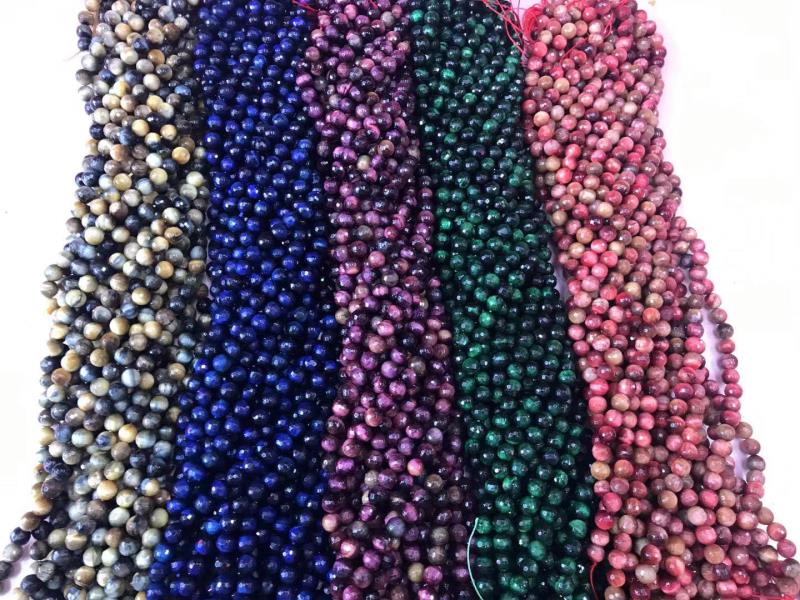 The agate shops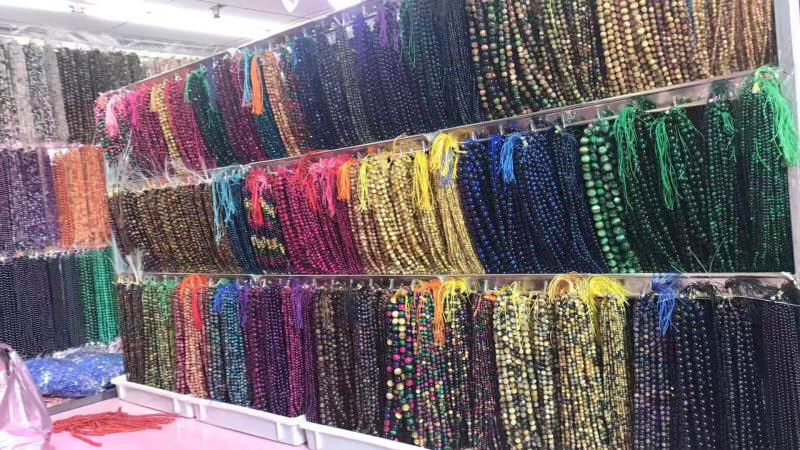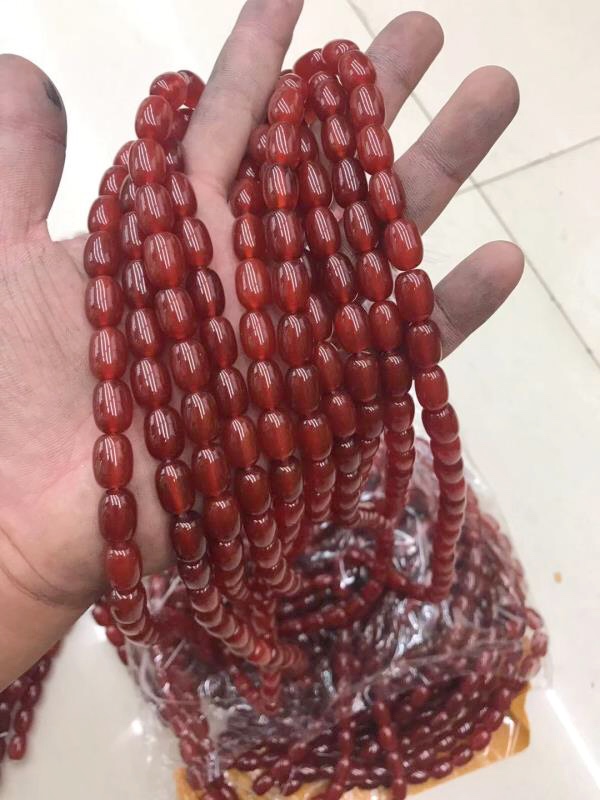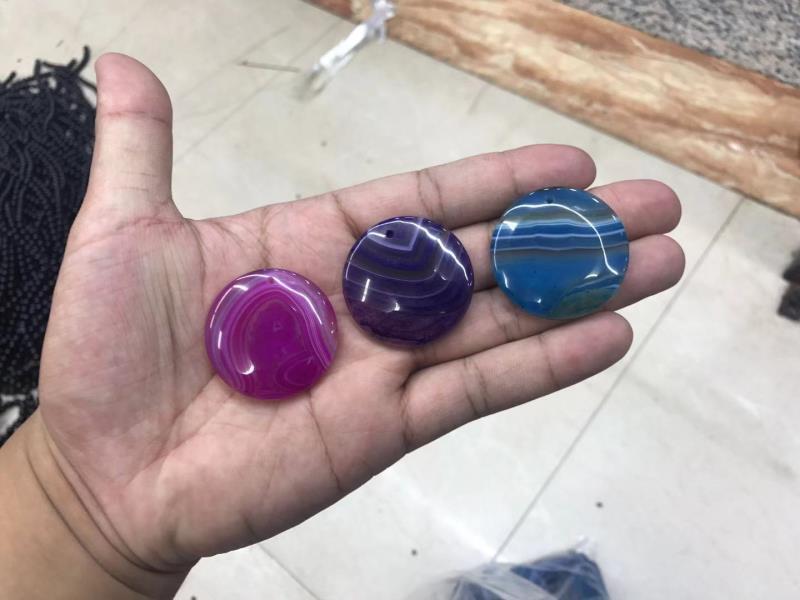 .
This is the international crystal and jewellery trading center(Especially agate and pearls). Since 2001, it has gradually become a national professional market. It is also the largest wholesale crystal and jewellery trading market in Southeast Asia. It operates with more than 3000 merchants.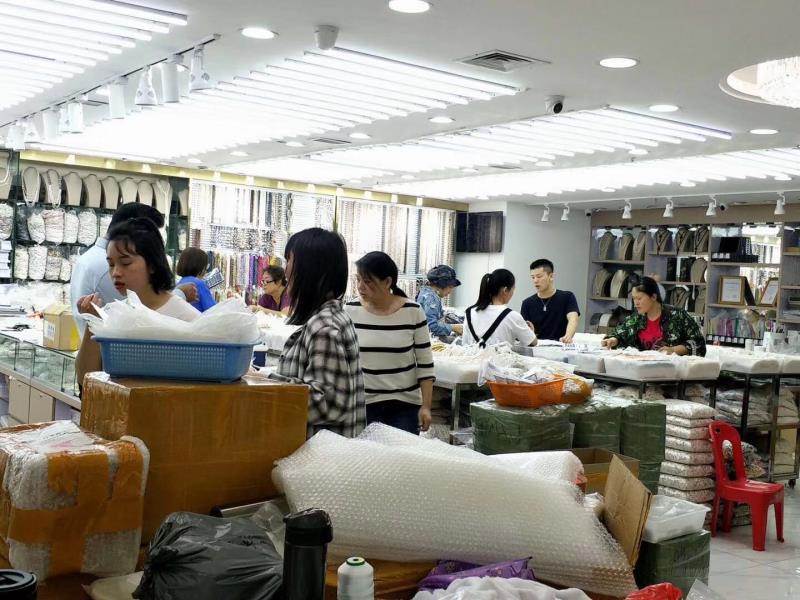 .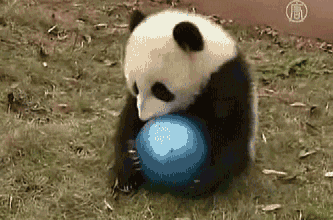 Guangzhou Taikang Jewelry wholesale market(广州泰康饰品城)
This is also a very large market, more Chinese customer know and come for purchase.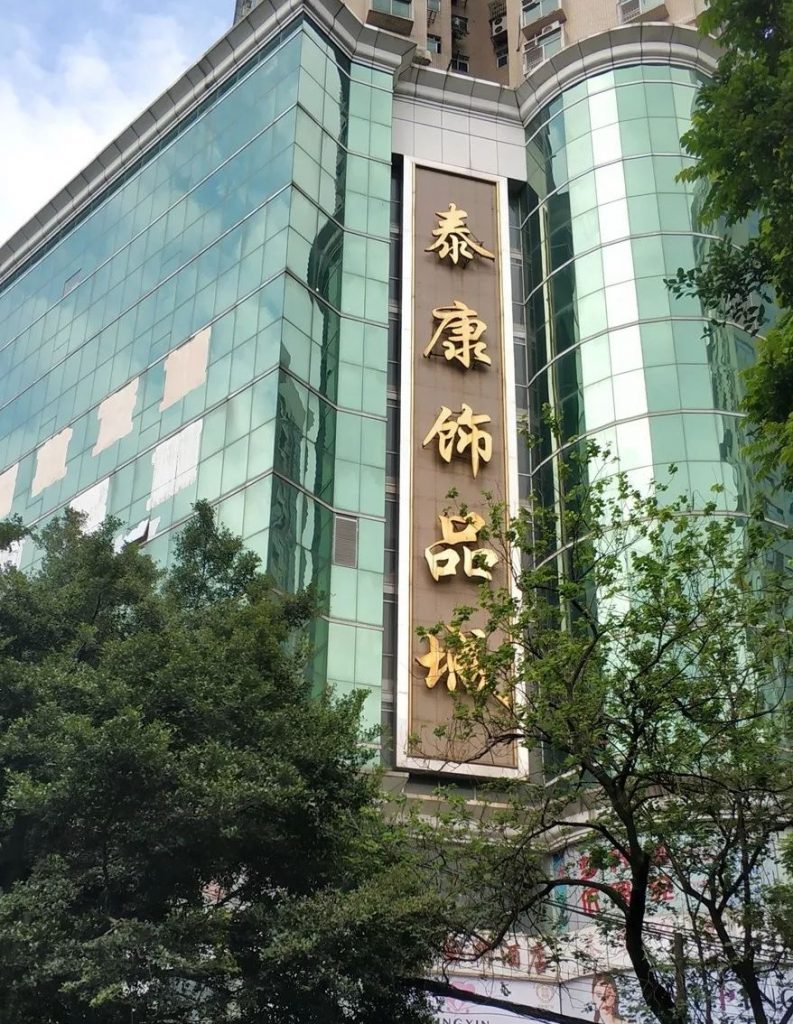 Address: No. 111 Taikang Road, Yuexiu District, Guangzhou, Taikang Plaza
Transport:The metro Line 2# Haizhu Square station,Exit "F".
.
These jewellery market products are more popular to Asia & European styles, and more jewellery products suit the youth and women.
The jewellery products such as necklaces, earrings and rings in this market are so complete that nearly all small jewellery sold on Taobao, a famous e-commerce platform, can be found in this jewellery market.
Most Taobao merchants come to this jewellery market to purchase.
As we know, another big famous market – Yiwu commodity city, most of the small jewellery product come from Guangzhou Three big jewellery market.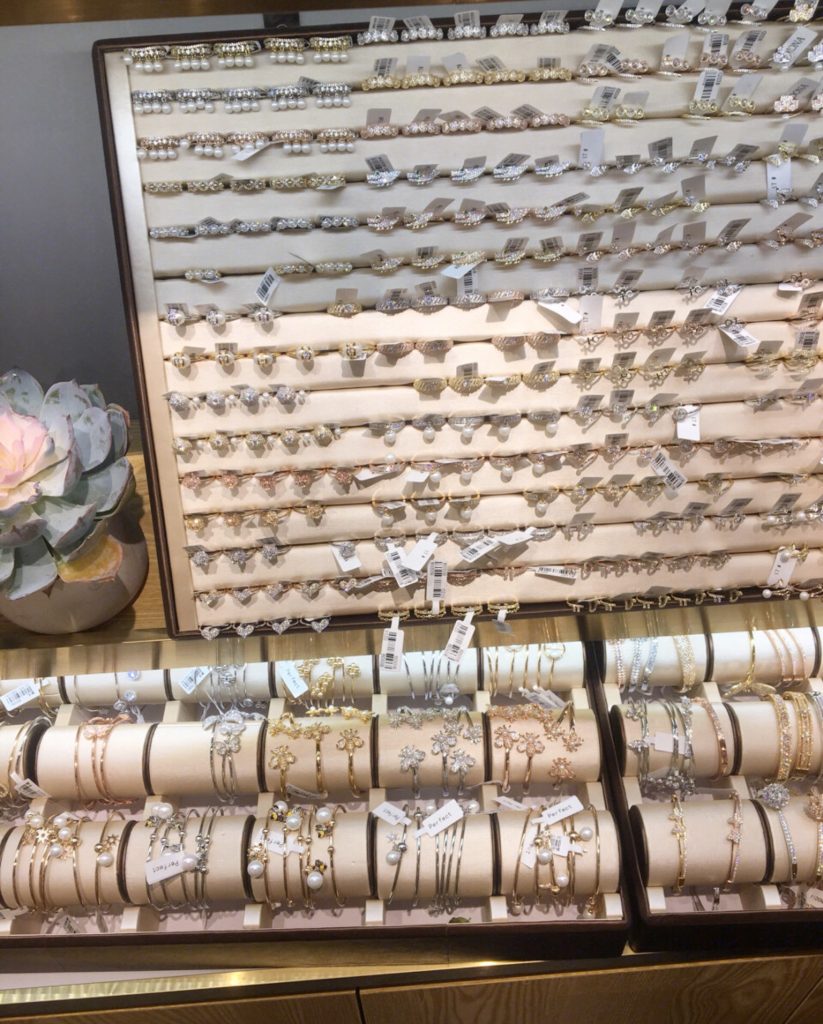 Beautiful rings and bracelets for women.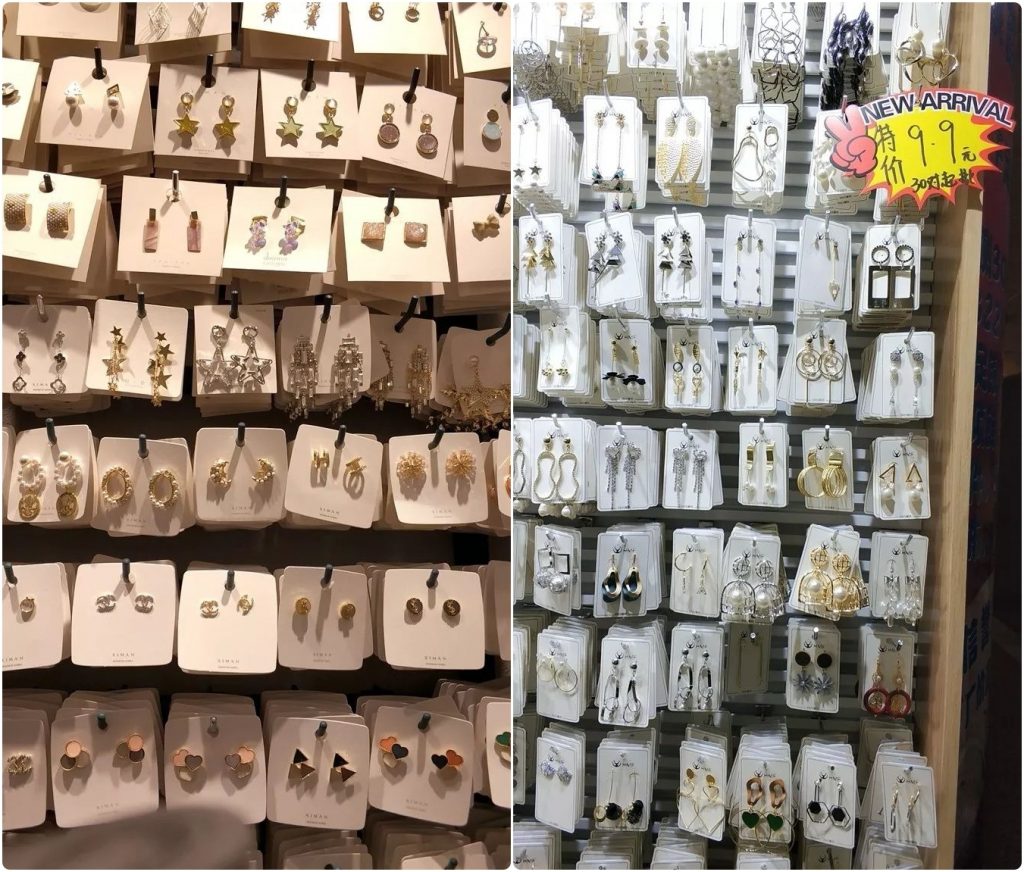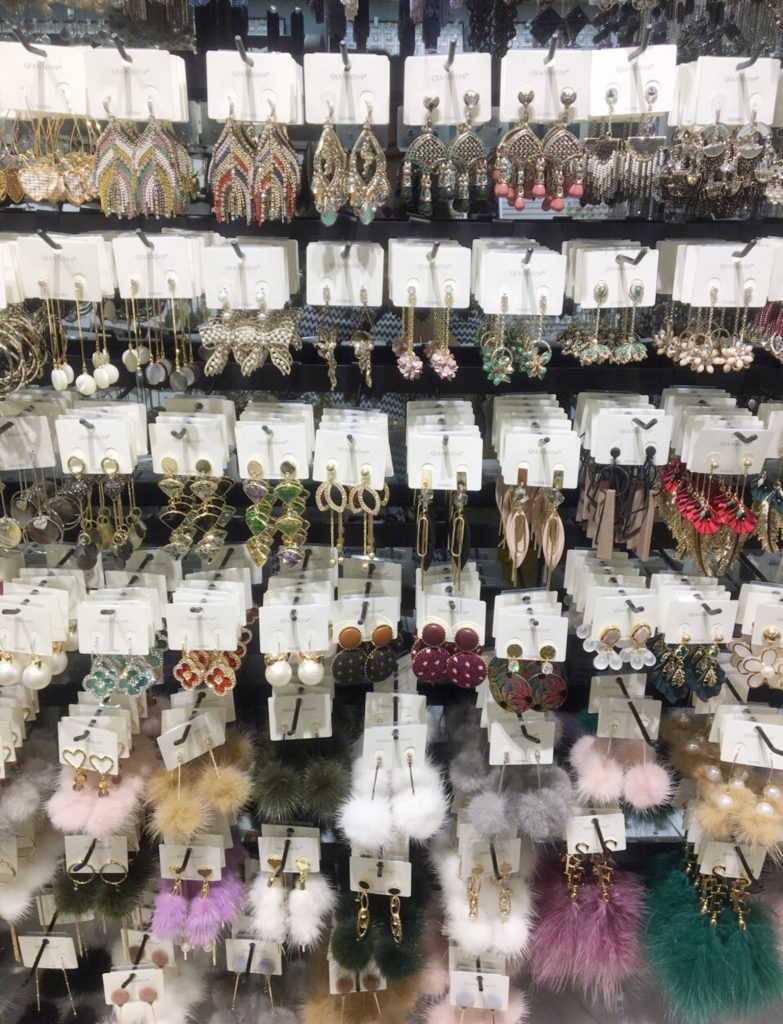 There are so many designs of earring set, pretty and not expensive.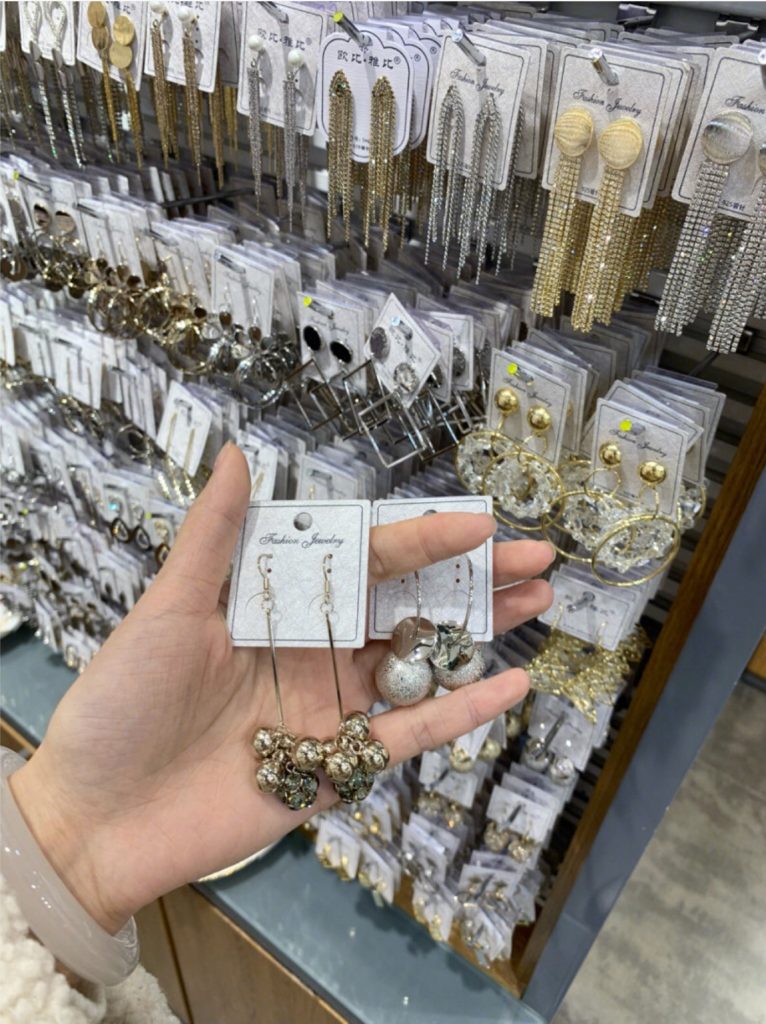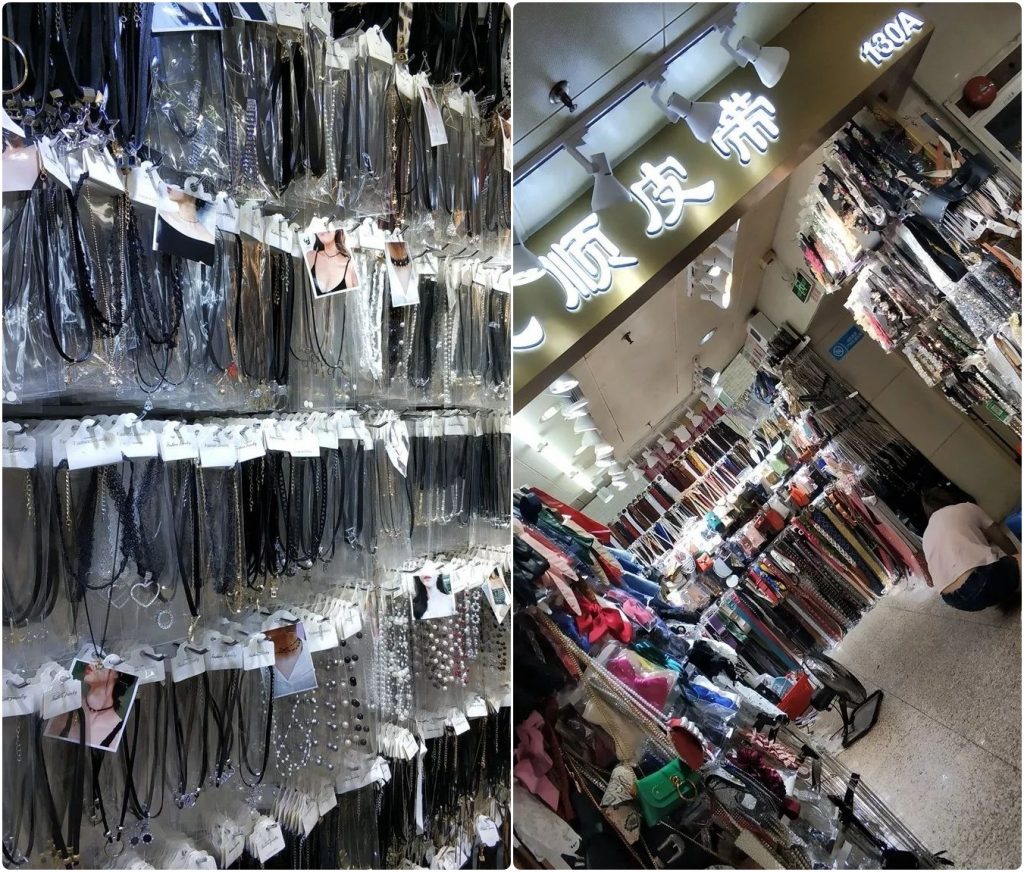 Also, we can find some peripheral products related to jewelry like garment decorative necklace, belts, hats, scarf etc..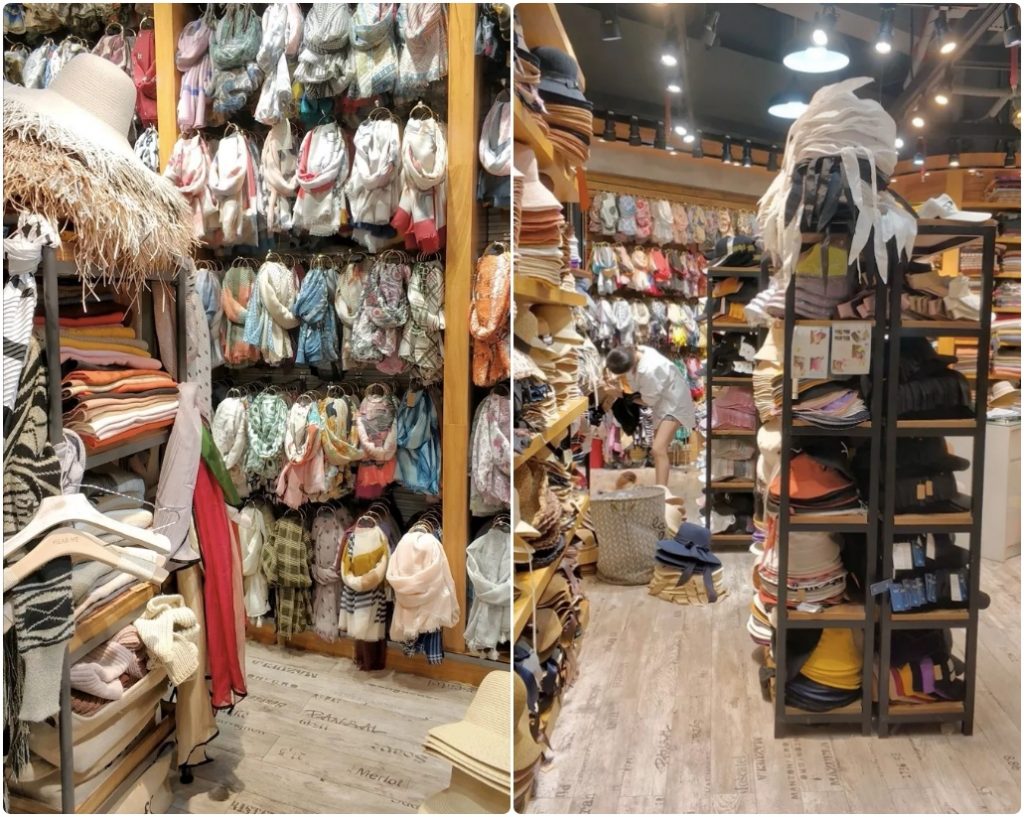 .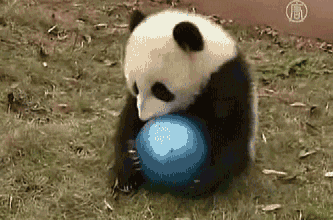 Y
Yiwu International Wholesale Market (义乌国际商贸城)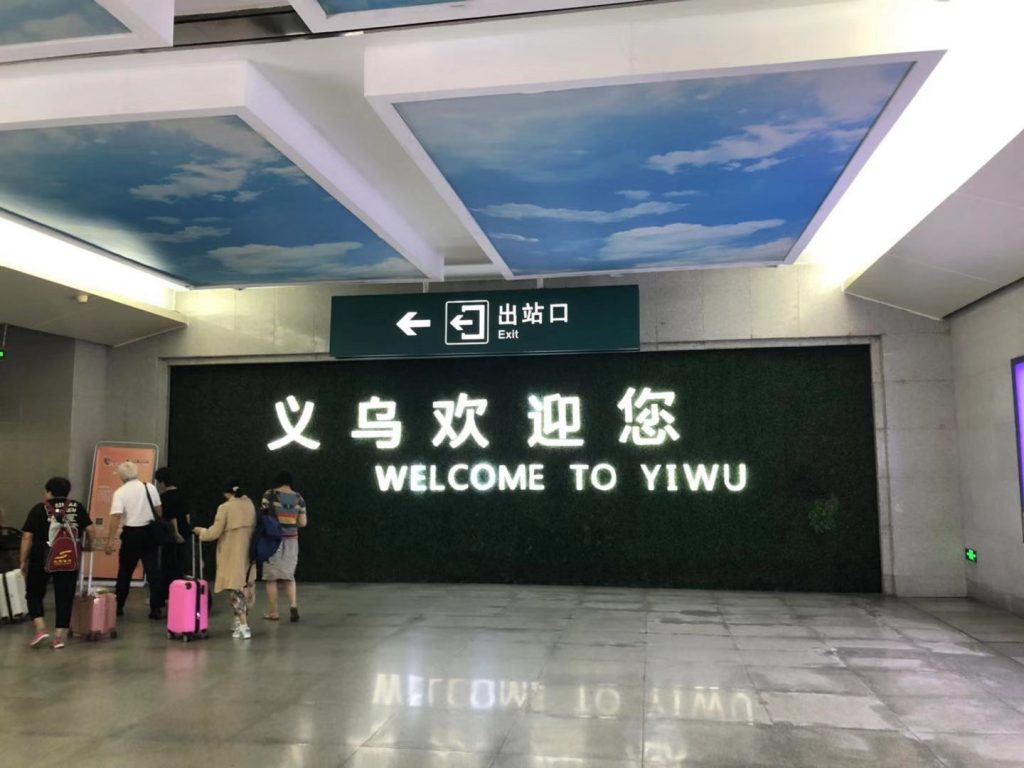 Location: Yiwu International Wholesale Market, District A-E, 2nd Floor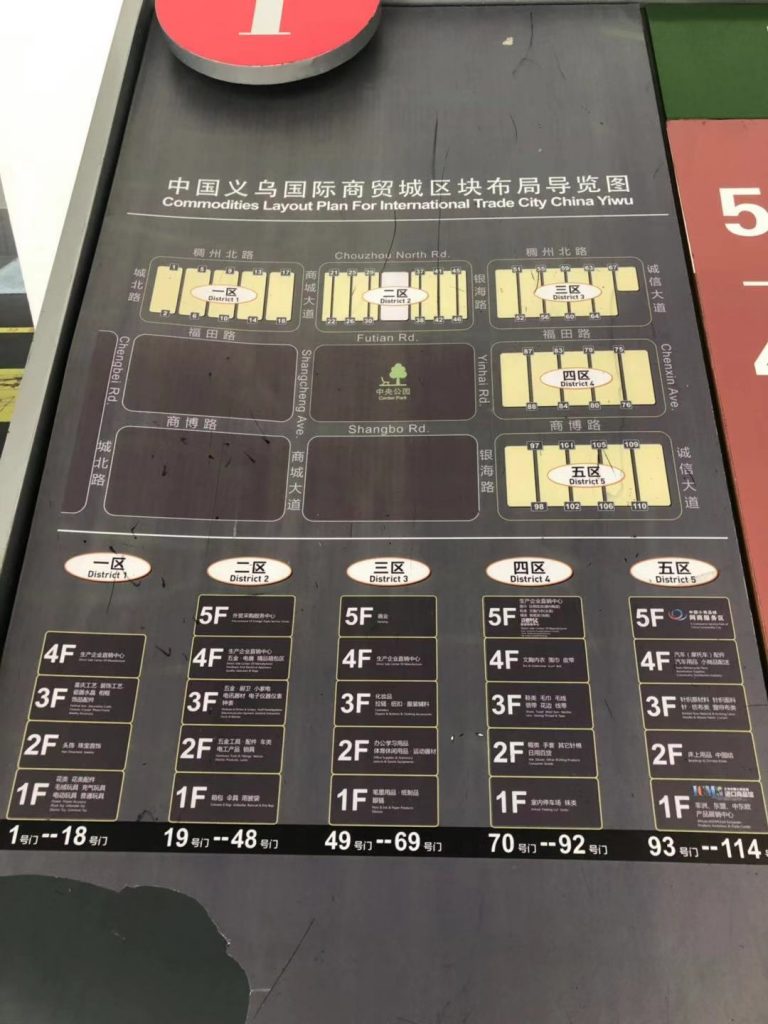 👆 The commodity layout plan for international trade city China Yiwu.
On the guide layout, we can easy to find the jewellery products Area.
We can say that the Yiwu trade market is really super big.
It is a comprehensive commodity market.
There are electronic products, clothing, leather, bags, stationery products, household goods, office supplies, cosmetics and so on. But each area here is very convenient and you can clearly find the exact area you want to go to on the map.
Because it is a comprehensive commodity market, although there are many jewellery shops here, compared with Guangzhou jewellery market, Guangzhou jewellery market sells more kinds of jewellery, more complex and complete.
Yiwu jewellery market has a lot of sources from Guangzhou, but the jewellery in this market is cheaper, but the quality of jewellery is certainly worse than that in the Guangzhou market.
In this market, jewellery orders are similar to those in Guangzhou. If you want to find jewellery, we suggest you find more shops to compare, you.
About the jewellery products here:
Sourcing in Yiwu wholesale jewellery, you will find that the price of jewellery here is the cheapest compared to Qingdao and Guangzhou, but the quality will be worse than Qingdao and Guangzhou as well
China's logistics industry has developed more and better than we imagined. The daily delivery from all parts of the country is endless, especially from Guangdong Province, Guangzhou & Shenzhen City.
As we mentioned above, many jewellery stores here their jewellery products that come from the wholesale jewellery market of Guangzhou.
.
As we mention above,there are three famous jewellery wholesale markets in Guangzhou. The one we visit today is the biggest jewellery market is in Guangzhou and in China.
This jewellery wholesale market is also the market that most overseas businessmen come here to purchase.
This jewelry wholesale market has the best quality in several jewellery markets in Guangzhou, and also sells the most kinds of jewellery.
Next issue we will go to explore the other two jewellery wholesale markets in Guangzhou. If you want to know more about the fashion wholesale market in Guangzhou, please remember to focus on our article updates every week.
.
If you are interested in any wholesale market in China, just free to tell us, we will update our "journey" to the market you want to know!
.
We make sourcing easily!
Take advantage of our services makes your business stronger in China!
We provide all at cost ($99 up) service including:
China Company Verification
pre-travel service(invitation letter for visa, hotel list, visit scheduling)
samples and fabric sourcing
pattern and sample making
market and factory visit
inspection and shipping arranging
Your comments and inquiry will be highly appreciated.
For more details about us, pls check on our website below:
Now the COVID-19 has spread all over the world and cannot come to China. Sure, contact us. We can provide you with the most professional jewellery service.
Contact: WhatsApp &Wechat: +86 13428886594
Email: dc@cndc.coT