If you are doing beauty products, hairdressing products, cosmetics products, whether you are a business company, a retailer or a consumer, when you come to Guangzhou, there is a beauty center you must go to, that is Guangzhou Meibo Beauty Exchange Center (Also called Meibo City/Center)
Guangzhou Beauty Exchange Center (Chinese Name: 美博城 Mei Bo Cheng)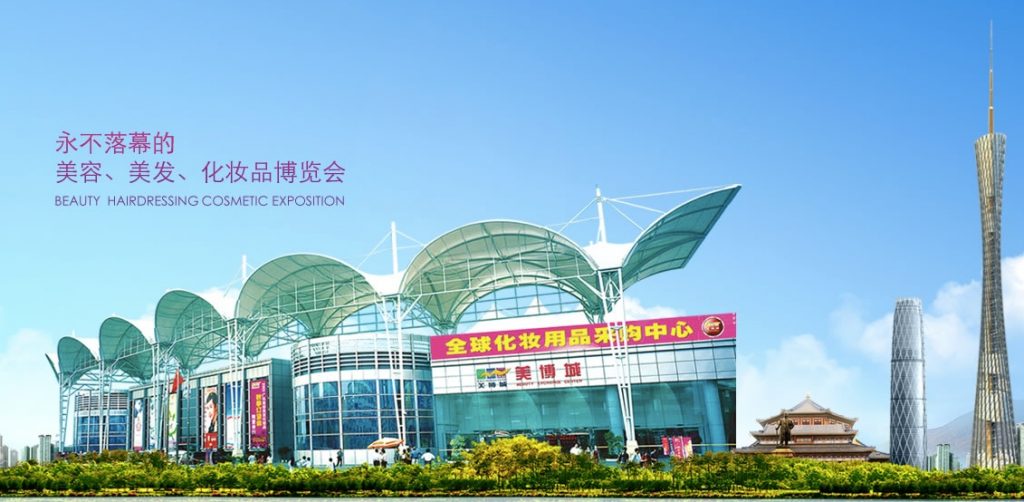 Address:No.121, Guangyuan Xi Lu, Baiyun District, Guangzhou
Transportation:
Guangzhou Metro: Line 2, at the Sanyun Li Station , Exit D, at Guang Yuan Xi Road.
Office phone number: (020) 86258923 / 61149999
Guangzhou Meibo Center is currently the largest trading platform for cosmetics & beauty products in China and even in Asia. It enjoys the reputation of "the cosmetics capital of Asia".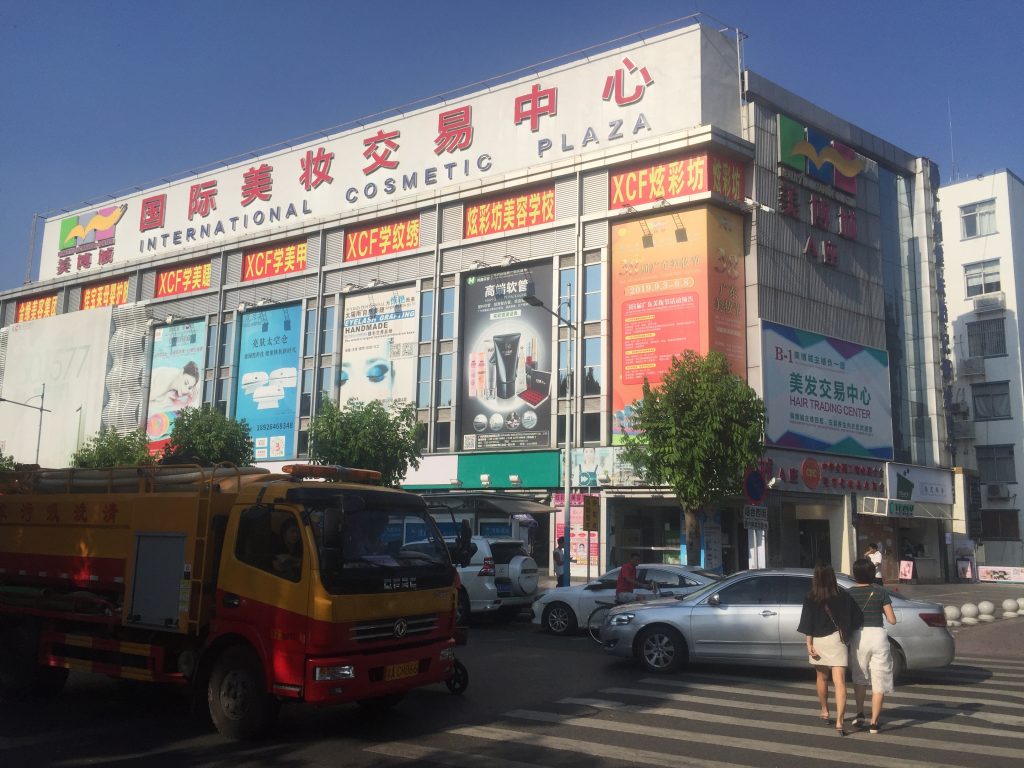 👆Building A of Meibo city in Guangzhou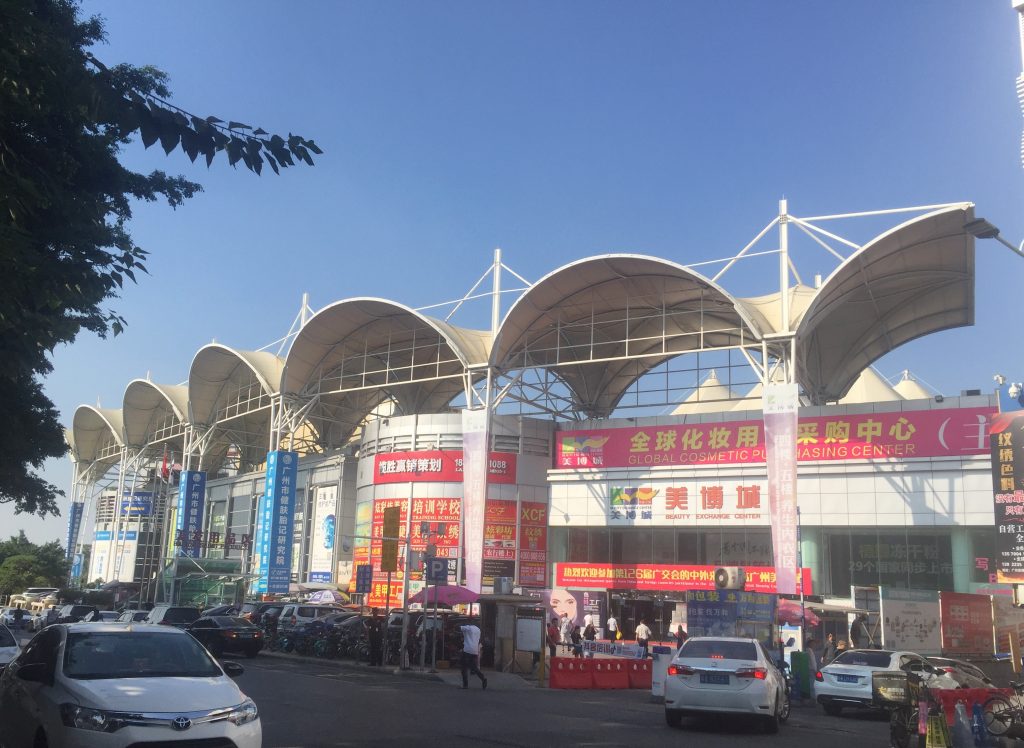 👆Building B, the main building of Meibo city, almost all the cosmetic products can be found in this building.
.
Guangzhou Meibo Center, with an area of nearly 120,000 square meters, is a large-scale multi-functional exhibition and trade center with wholesale operation of beauty, hairdressing and cosmetics as its main business. With more than 1,800 stores of different sizes.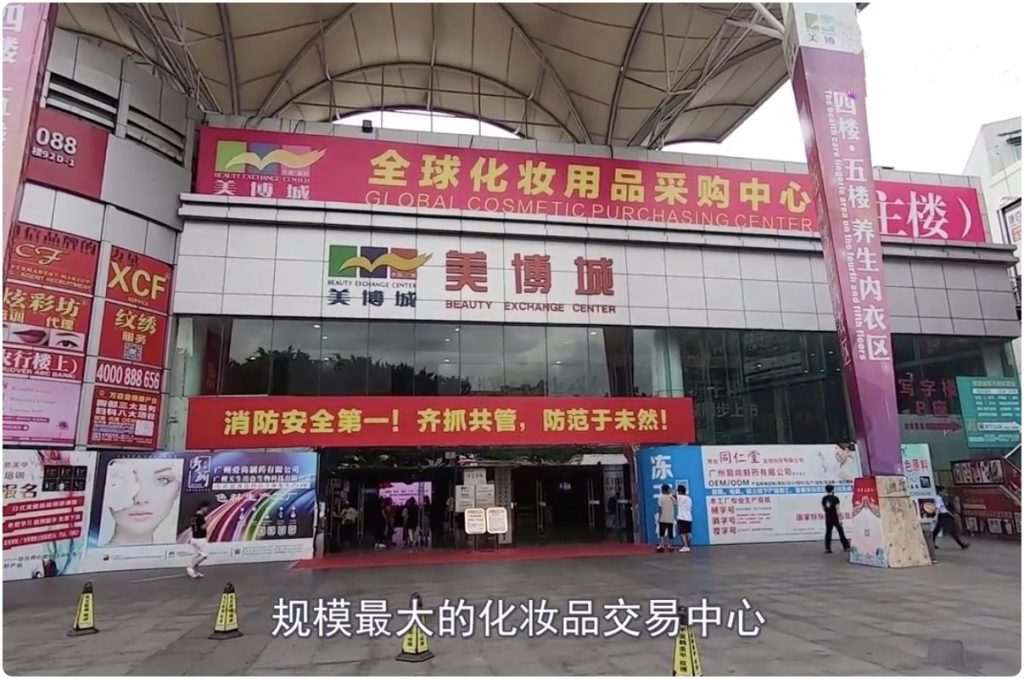 Guangzhou Meibo Beauty Exchange Center is the largest professional cosmetic and beauty product wholesale market of China so far, even the whole Asian-Pacific area.
The market also providing famous brand name cosmetics made in China, Europe, America and Southeast Asia so far. Compared with Cosmoprof (Bologna), Italy, the world's largest cosmetics fair.
Guangzhou Meibo Beauty Center is located at the junction of Guangzhou Railway Station and Baiyun Airport, the two major transportation hubs of South Gate of China. At the same time, because this cosmetic center is built along Guangzhou Metro Line 2, the traffic is super developed, and there are various very well-known different types of large wholesale markets nearby, which is also one of the important reasons for attracting many visitors.
The development of Meibo City has been very mature and completely. It includes seven systems: Exhibition and promotion area, multi-functional service area, storage area, logistics area, catering service area, office area and commercial service area.
At the same time, according to the characteristics of the industry and the requirements of the related industries, Guangzhou Meibo Beauty center divides the plane into 9 areas according to its functions: special area for beauty, cosmetics and support products, special area for spices, special area for hairdressing products, special area for international brands, special area for daily washing products, special area for beauty products, special area for beauty training and mechanical equipment.
If you are interested in these products:
Beauty products: perfume, baby and children perfume, Cologne, make-up, plant cosmetics, salon professional cosmetics, permanent cosmetic equipment and technology and Technology (such as tattoo eyebrow, Eyeliner), all kinds of beauty equipment, maintenance skin care products, baby care products, fragrant incense, bath products, cosmetics beauty industry technology.
Hair care products: wigs, headwear, hair accessories, hair clippers, hair combs, hair care products, hair dye, hair wax mousse, perm lotion.
Packaging materials: Lipstick boxes, all kinds of make-up boxes, perfume bottles, perfume spray heads, latex sprinklers, plastic containers, glass containers, metal containers, all kinds of cosmetics and beauty products packaging materials and accessories.
Accessories and ritual accessories: Portable perfume bottles, cosmetic bags, brushes, mirrors, eyebrow pencils, eye shadow pens, eyeliners, razors, massages, fashion accessories, jewelry, leather bags, wallet and related gifts, gifts, etc.
Raw materials: all kinds of beauty products raw materials.
Yes,all product mention above you can find in Guangzhou Meibo Beauty center.
.
Guangzhou Meibo Beauty Center Floor guide:
Here we have a video of visiting this cosmetic market, you can have a look first:
.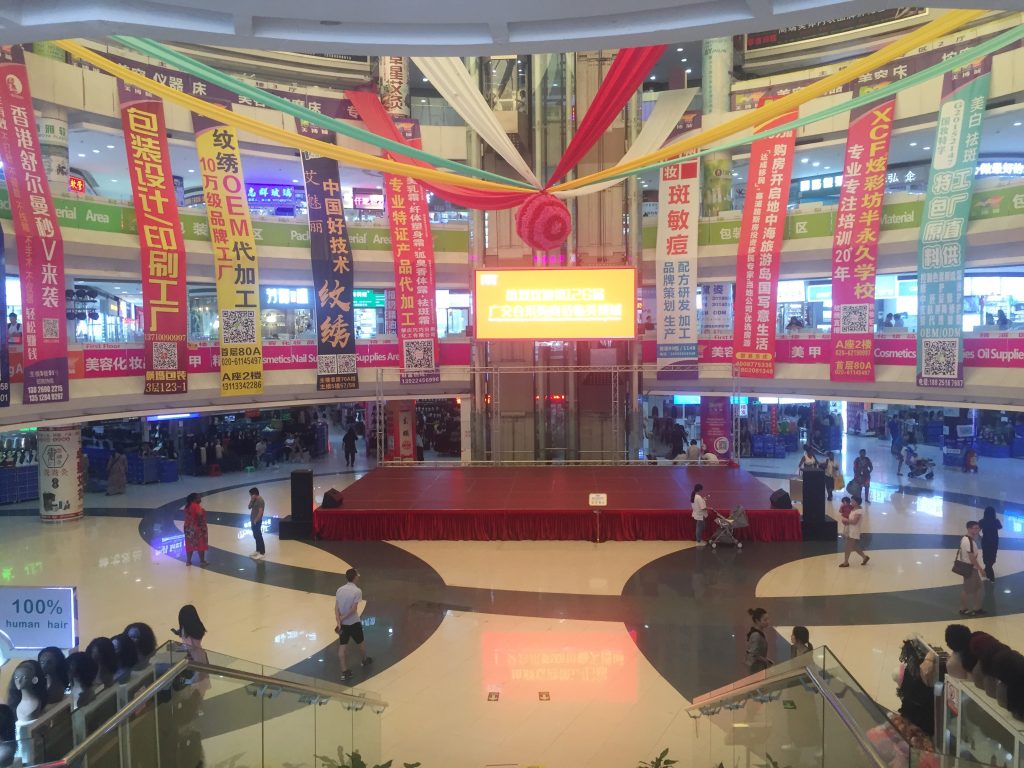 It like a big circle building that there are thousands of shops related to beauty products selling in this building.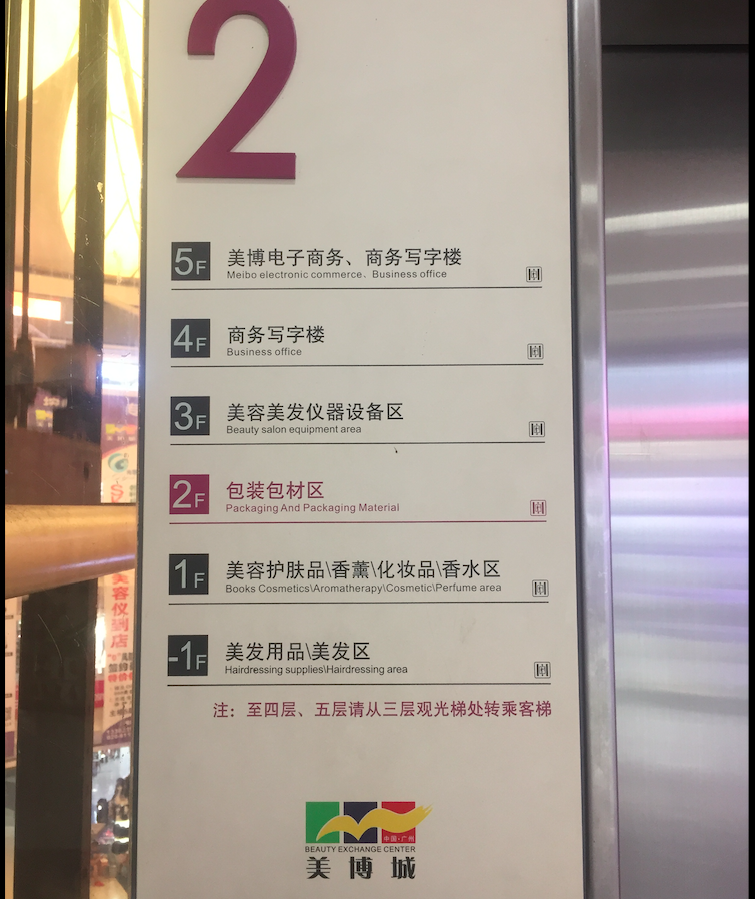 👆 There are direct elevators for your convenience. Each floor has different product categories.
We need to know that it's B1, 1F, 2F, 3F, these 4 floors are our visiting today, almost all product related to beauty / cosmetic / hairdressing products can be bought here. The 4th and 5th floors are people's daily office areas, which are not in the scope of our visit today.
.
Let's have a more detail introduce of these 4 floors below:
Basement 1st floor of Guangzhou Meibo Beauty Center
See the shops layout of the B1 Floor: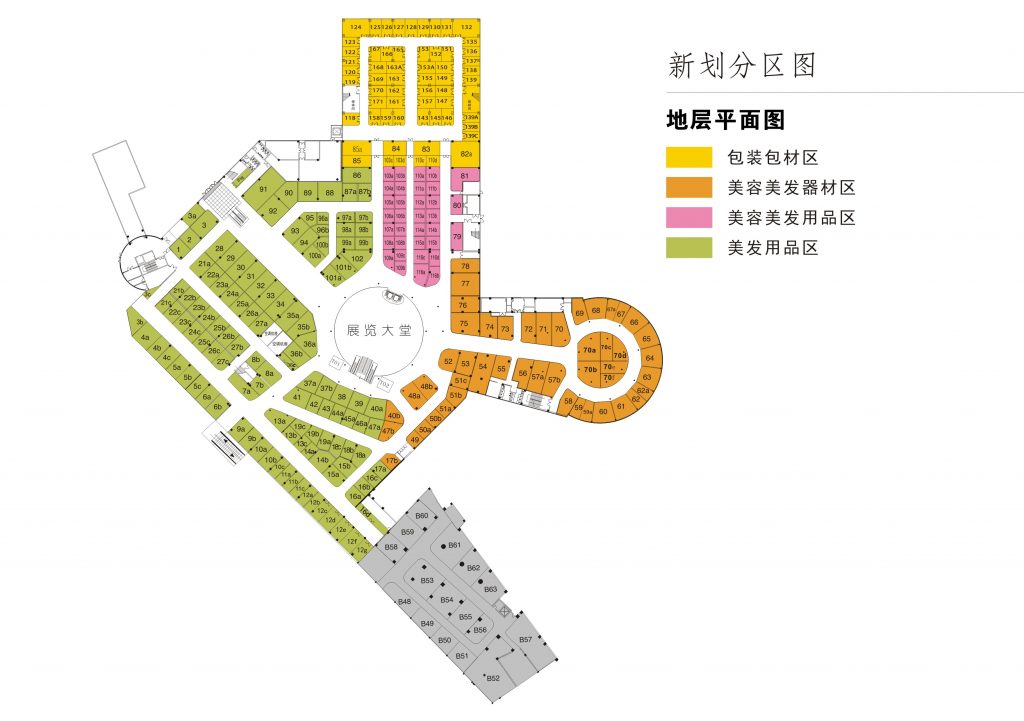 This floor Mainly engaged in various types of hair products, including wigs, hairdressing tools, shampoo, conditioner, etc.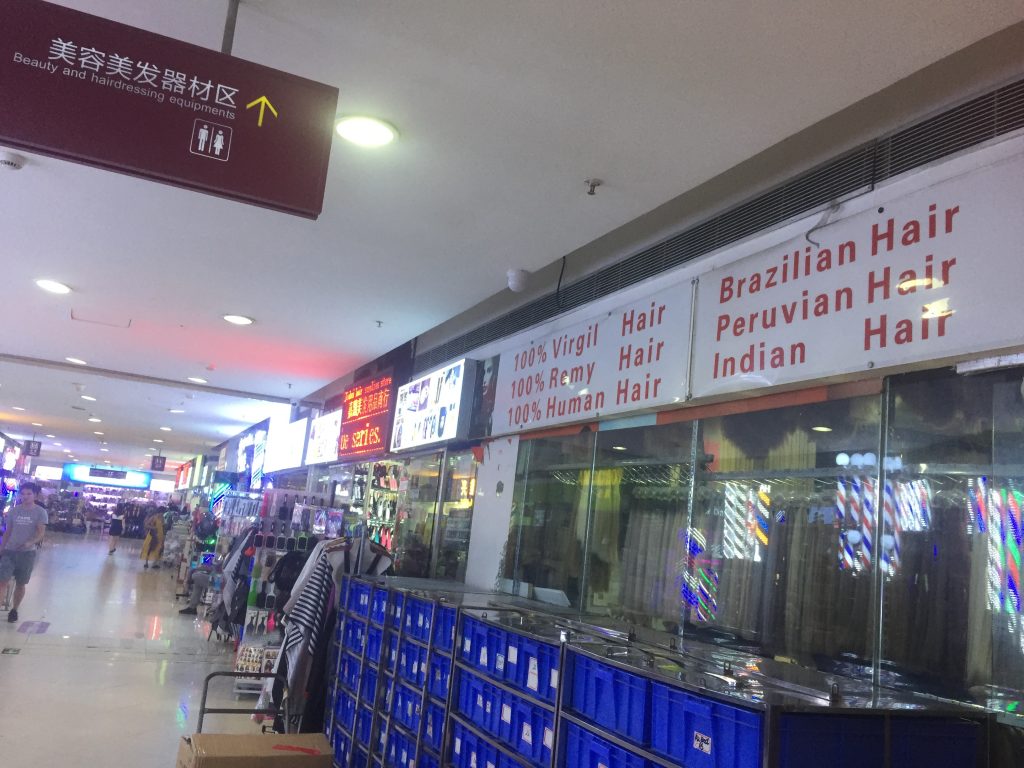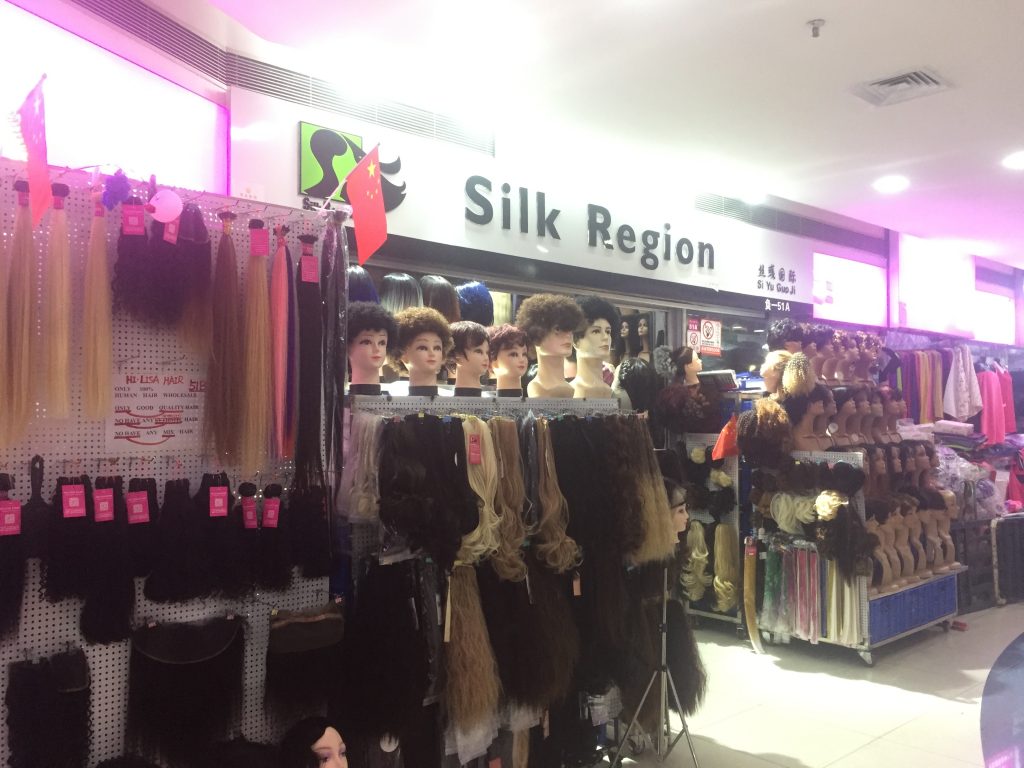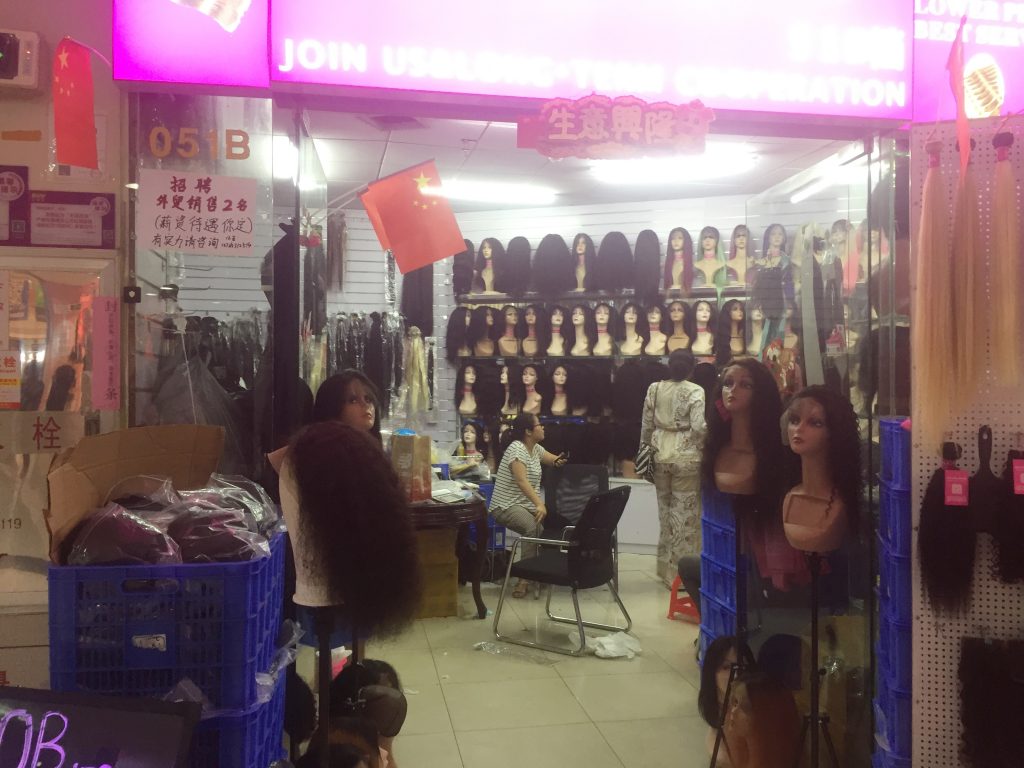 The main product in B1 floor is the wigs/virgil hair.
There are more than 200 shops selling the wigs and related products in this floor.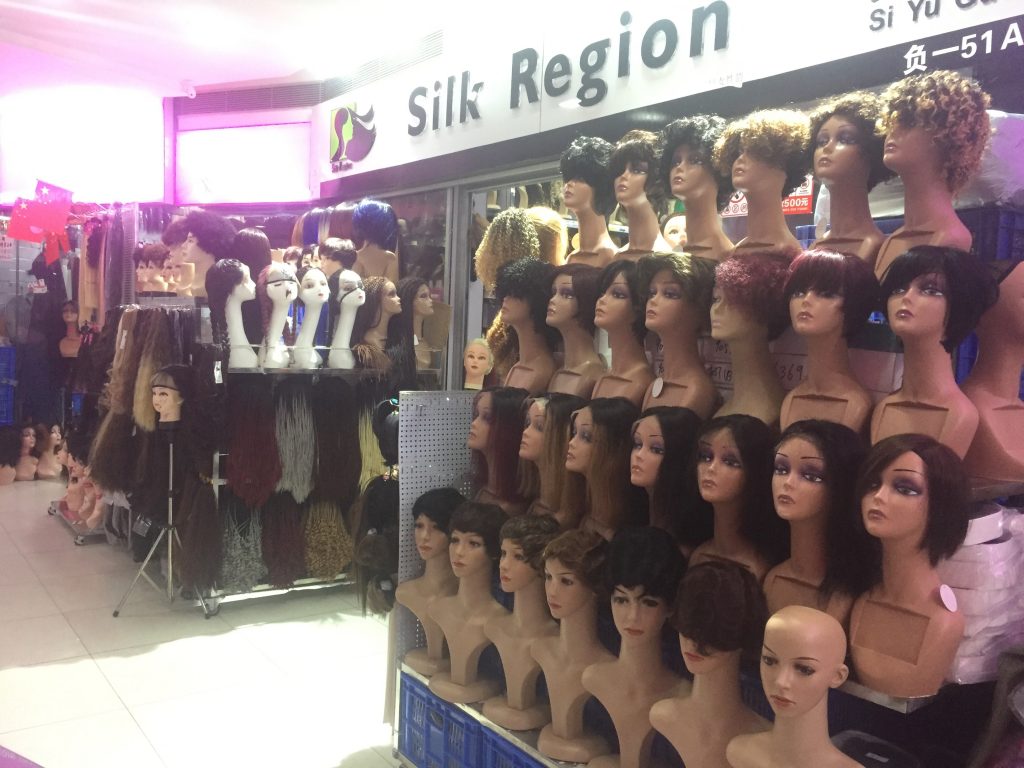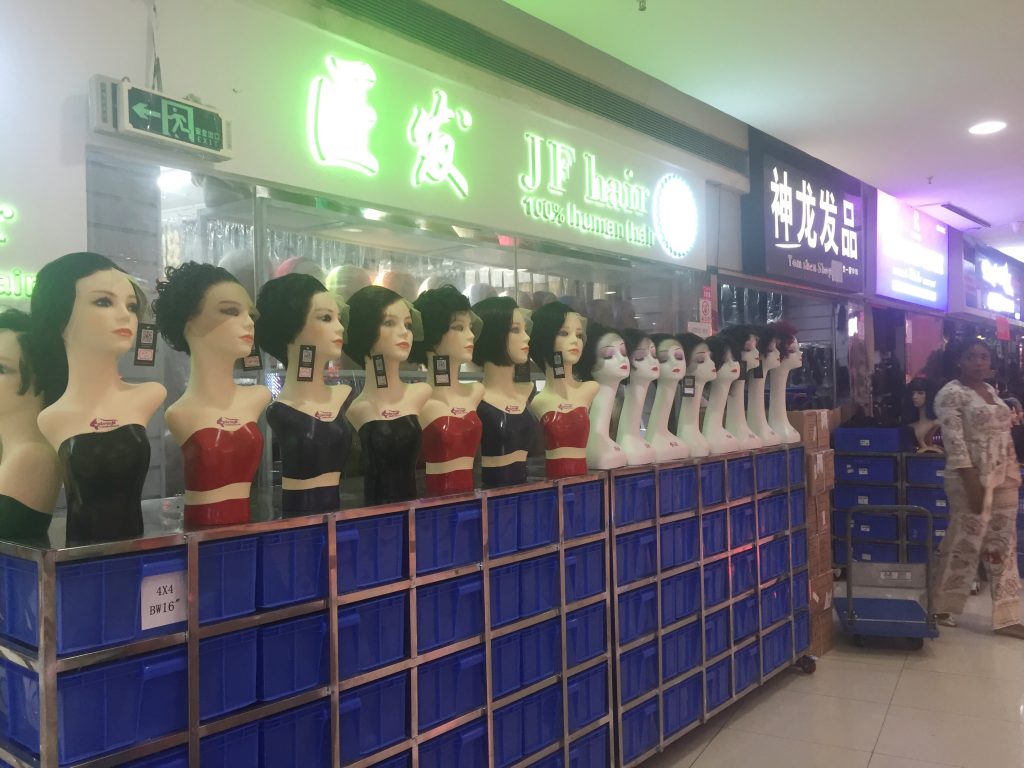 As long as there are different colors and different kinds of wigs on the market, you can buy them here.
On this floor, we see a large number of customers from overseas, so all the shop here can do the overseas trade business.
Most of these stores have their own factories. You can buy them from stock or most of them accept customization.
They can have different MOQ (Minimum order quantity) according to different kinds of wigs. The price is very reasonable and preferential in the whole Chinese market.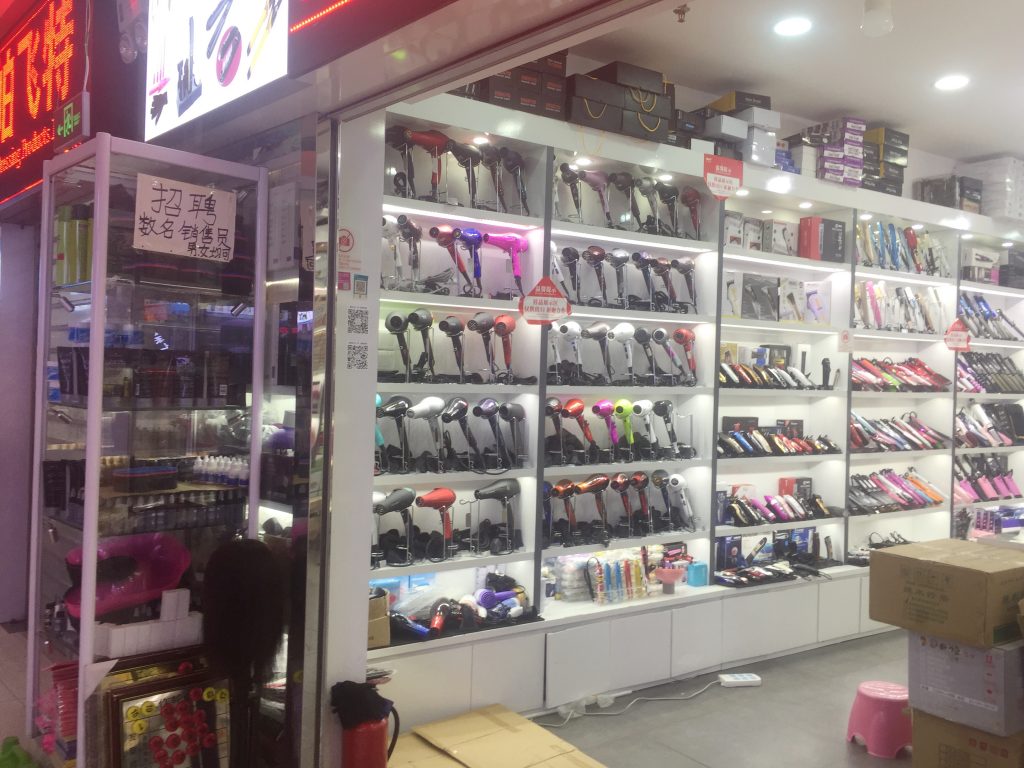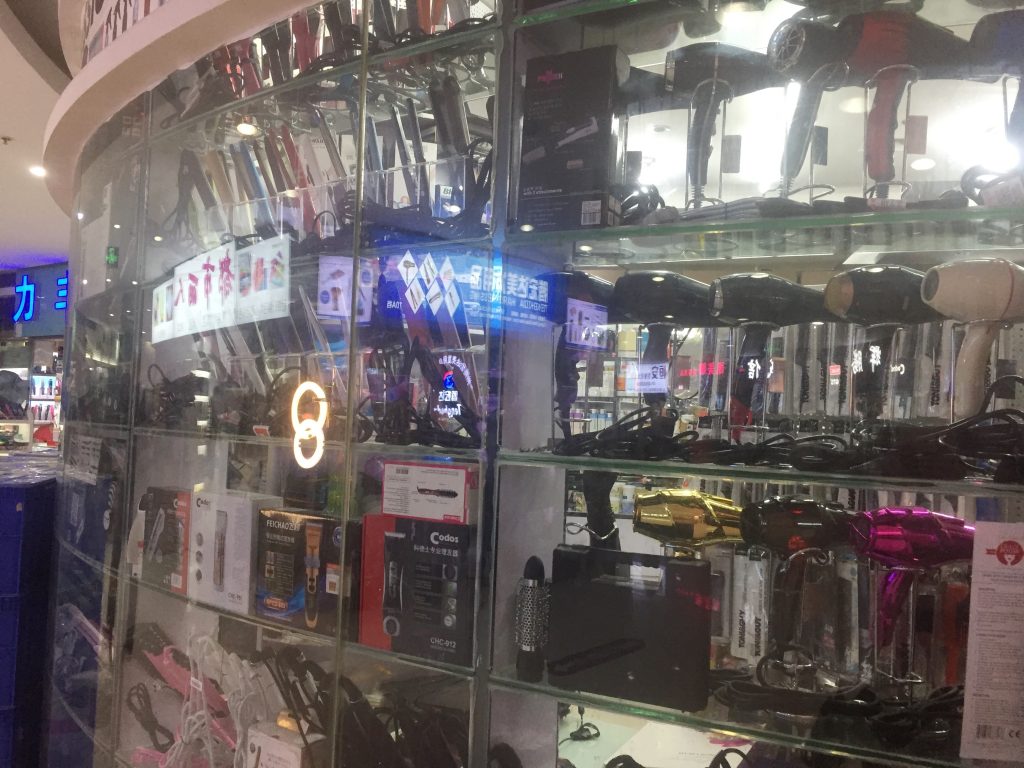 Hair dryer, hair straightener, curler, comb, scissors, etc. are sold in different shops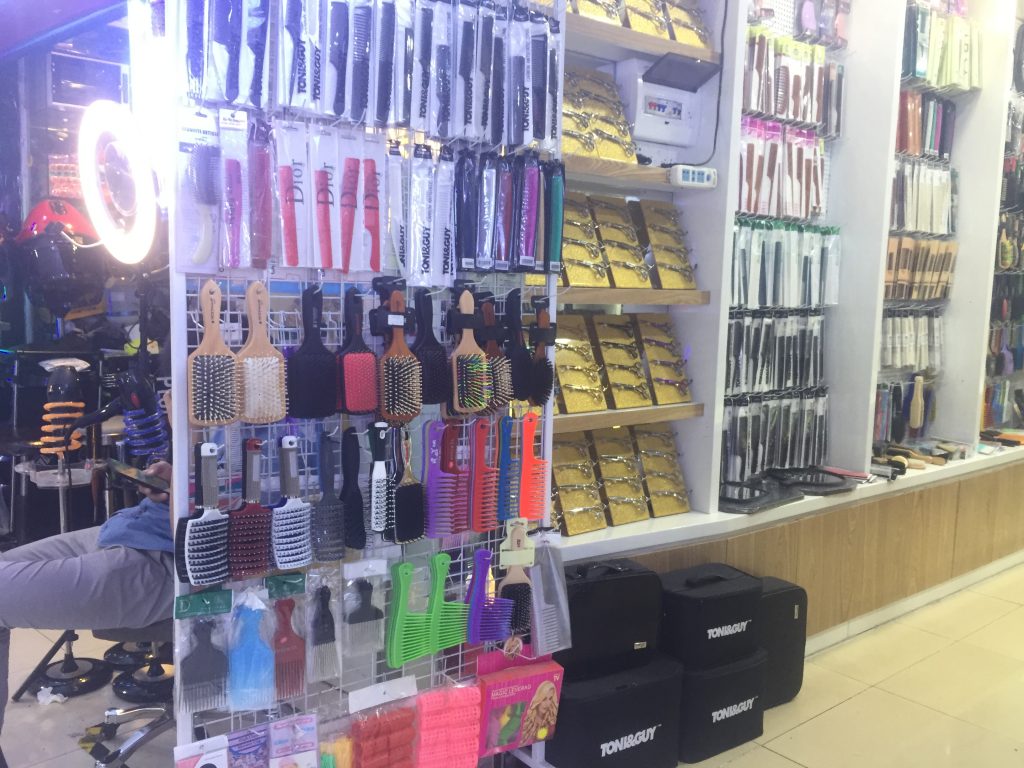 .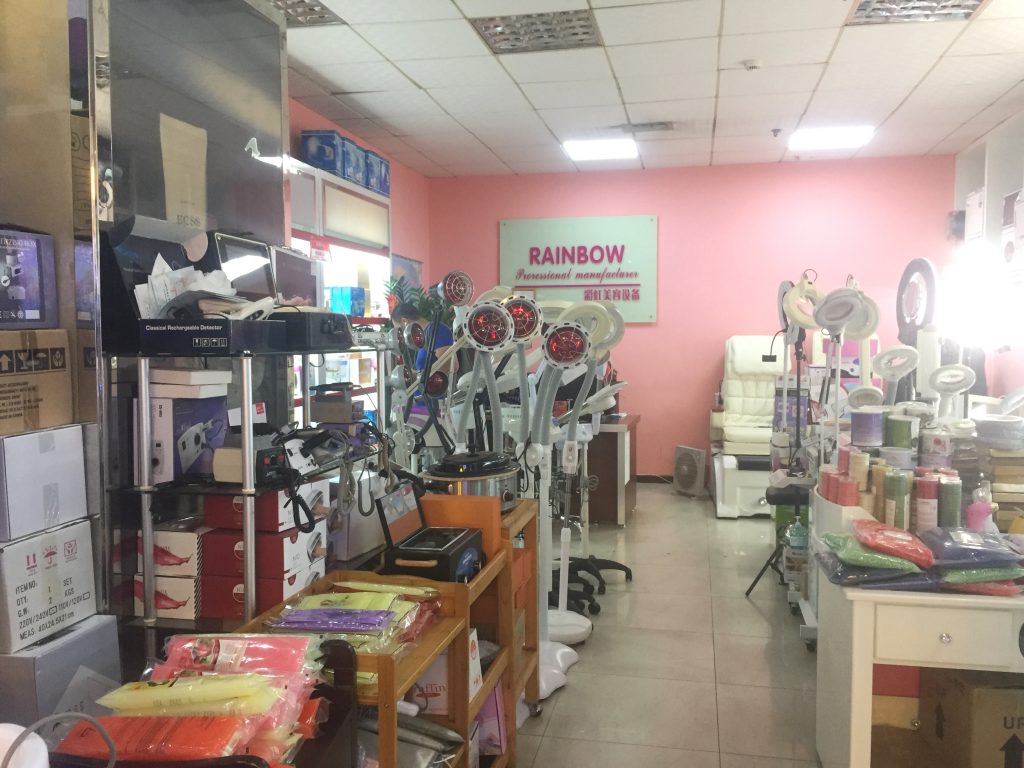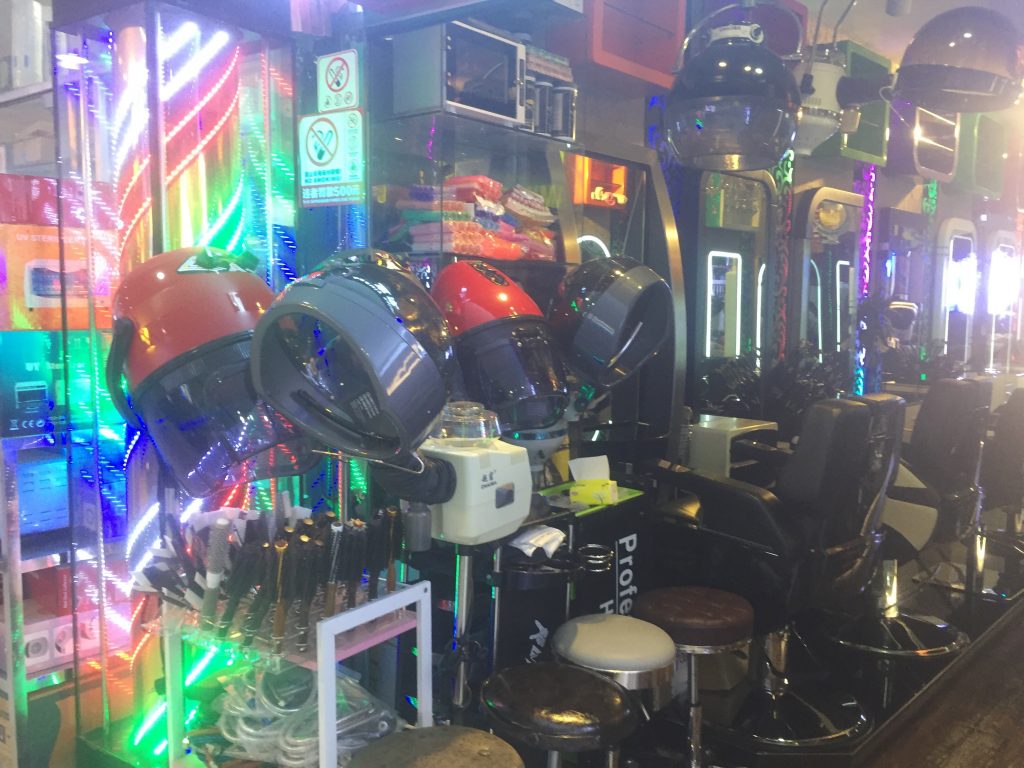 If you want to open a hair salon, there are also some shops selling a complete set of hair salon products. You can even buy all the products needed for a complete hair salon in one shop.
.
The 1st floor of Meibo City
This floor mainly deals with all kinds of cosmetics, fragrances, aromatherapy, OEM, raw materials, including cosmetics, semi-finished products, perfume, aromatherapy products, essential oils shampoo, cosmetic raw materials, semi-finished cosmetics, etc.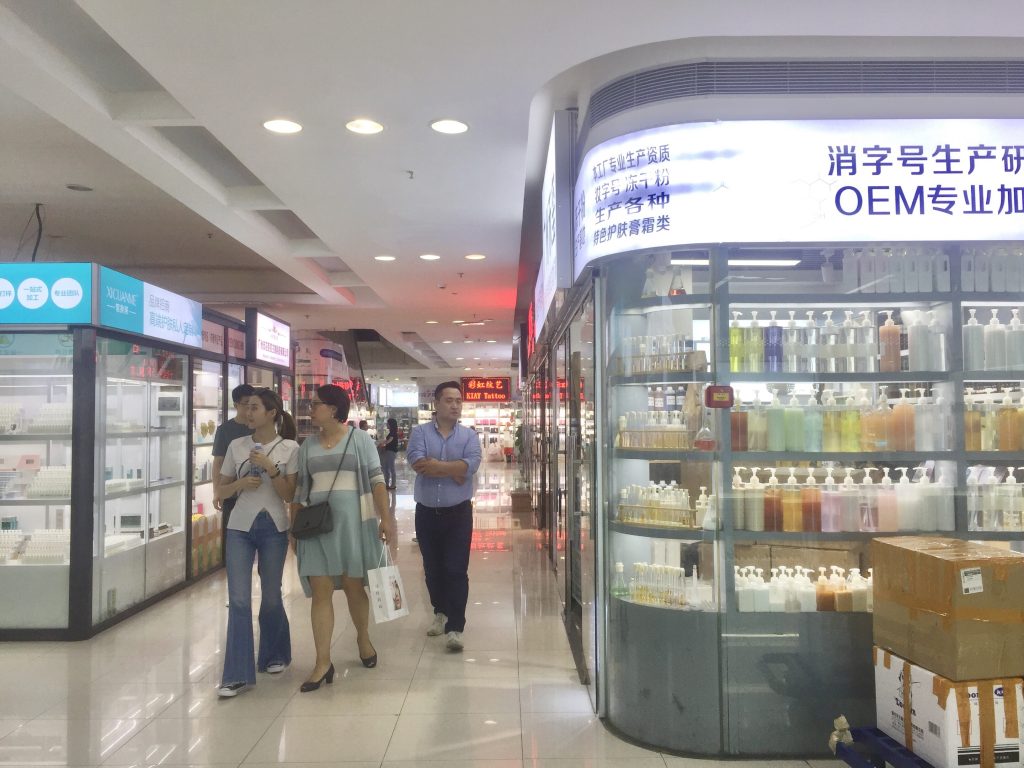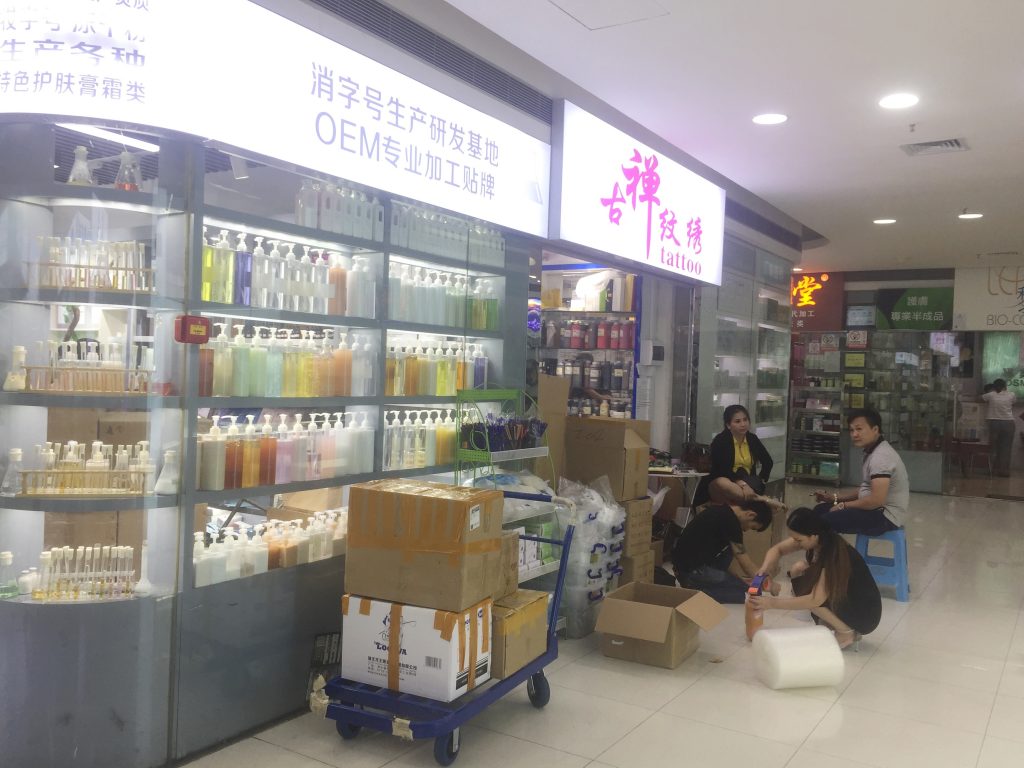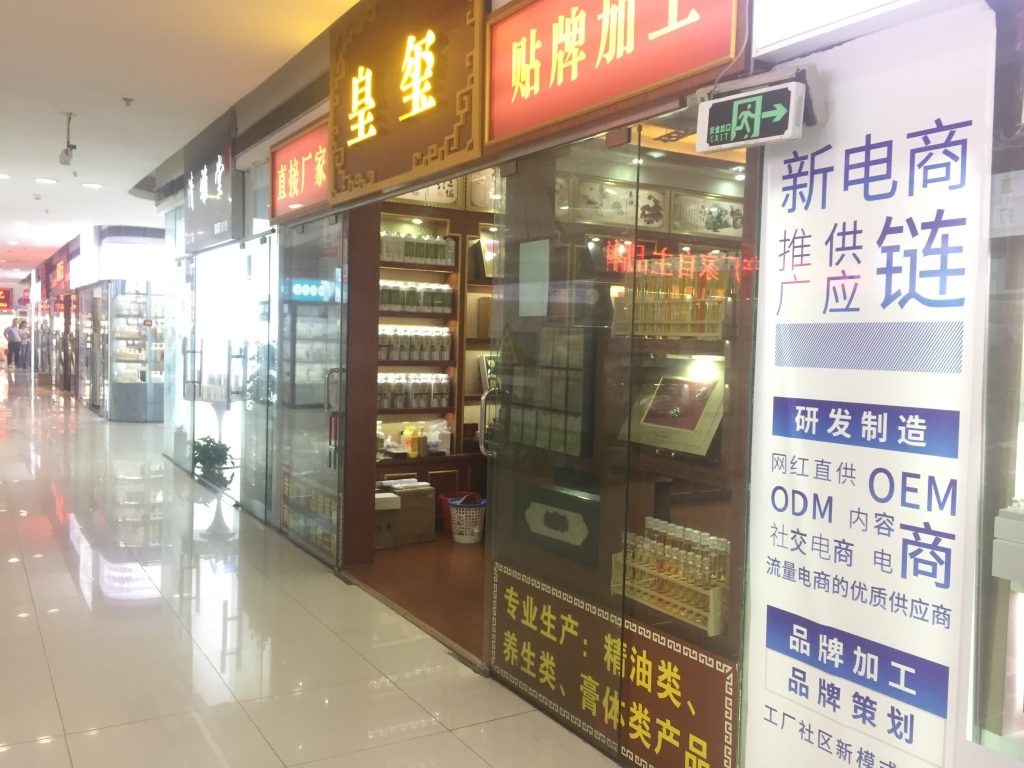 We can see that many stores can accept OEM / ODM, and the MOQ of each set of products is not very high, is usually 500 sets.
If you are a small retailer, they also accept you to stick your own brand, usually 100 sets of the MOQ, can make your own brand.
Even many stores can train you how to build your own brand, how to operate your product in the e-commerce platform and so on.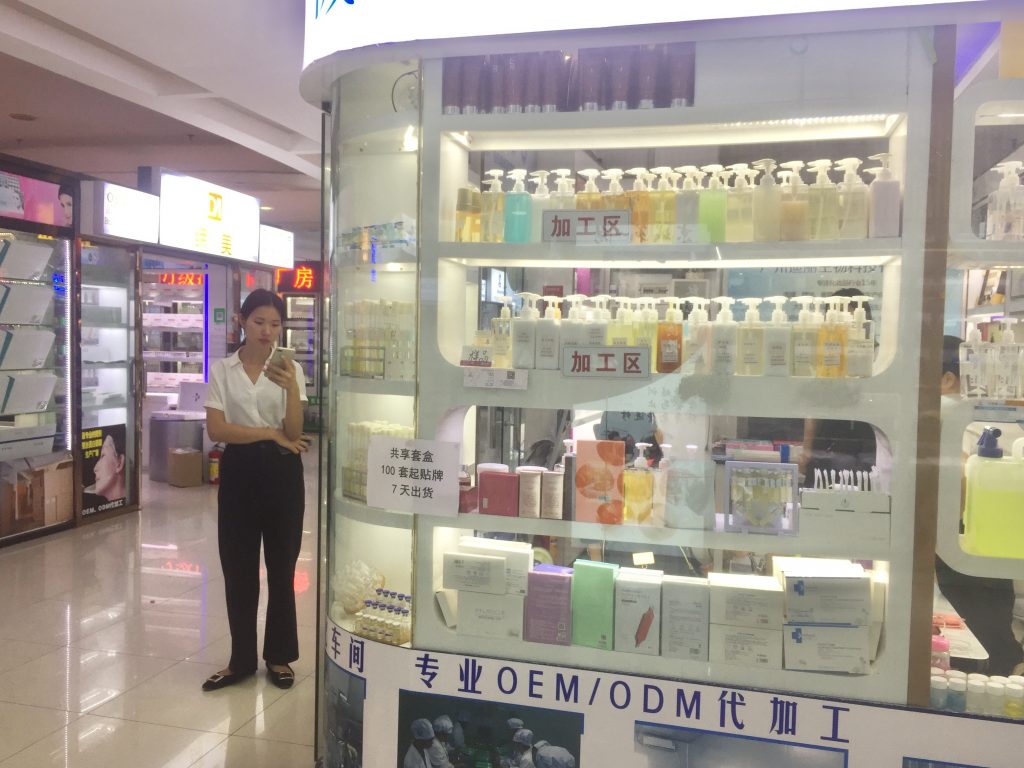 There are many samples showing in the shop, most of shop can do oversee trade business, but accept there are some very small shops can do only domestic business.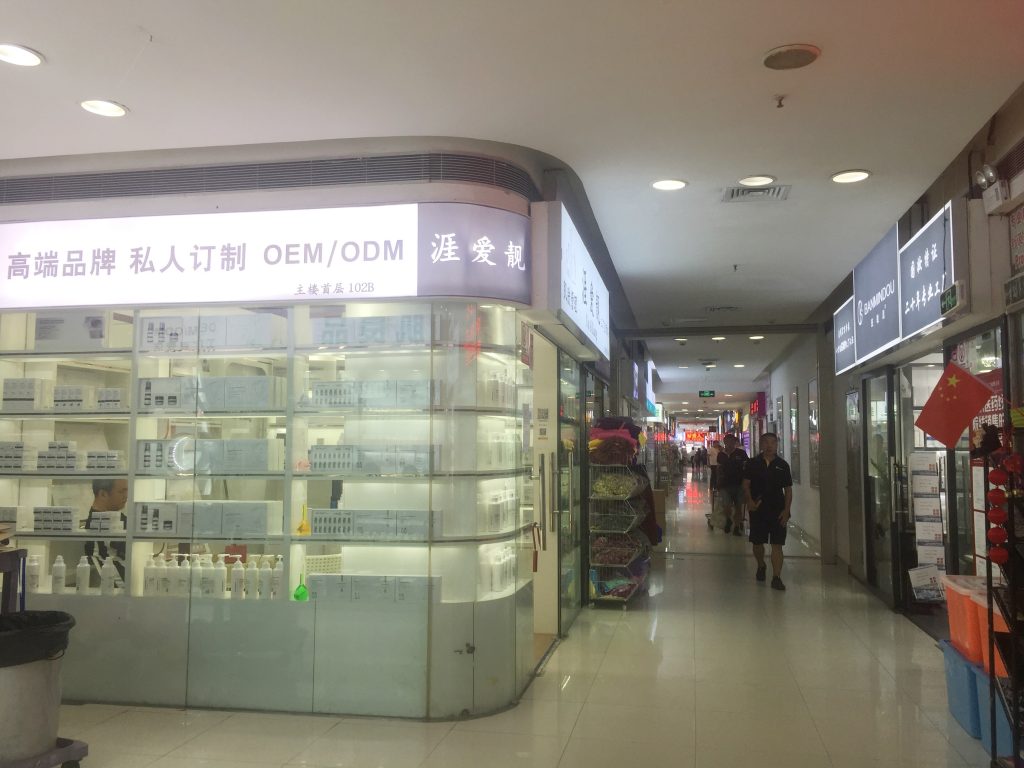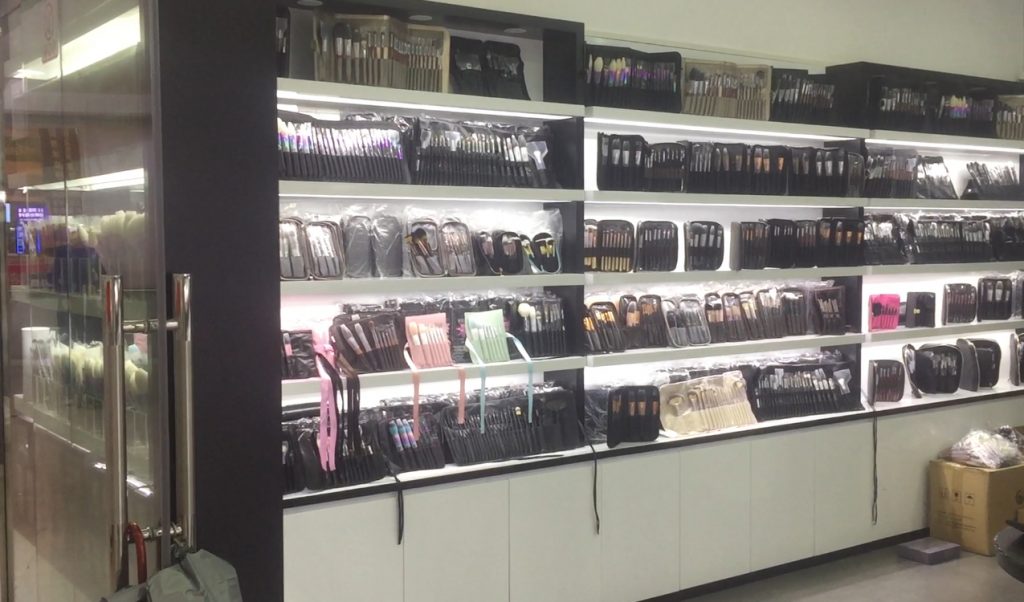 👆 Some products of the cosmetic related products like the eyebrow pencil, makeup brush, nail polish, eye shadow and other related products.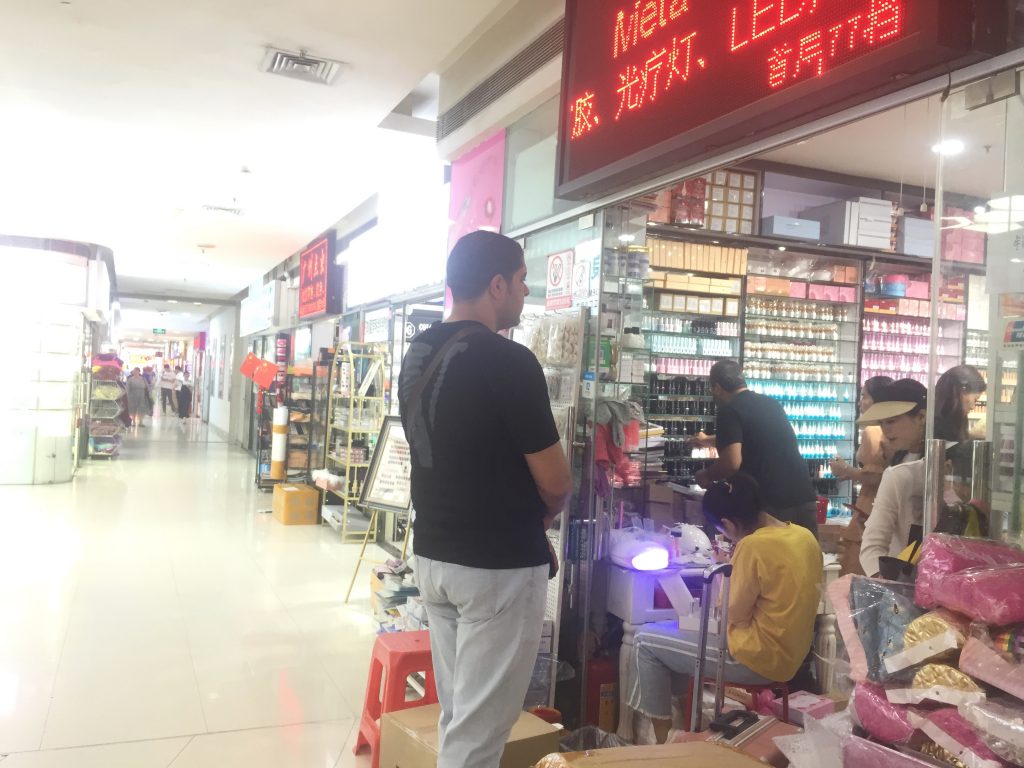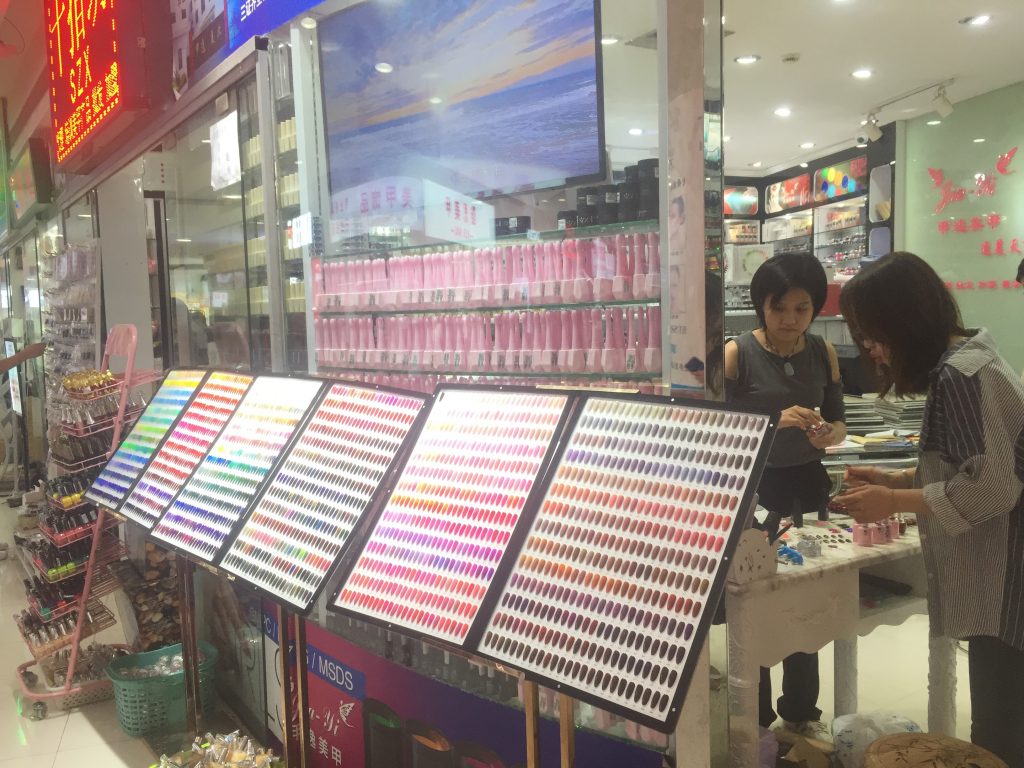 The nails product of shop.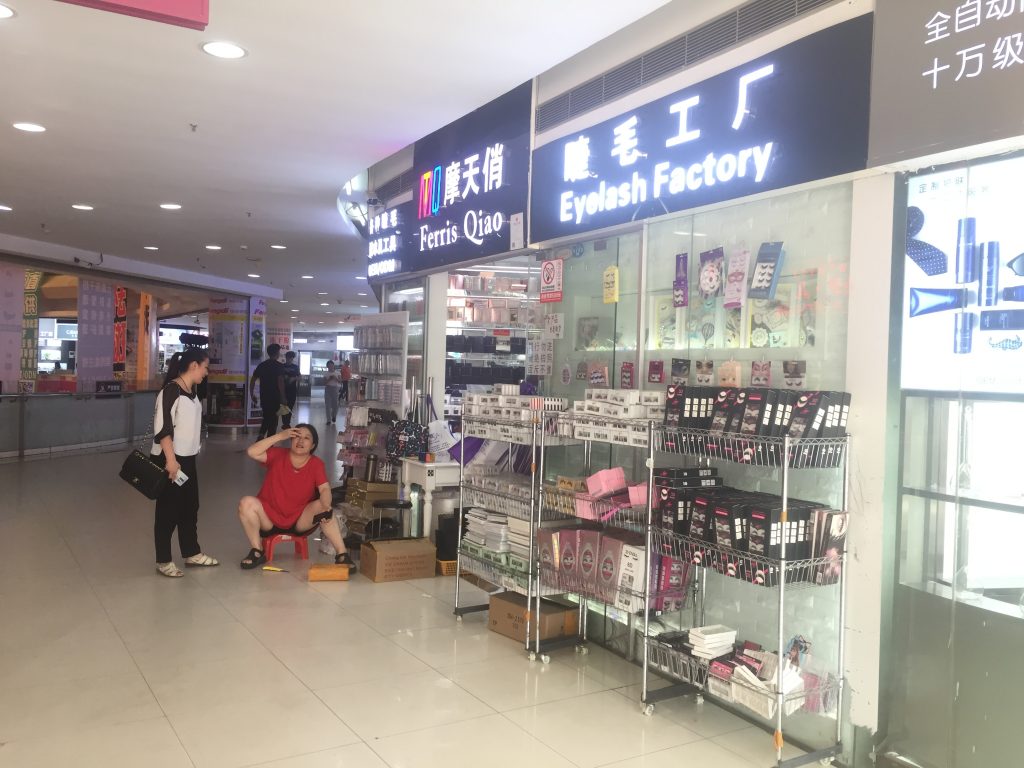 👆 The eyelash products and they they their own factory.
The 2nd Floor of Meibo City
It mainly deals with various types of packaging materials, including cosmetics, cosmetics, packaging, perfume bottles, franchised stores, etc.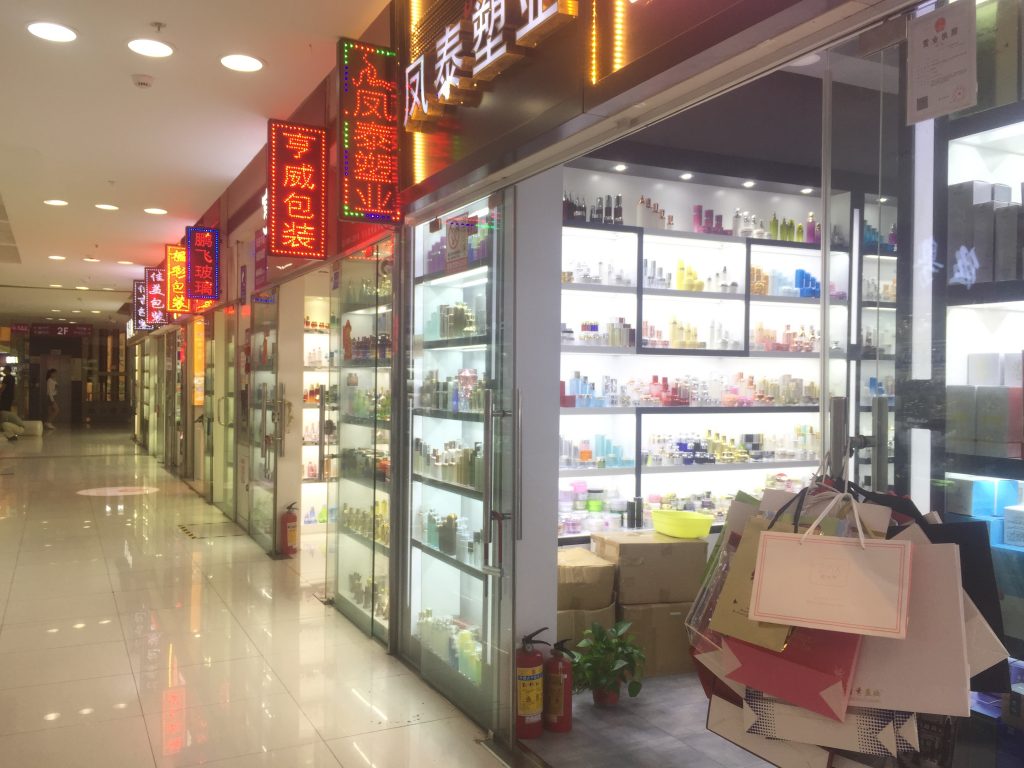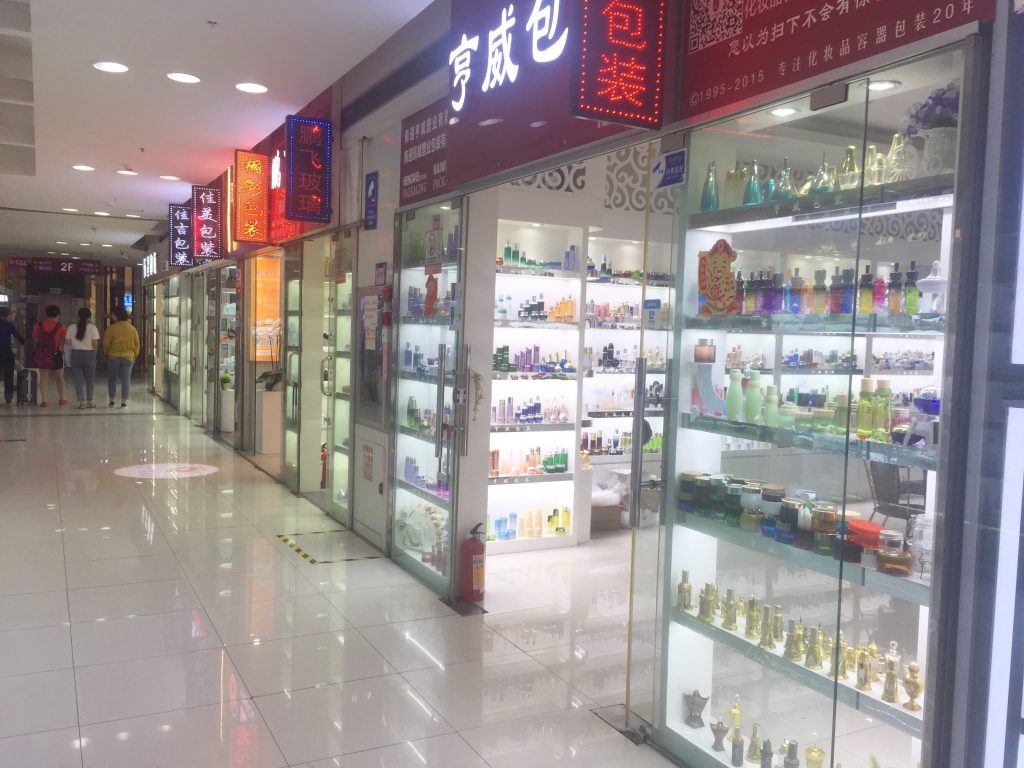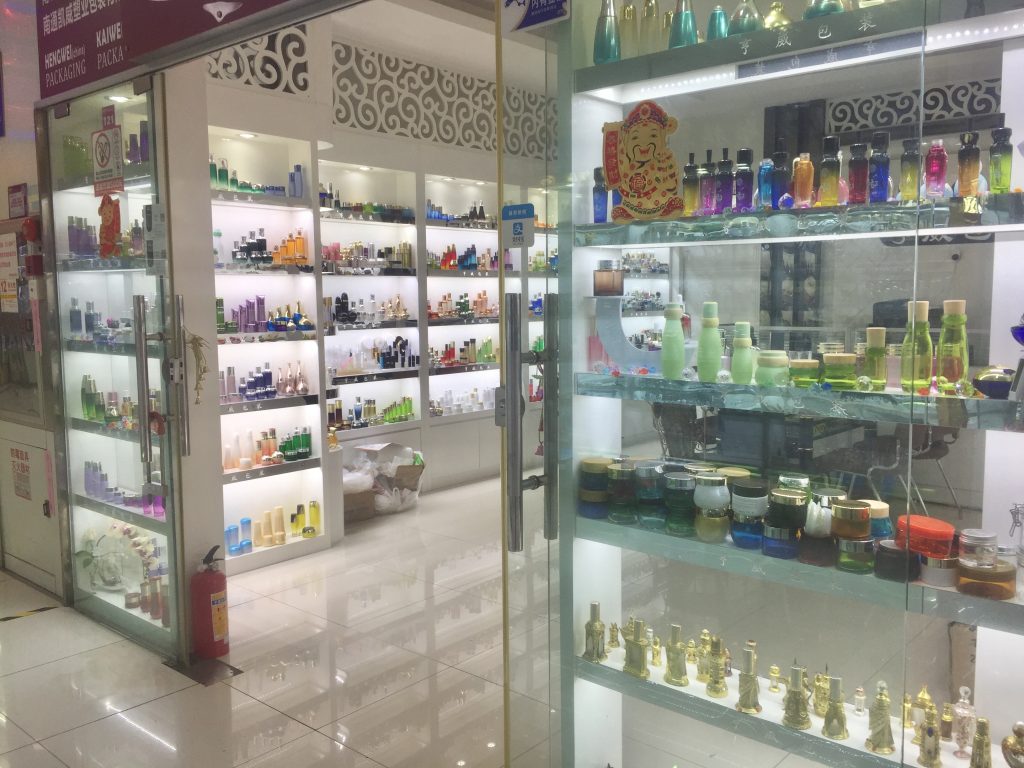 These stores are specially designed for bottles of skin care products.
Such as lotion, cream, essential oil and toner, can be made into a series of colors and designs of bottles. Generally speaking, these stores are accept custom-made.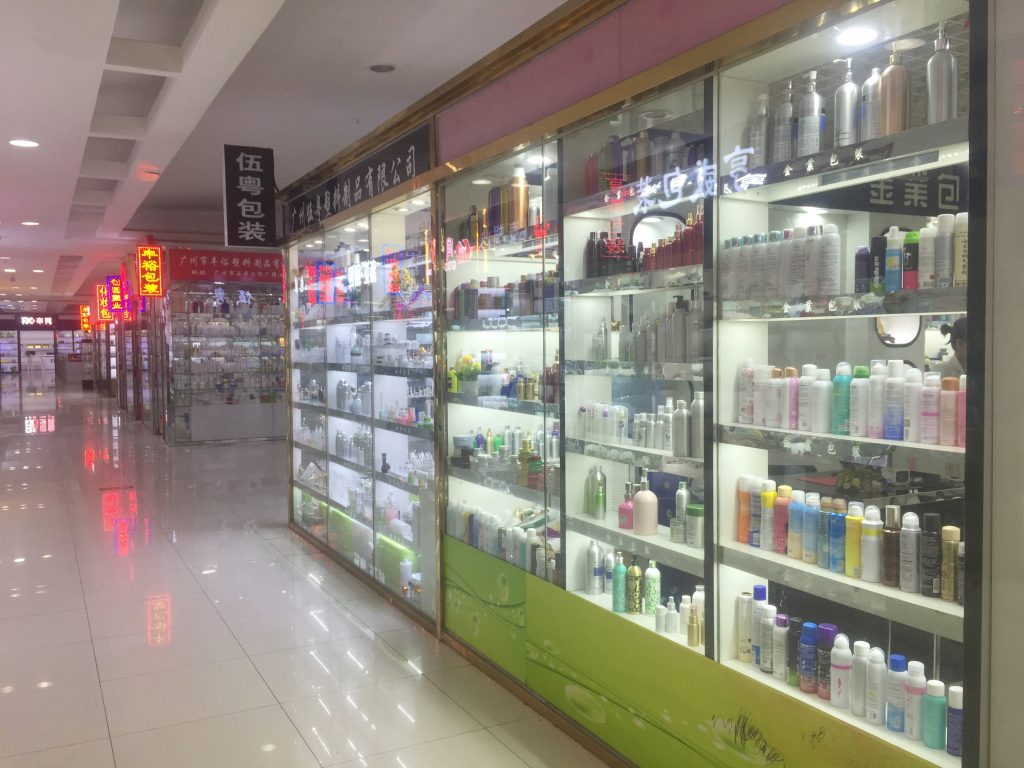 These stores are doing the bottles and packaging for products such as spray, body milk, hair gel, shampoo, shower gel and other related products.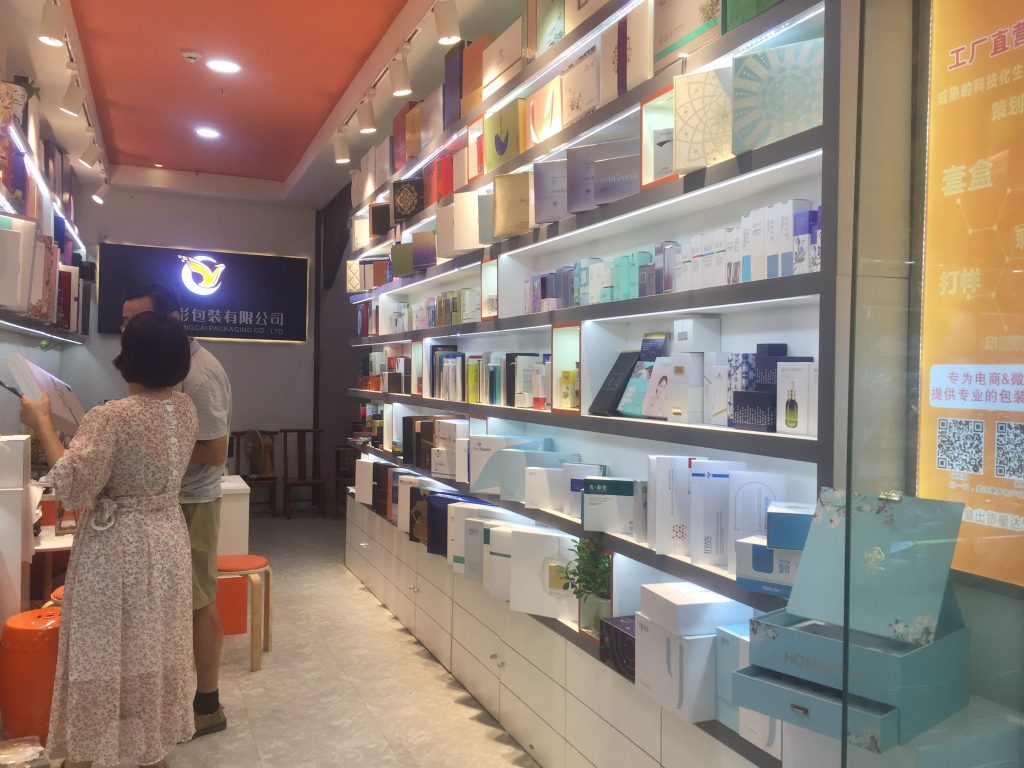 Mask box packaging, and a set of skin care products packaging box.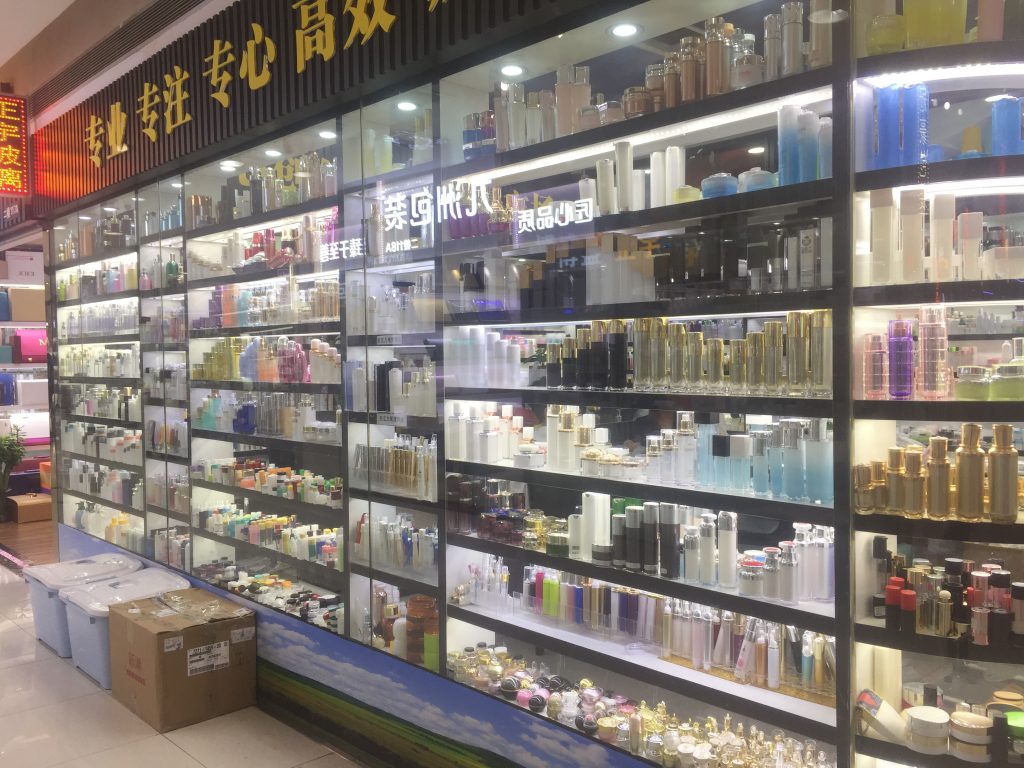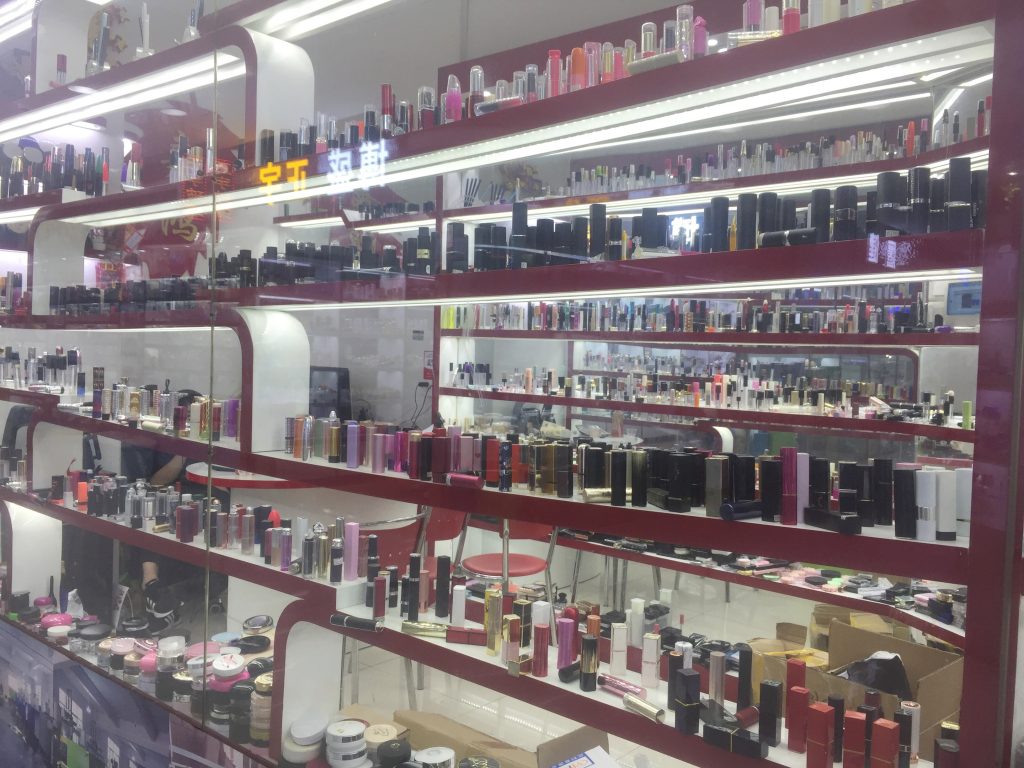 These stores make lipstick bottles, air cushion boxes and make-up boxes etc.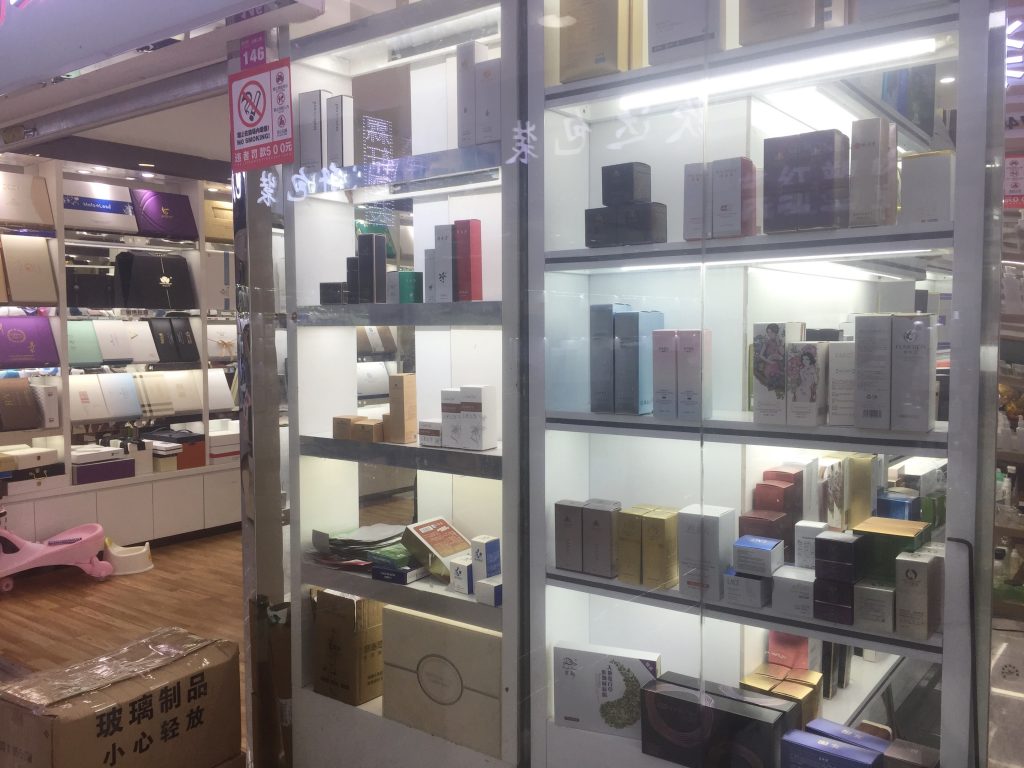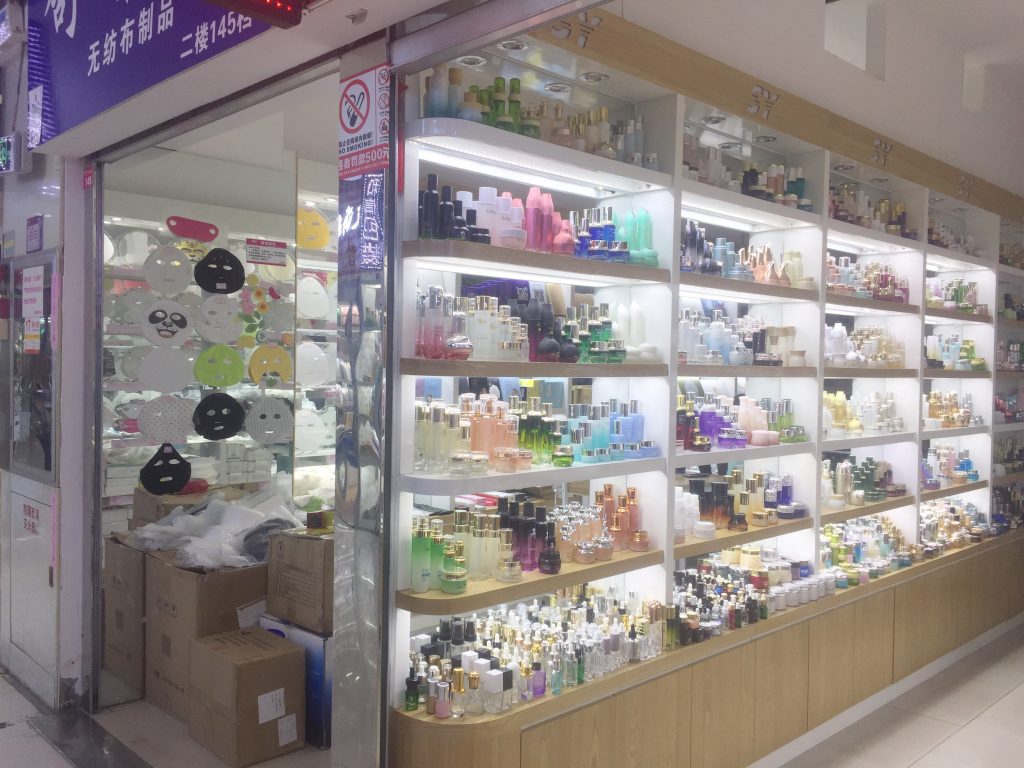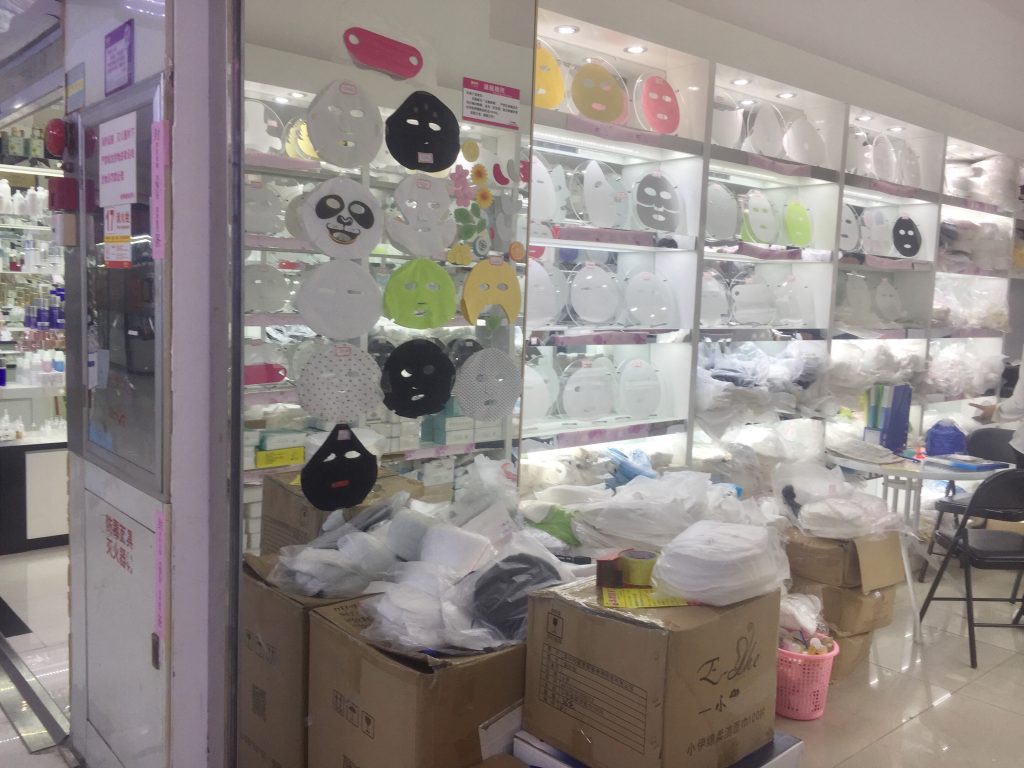 The mask shop.
.
The 3rd Floor of Meibo City
This floor Mainly engaged in various types of beauty instruments, including beauty salons, leisure clubs, hair salons and other related instruments and equipment.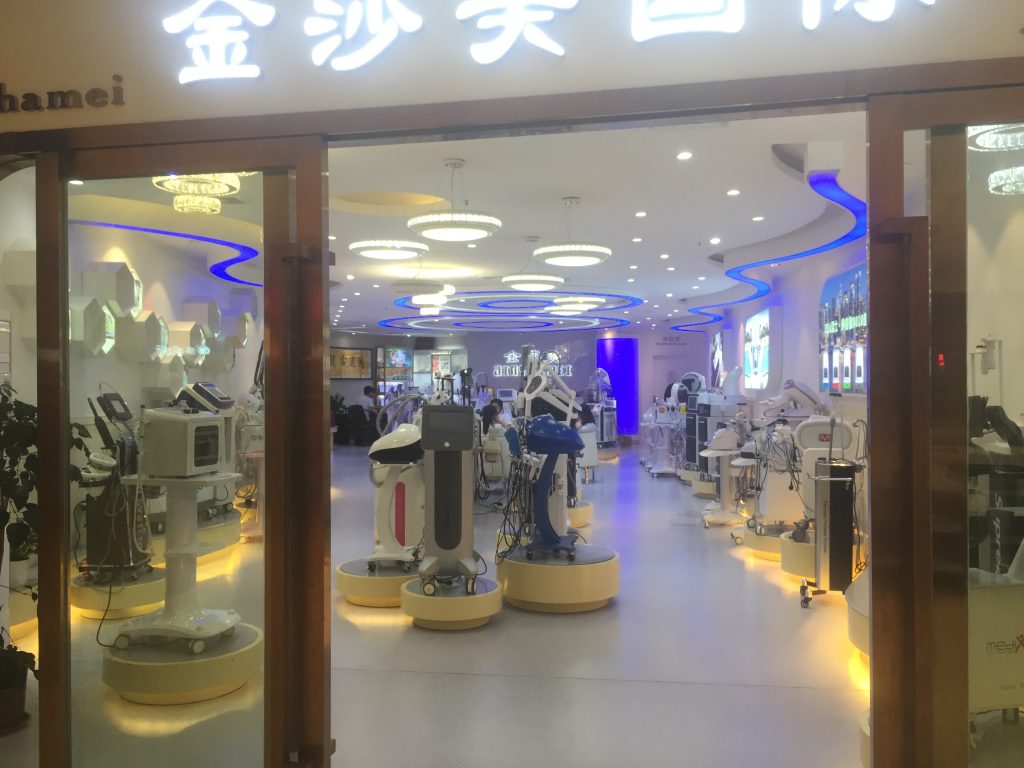 The Beauty / massage / facial machine & equipment shops in Meibo City.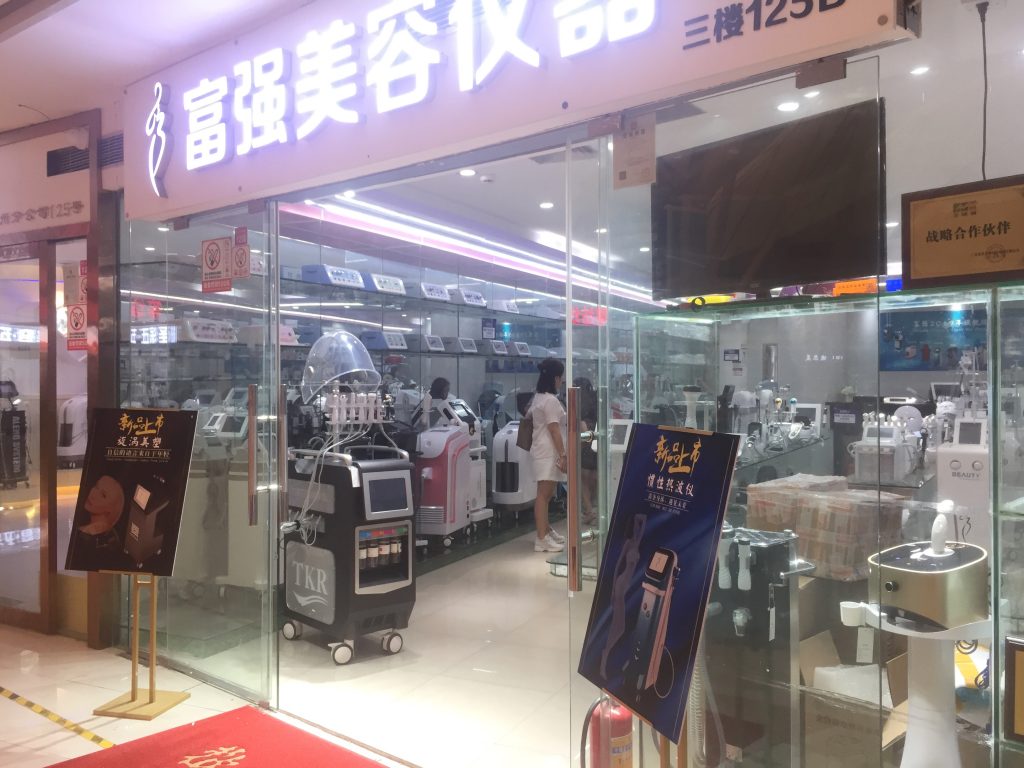 The Beauty / massage / facial machine & equipment shops in Meibo City.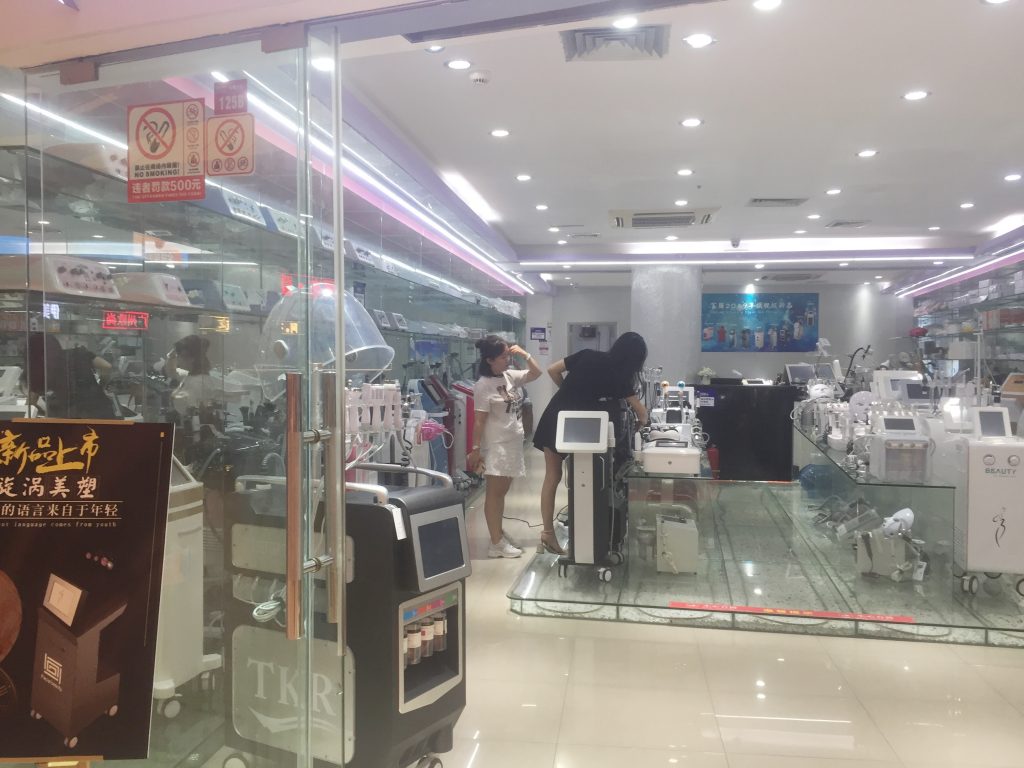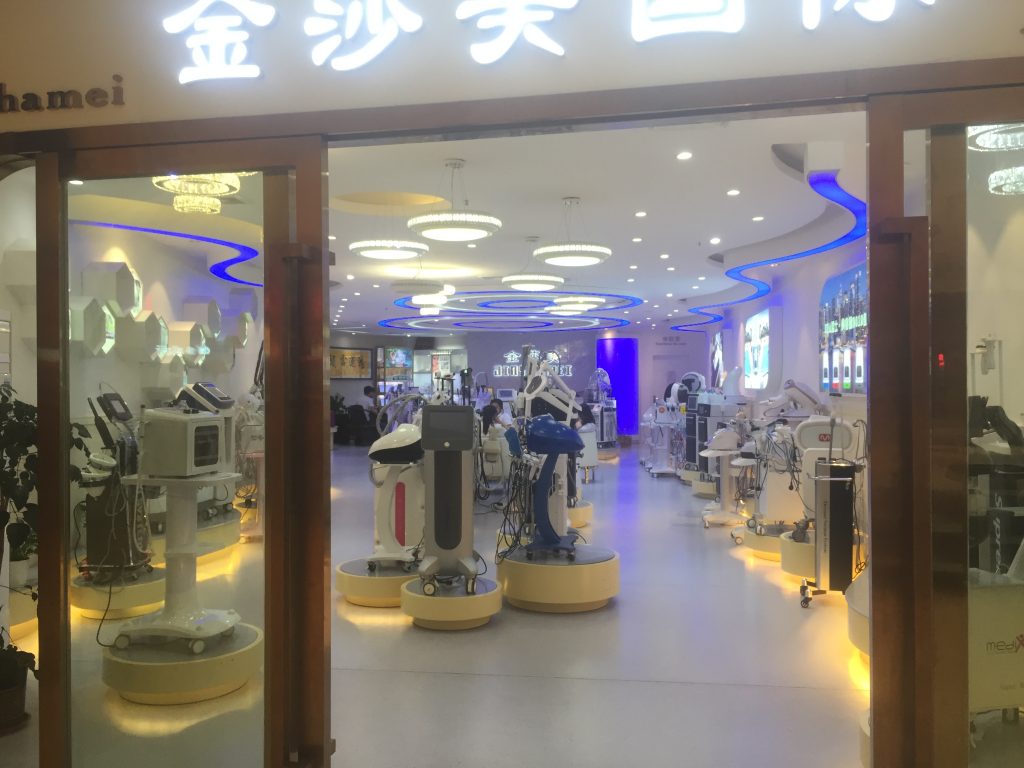 The Beauty / massage / facial machine & equipment shops in Meibo City.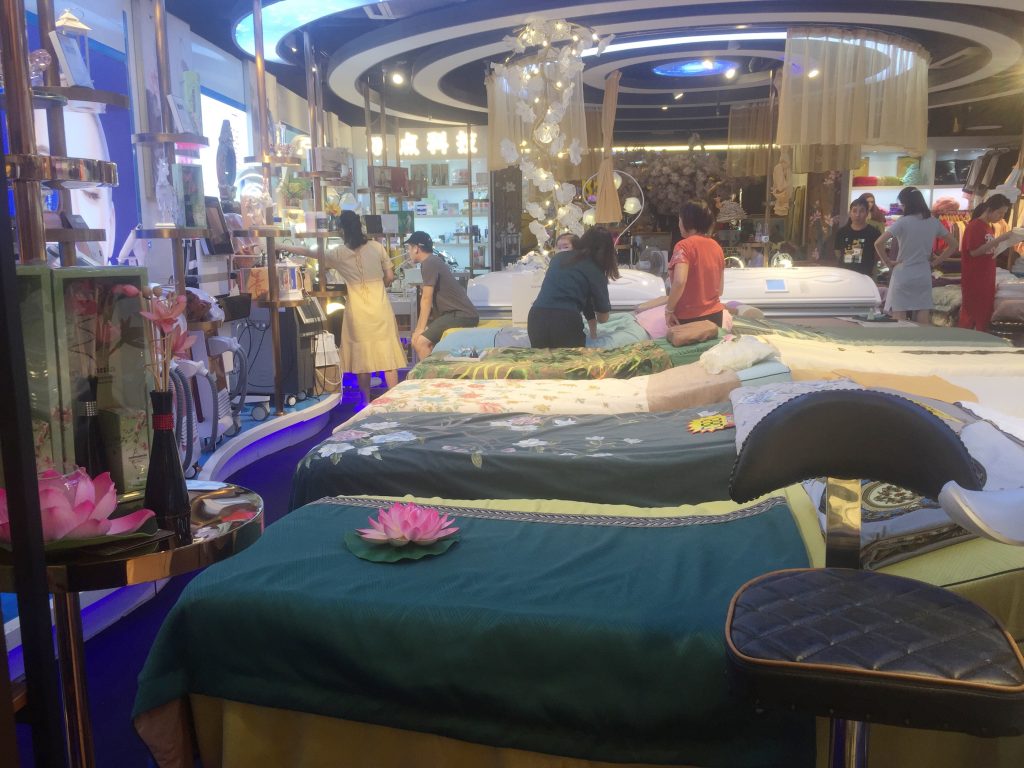 The Massage shop related products.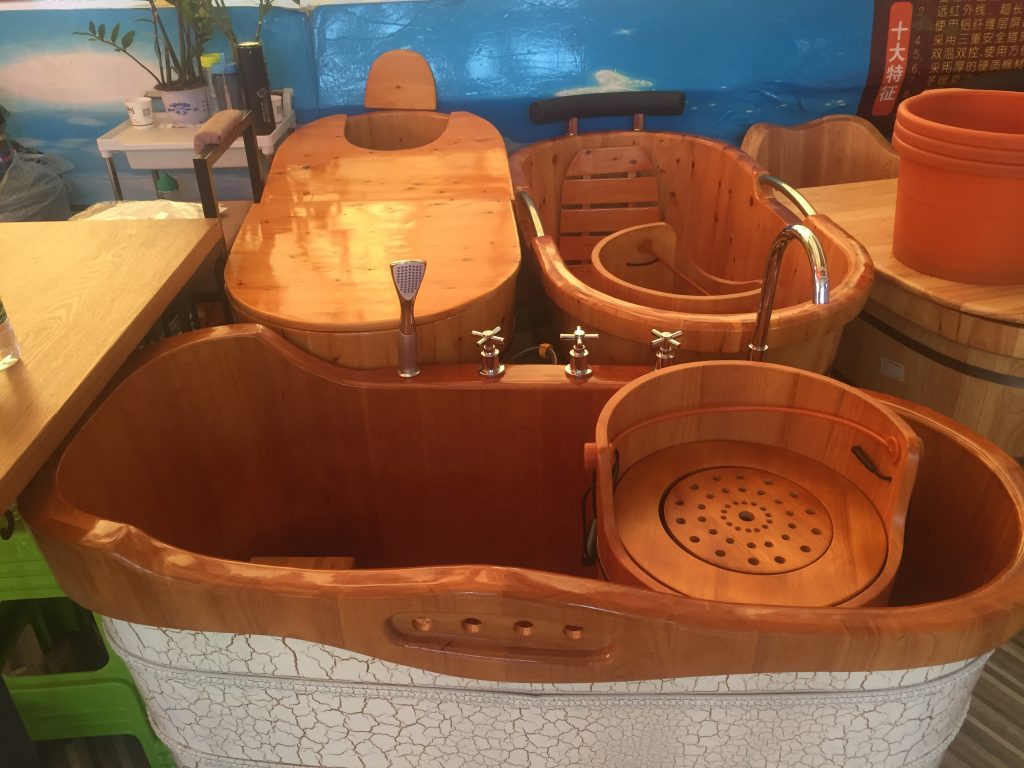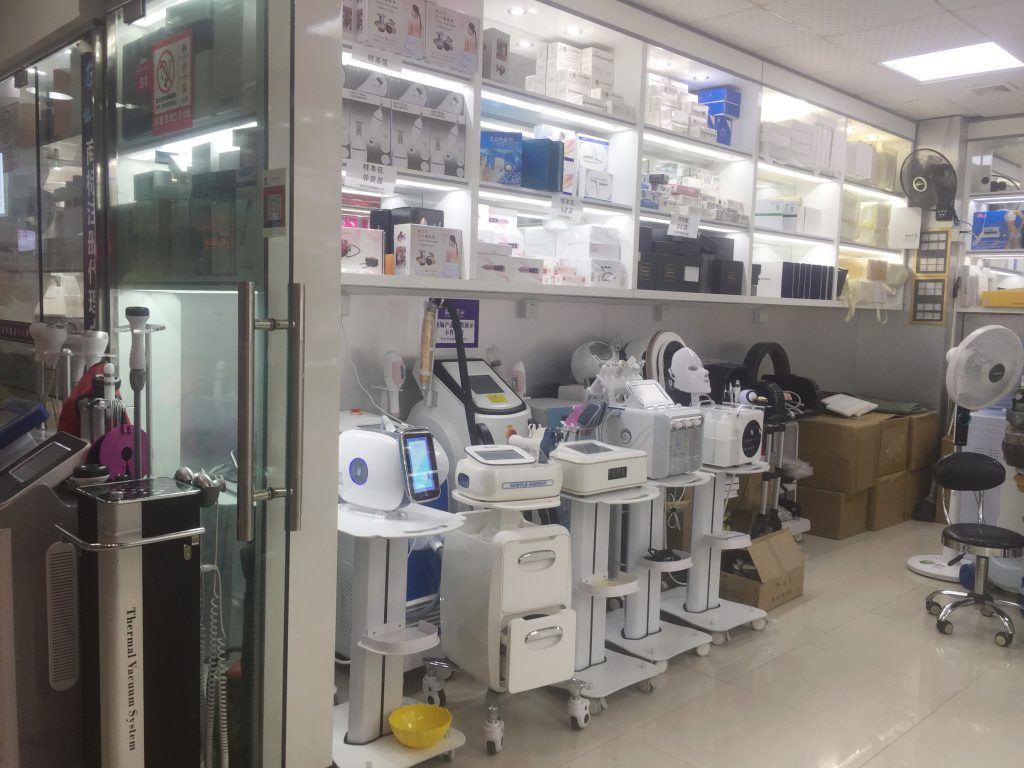 The Beauty / massage / facial machine & equipment shops in Meibo City.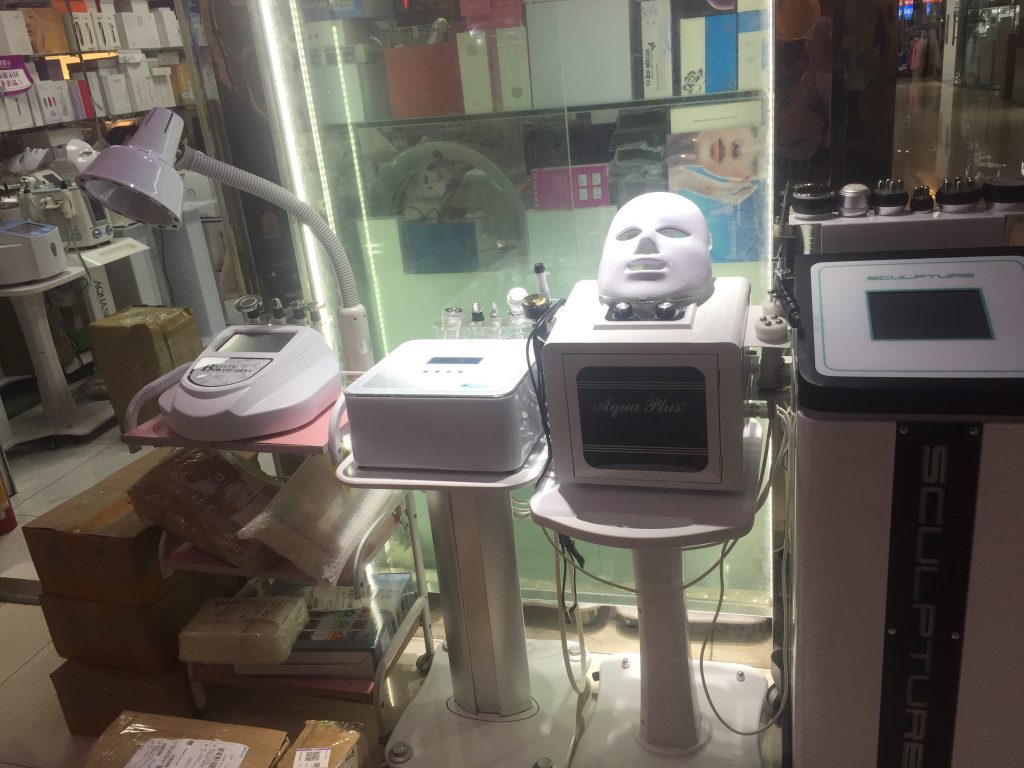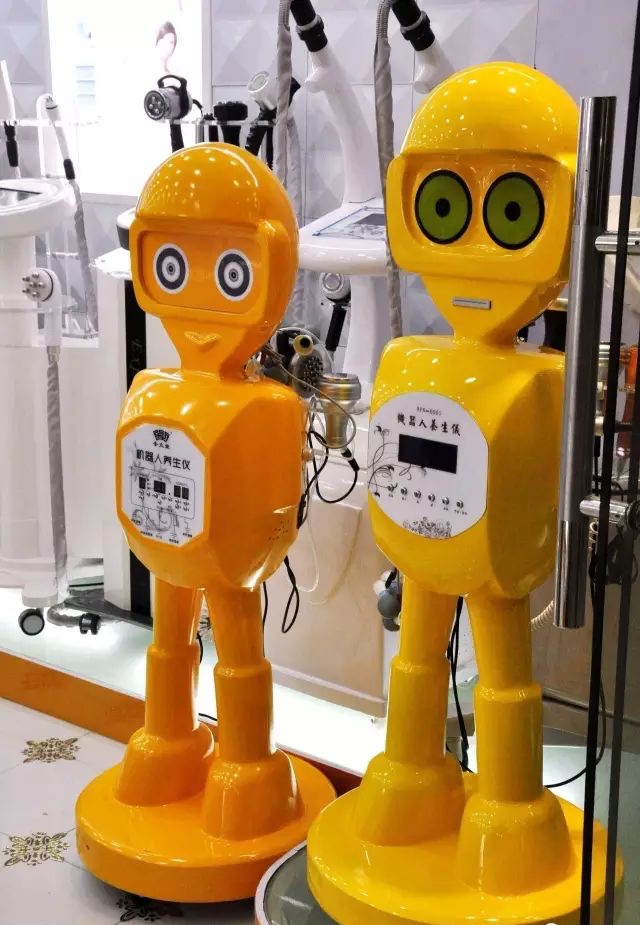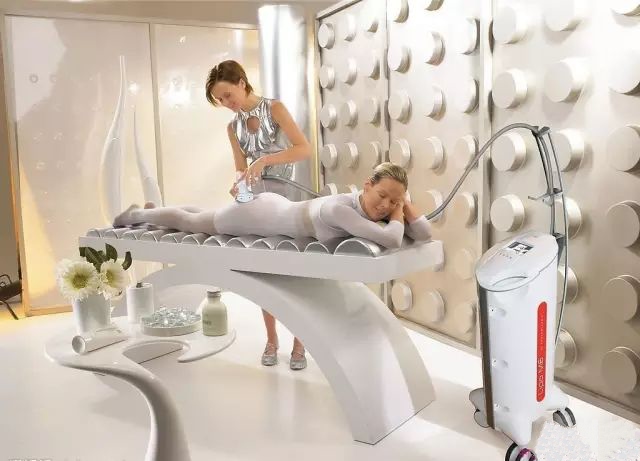 The Beauty / massage / facial machine & equipment shops in Meibo City.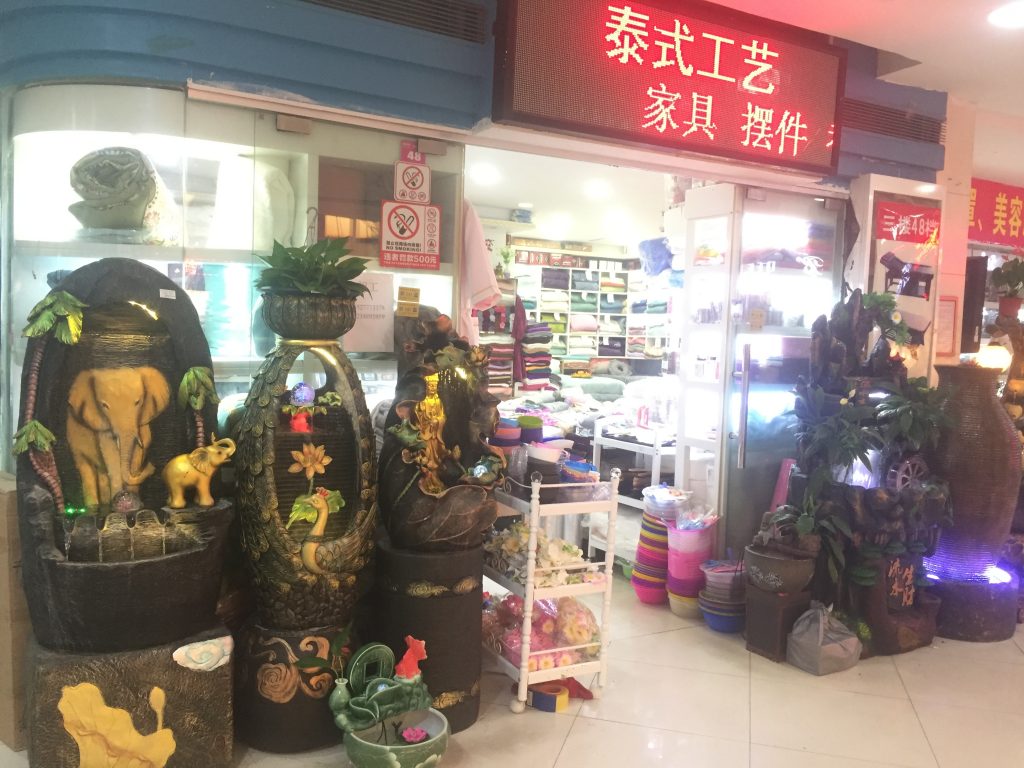 We also found several shops selling Thai massage products. If you want to open your own massage shop, you can buy almost all the products in one shop.

They can even teach you how to decorate your store of the layout.
.
In short: Guangzhou Meibo Beauty Center puts the interests of enterprises, businesses and consumers in the first place, strives to meet the business operation and demand with superior service level, and provides first-class business environment for businesses, so that customers can compare and choose more appropriate products.
.
Meibo city is composed of three buildings A, B and C.
The building B is the main building, if you have more time, you can also visit the Building A & Building C, they are near by.
The B1 floor of building A is mainly engaged in all kinds of hairdressing products, because we have some customers in the hairdressing industry who need to walk 1-2 large containers almost every month.
Most of the shops can do foreign trade business, and some of them are only do the foreign trade customers. It seems that hairdressing products are more popular in foreign countries. On the B1 floor, we see that the buyers are more foreigners.
Many of the shops here have their own factories. Today we will take you to see a wig factory that we cooperate with for years.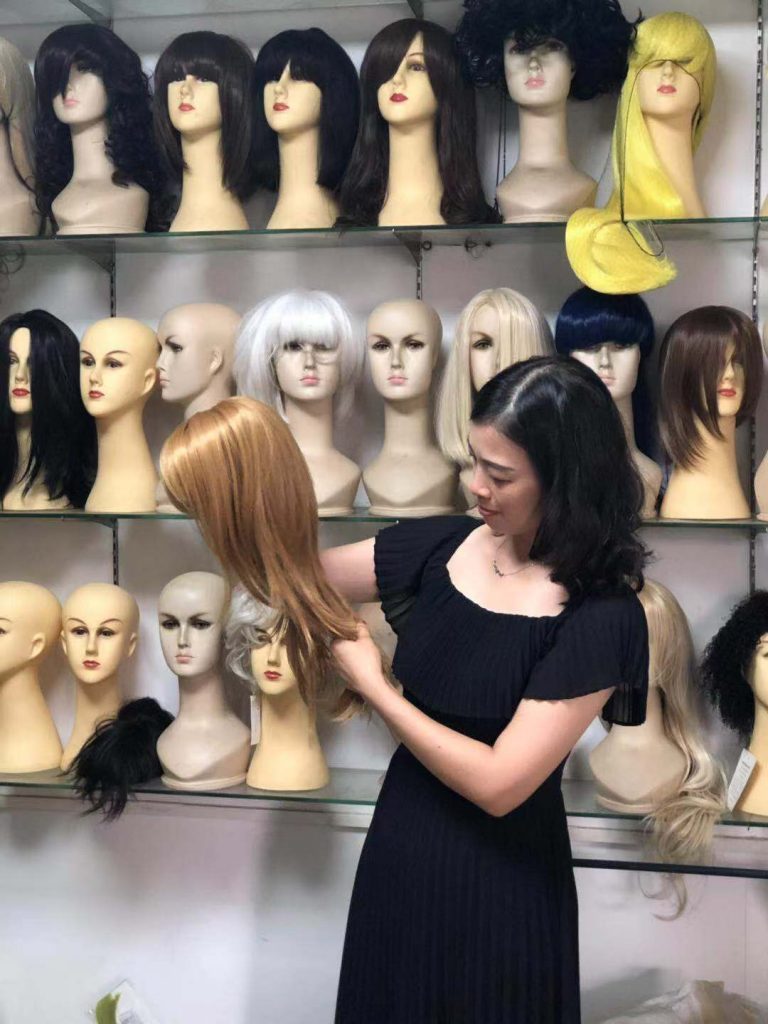 In the exhibition hall of the factory, you can see wigs of different colors, shapes and sizes.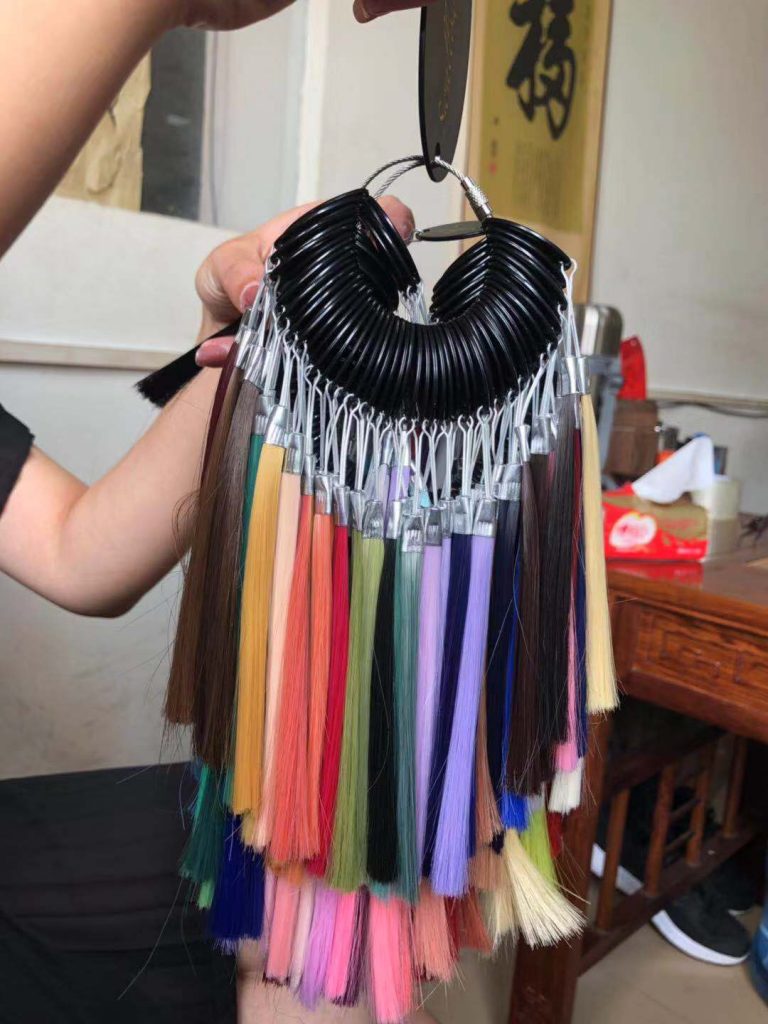 There are different color cards for you to choose from.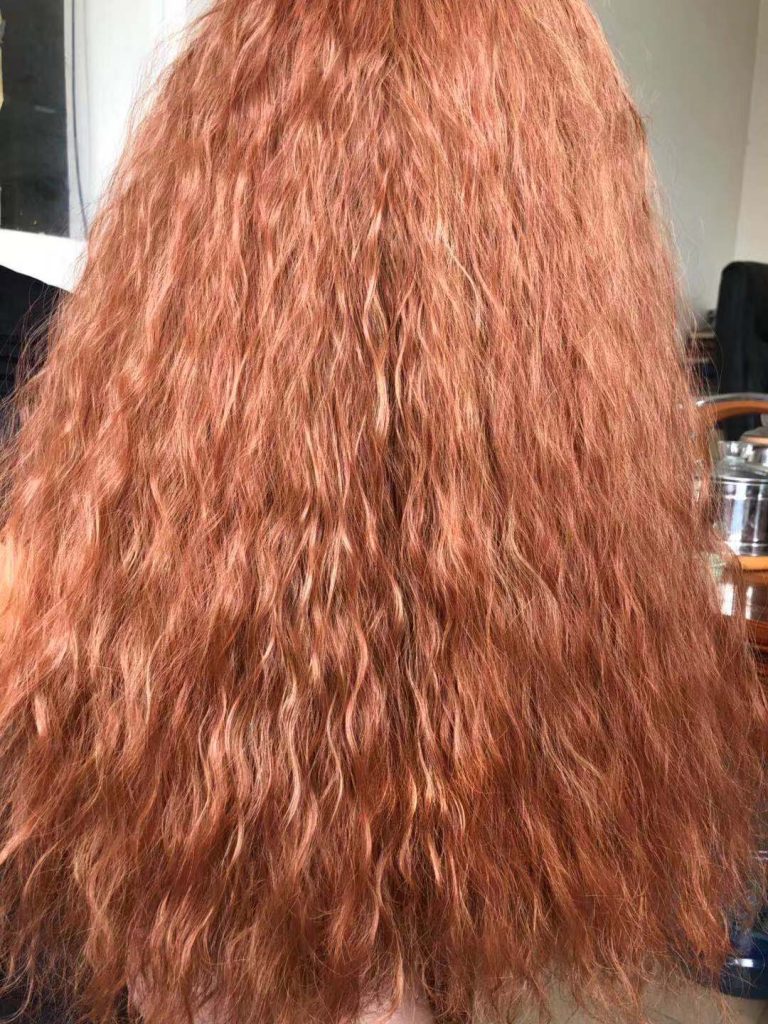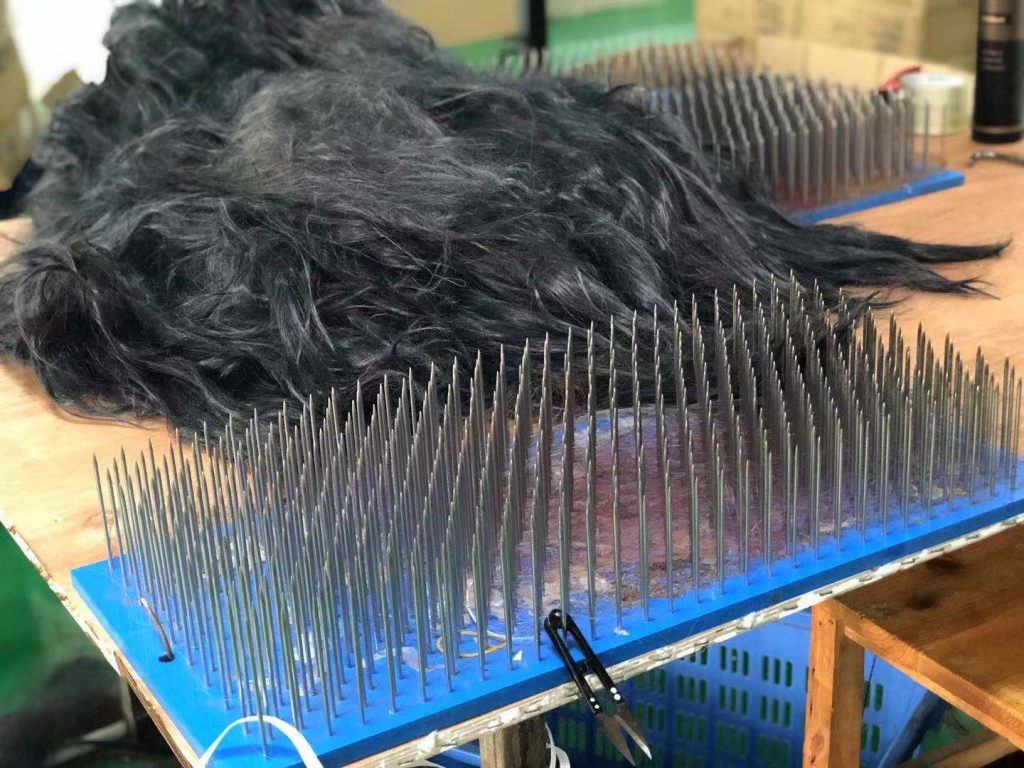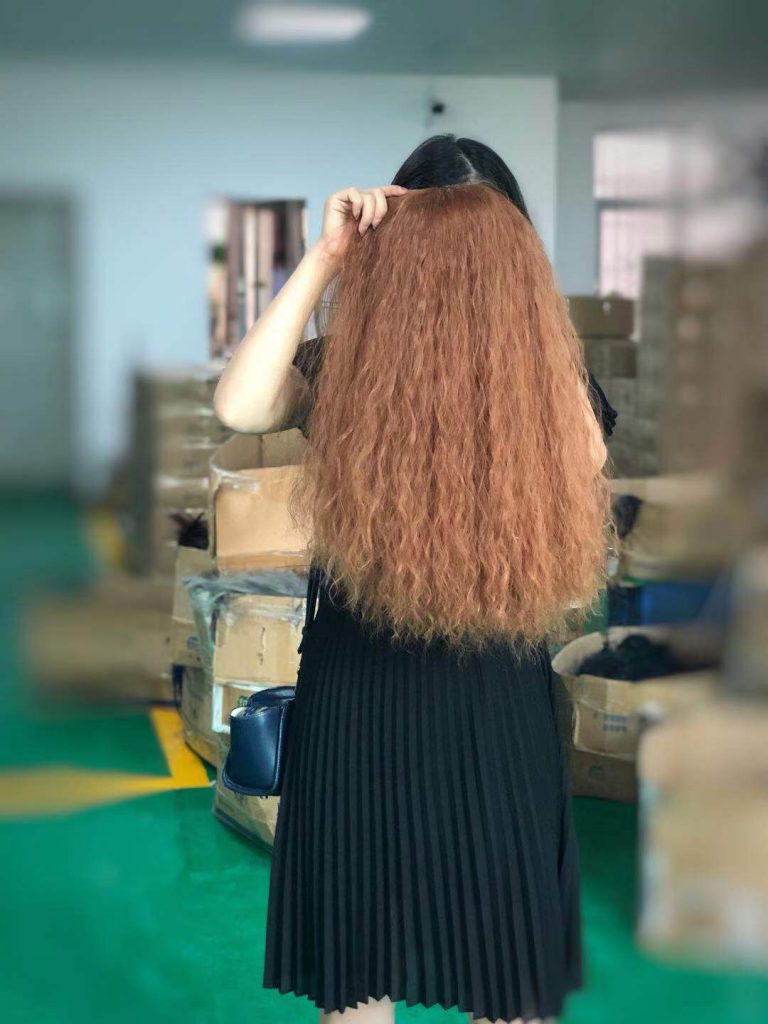 The workmanship of wigs.
.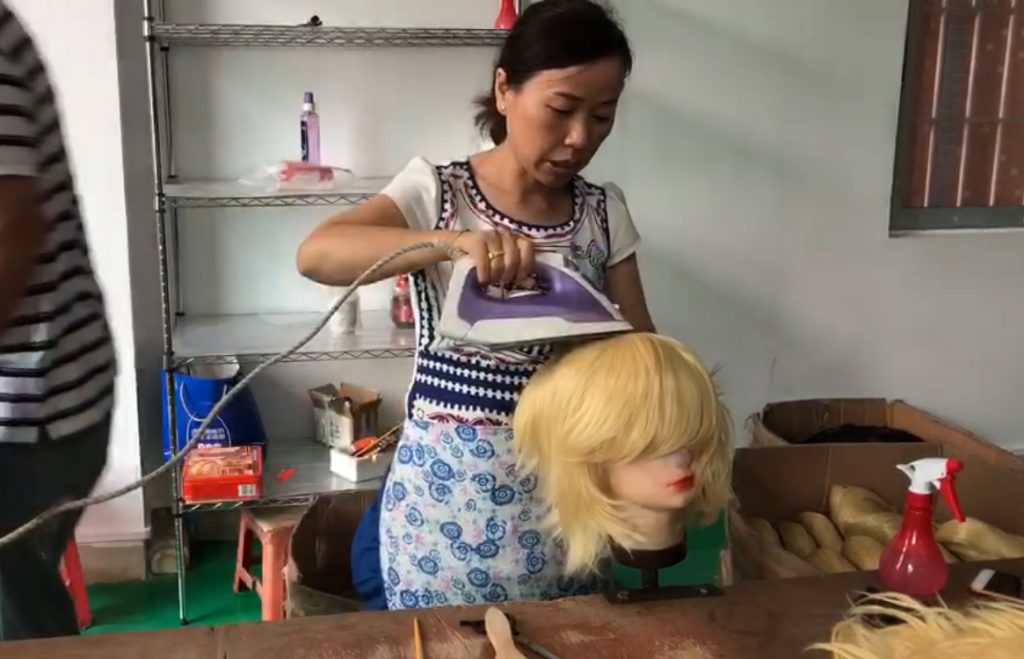 The factory staff are doing the final trimming and finishing of wigs, and will check each wig product through combing, ironing and other processes.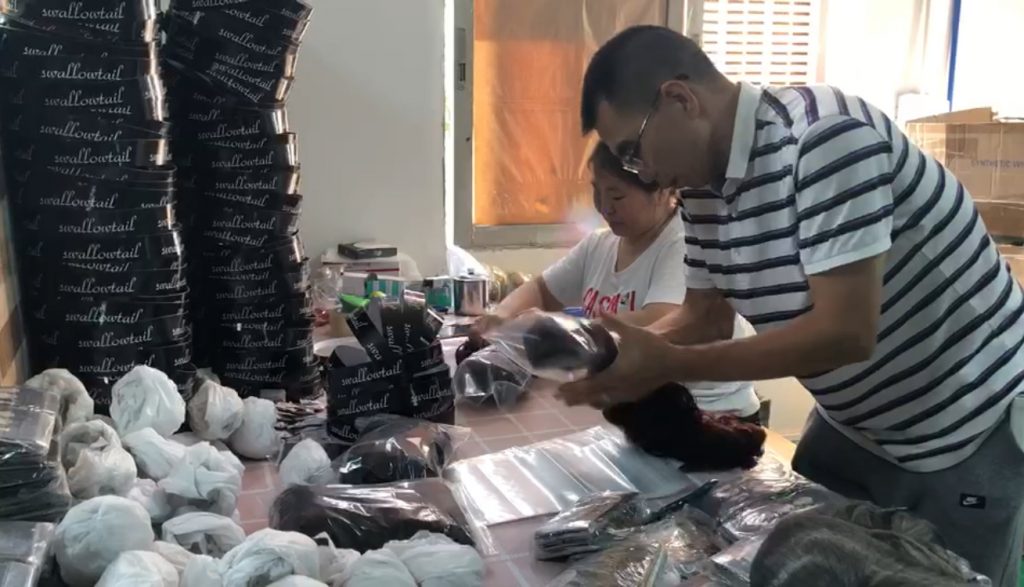 Then the finished products need to pack carefully.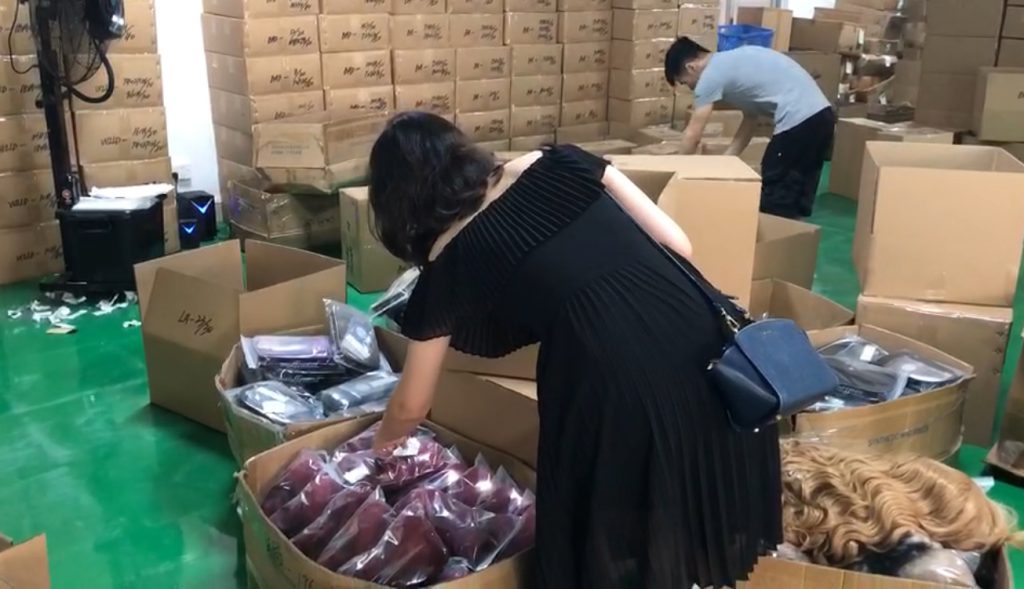 For each box of packed products, we need to take some from the box for inspection before shipment.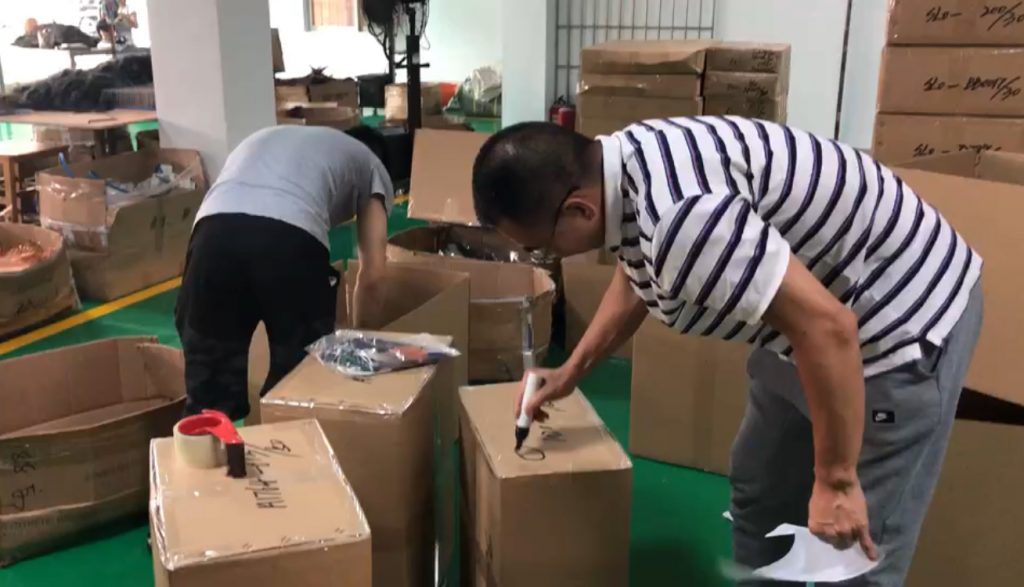 Each of finished packed boxes need to be marked with box number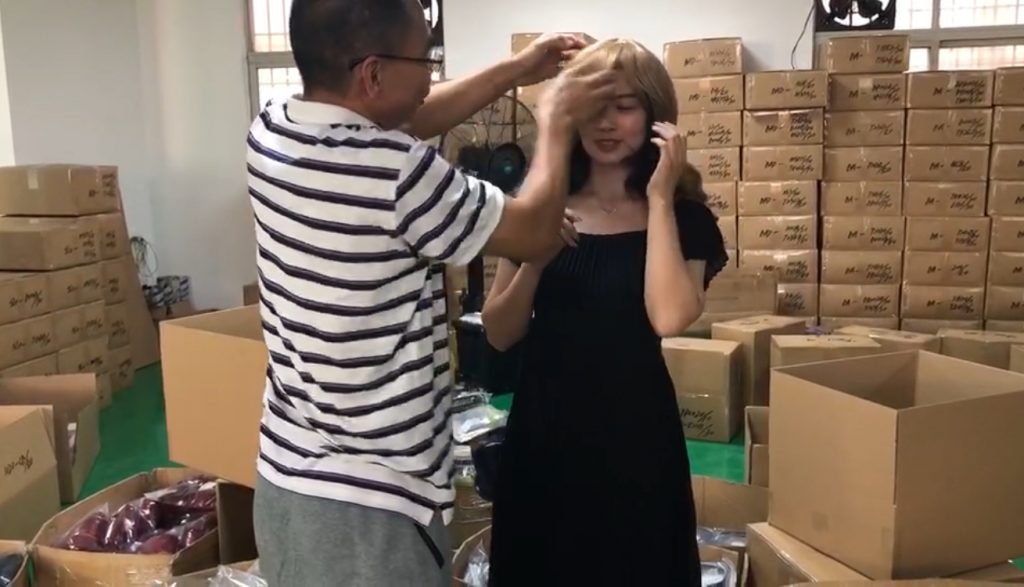 The lady was very interested in bright brown hair and put on a wig with the help of the staff.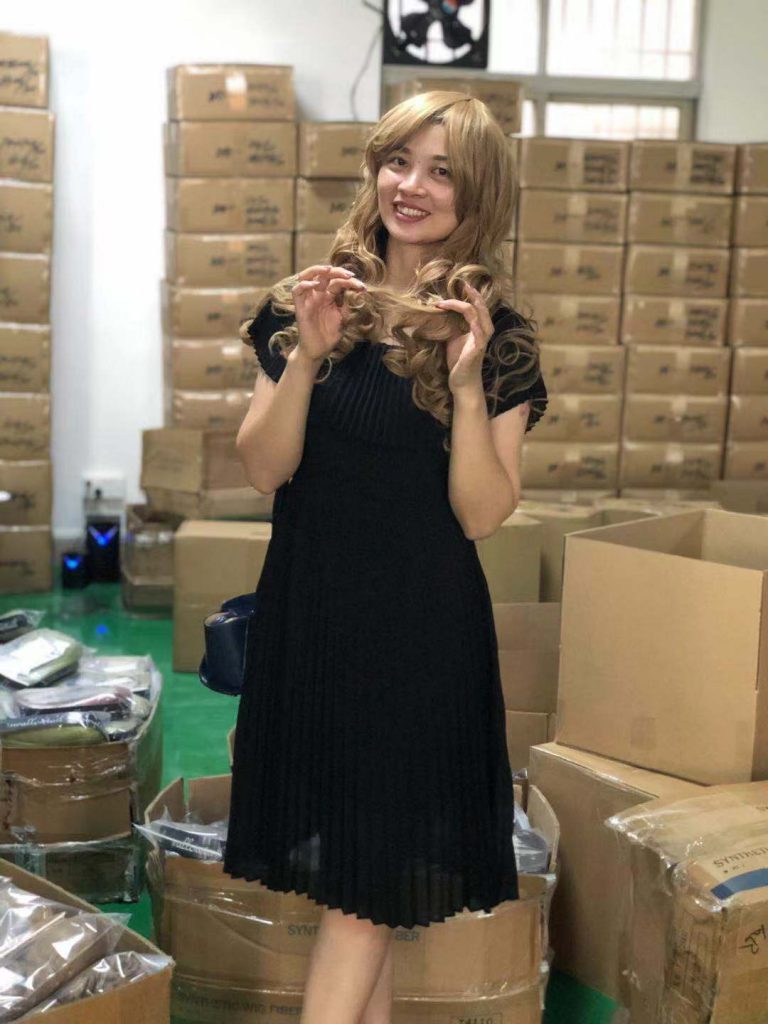 How do you think this wig she wear?😊
.
We also have the following articles to describe some famous wholesale markets of Guangzhou. If you are interested in them, please read below articles:
Those famous wholesale market as bellow:
Fabric/Textile Wholesale Market
Garment wholesale market
Jewelry Wholesale Market
Leather/Luggage/Bag Wholesale Market
Electronic products wholesale market
Cosmetics Market
And others
If you doing the jewelry products, you have to go to the China's largest and most comprehensive jewelry wholesale market in Guangzhou, South China international commodity city (西郊大厦):
.
Medium and high-end men's/women's wear market:
Xin Da Di Fashion wholesale market(广州新大地服装城)
Guangzhou Kapok International Fashion City(Hongmian garment market 广州红棉国际服装城)
Guangzhou HuiMei Fashion City(广州汇美国际时装城)
Guangzhou UUS garment market(广州UUS服装城)
Click here direct to these market and learn the details:
.
Or you want to know may be the Mid-lower grade Men's wear/Women's wear market:
Guangzhou Thirteen-Hong garment wholesale market (广州十三行服装批发市场)
.
Or if you are interested in Mid-lower grade and cheaper garments, Shahe garment wholesale market (沙河服装批发市场), please click the link below to check:
.
Or maybe you are an old-hand in Apparel Industry, you have your own brand or service for a clothing company, maybe you are interested in the Textile/Fabric:
👇 This article can help you:
.
We make sourcing easily!
Take advantage of our services make your business stronger in China!
We provide all at cost ($99 up) service including:
China Company Verification
pre-travel service(invitation letter for visa , hotel list, visit scheduling)
samples and fabric sourcing
pattern and sample making
market and factory visit
inspection and shipping arranging
Your comments and inquiry will be highly appreciated.
More details about us, pls check on our website below:
.
Contact: Jessica Liu
Email: dc@cndc.co
Tel: +86 020 31231044