Guangzhou is a "magical" City
There are too many delicious food and beautiful places in this city.
Especially for businessmen, this city is a paradise.
Whether local people or friends from all over the world will fall in love with it.

In the last issue, we introduced some of Guangzhou's most famous clothing wholesale markets.
which sell middle and high-end brand clothing, including men's clothing, women's clothing, children's clothing, shoes, bags and others fashion products wholesale markets.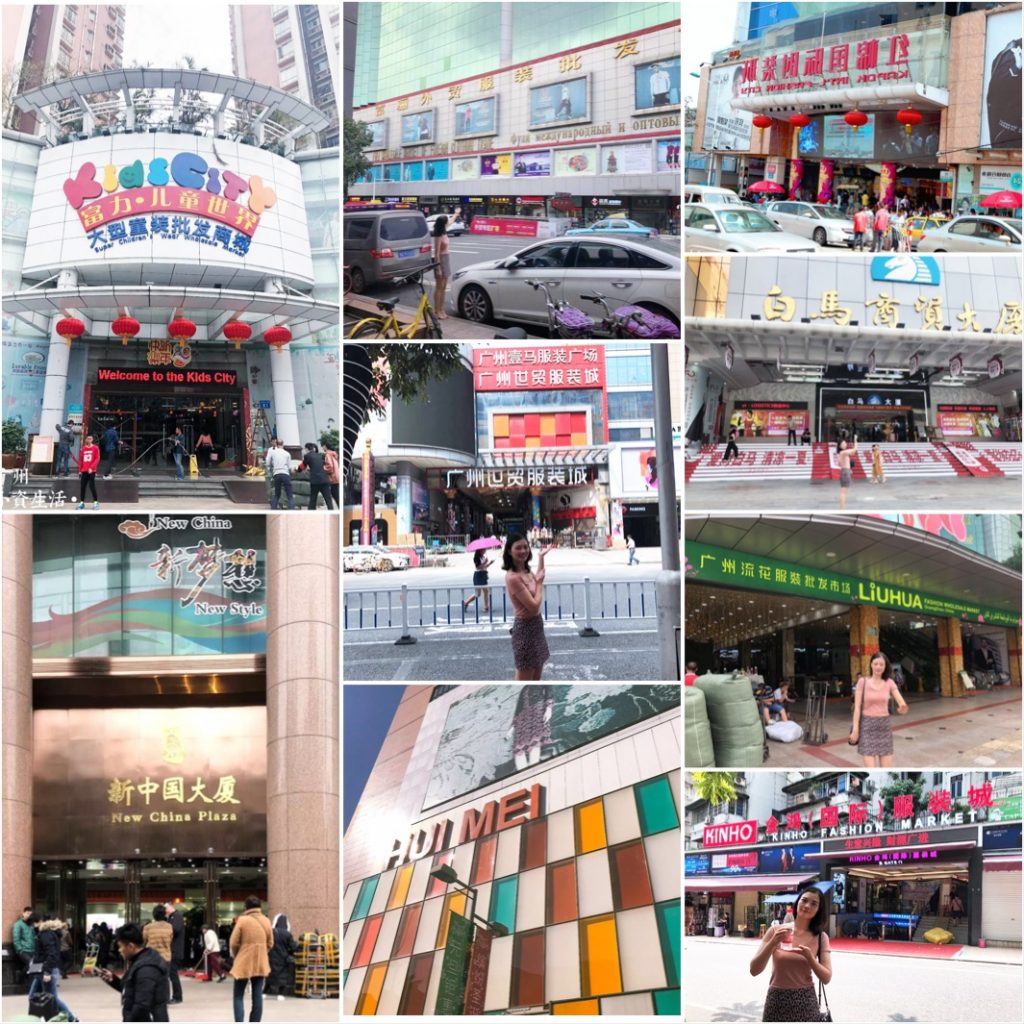 .
According to the clothing wholesale market introduced in the last article.
we have received feedback from some foreign friends – "Is there a clothing market below the mid-end, or a smaller clothing market that is more famous locally? Because my sales market is a mid-range customers"
Yes, of course we kind of above mentioned clothing market in Guangzhou and very famous & large!
So, here we go!

.
Today we have a special client Antonio from Mexico, is going with us to those following clothes market.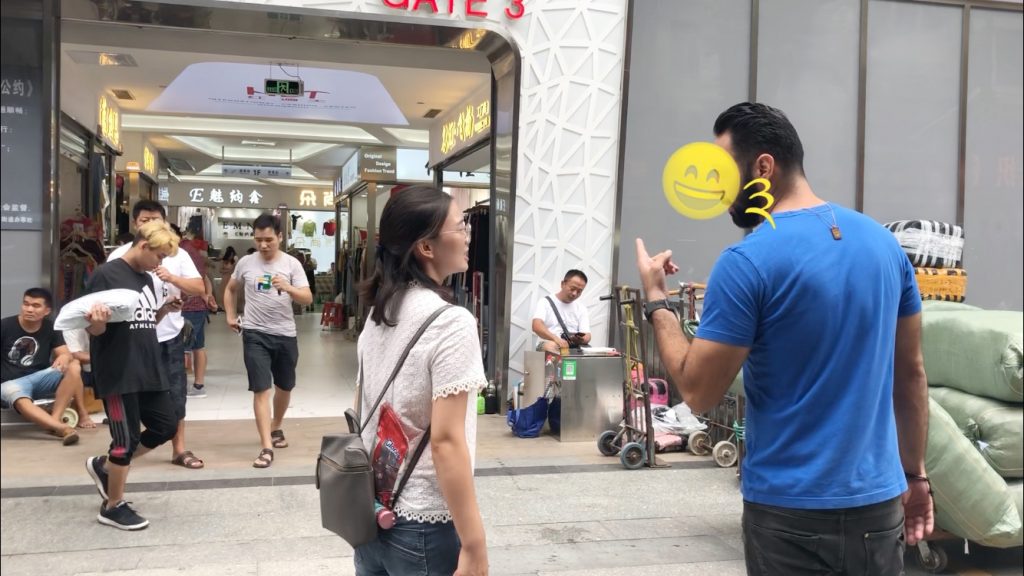 .
The business he doing is also the fashion but not clothes, now he want to enlarge his business, so he found us final, because we know this market very well in Guangzhou City.
Let's help him open his new market, let's go~~
.
.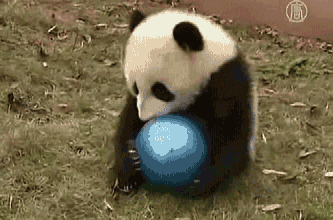 👇 The Guangzhou Thirteen-Hong (Square)fashion wholesale market:(广州十三行服装批发市场)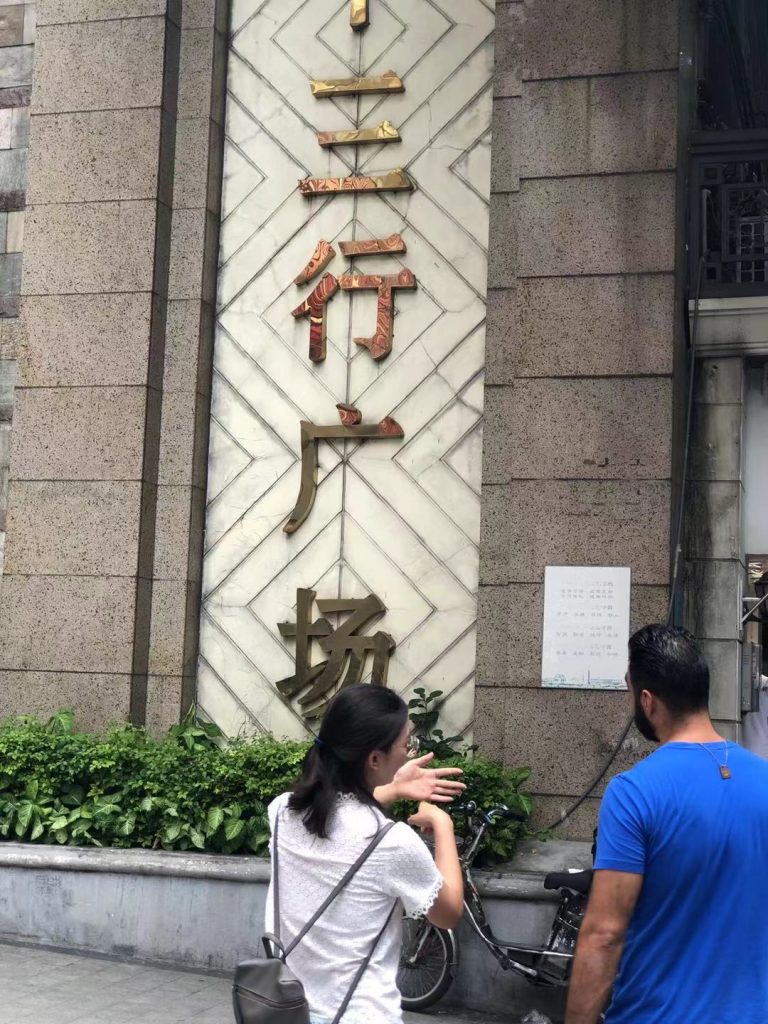 .
Guangzhou Thirteen-Hong clothing wholesale market is a business circle on No.13 Road, surrounded by Forbidden Clothes Street, Thirteen-Hong Dou-Lan Street and HePing East Road clothing market, which has become the longest garment wholesale distribution center in Guangzhou.
The most famous garment buildings in Guangzhou Thirteen-Hong Square are: New China Building, Hongbiantian Building and Dongfanghong Building. Usually we call this market the Thirteen-Hong Garment Market.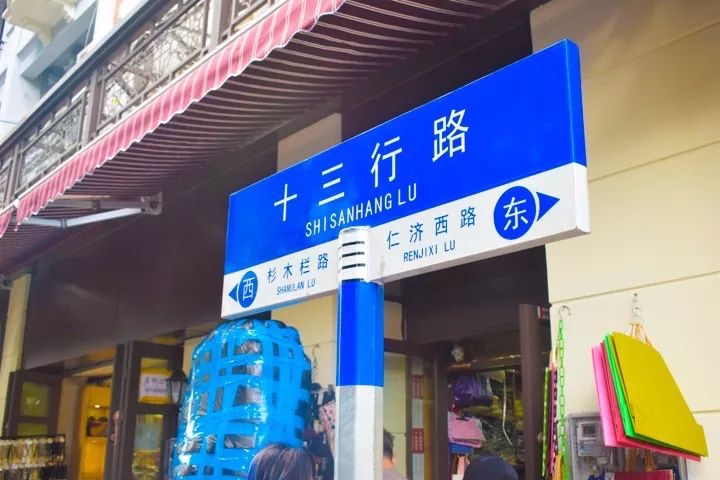 .
If you haven't touched the apparel market yet and want to do it now;
If you want to start your business from the low-end clothing market;
If you have a lot of customers, you can't find a good clothing supplier;
If you make fast fashion clothes, but worry about more new designs quickly;
If you want to create your clothing brand from now on…
.
Well, you're right to come to us.
Today, we will go to five real local clothing wholesale markets in Guangzhou.
To fully understand the different levels and prices of Guangzhou clothing wholesale market.
We believe that you will find a market you like to help you open your market and expand your business.
The Address:No. 13 RenMin's 13th South Road, Liwan District, Guangzhou City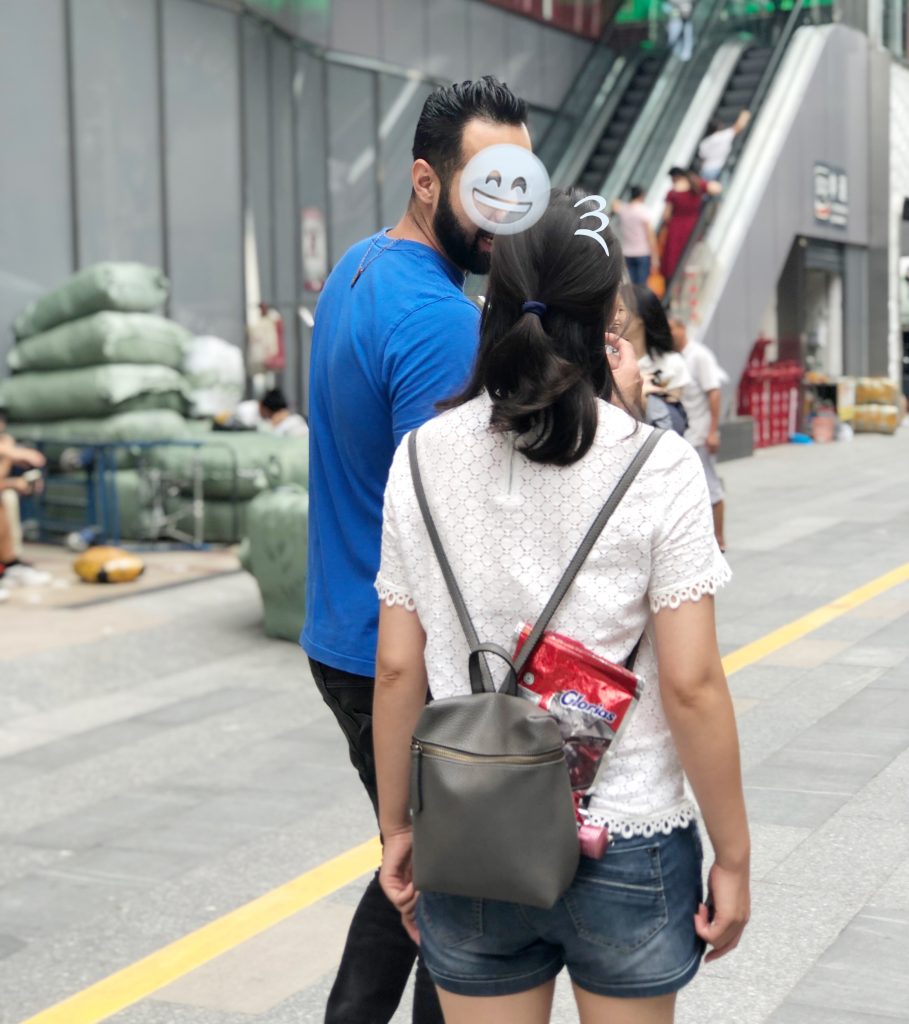 There are also some alleys around, mainly selling women's clothes.
Thirteen-Hong clothes market is a well-known wholesale market for women's wear in China. Especially the New China Plaza. Is the most prosperous clothing wholesale market in this business circle.
Guangzhou Thirteen-Hong clothing wholesale market is based on Japan design, Korean design, European and American design, magazine design and fast fashion styles, fashionable and beautiful style, moderate price of middle-grade women's clothing, can be found here.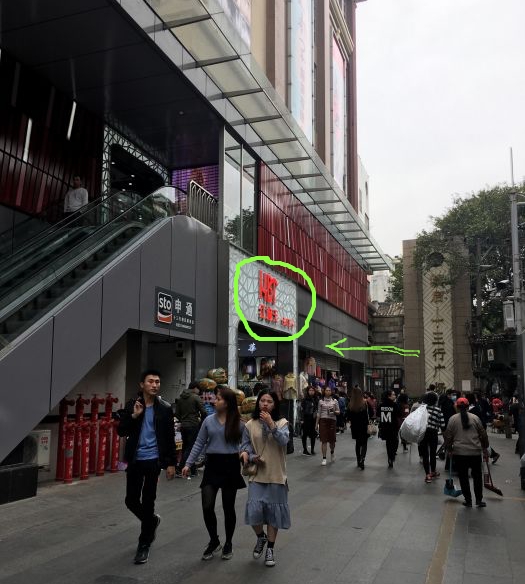 .
The 1st station:Hongbiantian(HBT) Plaza (红遍天服装交易中心)
The first floor of the Hongbiantian Plaza is dominated by beautiful fast fashion styles and belts.
All kinds of middle and low-grade clothes can be found here, and there are some girls' clothes.
90% shops of the first floor they have their own factory. It belongs to self-produced and sold themselves, their price will be very good.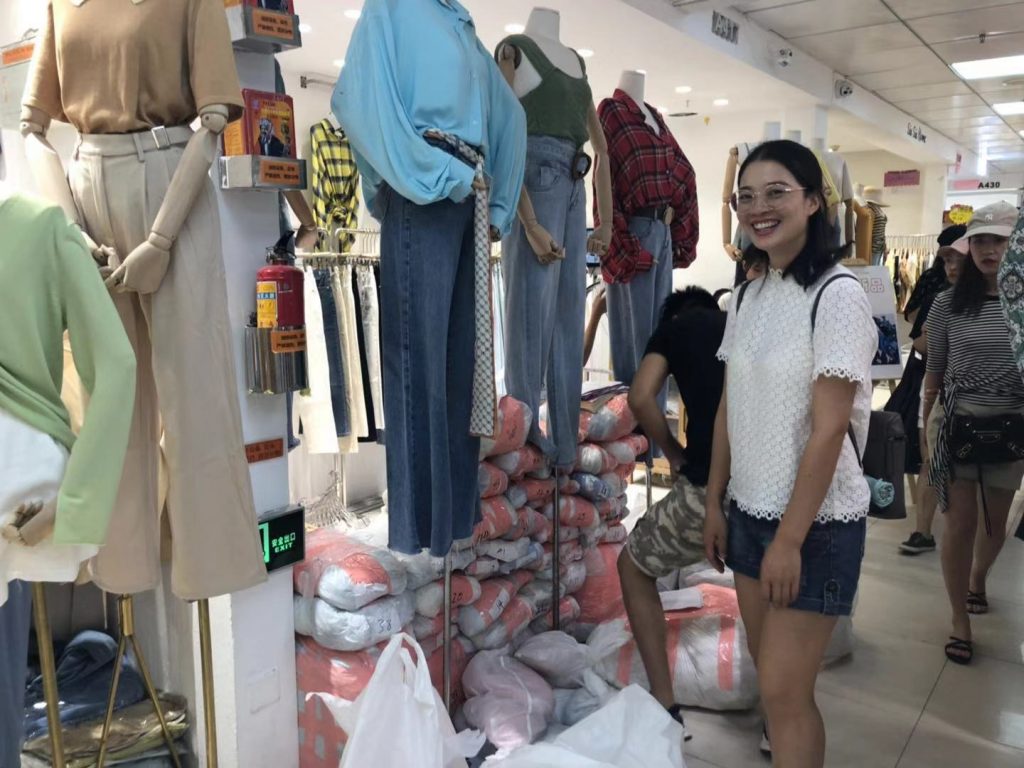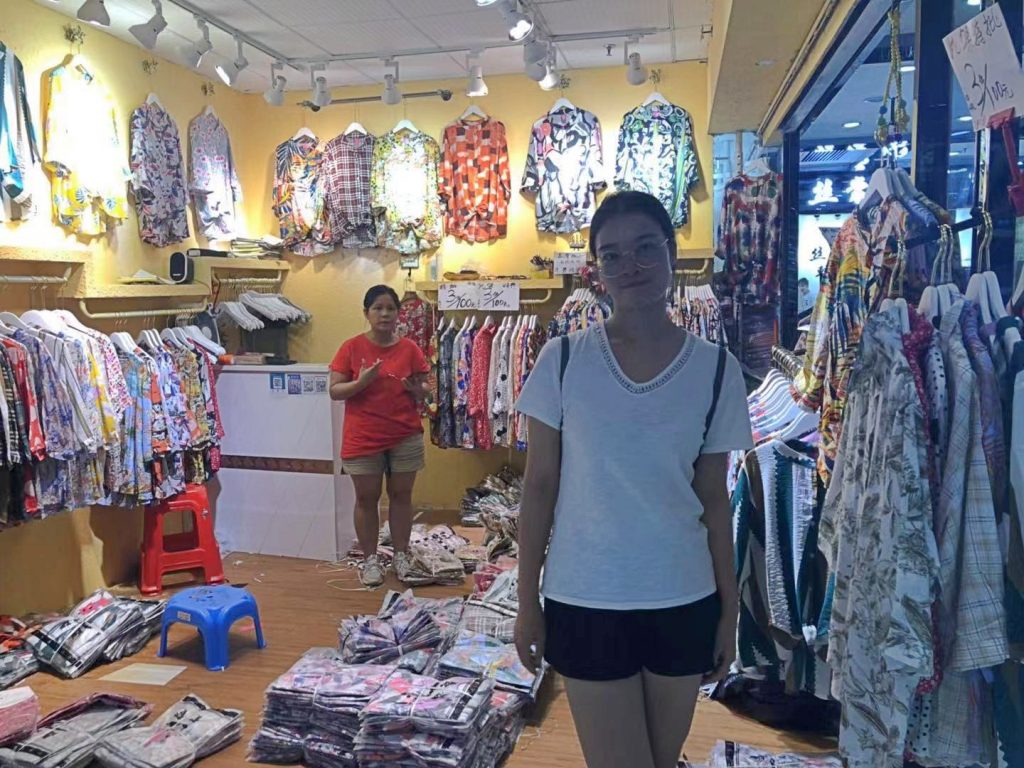 Their orders are usually based on running LARGE quantity. The profit of a garment is only 2-10RMB. If your order is large, the wholesale price can be really lower than you expected.
But at the same time, the workmanship is very general, so if you want to start from low-end clothes and sell clothes at wholesale prices, then pay attention to it.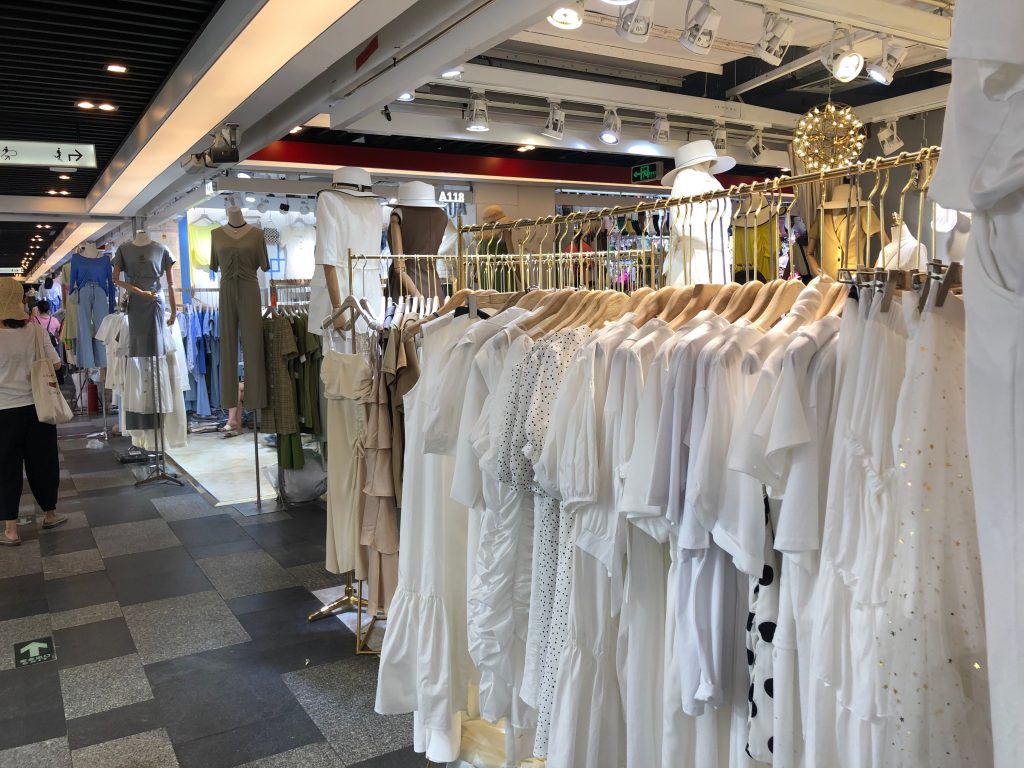 This will be a very good market.
There are dozens of shops on the right side of the first floor mainly for jewelry, belts, shoes and accessories.
It's more economical to buy accessories to go back and match clothes in these stores.
At the same time, because the garment industry has led these accessories industry growing stronger and stronger.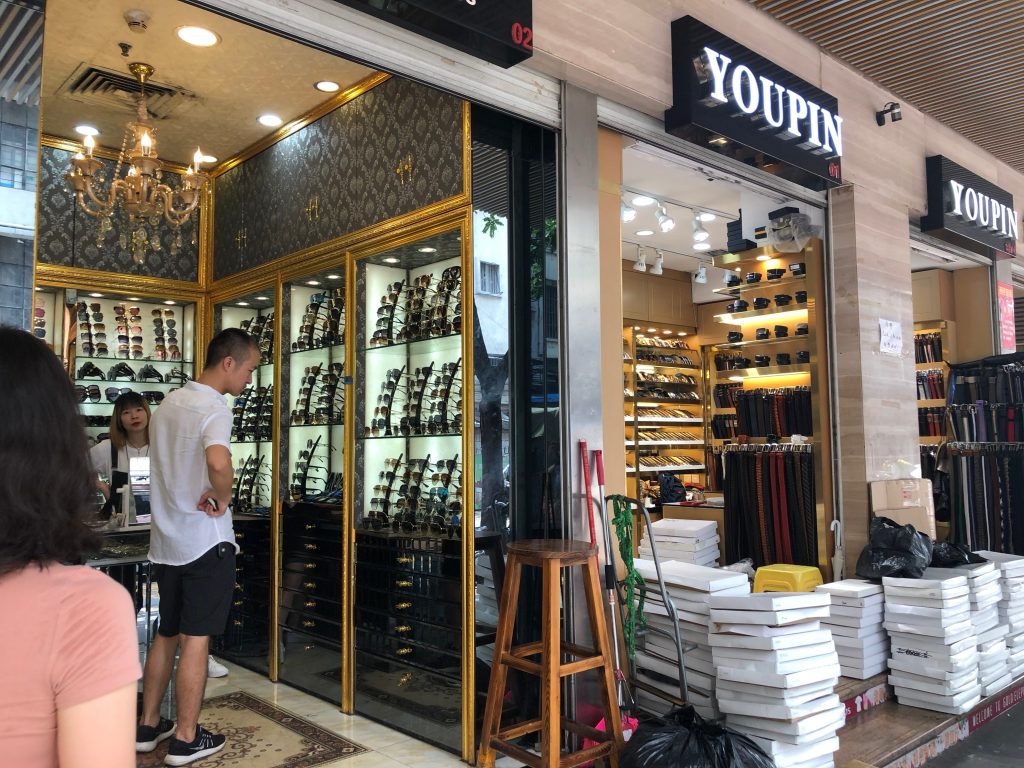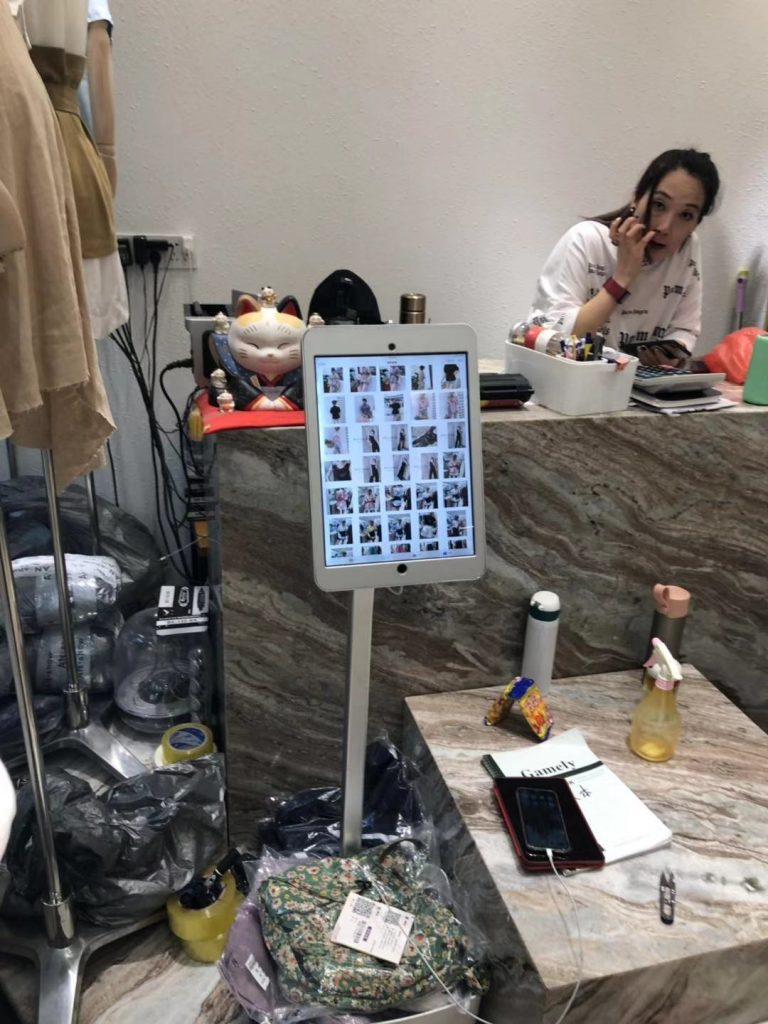 .
The 2nd and 3rd floors shops, their grade and style are similar to those of the 1st floor.
On the right side of the second floor, there are many stores are for wholesale bags. They are all the latest models of the season.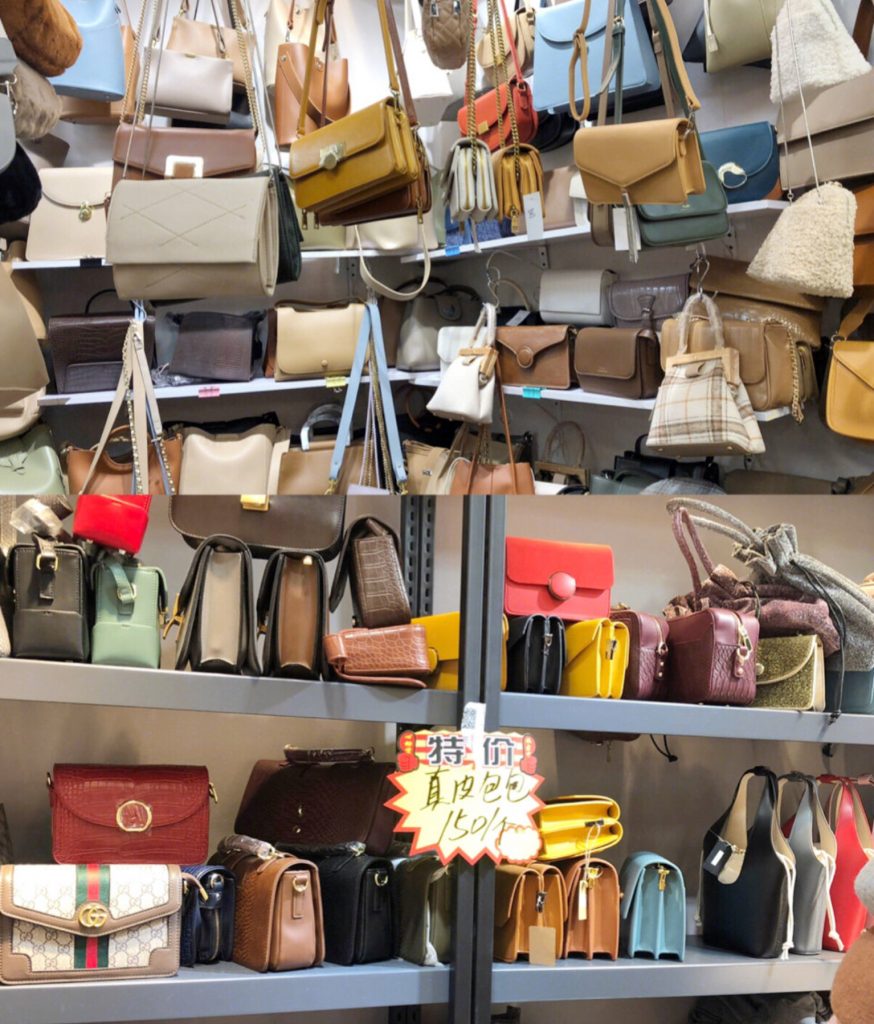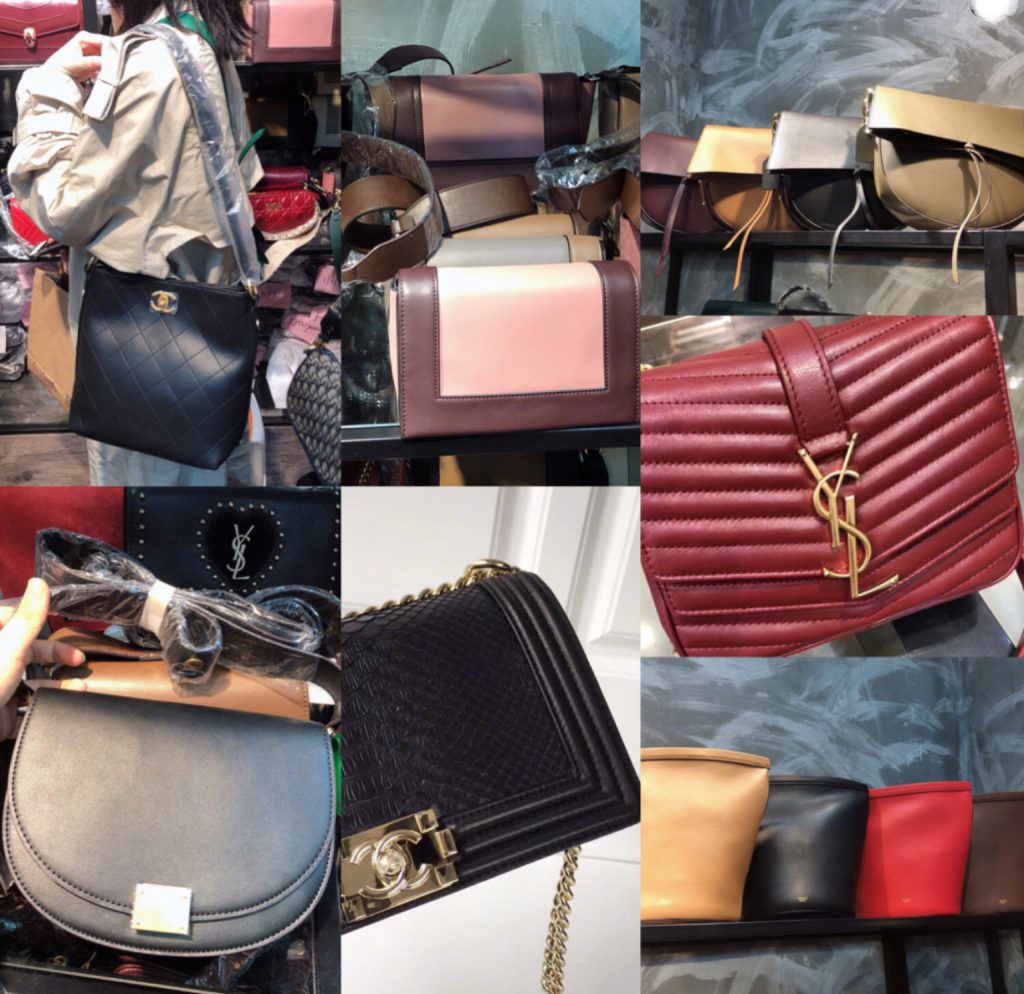 .
The price is not high either. The price of the goods is between 30 and 80RMB. Some of them are of good quality.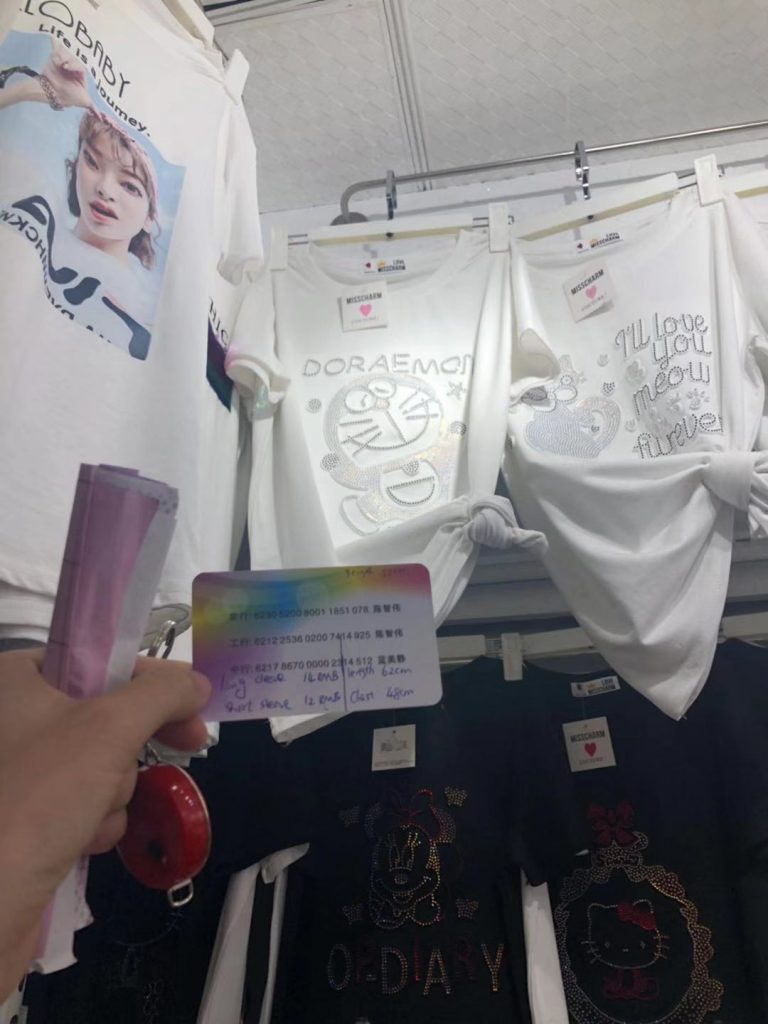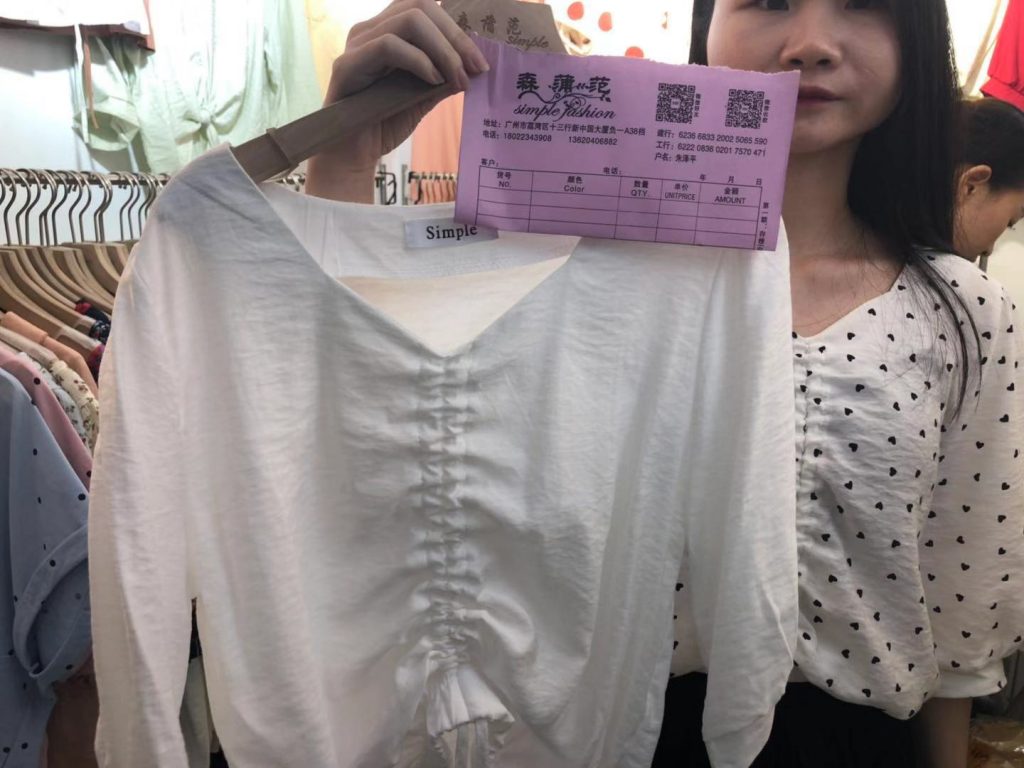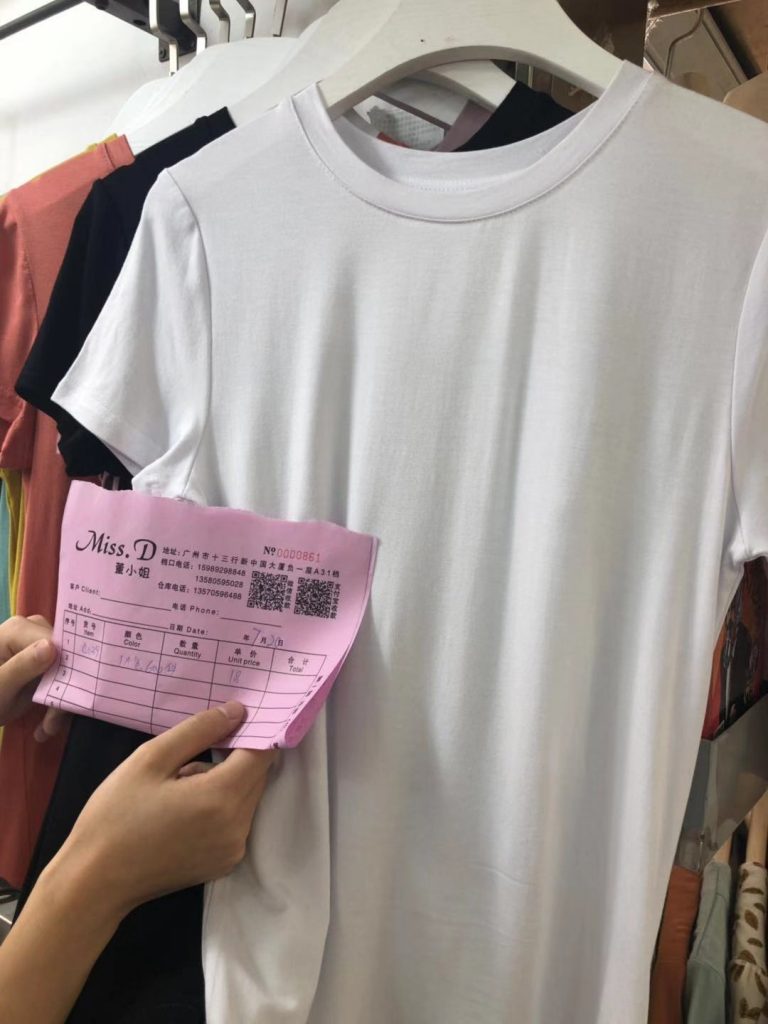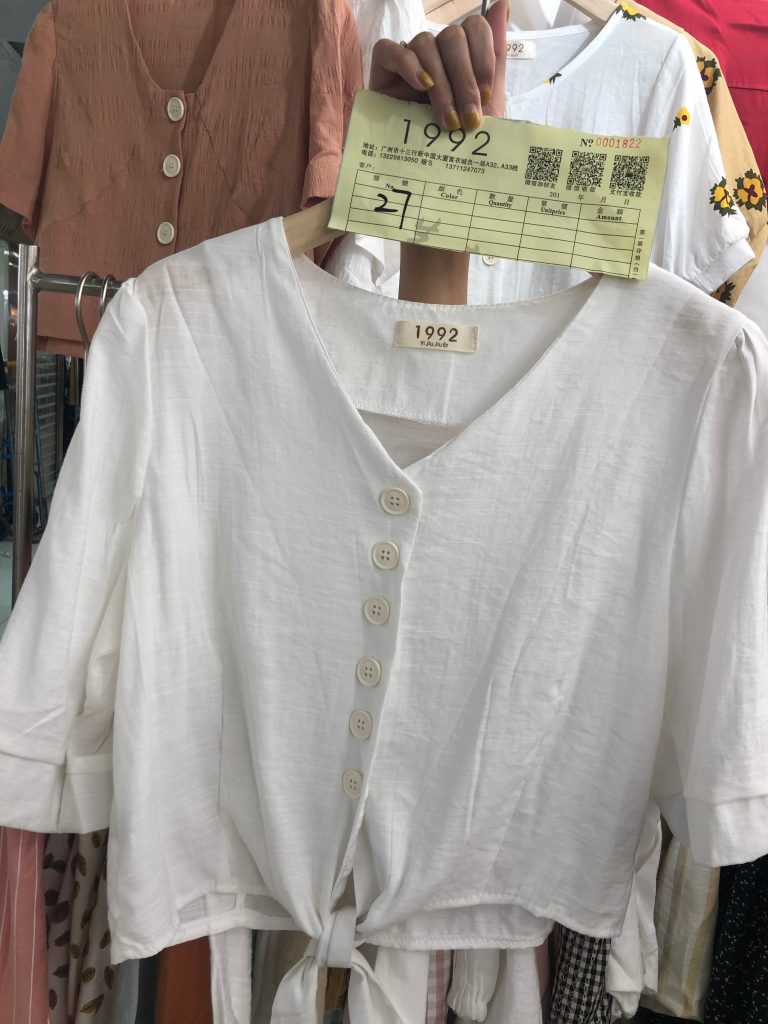 👆 If you place order, you can get this kind of bill, if the shopkeeper have enough stock in the shop, you can take your goods at once;If your order is bigger, they need to go to their warehouse or send by express/logistic to you.
.
It is noteworthy that there is an area of "C" on the second floor specializing in pants, casual pants, jeans, the price is between 20 and 50RMB.
If you want to get cheap pants, you can go there and have a look.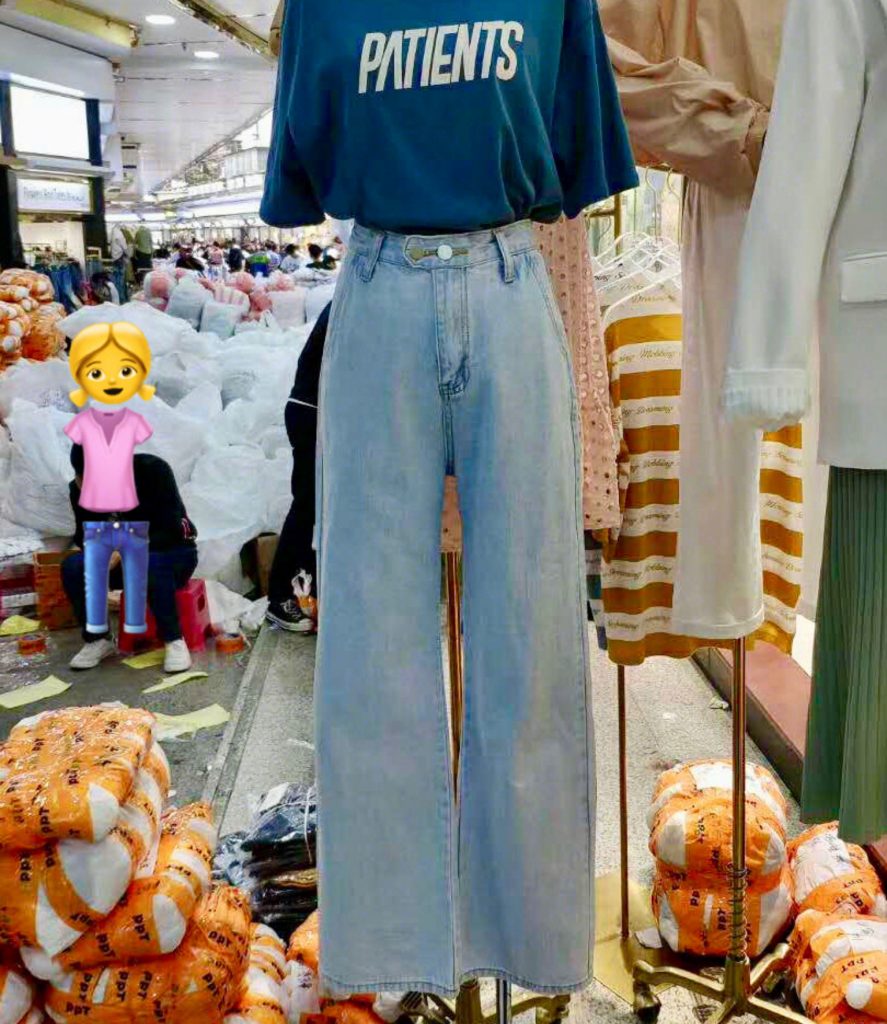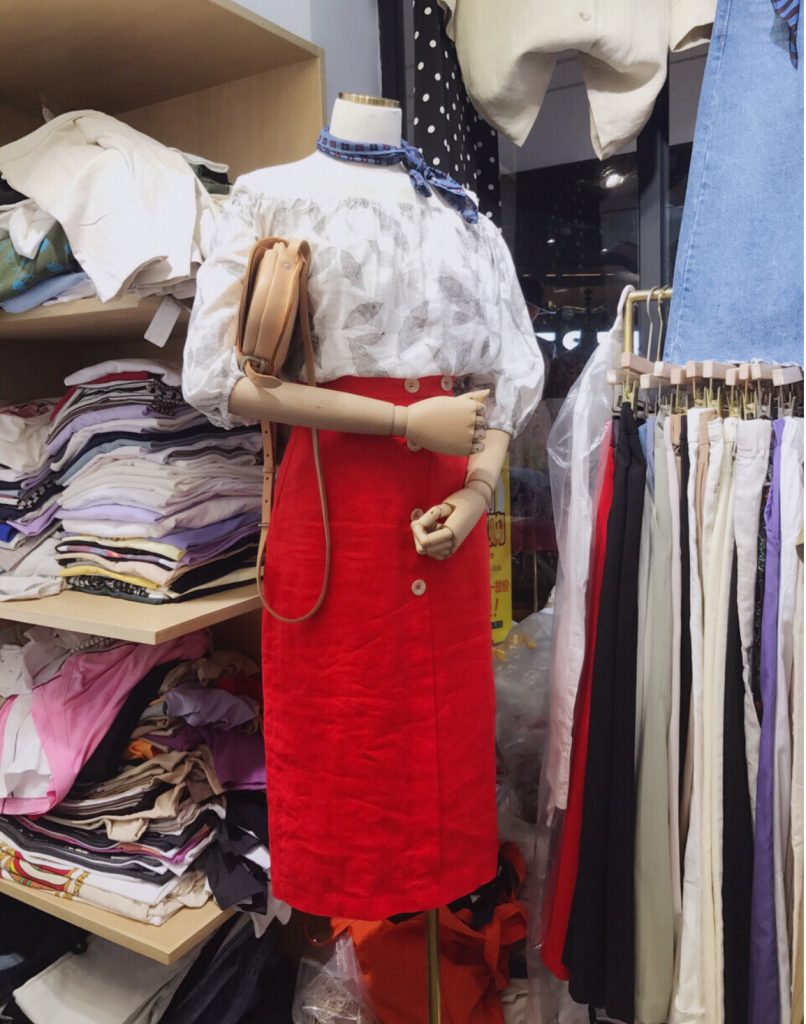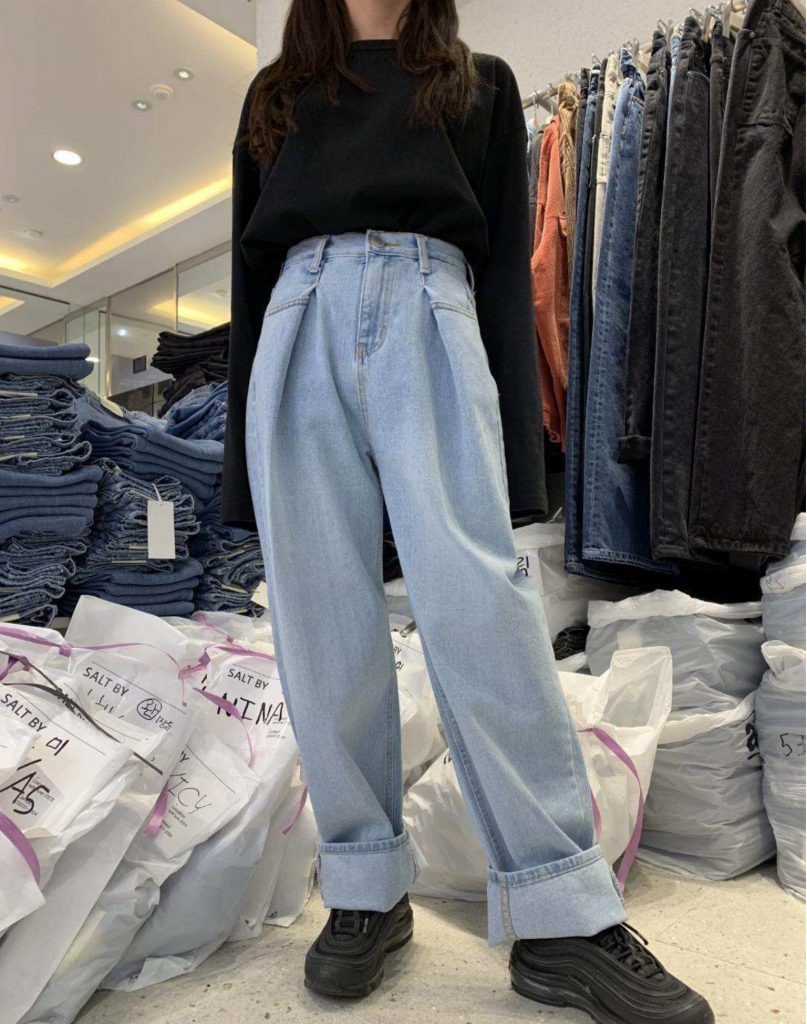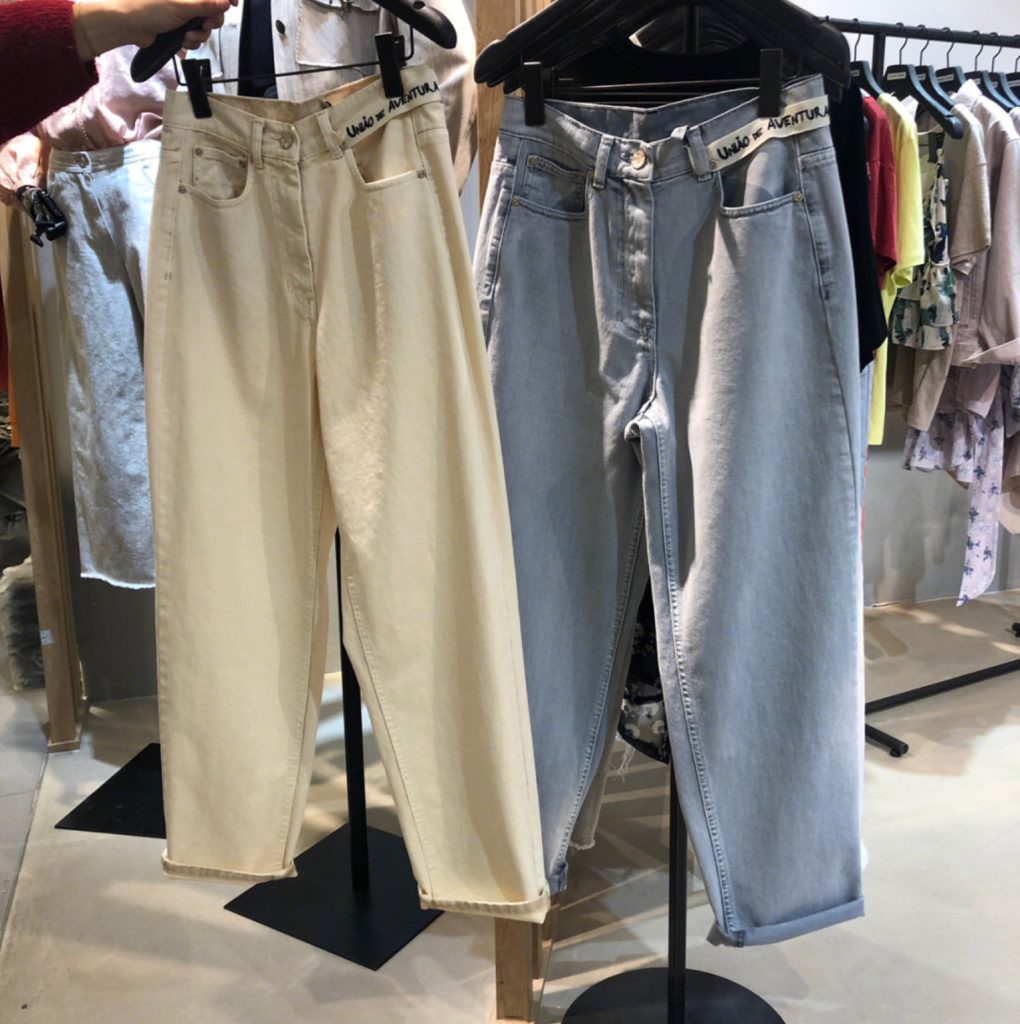 .
Four to five floors are mainly selling medium and high-end quality clothes, the price which are higher than those on the 1st to 3rd floors.
Several experts on the 4th floor specialize in making hats are quite good. Those who want to buy Hats can go and have a look.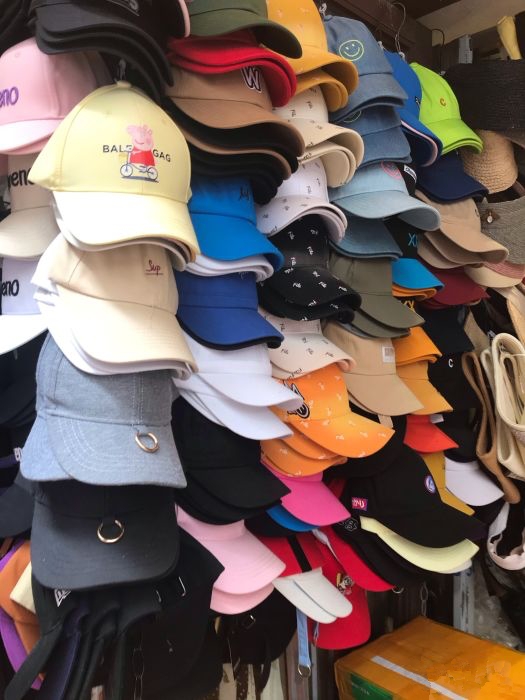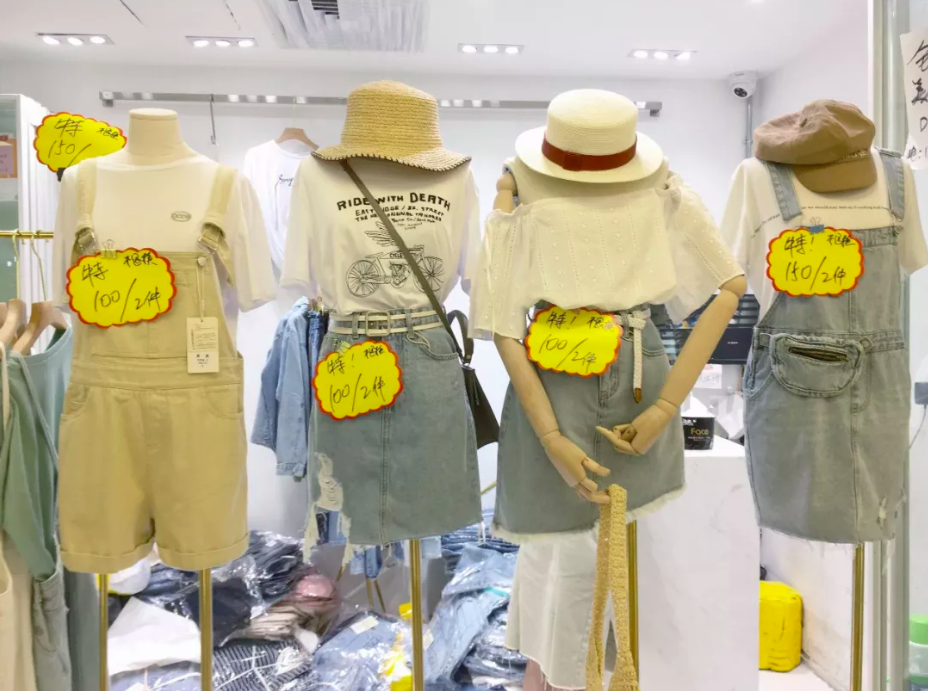 Those shops on the 5th floor are basically selling jeans and they normally have their own factory, medium and high-end quality, the wholesale price at around 70-130RMB/pcs.
The 7th to 10th floors are mainly brand of shops. These three floors have the largest flow of people and the latest styles.
Most of shops are middle-grade women's clothes. The price is between 50 and 120RMB/pcs, the quality is better and designs update quickly.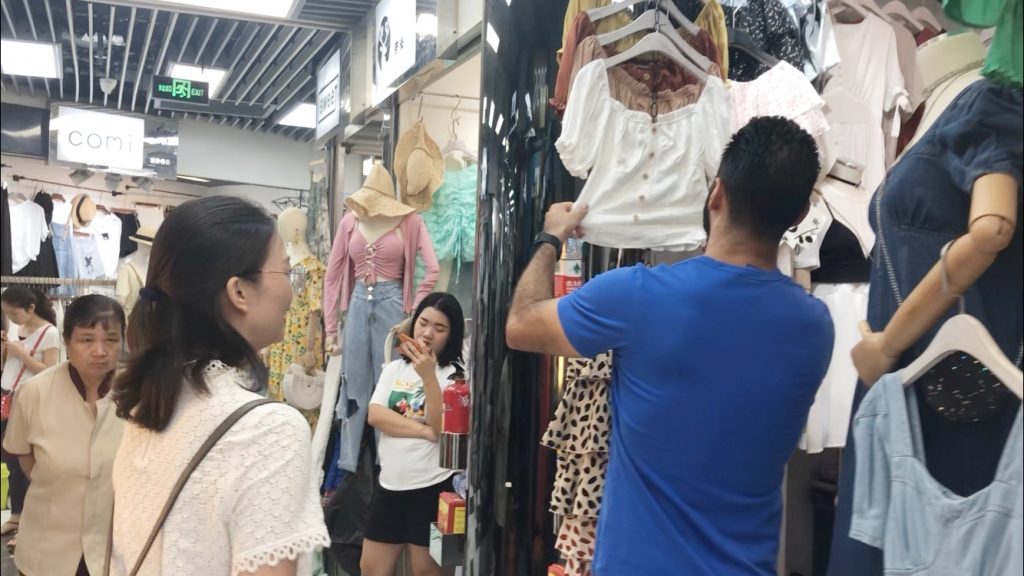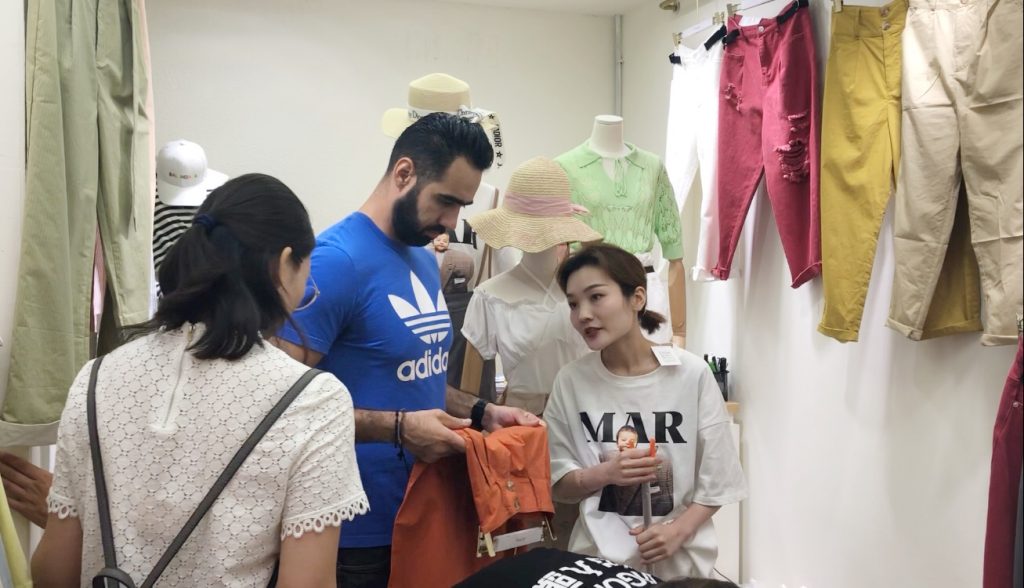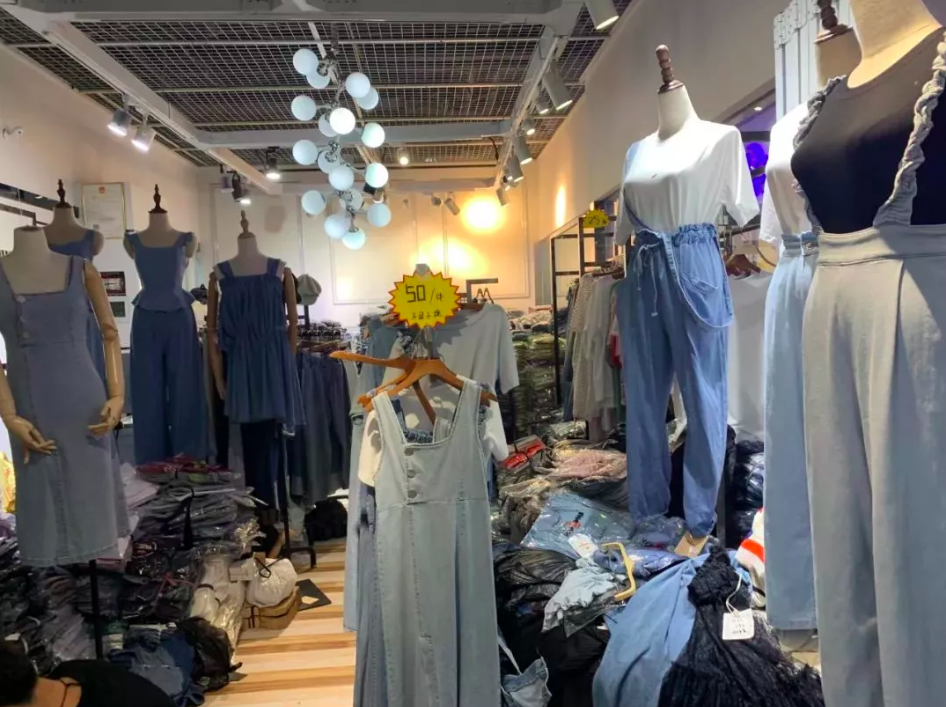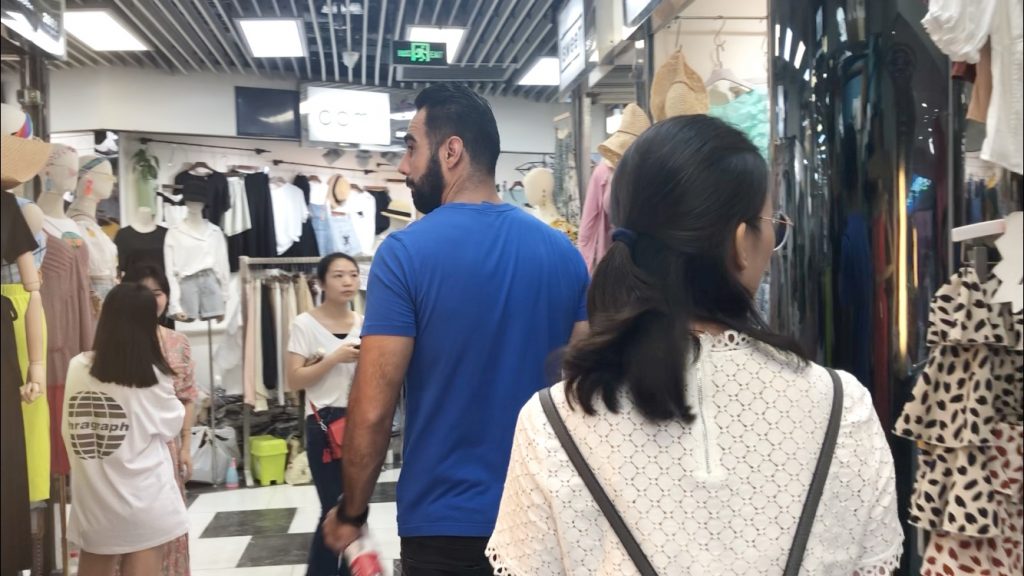 .
Thirteen-Hong clothing wholesale market is well known and different from others clothes market in Guangzhou.
The opening time is 6:00 am – 15:00 pm.
There are some necessary tips while you are in Thirteen-Hong clothes market:
1、Go as early as possible.
6:30am – 9:00 am is the time for some local retailers to replenish their stores. 8:00am -12:00 is the busiest time in this wholesale market. By 3:00 p.m., almost all the shops in this wholesale market will be closed.
2、Get a hotel or live nearby it
If you come from a farther place, you don't have to rush to get your goods when you arrive there. You can observe the surrounding situation carefully first. If time permits, you can decide where to live first, so that it will be much easier to get your goods.
3、 You know, almost every shop will ask you to pack or just for samples once you get in a new shop.
(Pack, Chinese call "Da Bao", means that you need full sizes and full colors of one single style,the shopkeeper will give you the lowest price, if which style you only need one color or less size, the price will be different.
4. When you see the style you like, remember to compare with different shops, because you may can find the same style in others shops and price maybe cheaper.
5. Please dress comfortably.
There are many people here every day, and the market is big enough. When you finish the day, you will be very tired.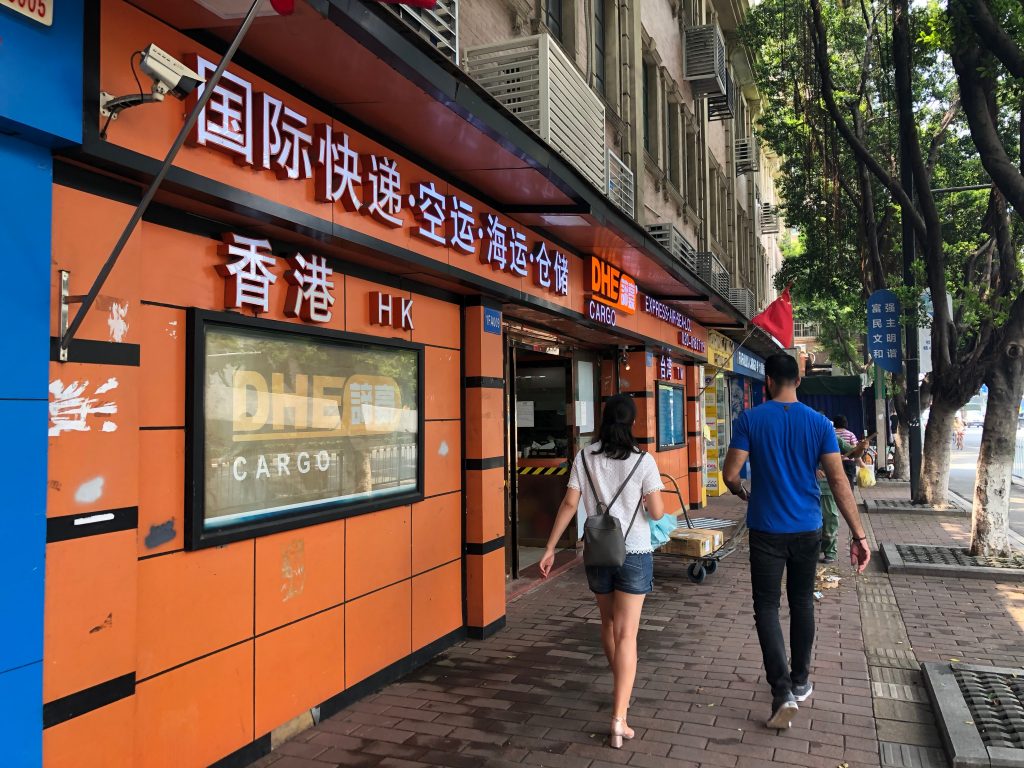 Because of the clothing business stronger and stronger, the logistics industry developed very well in a very high speed.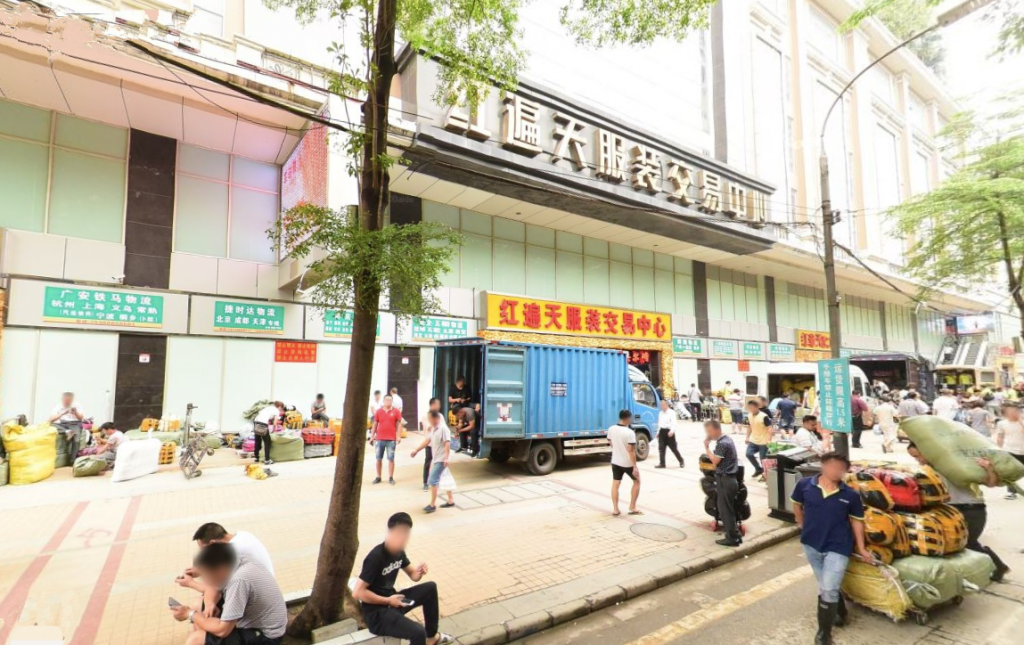 You can't imagine how many express parcels are delivered to all parts of China or even abroad every day.
.
.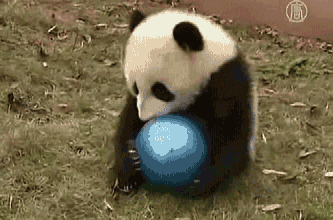 Our 2nd station:
New China Plaza clothes market(新中国大厦)
The New China Plaza is the most famous clothing market in the business circle of the Thirteen-Hong square in Guangzhou.
This building is in front of Hongbiantian(HBT)building.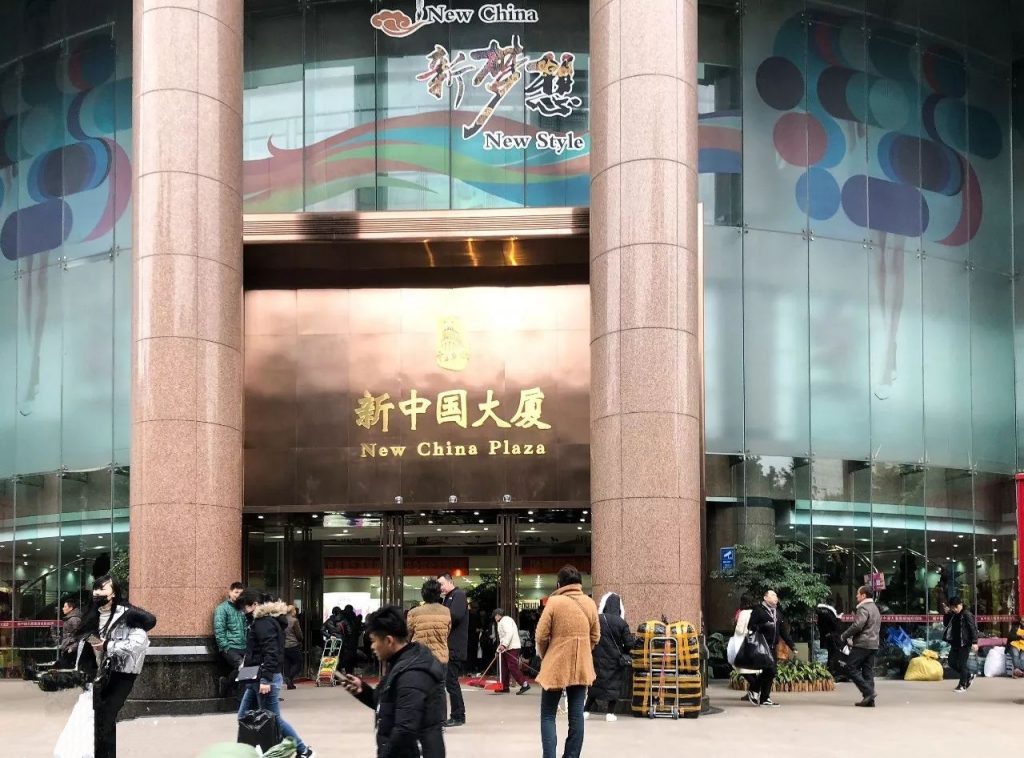 For many newcomers or even veterans, this clothing market is complicated not only because of its many floors, but also because it has many similar shops on each floor, which makes everyone who enters dizzy.
There are 14 floors in the New China Plaza clothing wholesale market.
Two basement floors and twelve floors. Let's go and see what clothes are sold on each floor.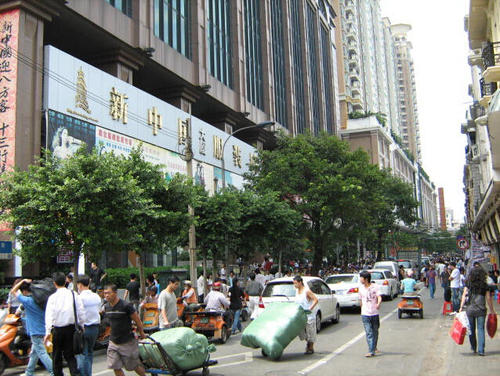 The basement 2nd Floor
The main style of clothing business on the basement 2nd floor is jeans and fashionable girls, which are mainly divided into three Areas: A, B and C.
Area A is mainly of jeans, shorts and T-shirts.
The price of trousers ranges from 25 to 45RMB and shorts from 15 to 25RMB.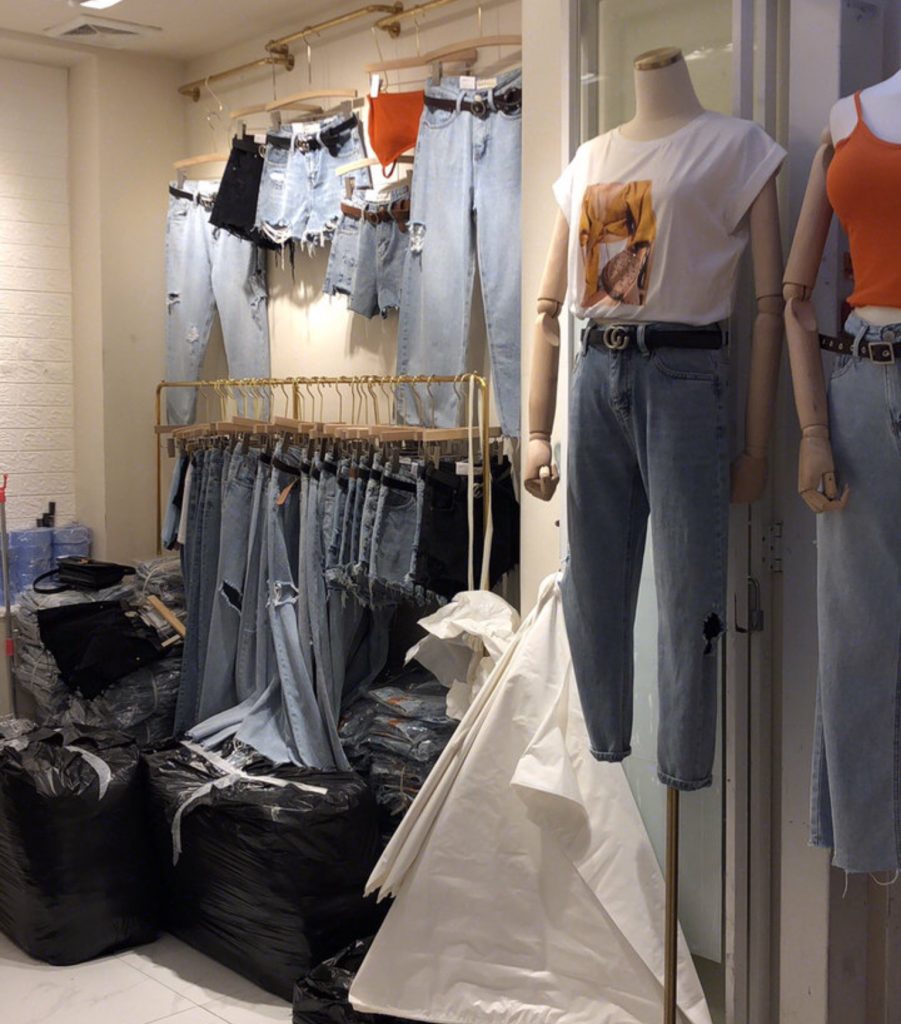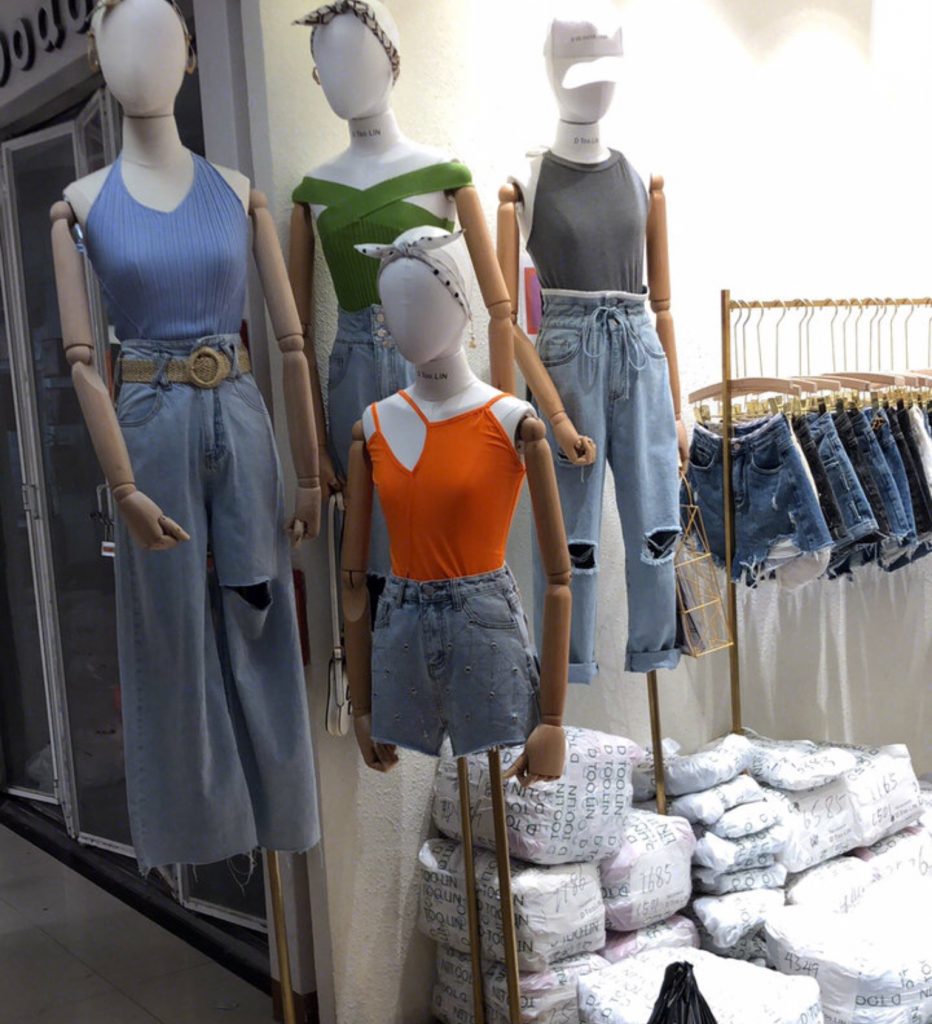 And the waistband on the trousers we need to ask clearly, some are matched together, some are not sold with the owner's own matching.
Area B, most stores are for their warehouses but also some shops selling jeans.
Most of the jeans sold in these shops are with craftmanship in Area B. They are all hand-drilled, embroidered and lace-piecing.
Of course, the price will be 10-20RMB more expensive than the basic jeans in Area A.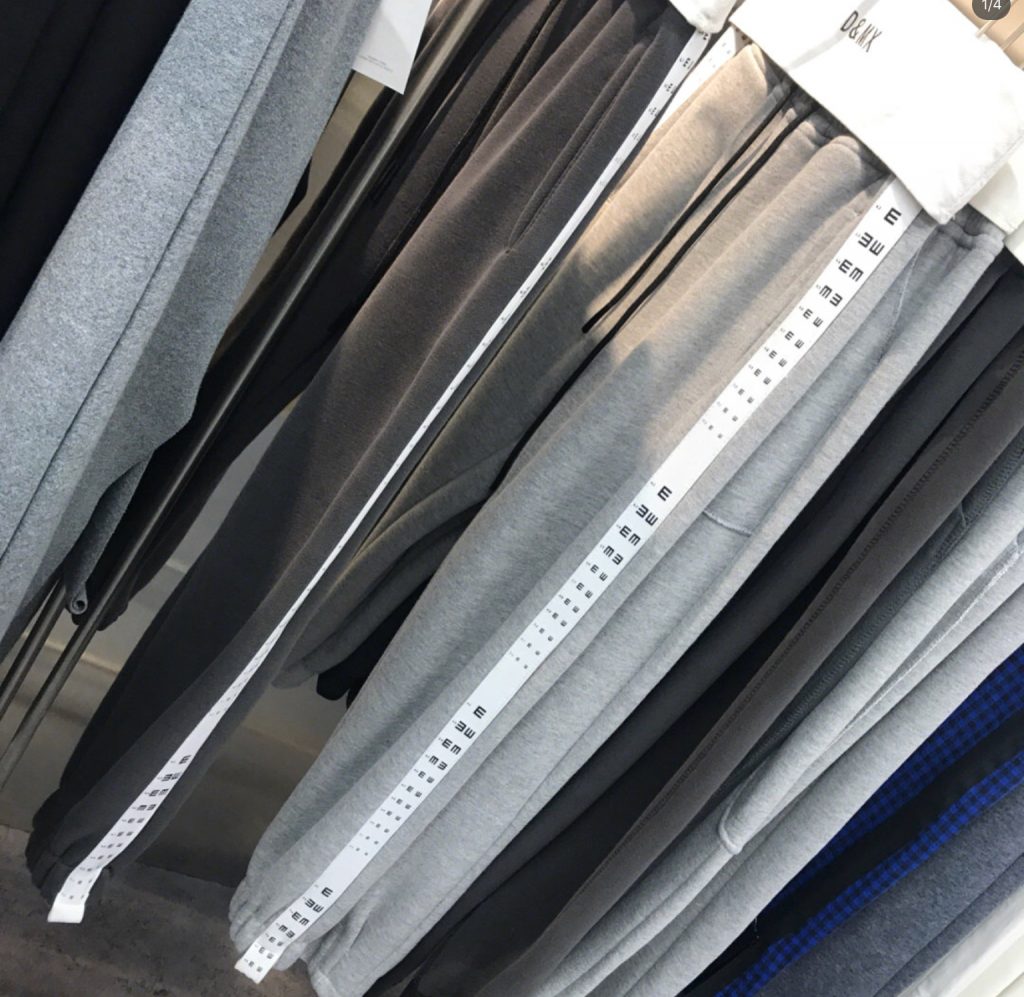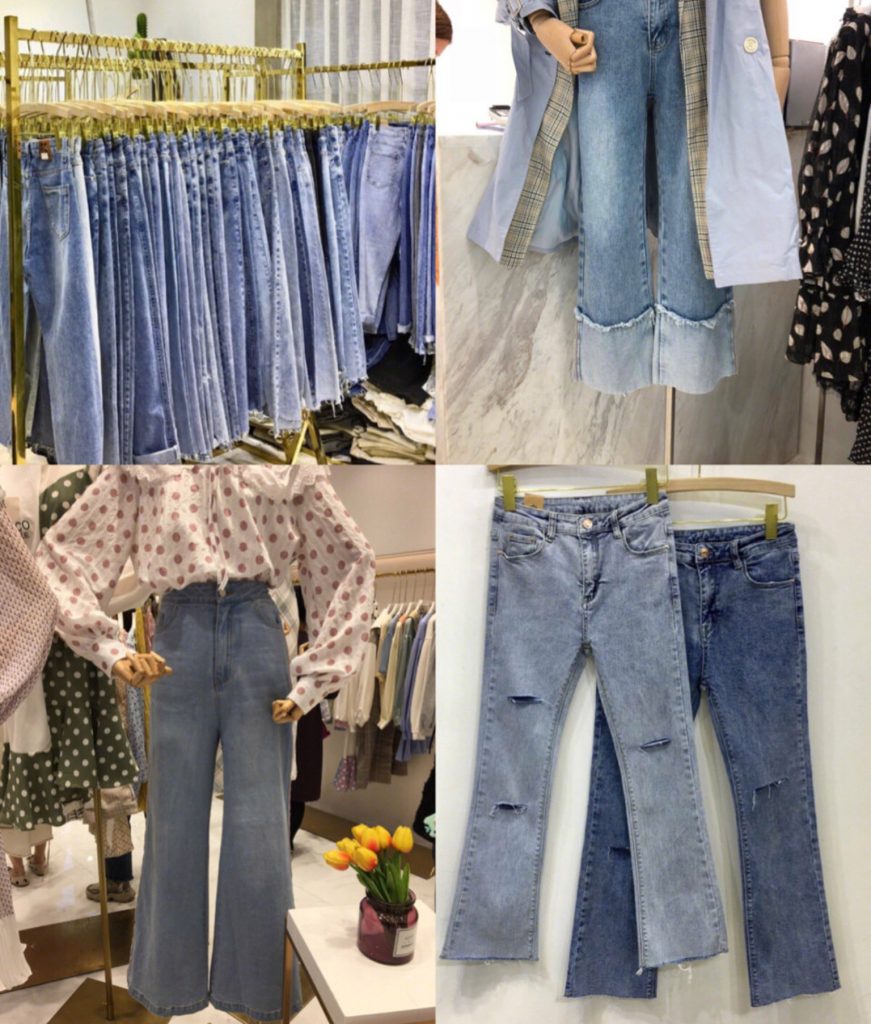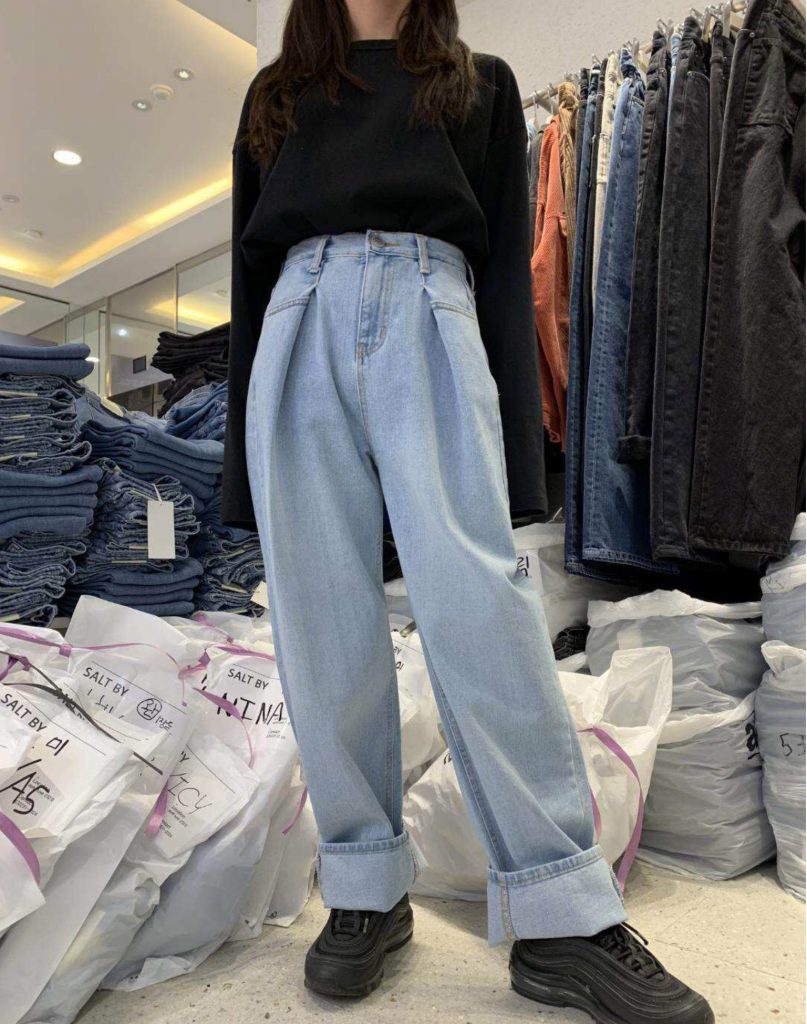 .
Area C is mainly selling beautiful girl's styles, and the price is cheaper.
T-shirts are mainly basic design, with prices ranging from 8 to 20RMB; shorts from 30 to 40RMB; and dresses and skirts from 30 to 40RMB.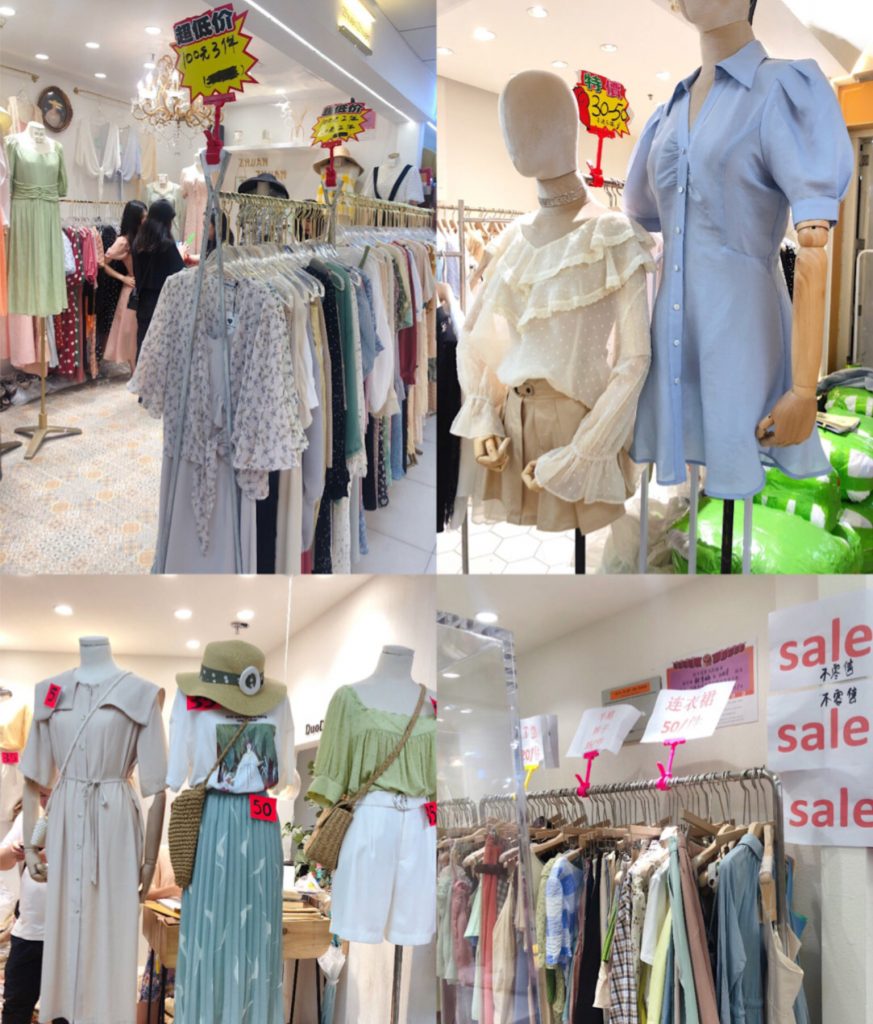 .
The basement 1st Floor
The basement 1st floor is divided into A, B, C, D, E five districts, the main products is also fashionable beautiful girls and denim series of clothes.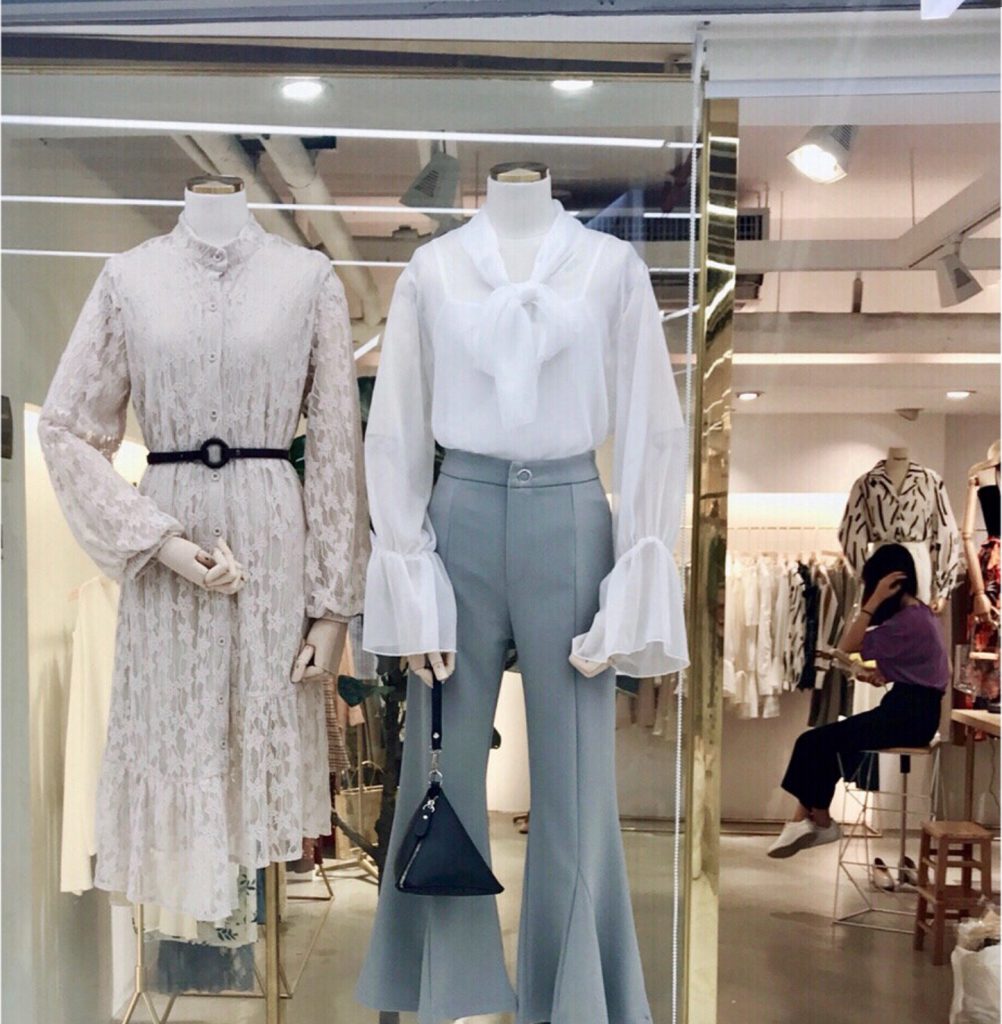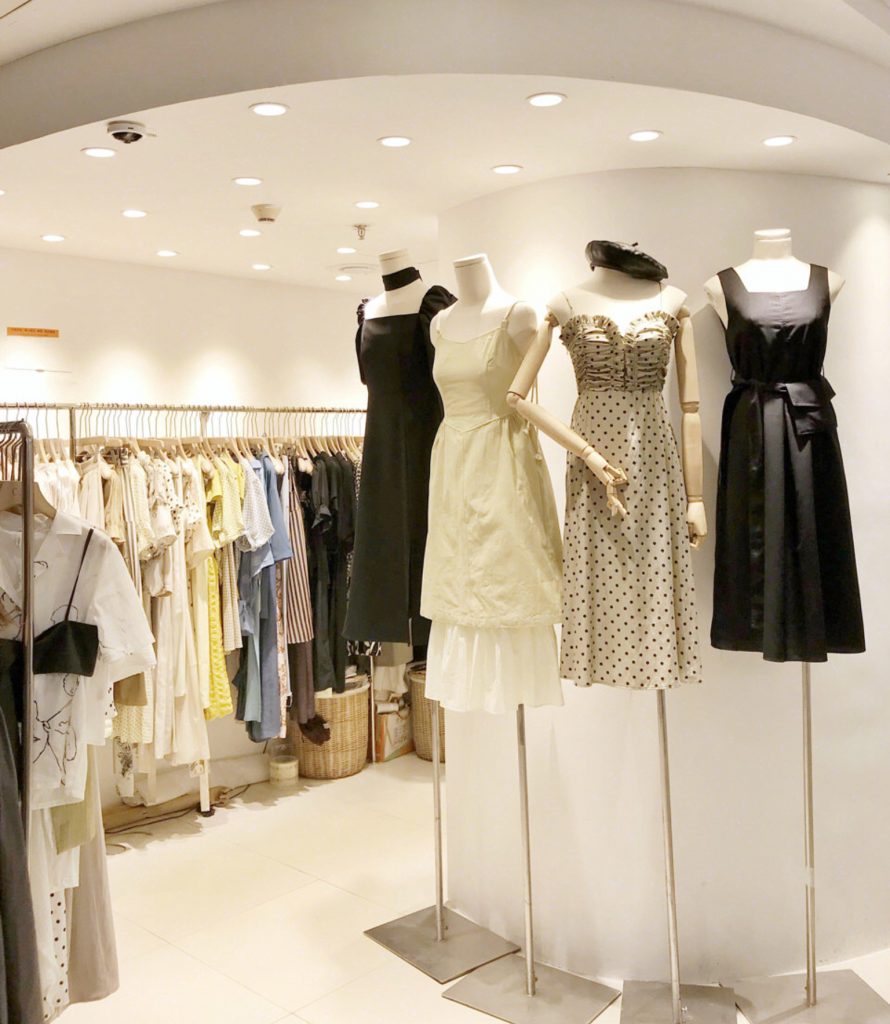 Clothes in areas A, B and C are similar in style and price.
T-shirts range from 15 to 25RMB; long T-shirts range from 25 to 30 RMB;
Skirts range from 18 to 25 RMB; shorts range from 20 to 30 RMB; dresses range from 55 to 65 RMB.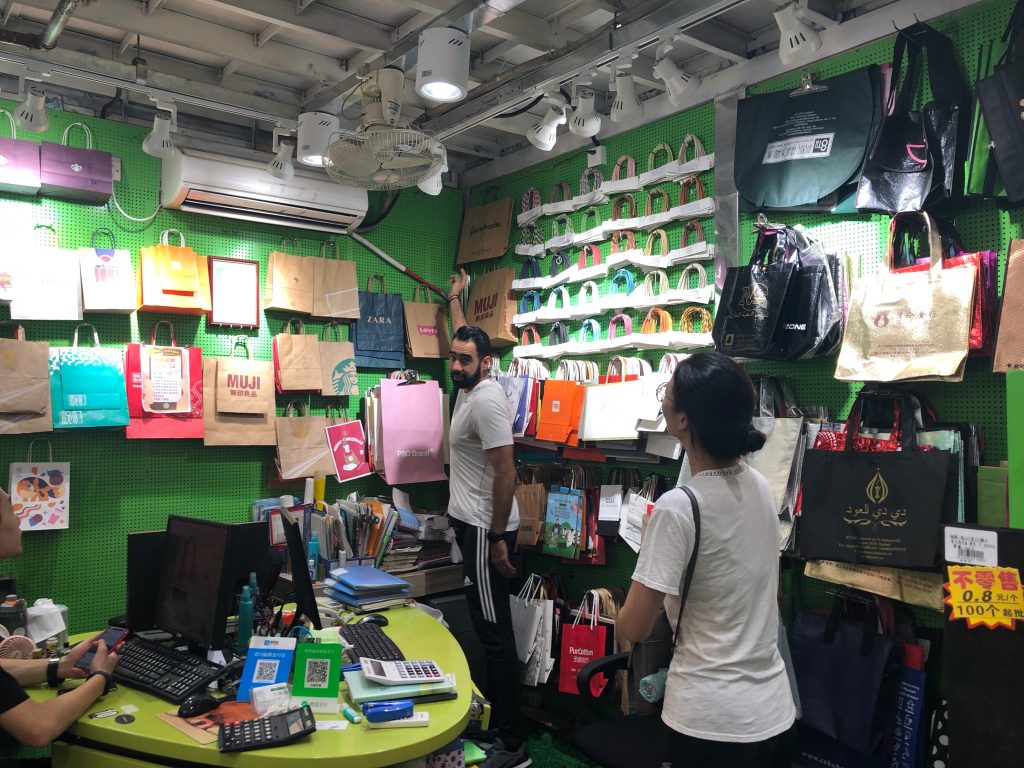 Area D and E, are more expensive than Area A, B and C. It should be noted that the Area E more stores are closed, and a small number of stores are basically selling jeans.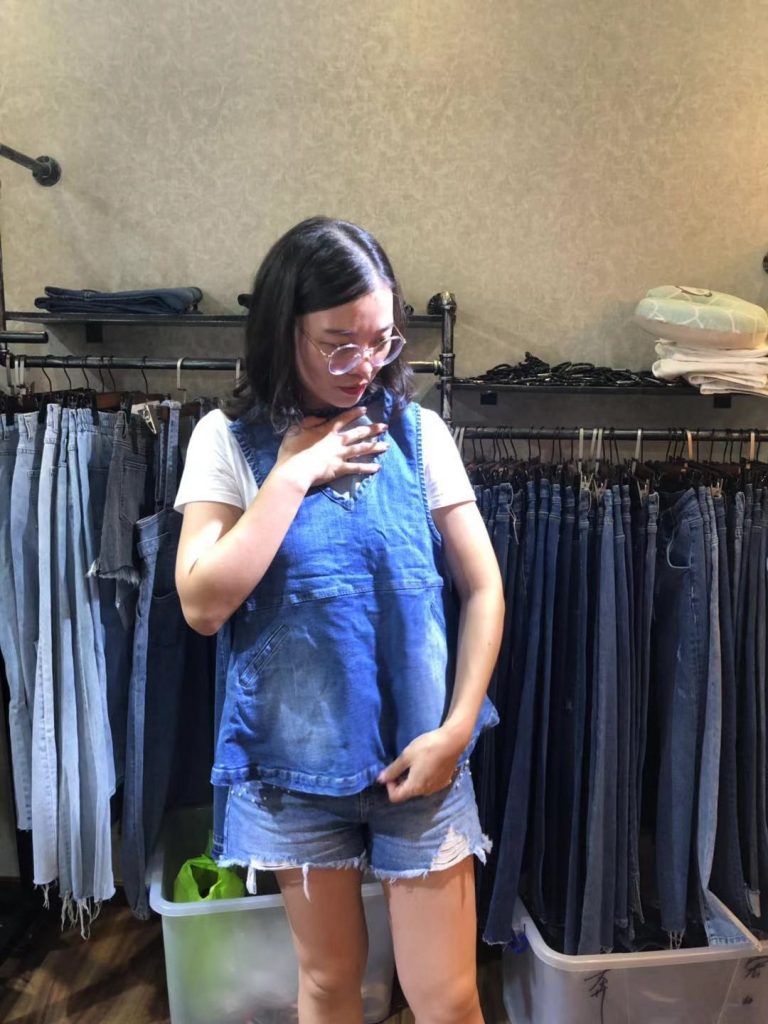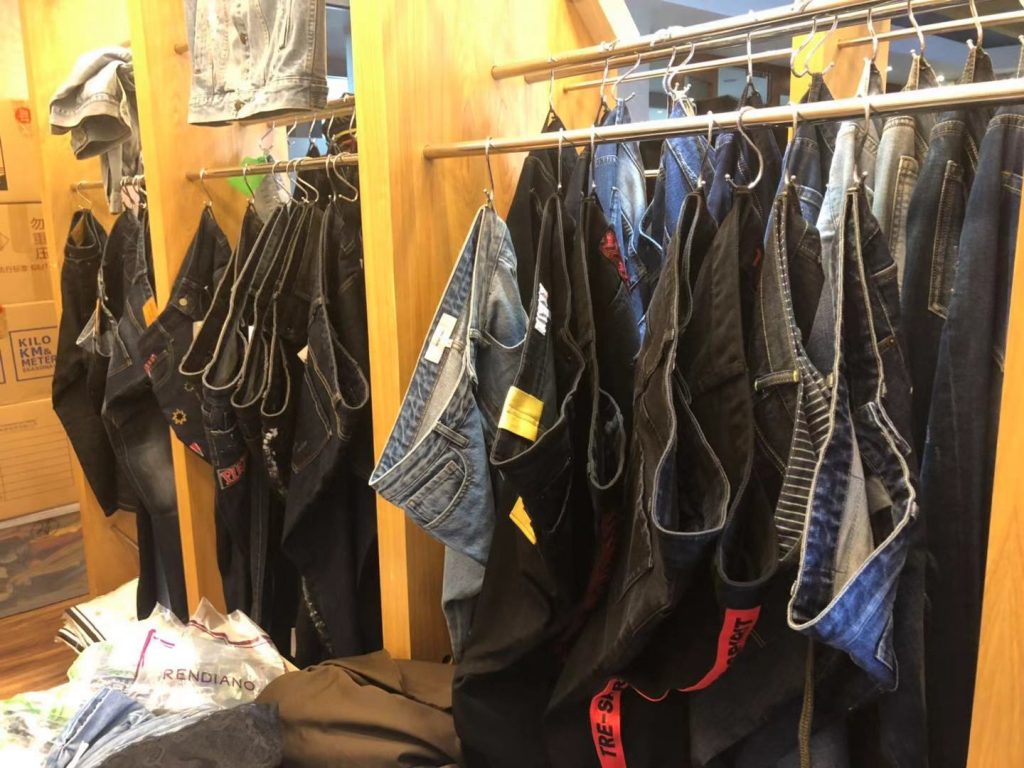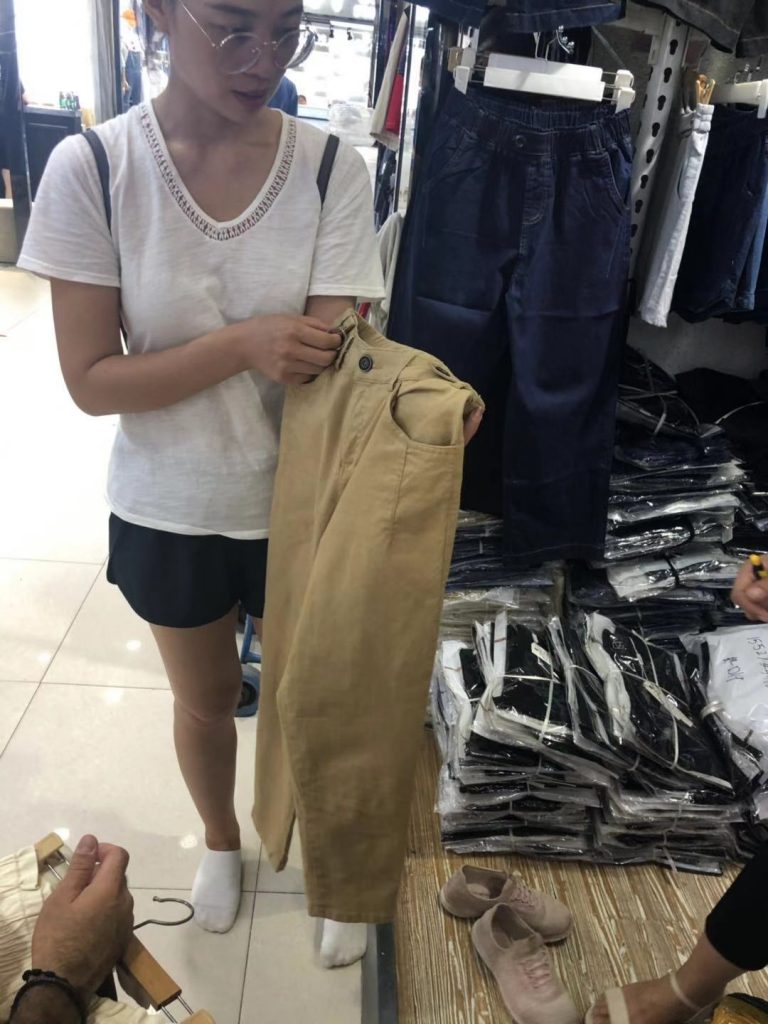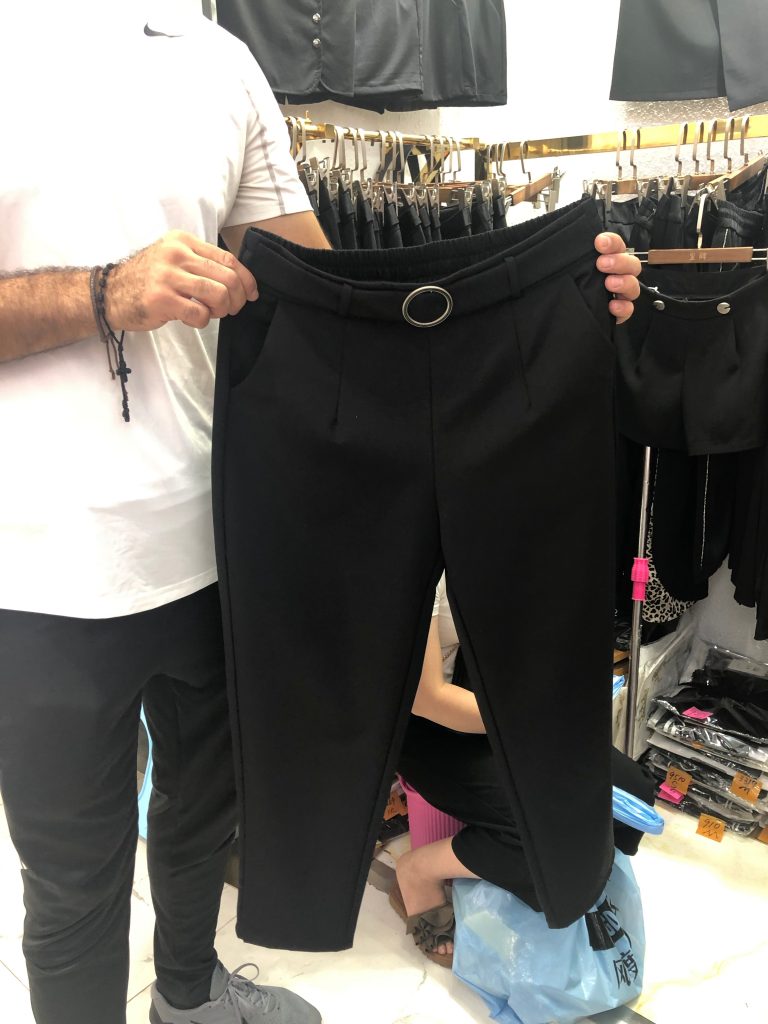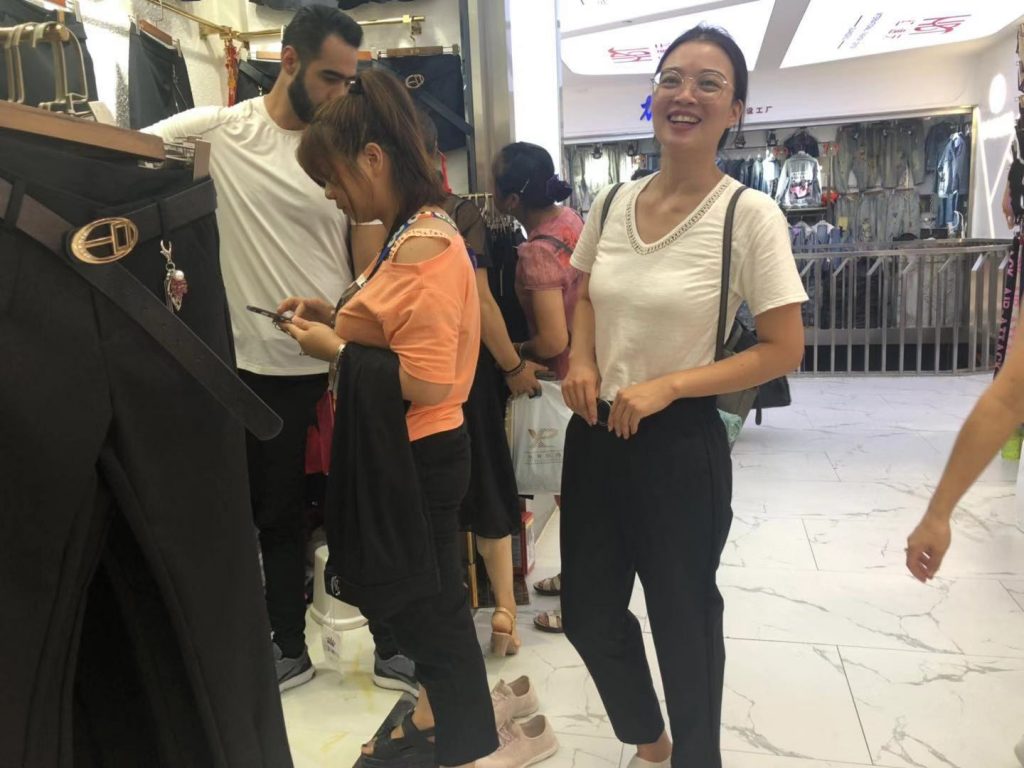 👆 After we placed order with this shop, we can try the trousers, most of clothing not allow to try before you buy it.
.
Area D T-shirt is about 25 RMB, but the T-shirt for students is only about 12 RMB; the price of dress and skirt is about 40 RMB; the price of jeans' jacket is about 35RMB, the price of shorts of jeans (with craftsmanship) is about 40 RMB, while the price of jeans' general style is about 40 RMB, and the price of jeans with hand-made diamonds or embroidery is more than 60 RMB.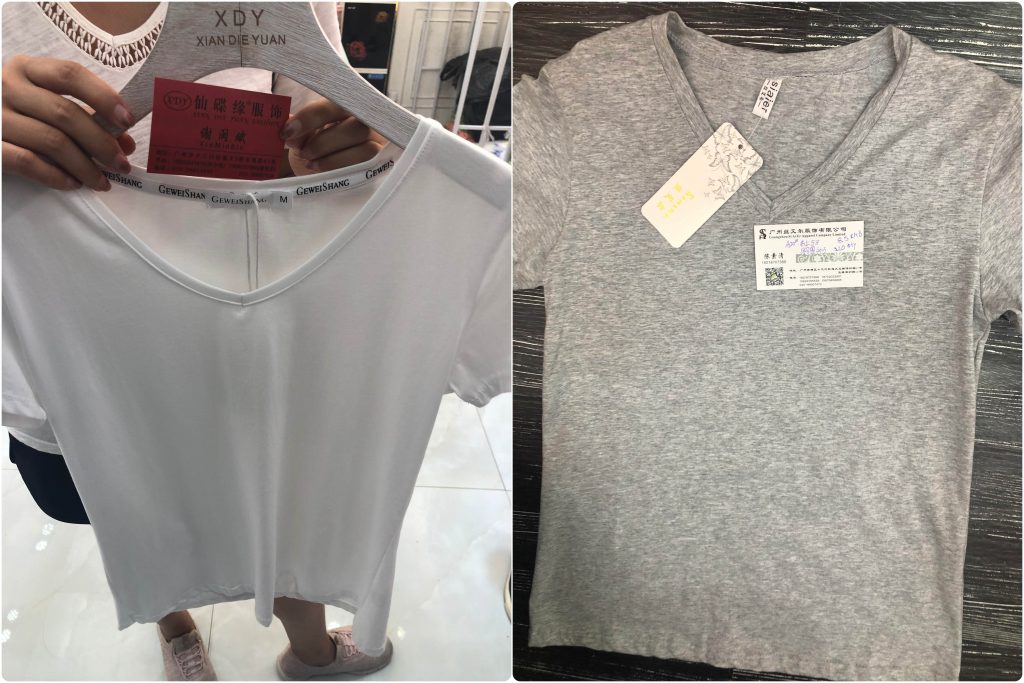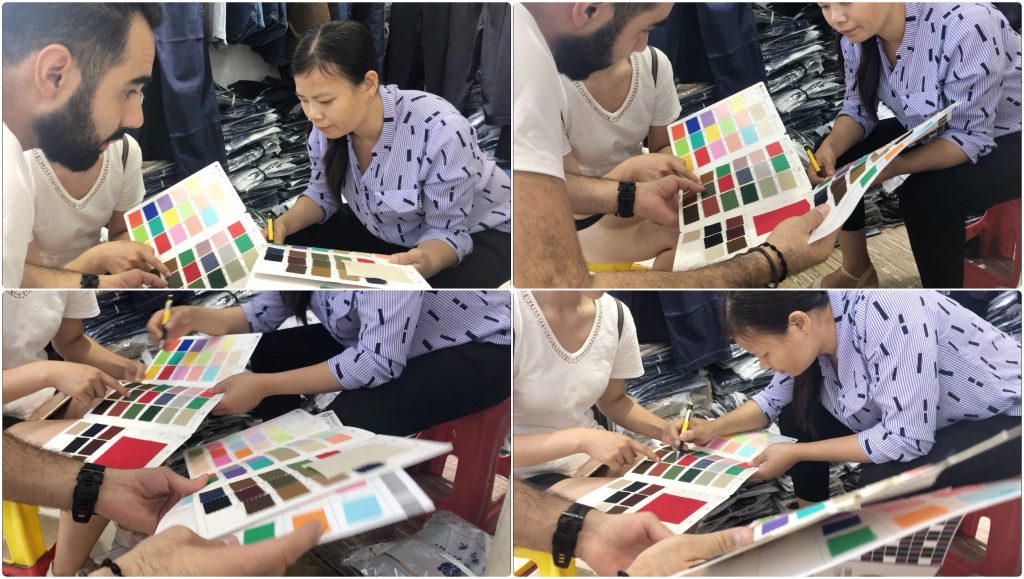 .
The 1st Floor
The stores on the first floor are relatively small, usually only 2-10 square meters.
These stores usually only hang 5-10 items, mainly for similar design, that is saying they selling T-shirt, then they will not selling skirts at the same time, they do one kind of clothing only.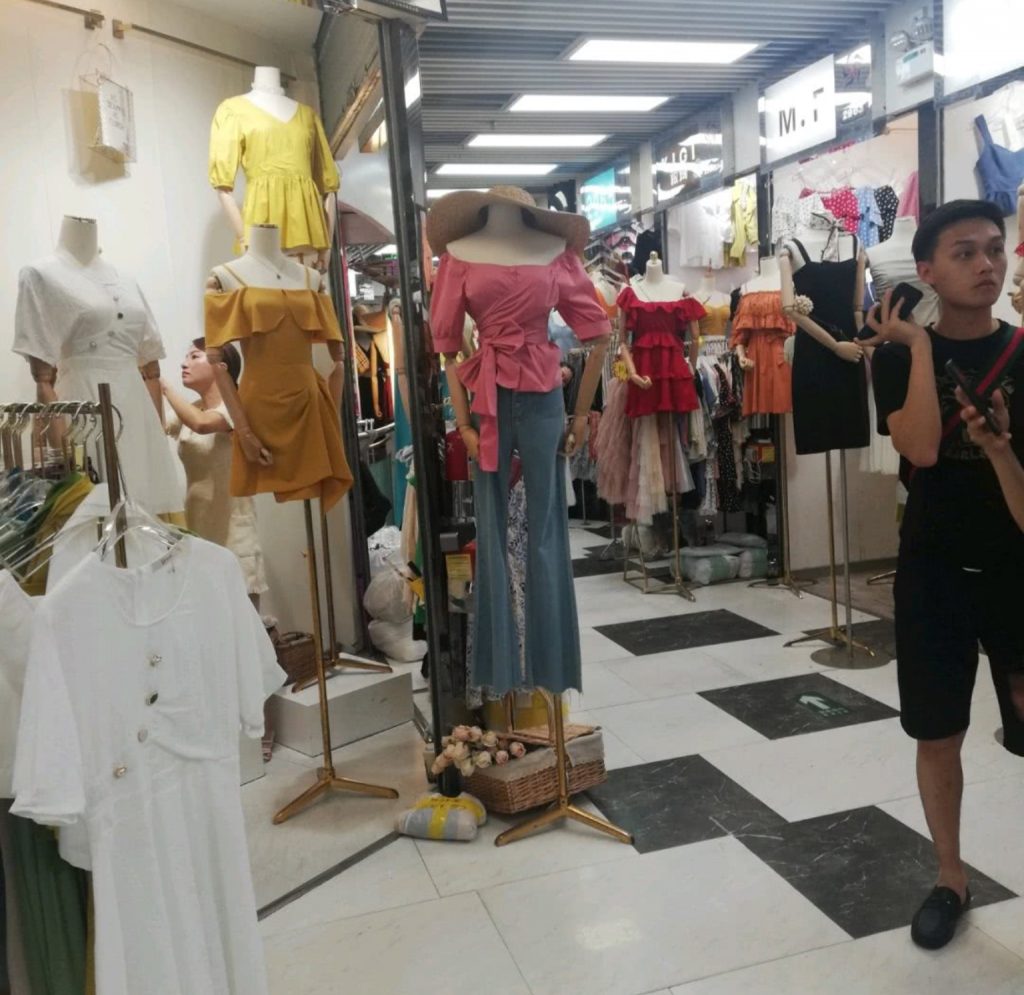 Wholesale prices generally range from 12 to 60RMB.
Usually what's popular on the internet and in magazines, they will make copy style at the first place, and they update the styles are particularly fast as soon as the internet goes.
Their profits are not high and they mainly do wholesale sales in large quantities.
The 2/3 Floor
The clothes on the second floor are mostly fashionable, but the goods on the third floor are more complicated.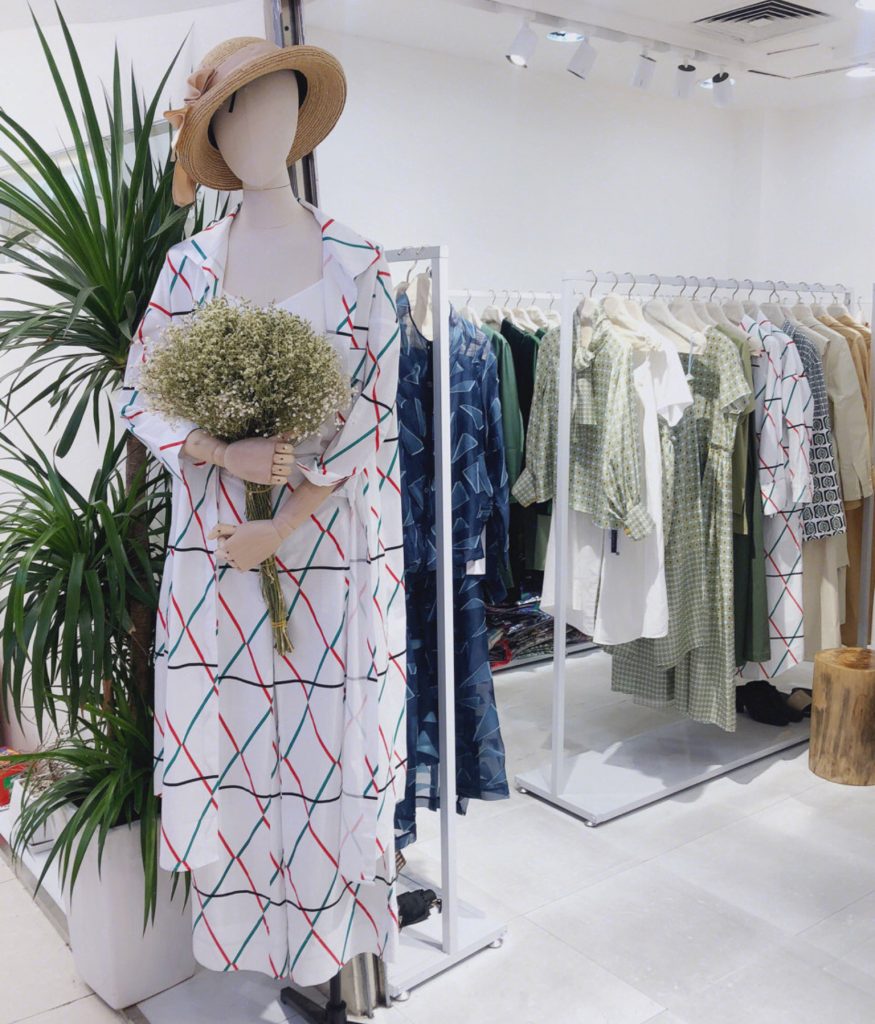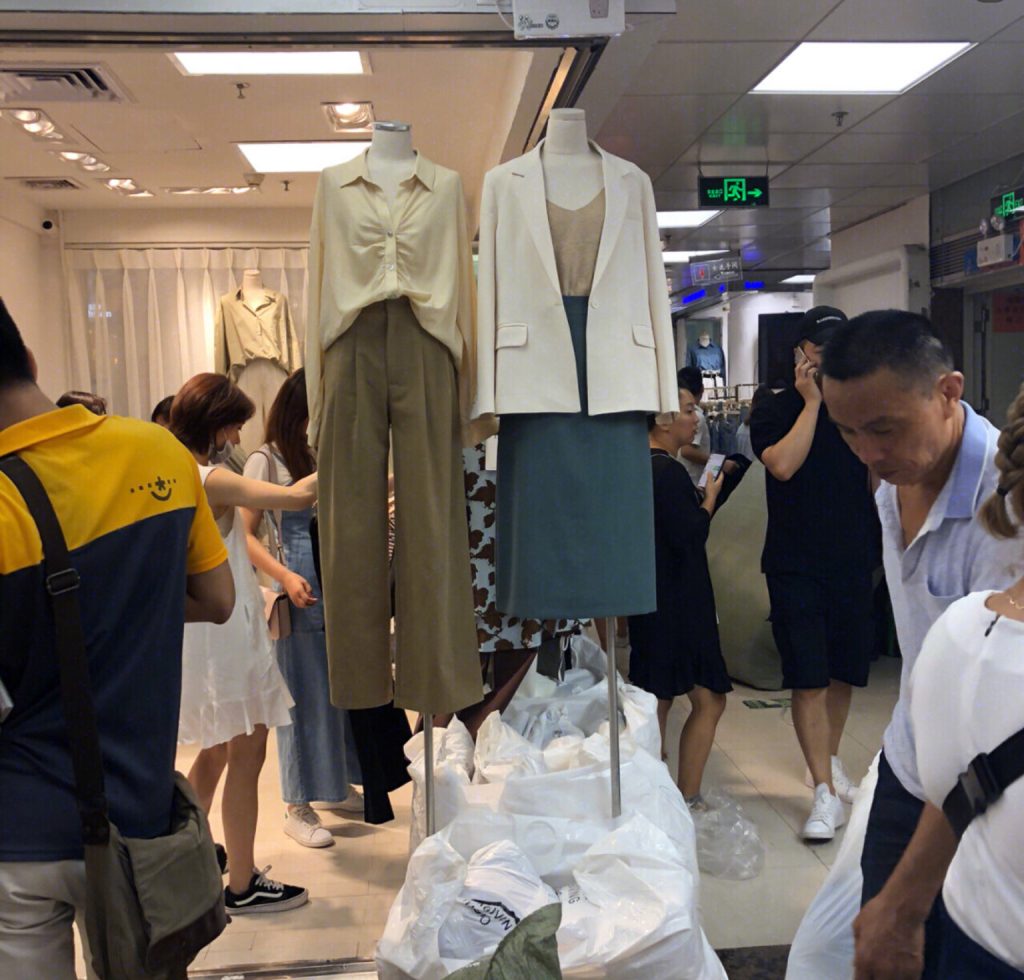 There is an area on the third floor specializing in shoes, especially sandals and slippers for summer.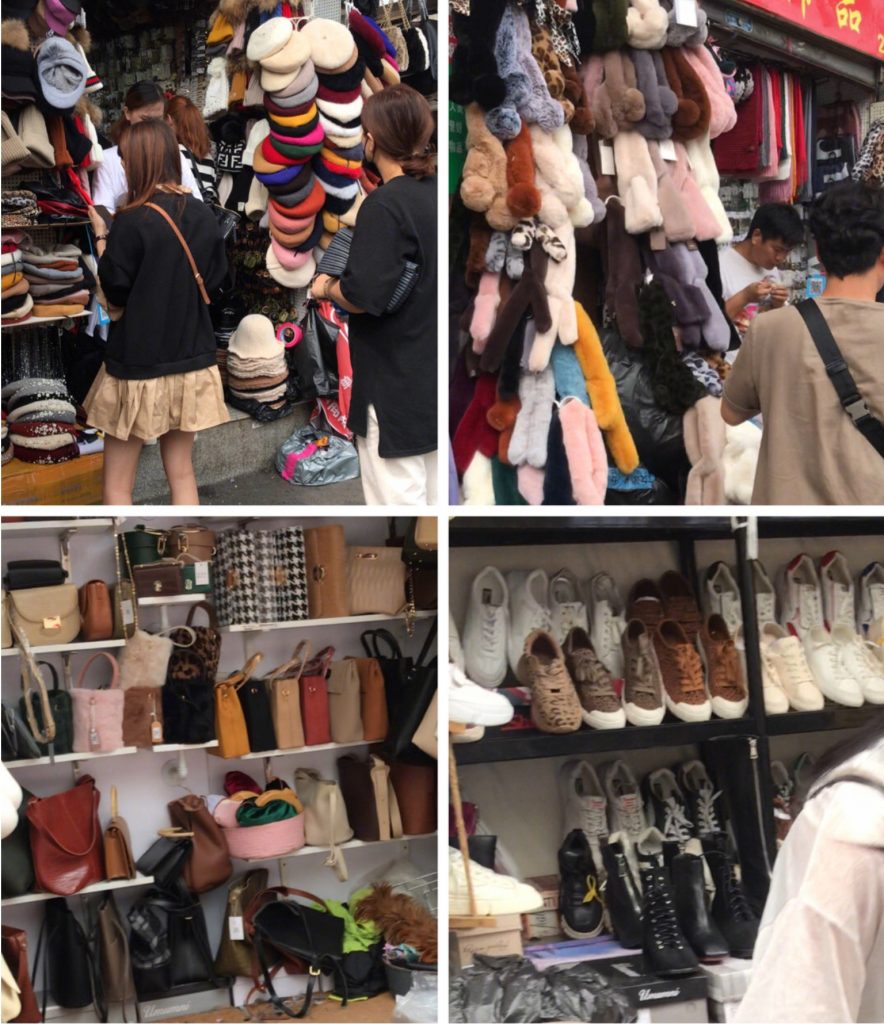 The price is very low, ranging from 10 to 40RMB, but the quality is really too general.
To sum up:
1-3 floors are mainly small shops. They are all small workshop-style clothes in Guangzhou.
Generally, they are made by some small manufacturers themselves.
The order here is five or ten pieces/item, which can have a good wholesale price.
The 4-6th Floor
The stores on the 4th floor are larger in size, and all kinds of clothes are higher than those on the 1st or 3rd floor. Of course, clothes are also more expensive.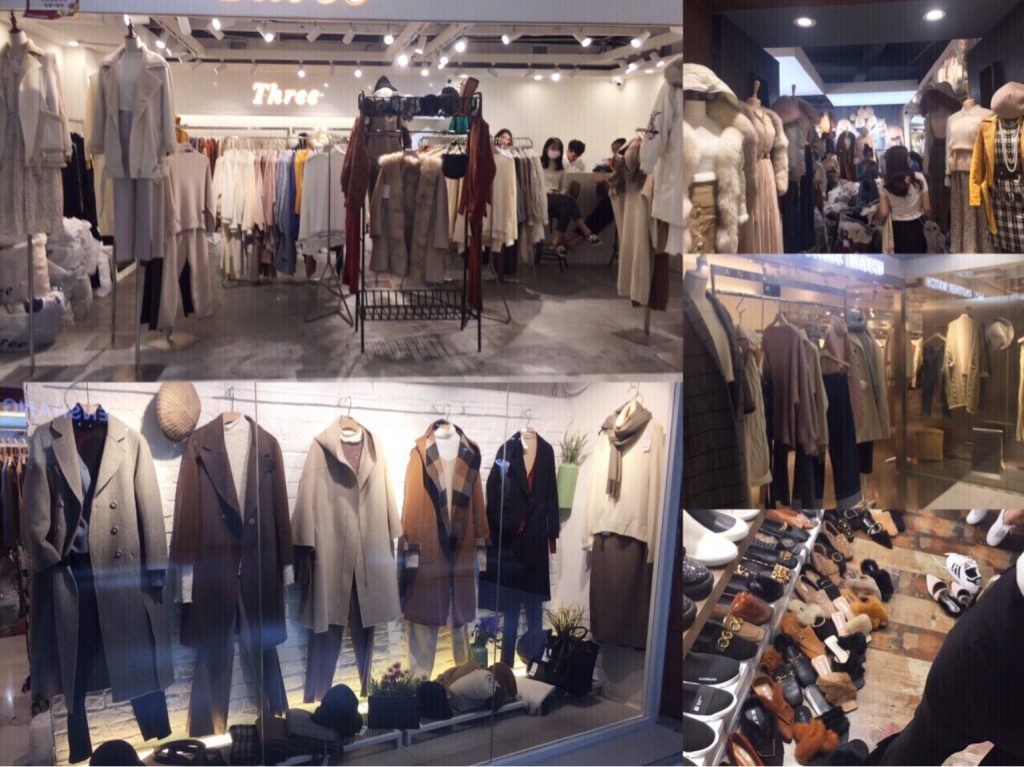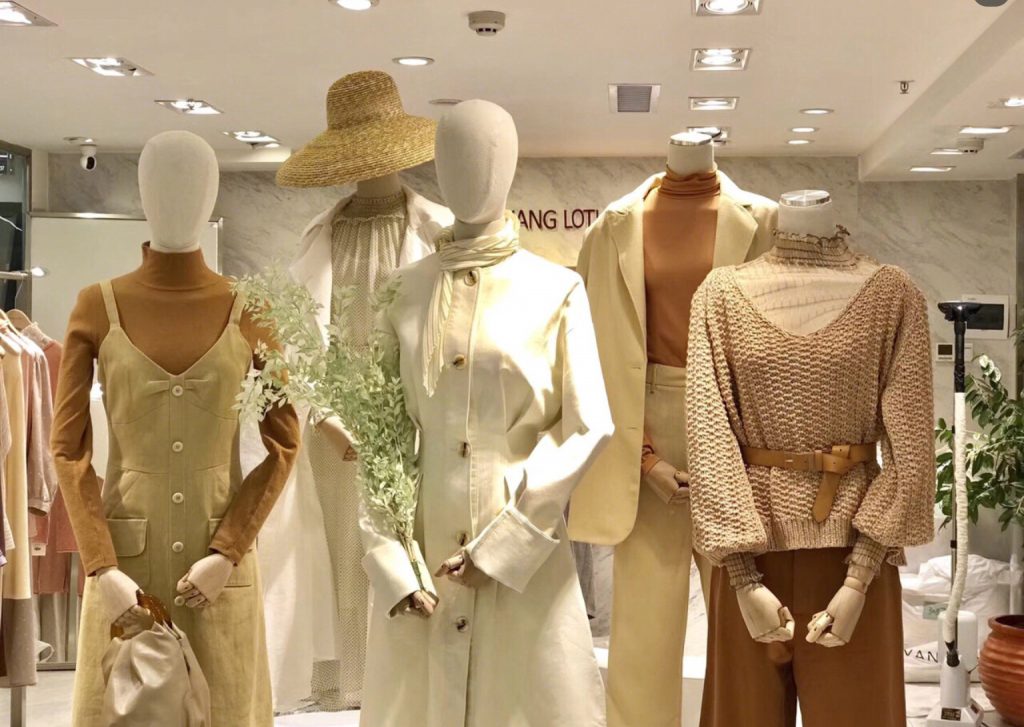 The fourth floor mainly deals in fashionable women's clothes in summer, and knitted, woven and cotton-linen clothes in winter.
The style covers Japanese, Korean and European and American.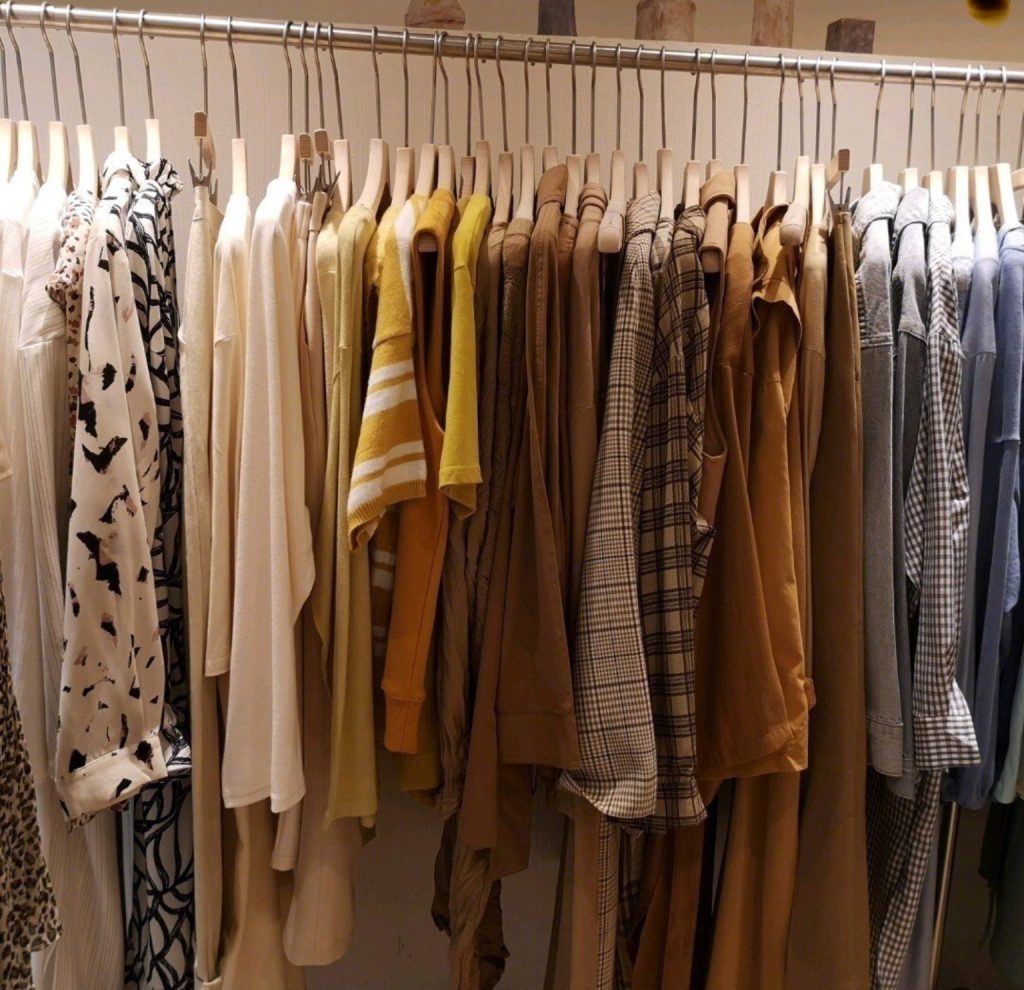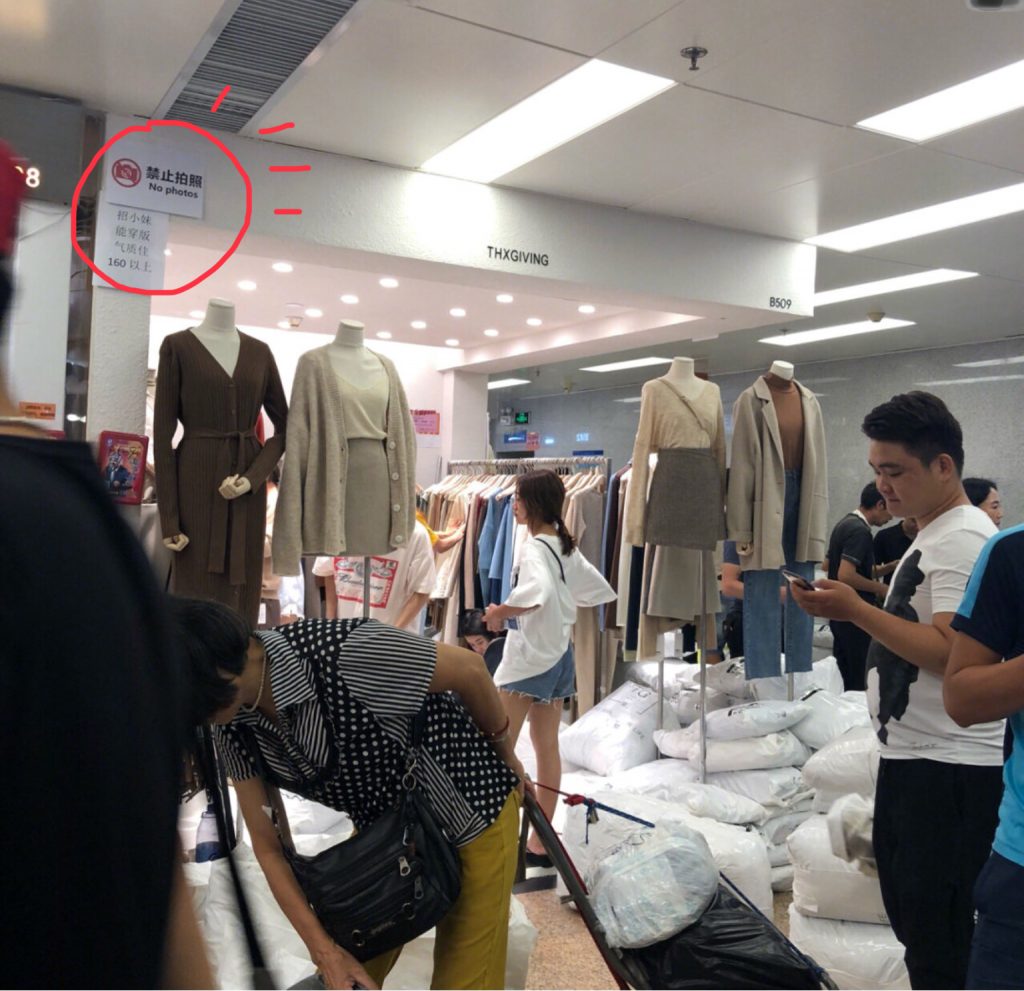 The price of basic T-shirts is generally around 25RMB. The price of stitching or embroidery T-shirts is generally more than 45RMB. The price here is between 25 to 80RMB.
Some stores are specialized in making hats in the floor. The quality is good, you can go and have a look.
The fifth floor is basically jeans and mostly are from their own manufacturer, the fifth floor is a high-end jeans zone, regardless of the quality or design, I think it can afford the price.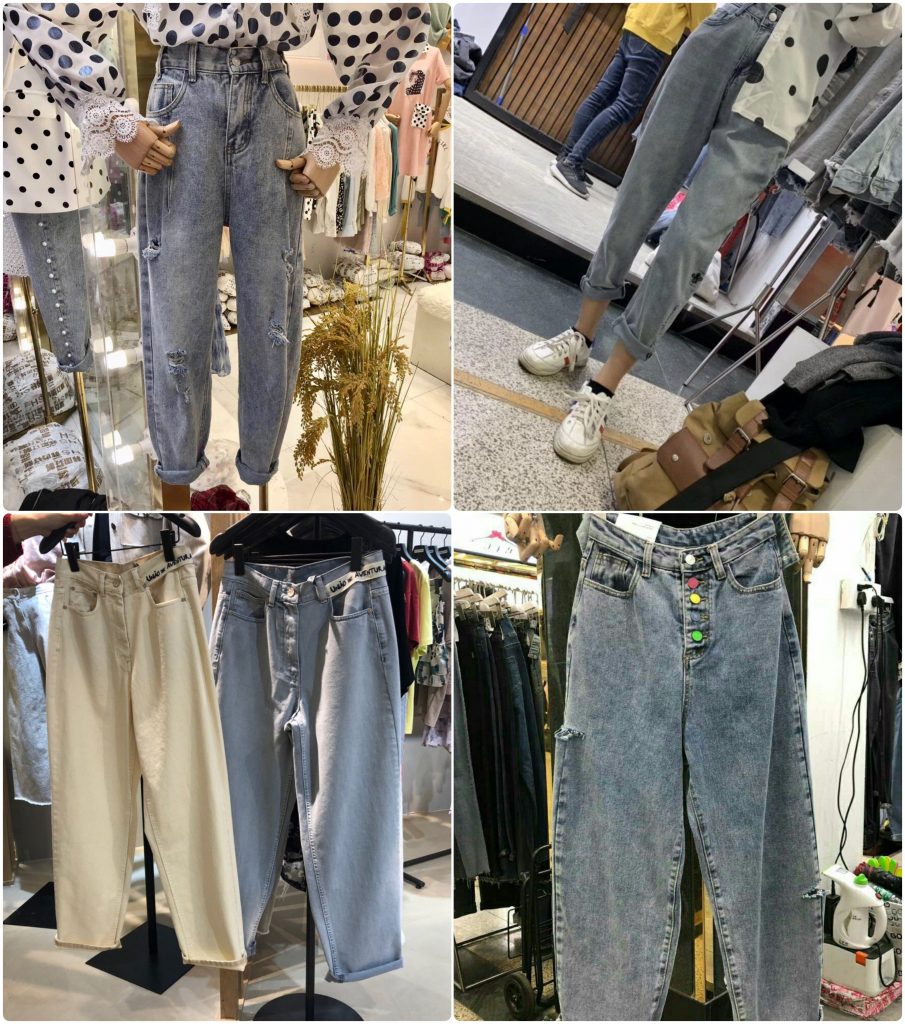 The style and price of the clothes on the sixth and fourth floors are similar.
The 7-10th Floor
These three floors gather Thirteen-Hong of the best suppliers.
Of course, the rent on these three floors is the most expensive in the Thirteen-Hong clothing market. The flow of people is also the largest.
The style of these stores is updated very quickly, and the quality is very good. They are all middle-grade women's clothes.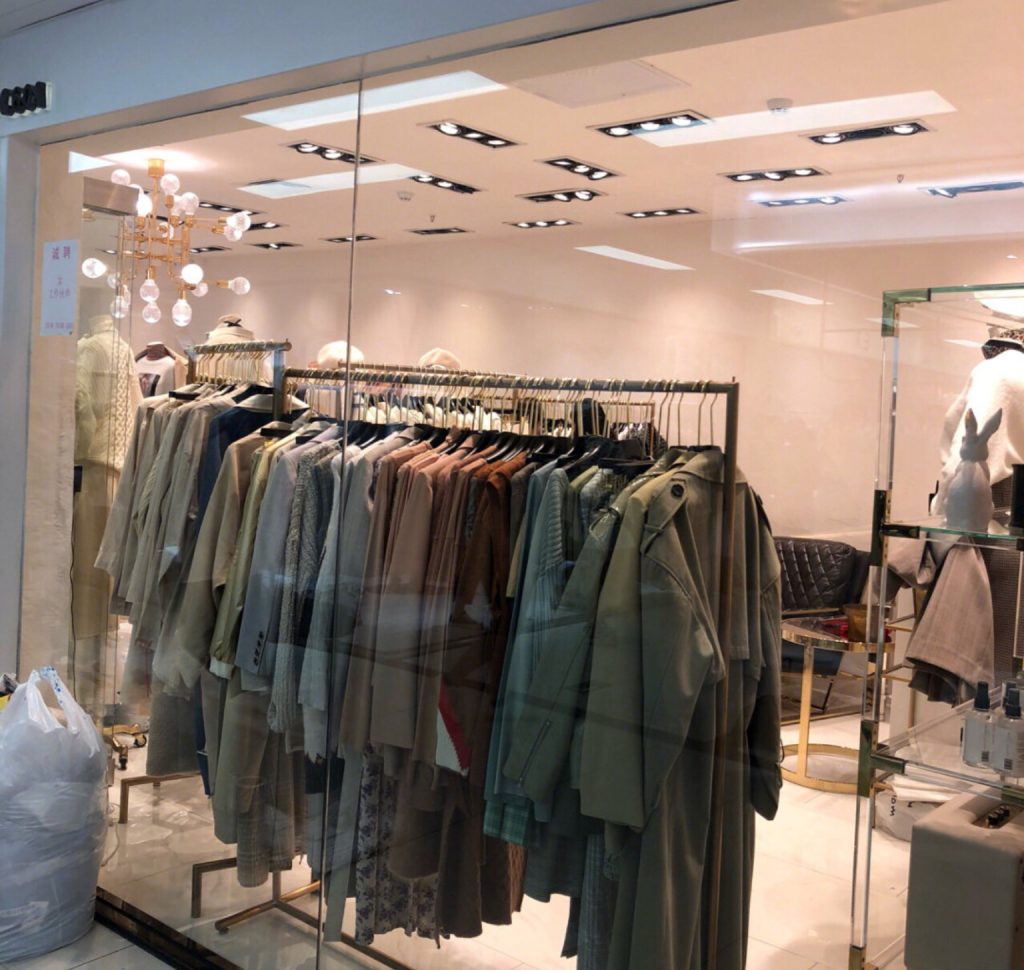 Styles are girls, young women. Wholesale prices are also mostly between 50 and 120RMB.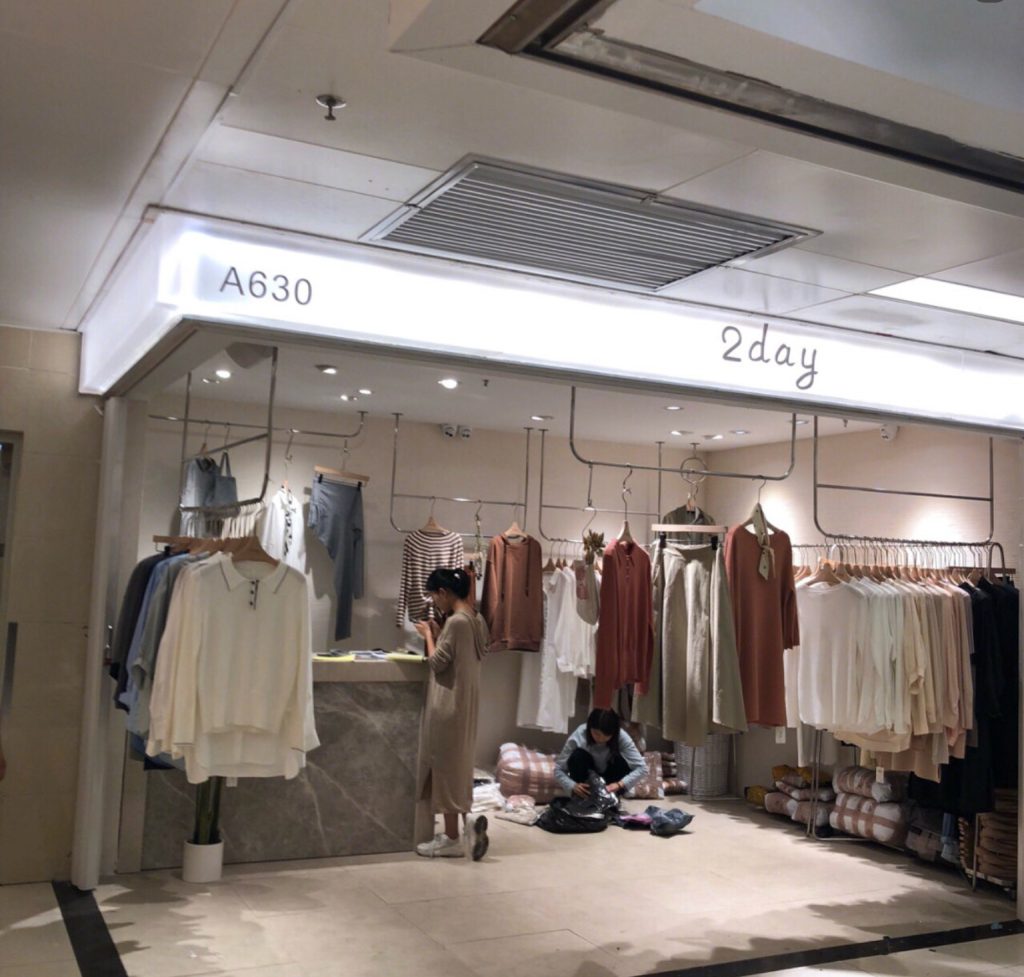 There are some stores in the Baima clothing market next street which come here to copy styles and sell them by themselves, and then selling of double price.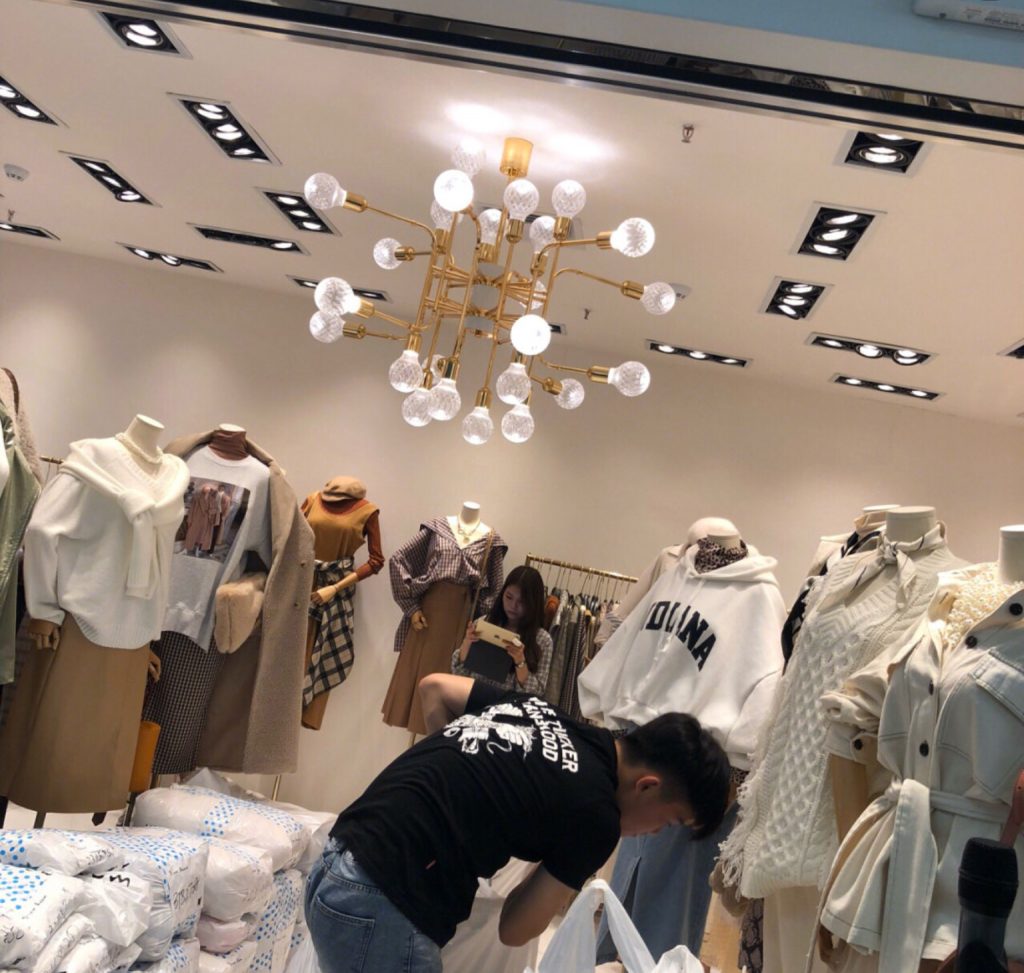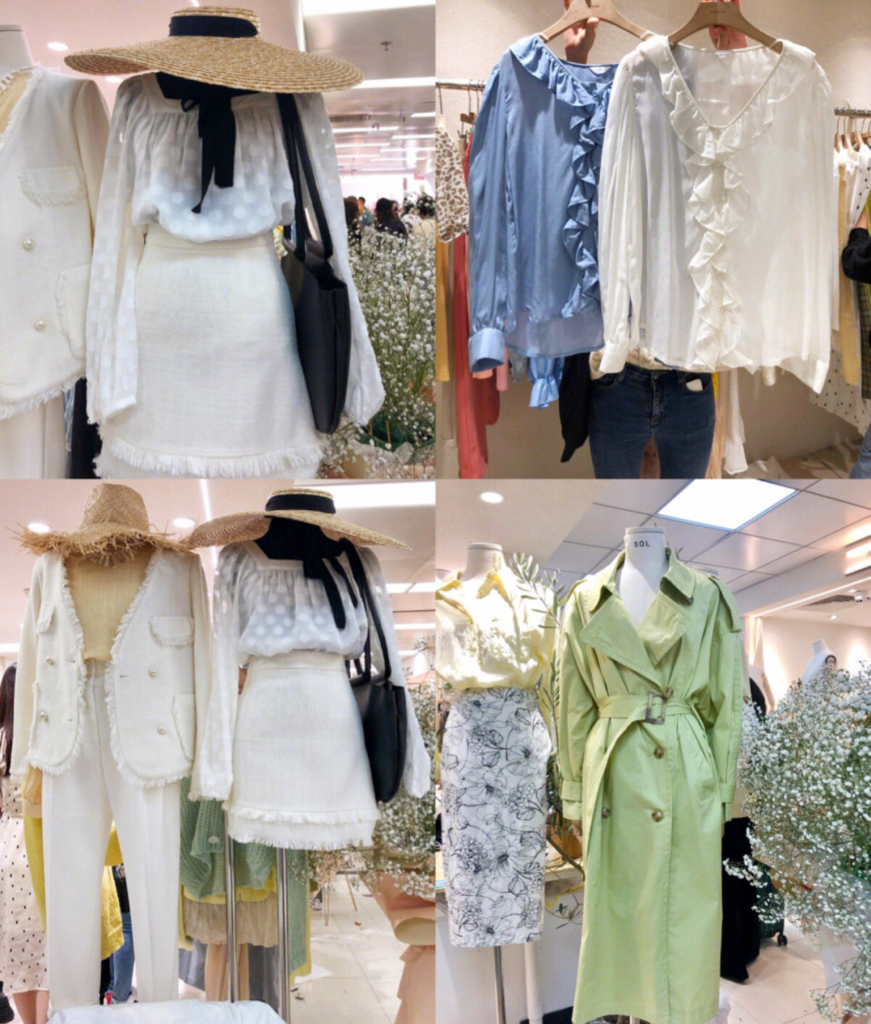 The style updates here are very fast. The style and quality of the clothes in the Baima clothing market are similar to those on the 7th to 10th floor here, but the price is much higher than here.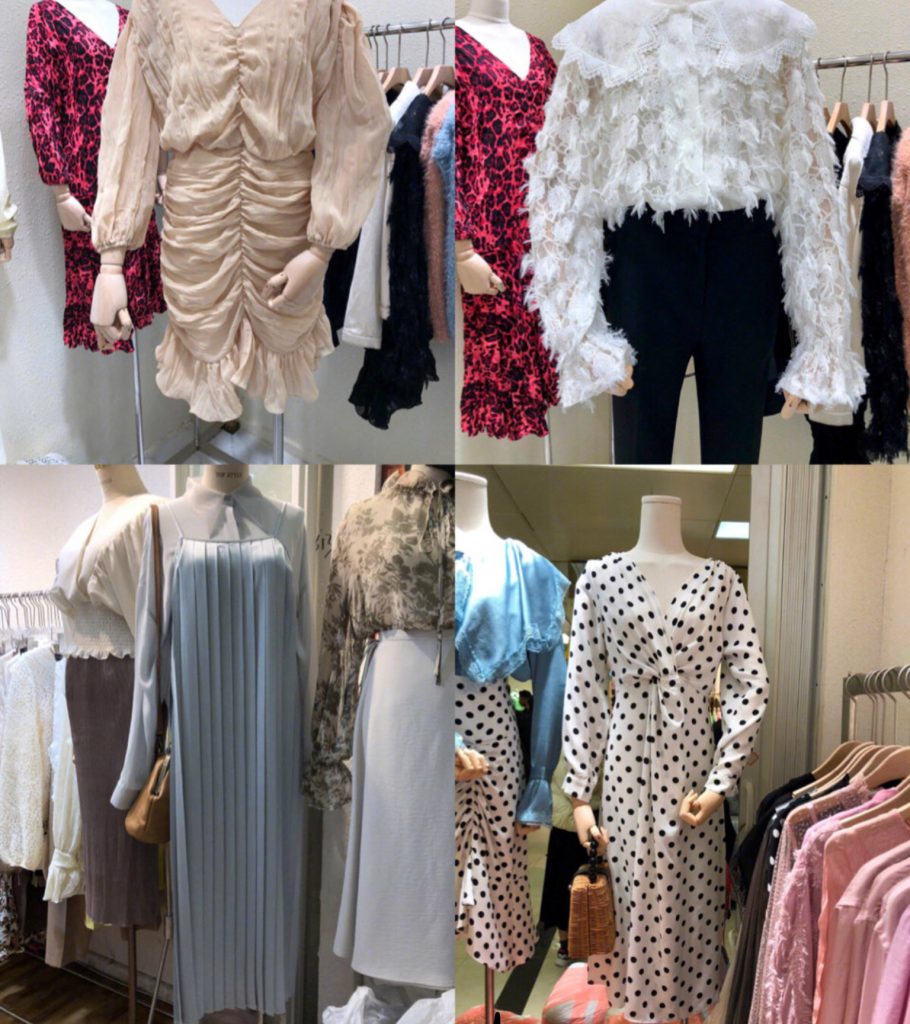 Among these three floors, there are many bosses from Hong Kong, Taiwan, South Korea and Mainland. Many of the samples are design from their local area, so the style is updated very quickly and keeps up with the trend.
The 11-12th Floor
There are also quite a few good manufacturers here. If you have time, come up and have a look.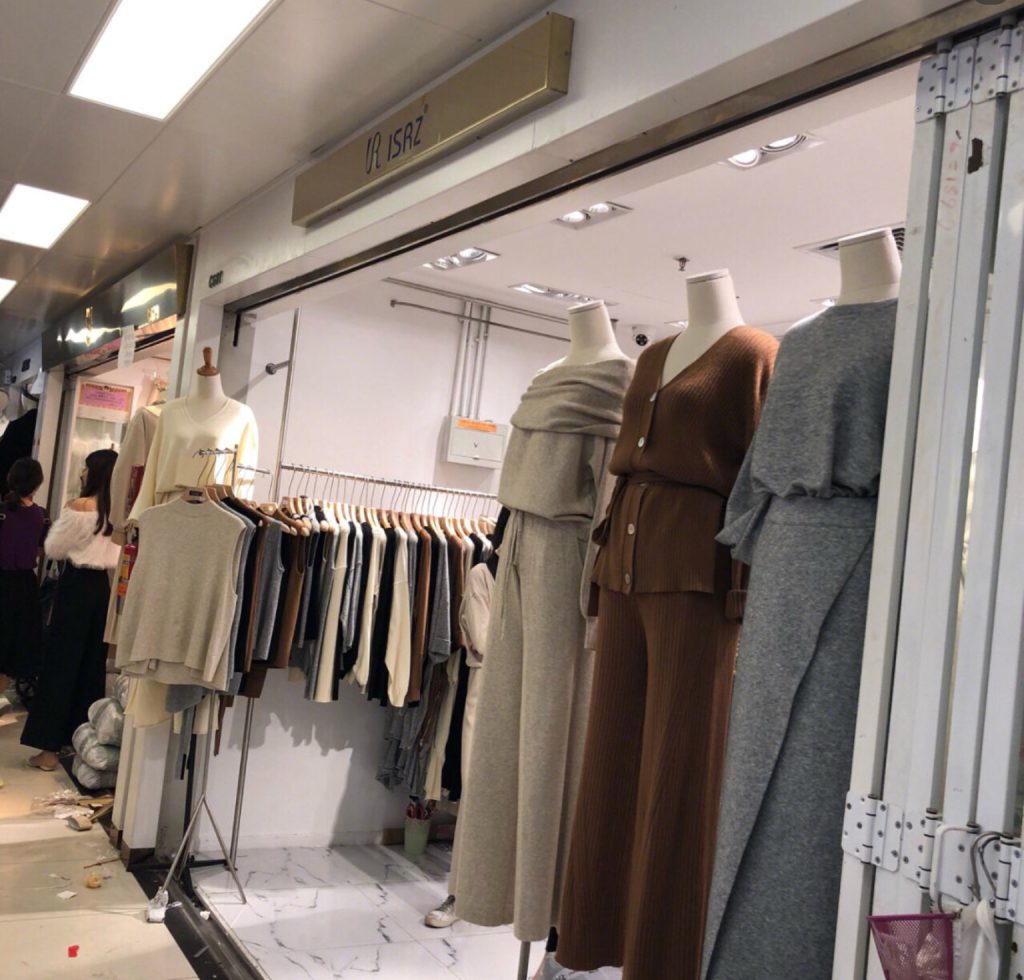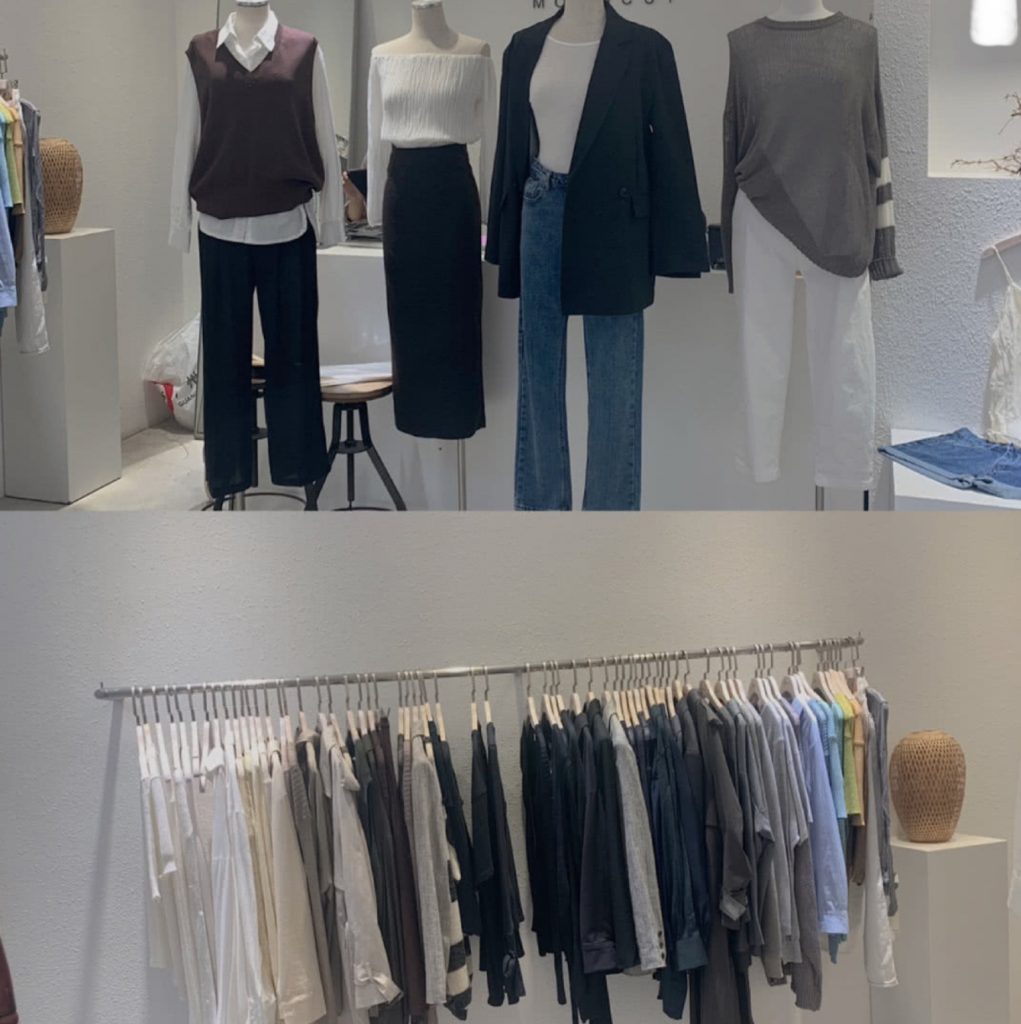 The price is lower than that on the 7th to 10th floor.
Tips:
From the 1st – 3rd floor, generally three pieces of one item is the minimum order.
The style of the first to third floor is more fashionable than that of the BASEMENT floor, and the price is 10-30RMB.
Fourth to sixth floors generally require five pieces up to be wholesaled, and individual businesses require ten pieces to be wholesaled. You can pick up the same item in different colors. Nearly no retail here, except some special clothing on sale.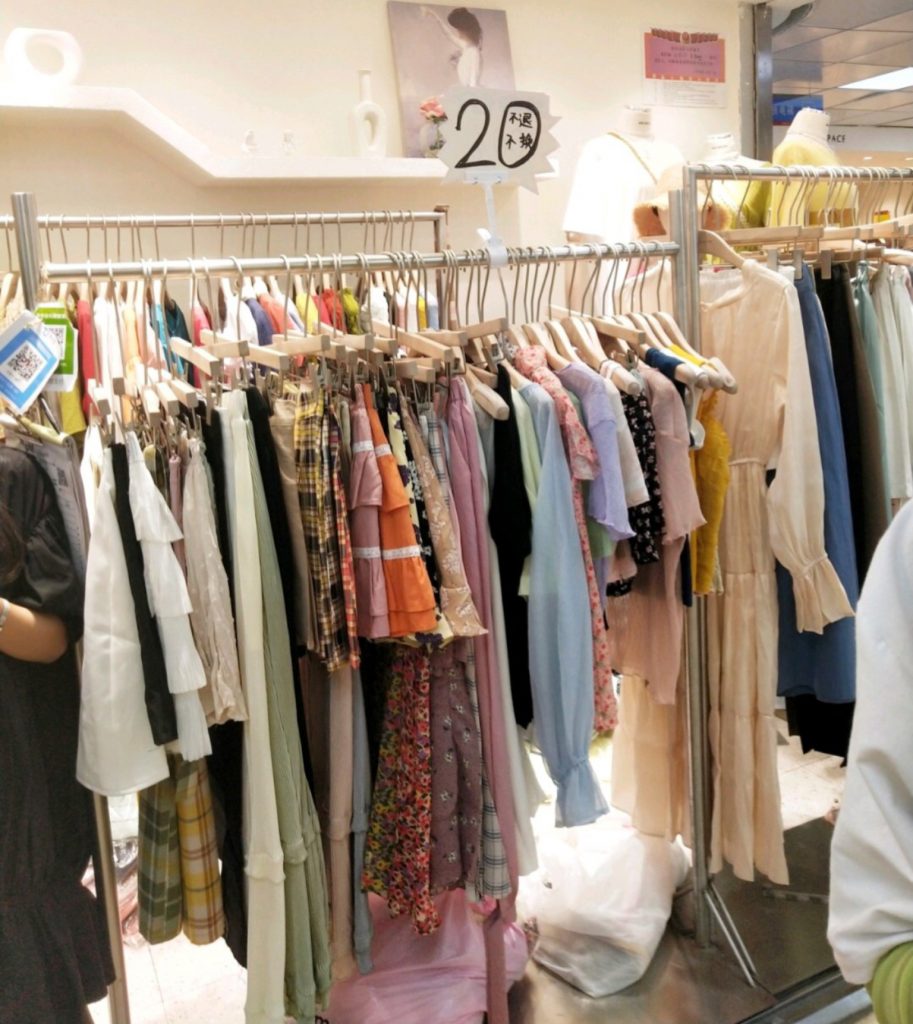 The styles here are similar to those on the 1st – 3rd floor. They are of better quality and cheaper price. It takes more than 5 – 10 pieces to wholesale.
The clothes on the 7th to 10th floor are of the best quality and acceptable price.
They are the most popular & busiest, many retail or Taobao shopkeeper come here searching good styles.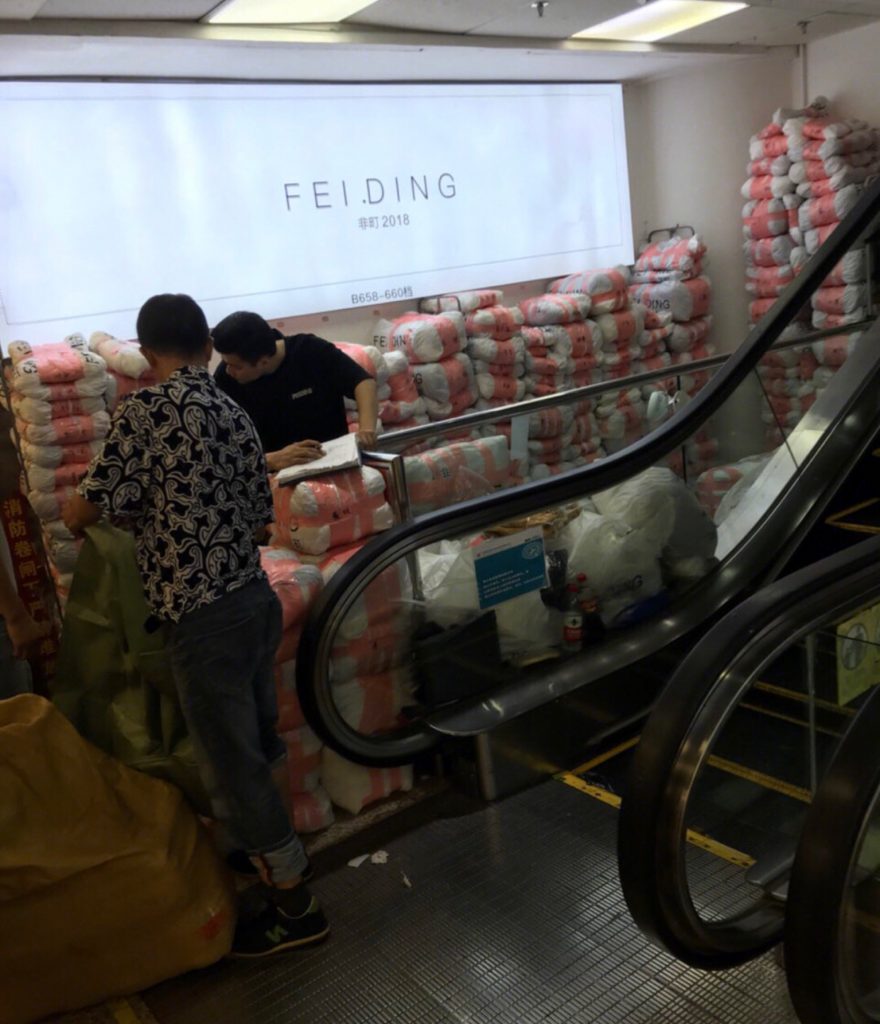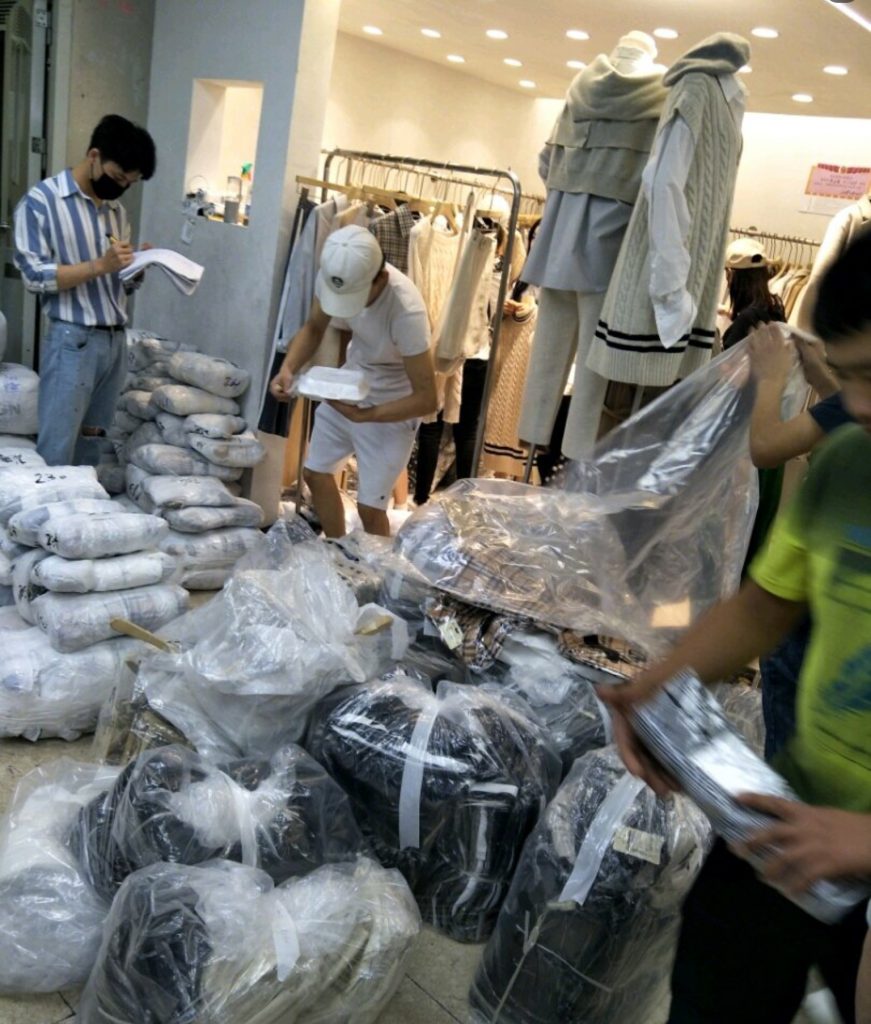 The more package in front of the shop, means this shop has more orders and very busy.
The clothes on the 11th to 12th floor are more of ladies clothes and large-size women clothes.
The Logistic:
As mentioned above, the logistic in this market is growing very strong and very well.
The Thirteen-Hong Clothing market may close at 15:00, but at this time the logistic may just start their most busy time,and work even to night.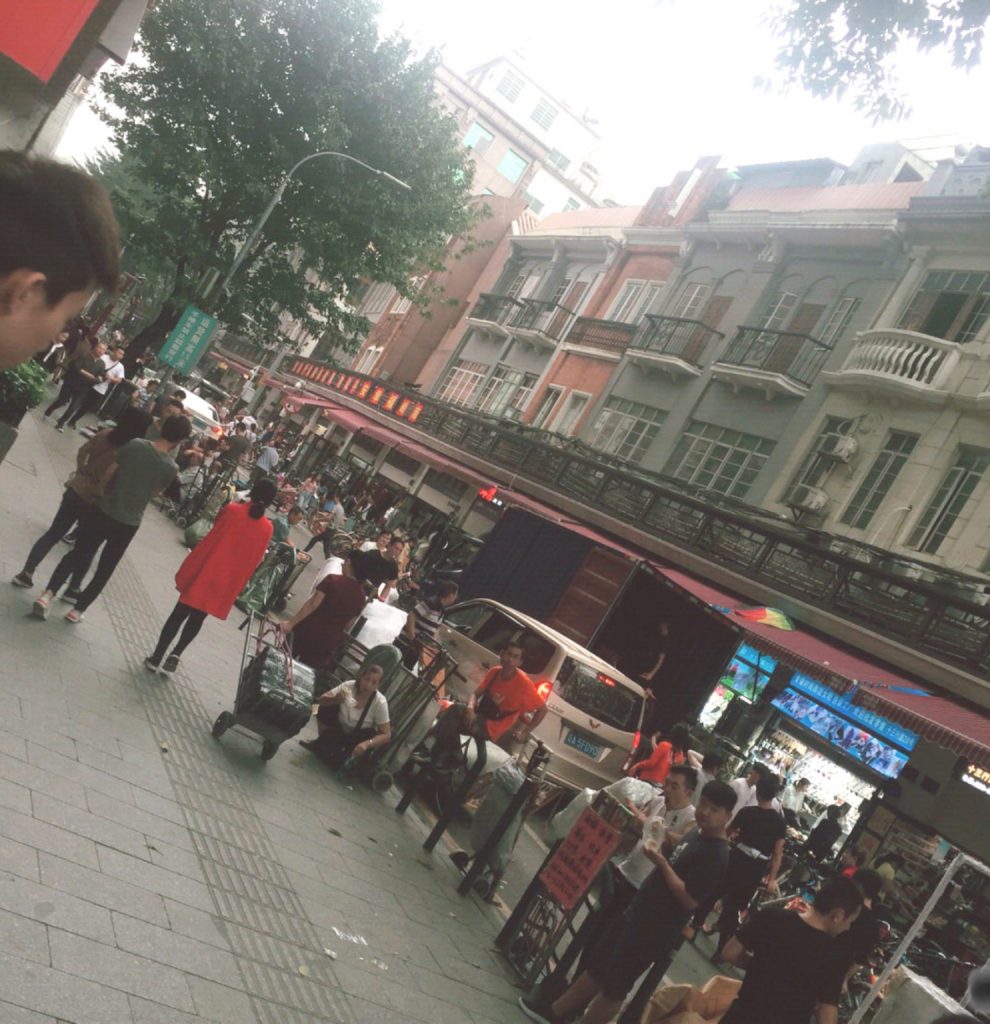 The logistic goes super fast that you may get you parcel tomorrow, or you can get it 2 or 3 days if send to another province.
.
We have another article show you the next super big market; It's bigger than Thirteen-Hong market,the variety of commodities is more comprehensive and more comprehensive. The price is the cheapest.
Do you want to know about it?
.
.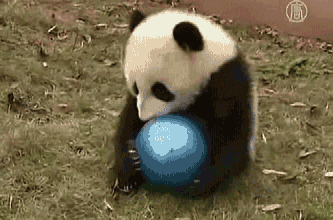 Now the 3rd station
Children's Wear Wholesale World
Zhong Ba Children's Garment Plaza(中八童装妇婴用品广场)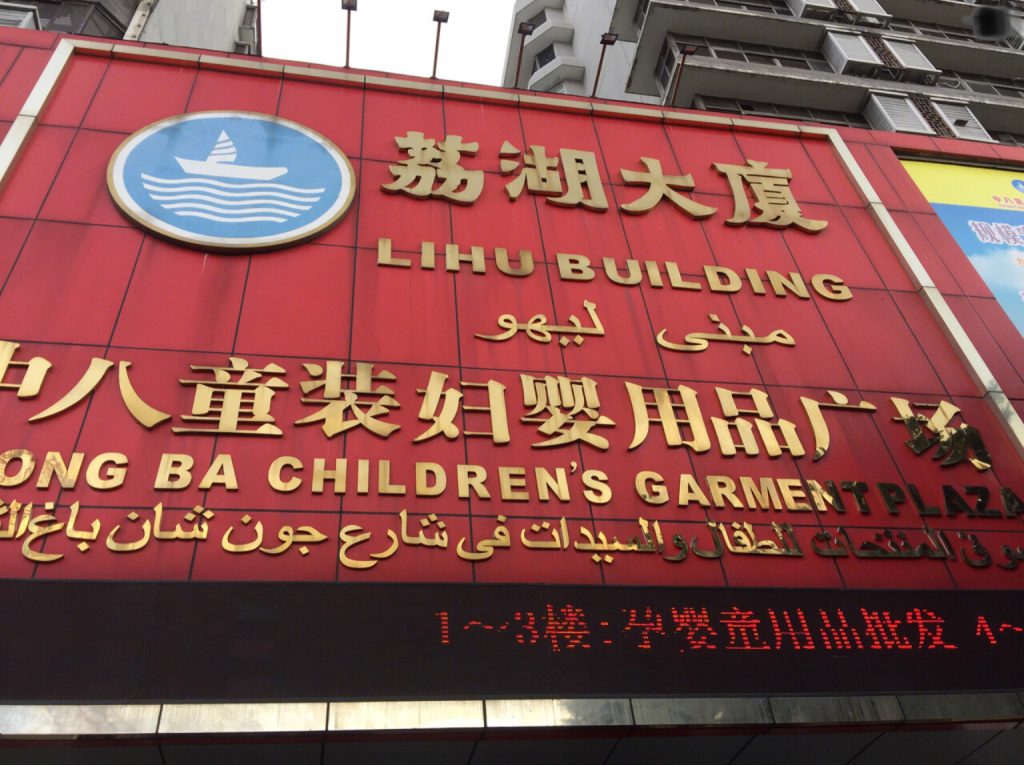 Super Children's Wear Wholesale Market(富力儿童服装世界)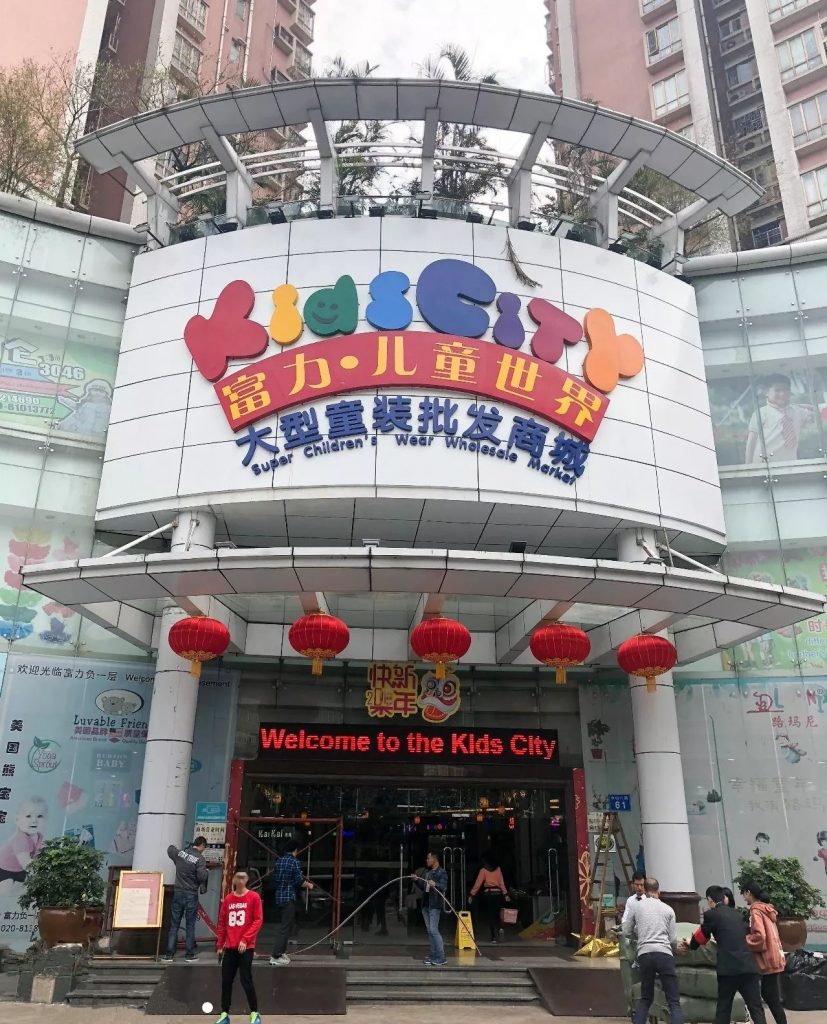 HBF Children's clothing trade center(红八方童装交易中心)
Zhong Ba Children's World is the largest wholesale market for children's wear in South China.
With a construction area of more than 20,000 square meters.
The Basement floor is children's world, all kinds of products about kid you can find; the second floor is children's wear world, the third floor is for parent-child world.
Zhong Ba Children's wear wholesale market has a large number of children's wear brands and manufacturers, with nearly 500 shops in it.
Zhong Ba Children's World is a comprehensive children's wear market integrating children's wear, maternal and infant products and children's products.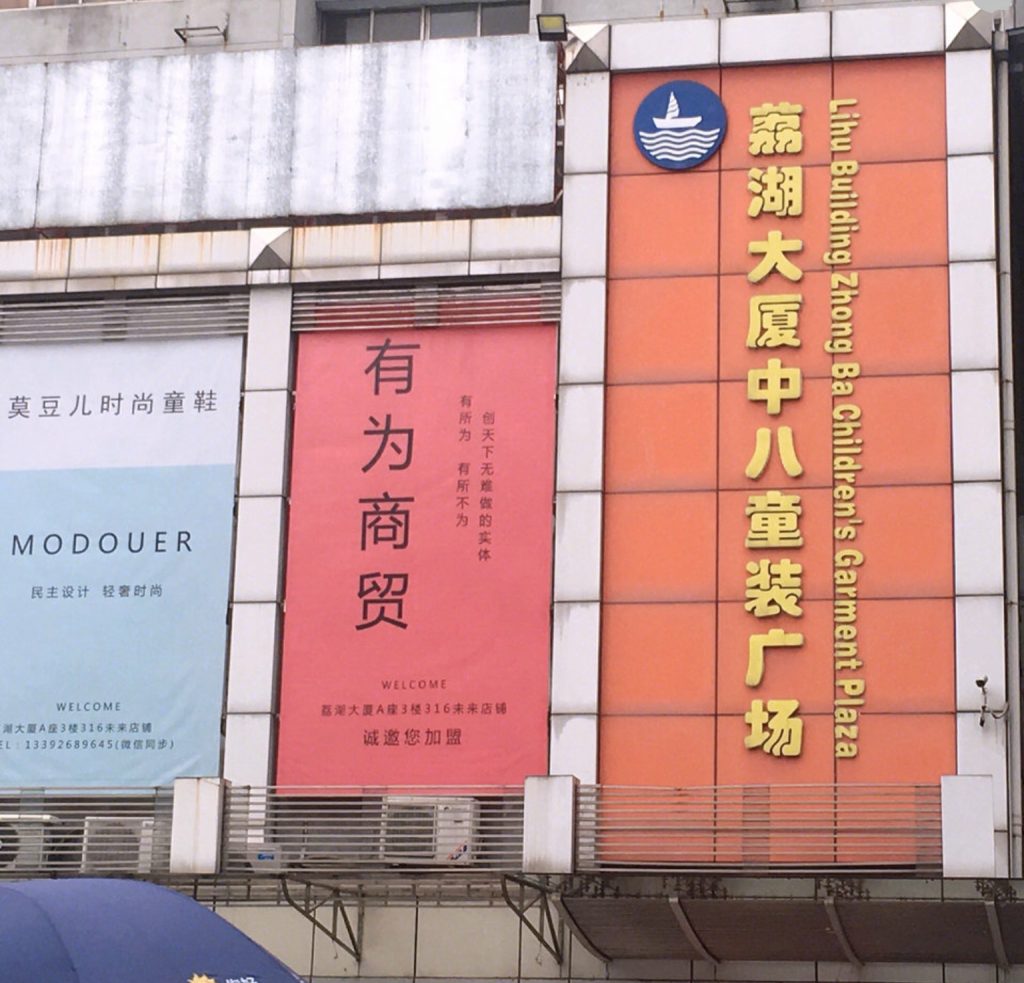 Its scale and grade are in the leading position in the same kind of market in China.
Address: No. 8 Zhongshan Road, Liwan District, Guangzhou
Metro: Exit A, Zhongshan 8th Road, Line 5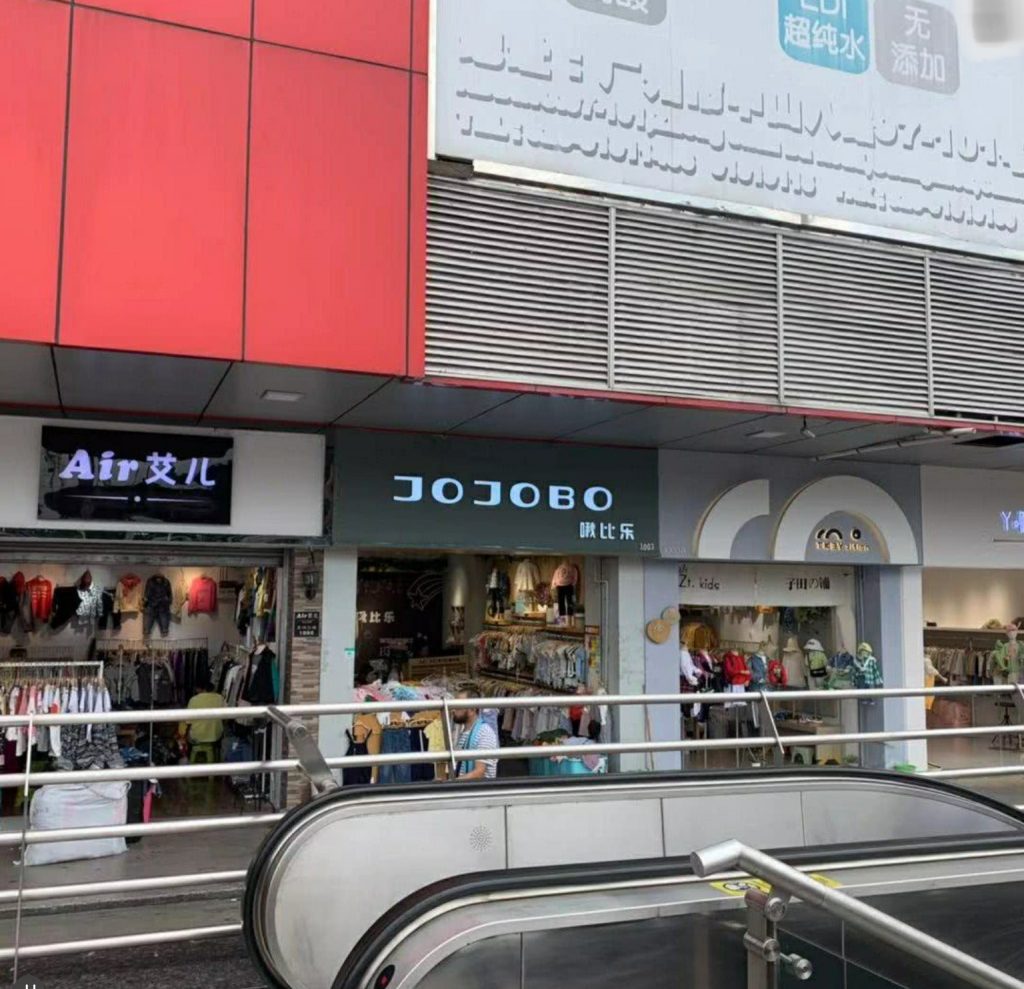 Bus Station: Zhongshan Ba Road Station, the bus can choose: 105, 128, 193, 207, 205, 260, 275, etc..
Guangzhou Zhongshan Ba Street, the earliest children's wear market in China.
At present, it is a necessary market for domestic children's wear retail stores to purchase goods. The stores here are all wholesale.
Zhongshan Ba Road Children's Clothing market is composed of:
Lihu Building – Zhong Ba Children's garment Plaza;(荔湖大厦中八童装市场)
Lishan Building;(丽尚大厦)
Fuli Children's wear wholesale market (富力童装世界)
Hong Bafang Children's Clothing;(红八方童装交易中心)
Songyuan Children's Clothing Mall.(松园童装商场)
LiTang Building; (荔塘大厦童装城)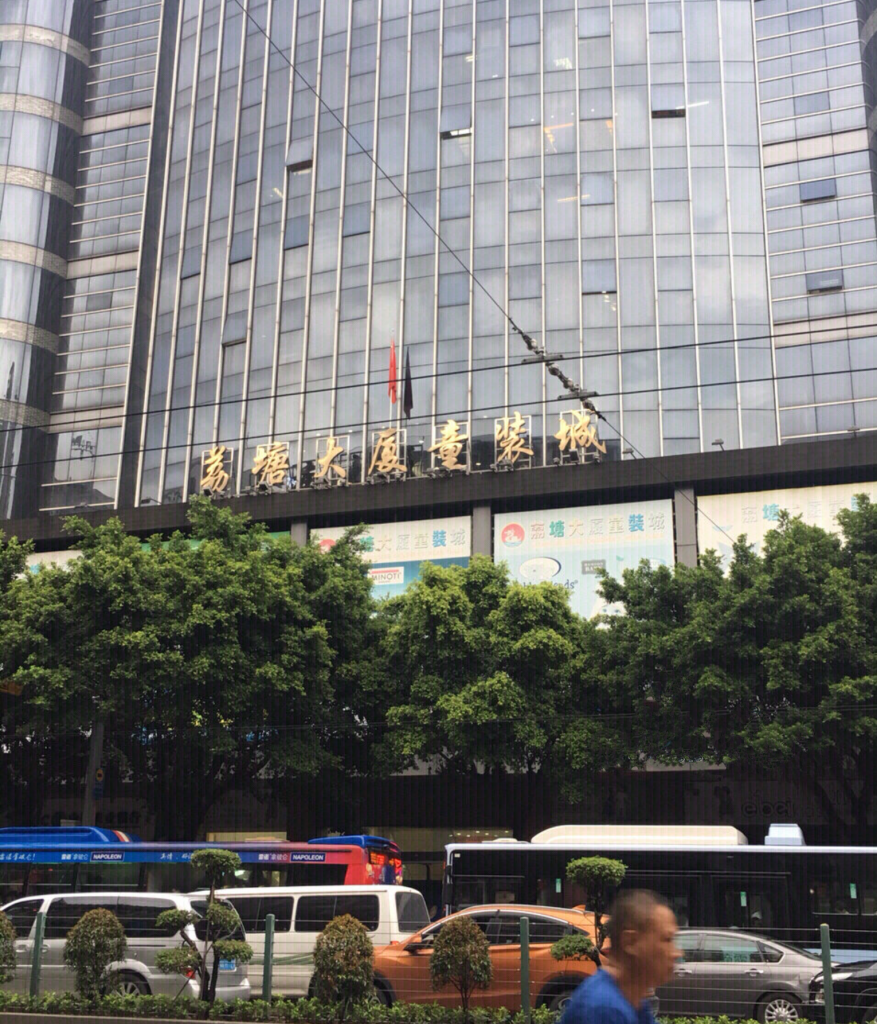 .
Today we are going to shop around this Children's Wear Wholesale Market.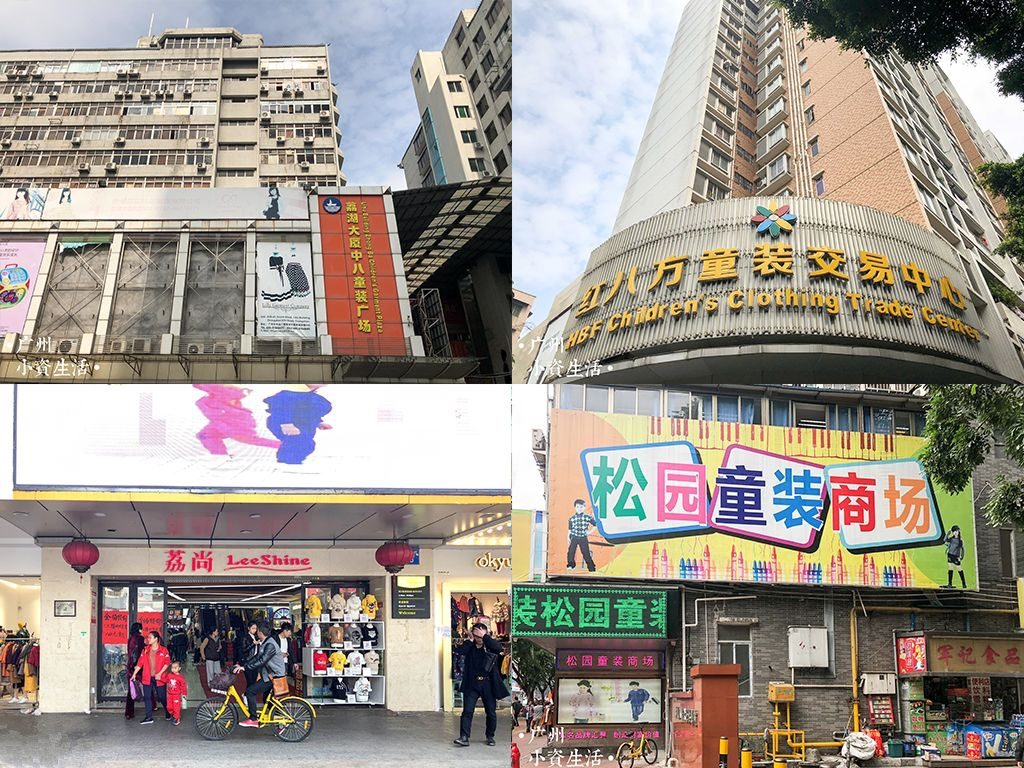 .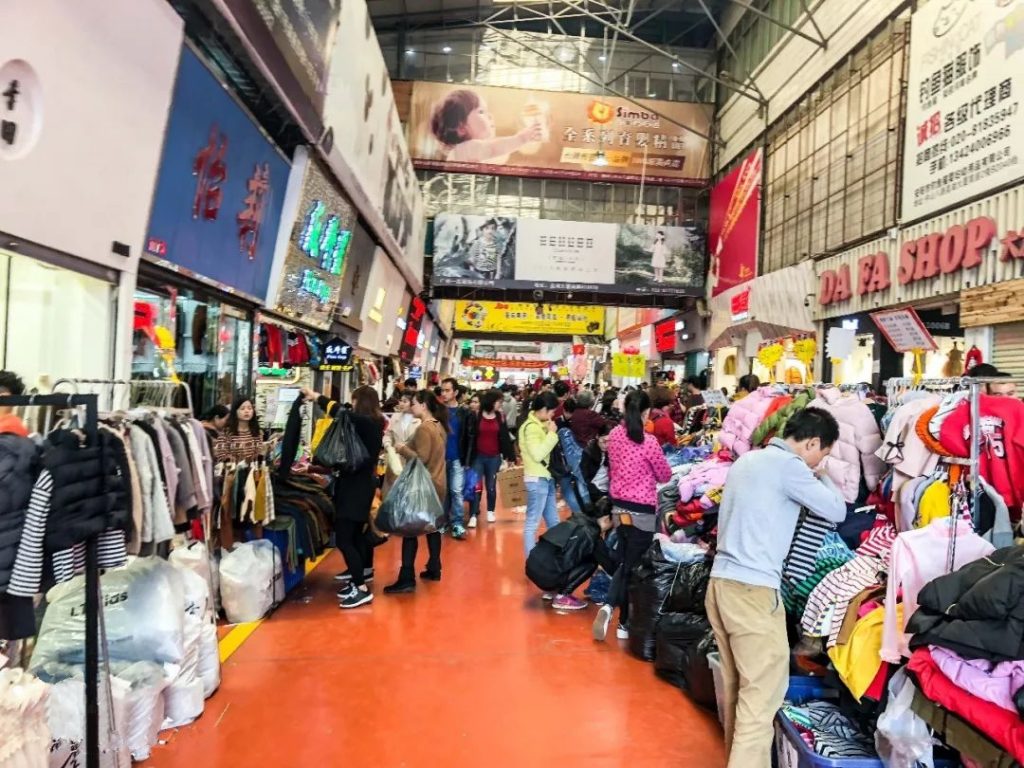 The clothing market here is not retail, only wholesale. (Except some items are on sale, they will put them in front of the store's gate.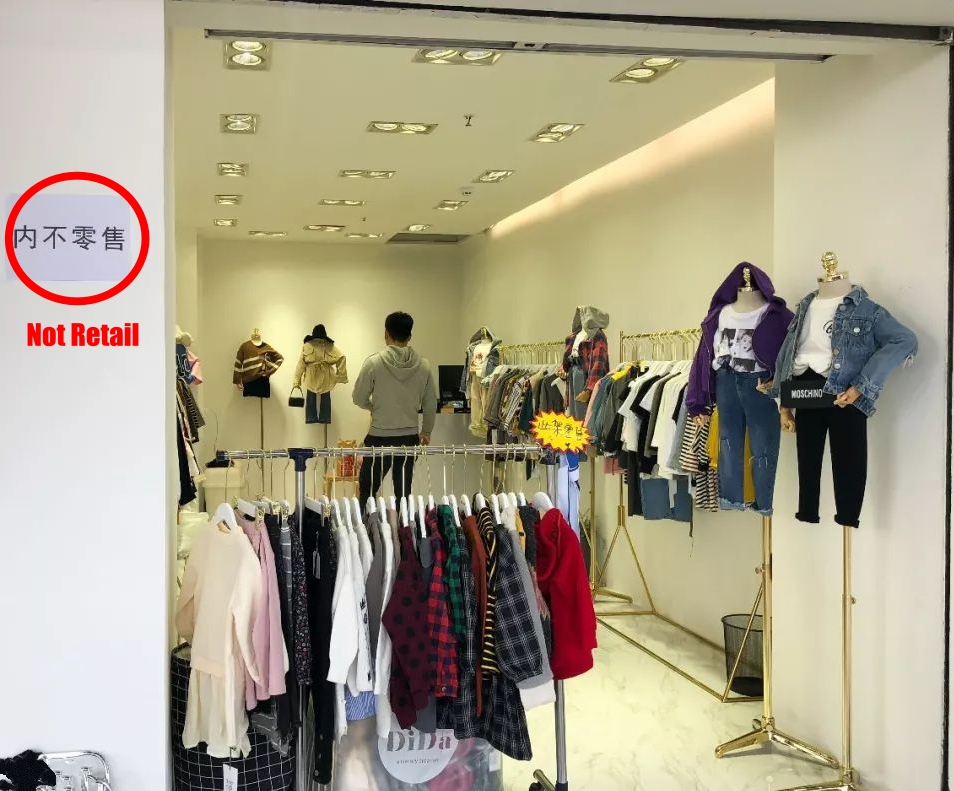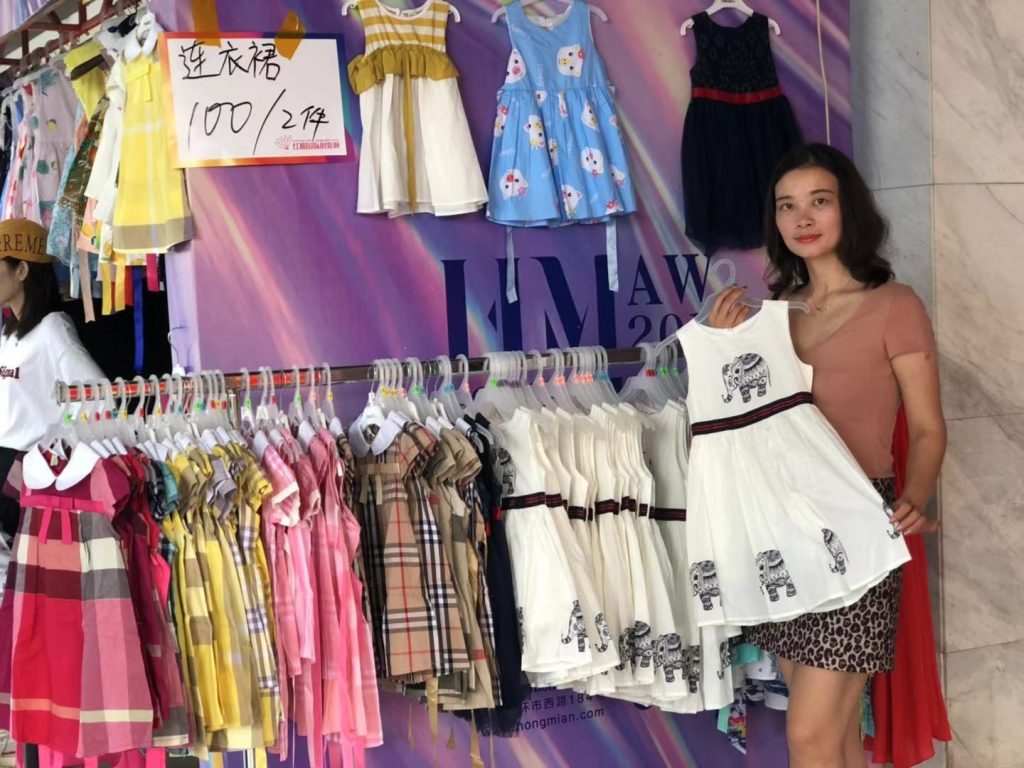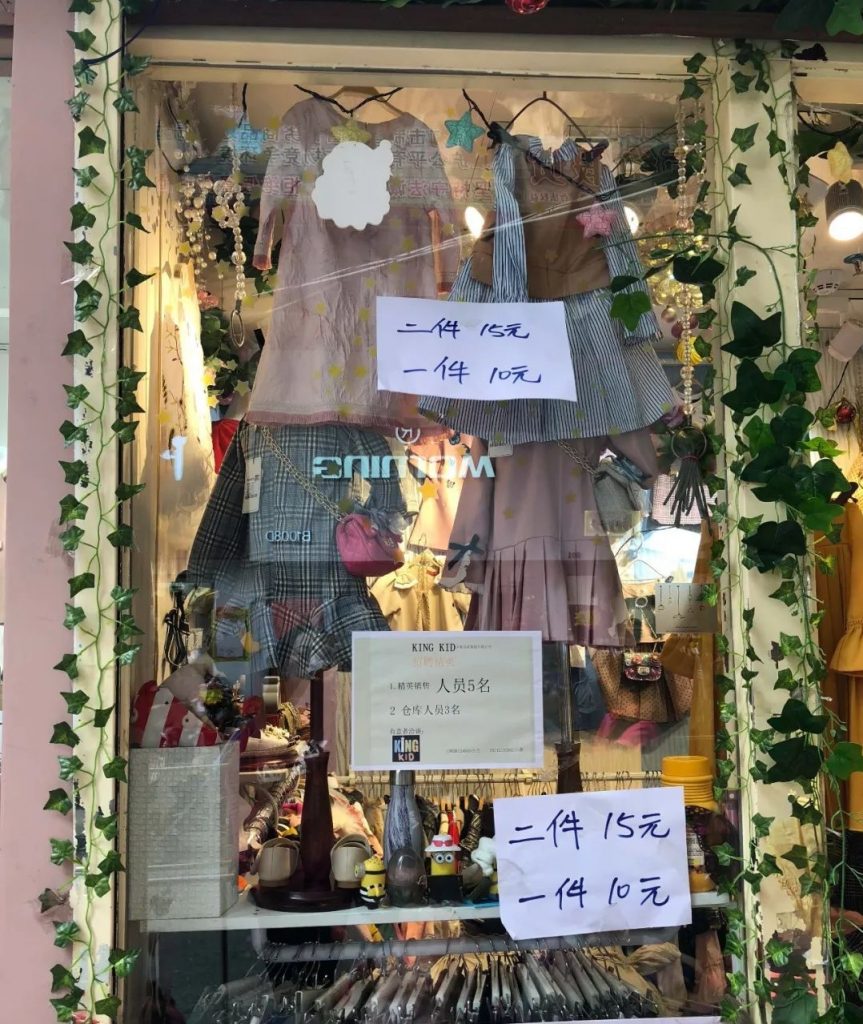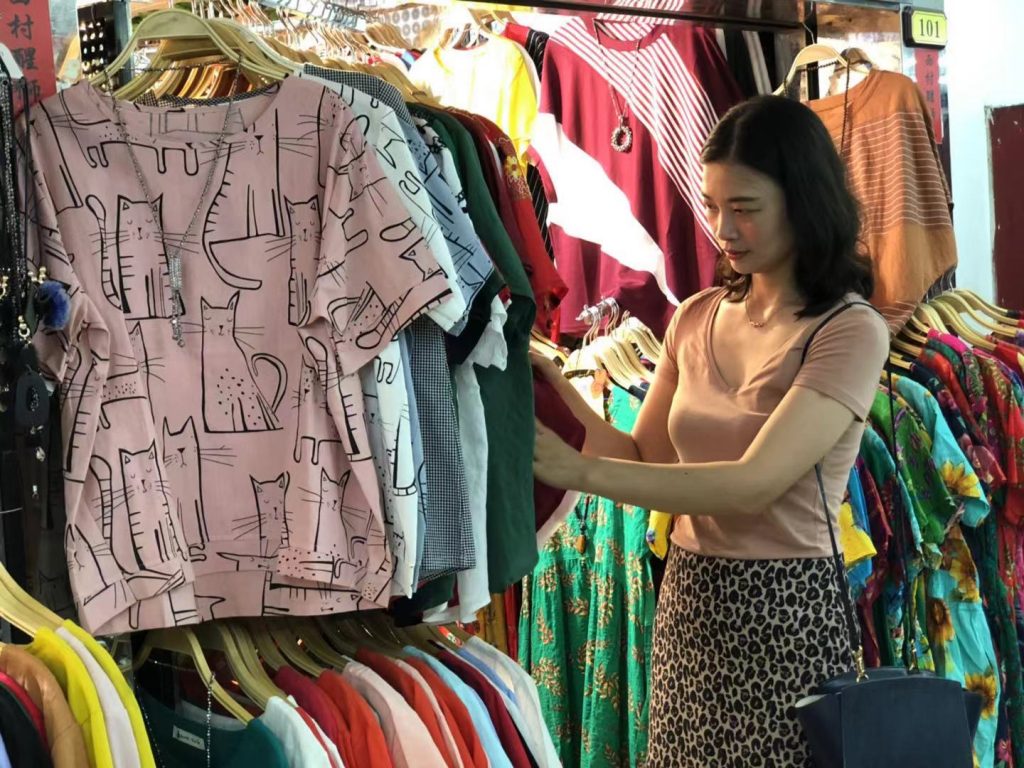 .
Each item usually has five sizes. Most are more popular European and Korean styles in the market, there are several more well-known shops, the styles are very nice & fabrics are good, and rarely appear the same design online.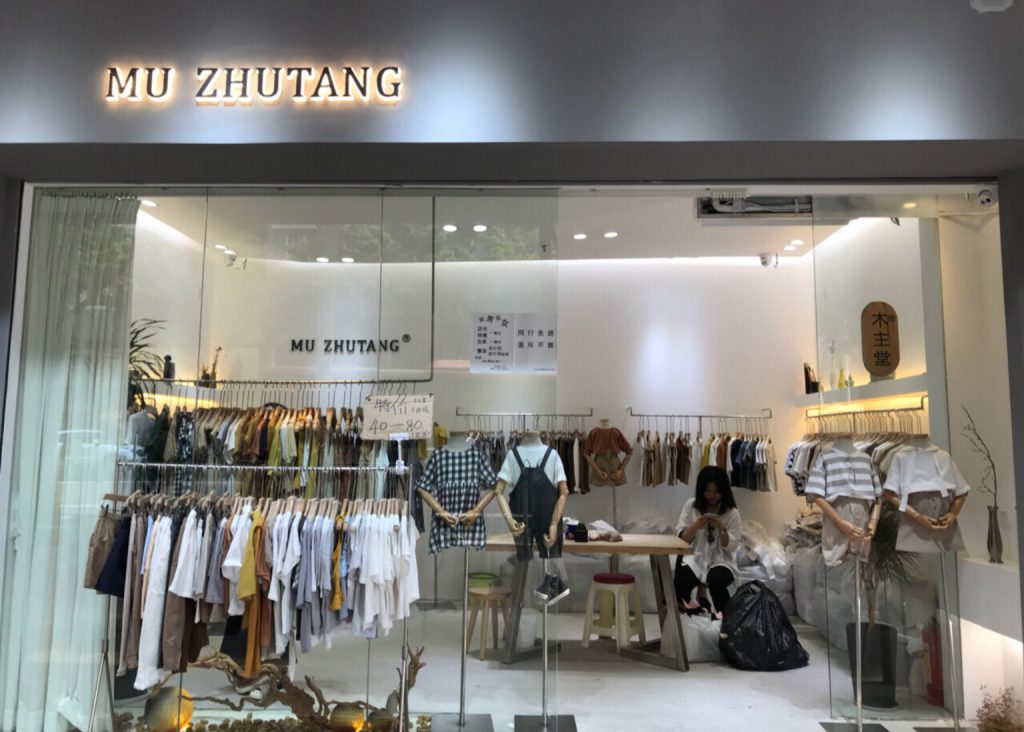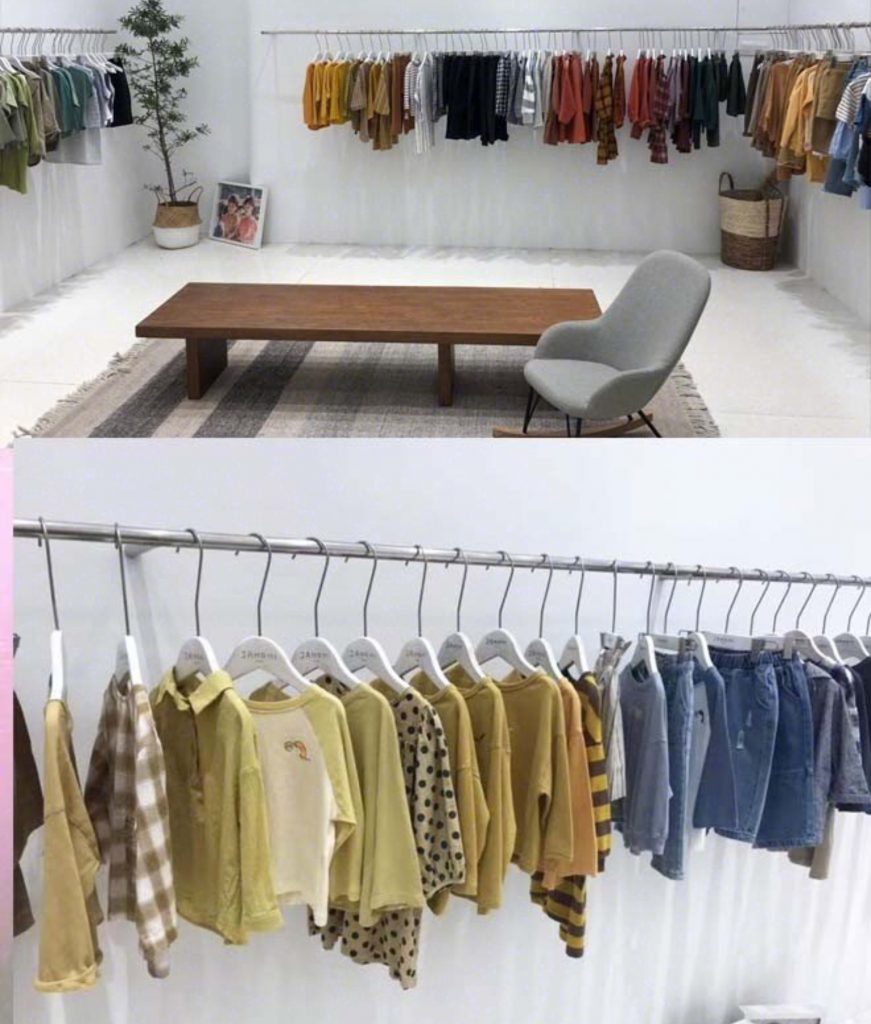 In addition, it should be noted that this children's clothing market, like most other clothing wholesale markets, is not allowed to take photos excepting you buy clothing in their shop.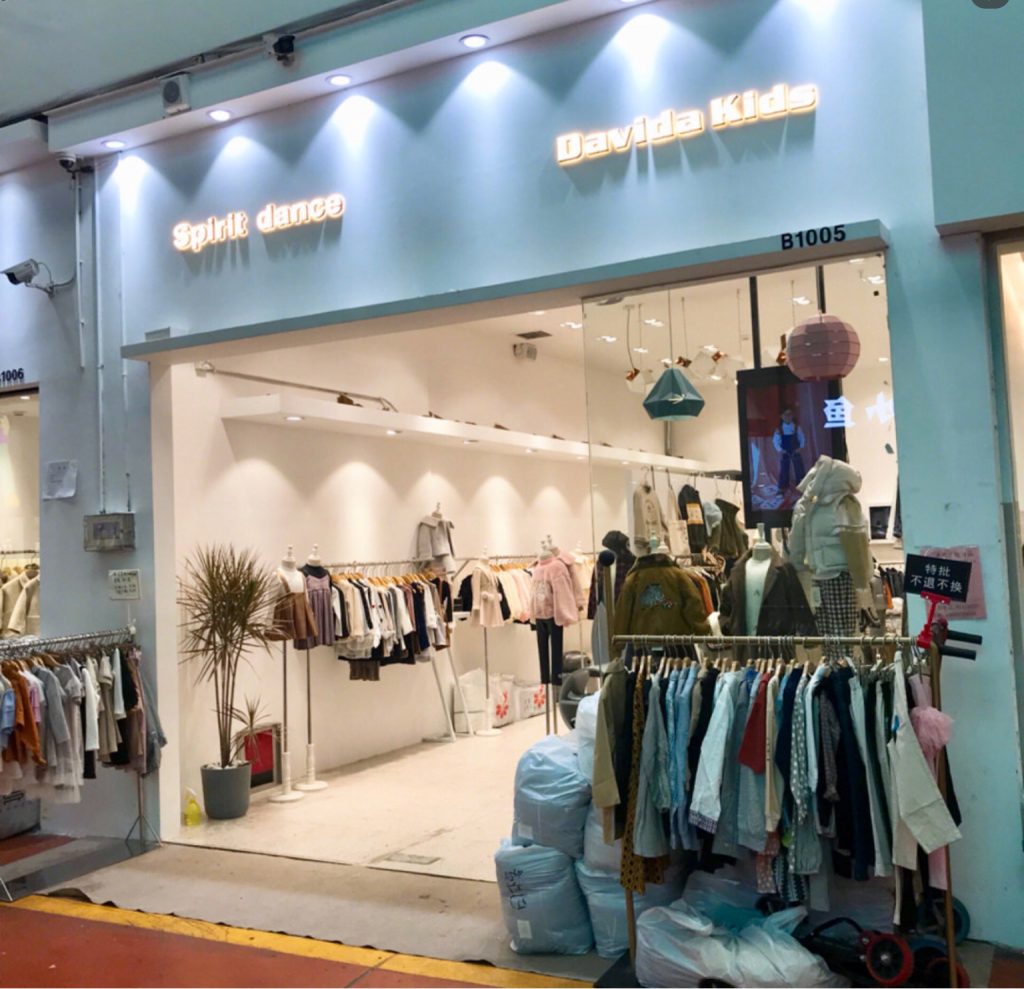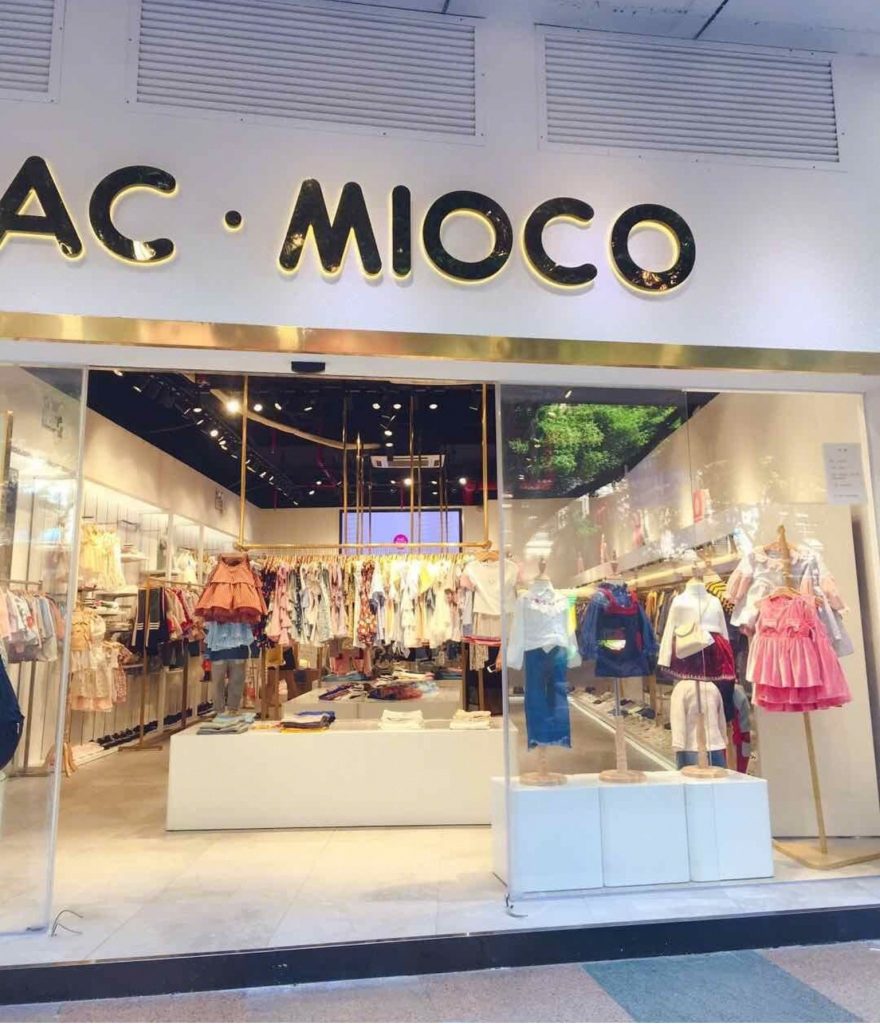 .
So most of pictures we took out side the shops.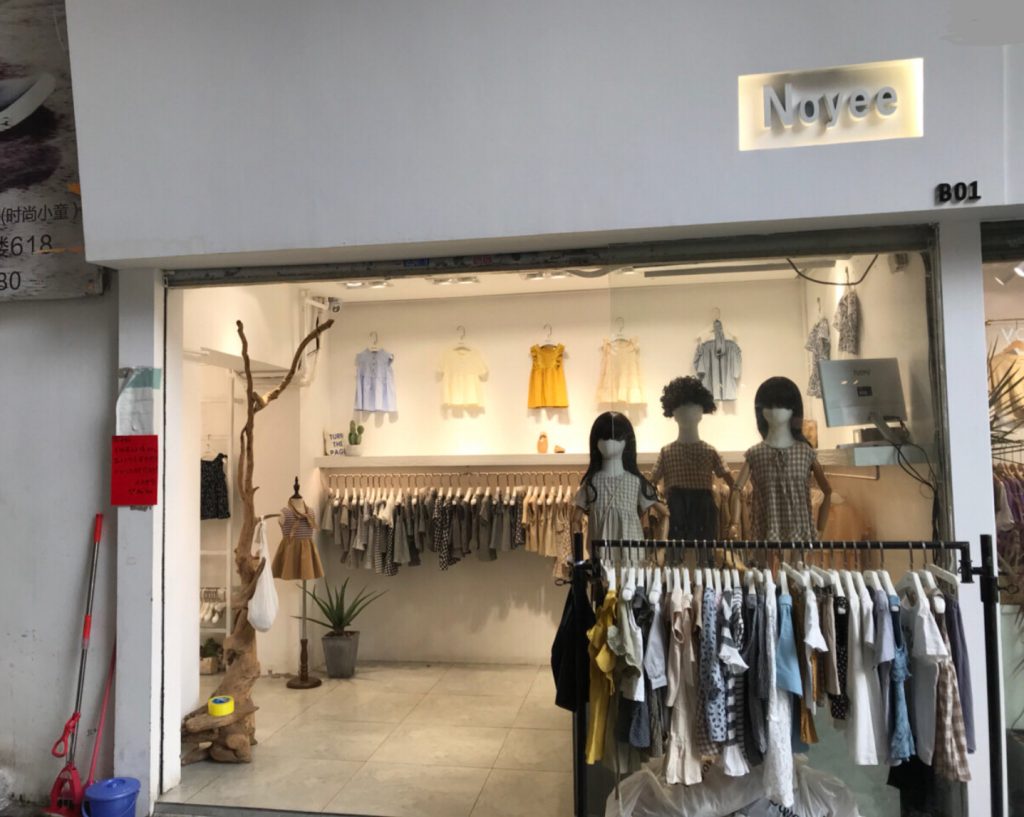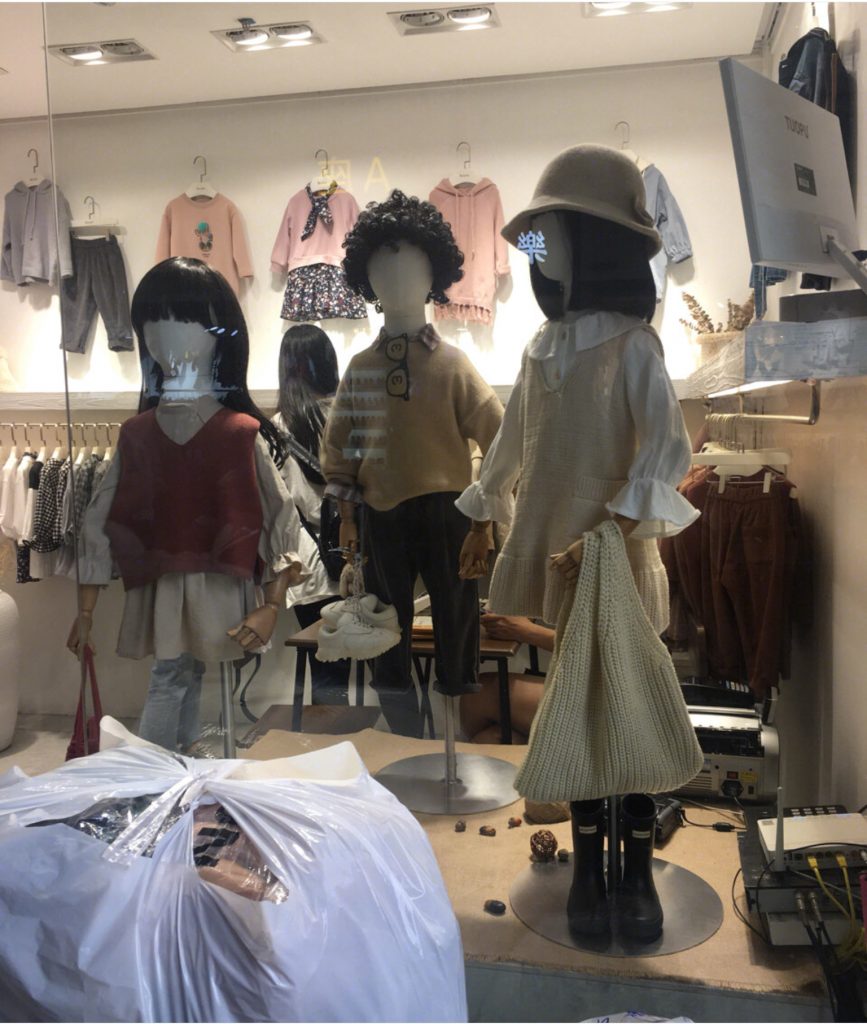 👇 There are some kind of shop selling clothing/shoes or other kind of children's products: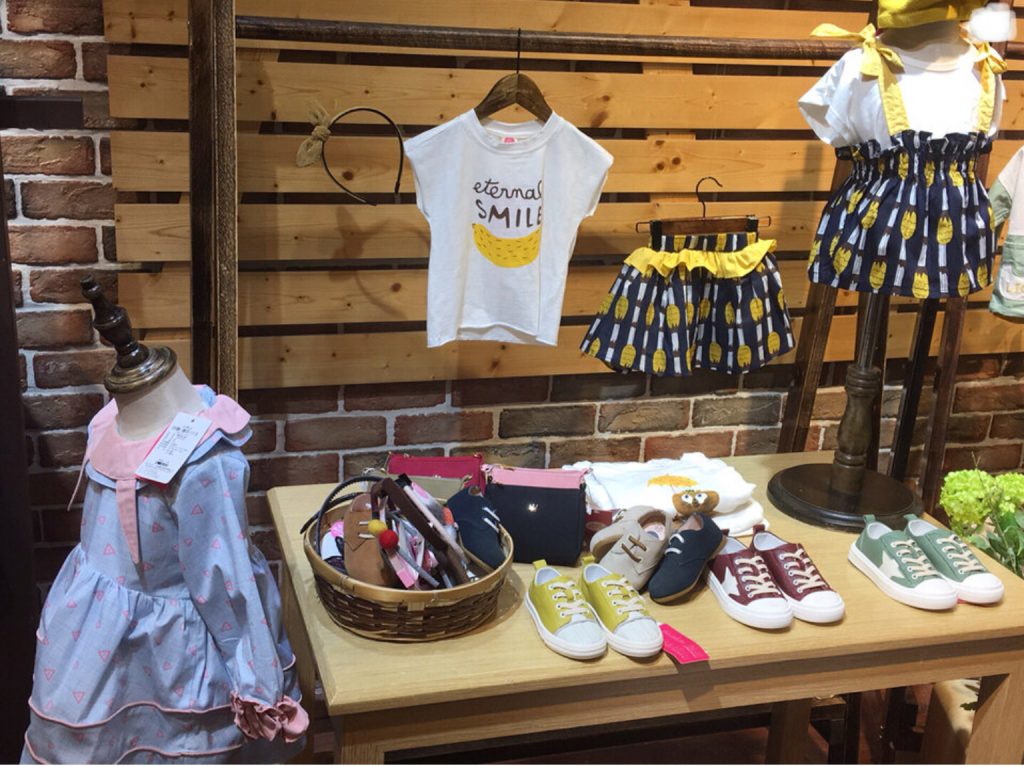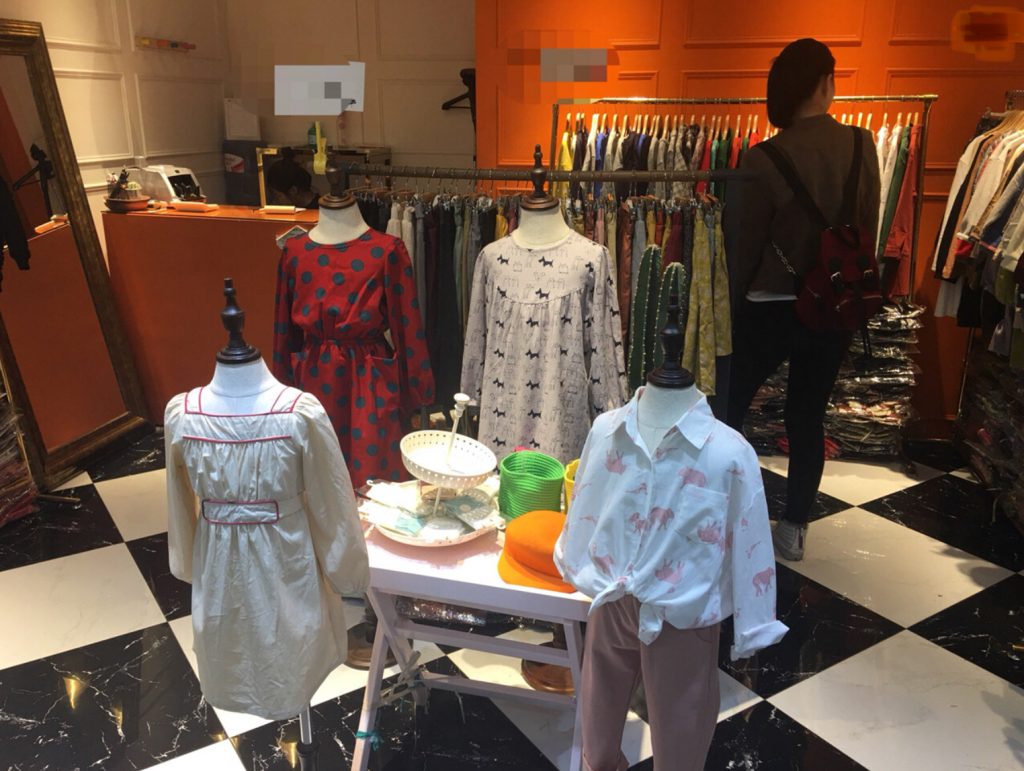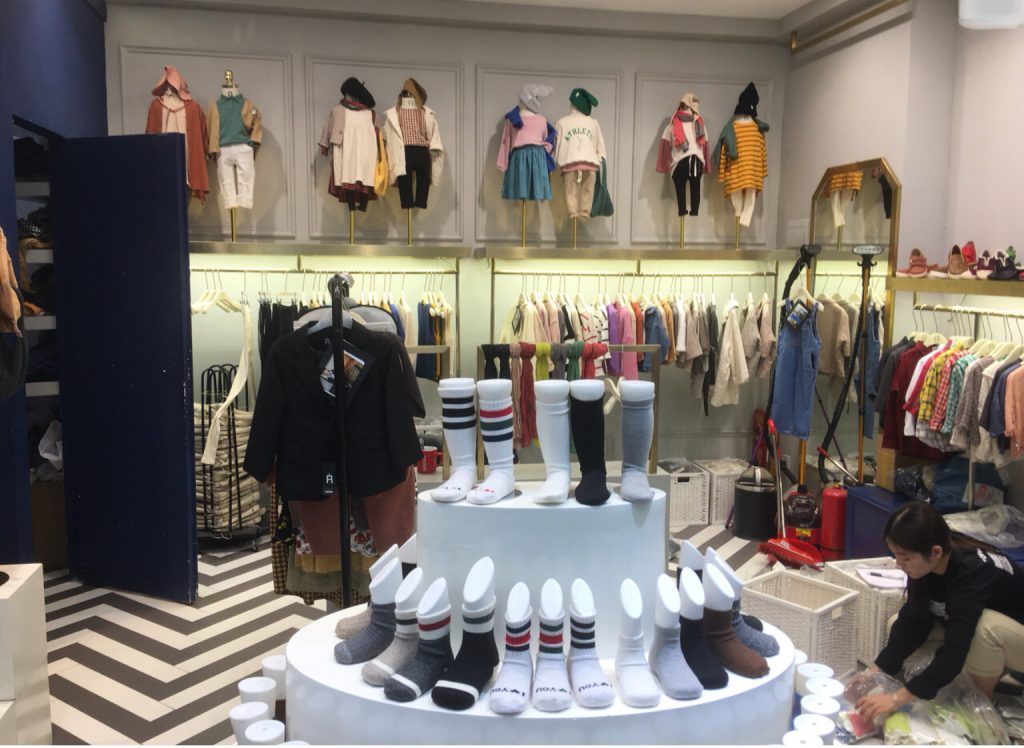 .
👇 There is a shop selling children's daily accessories: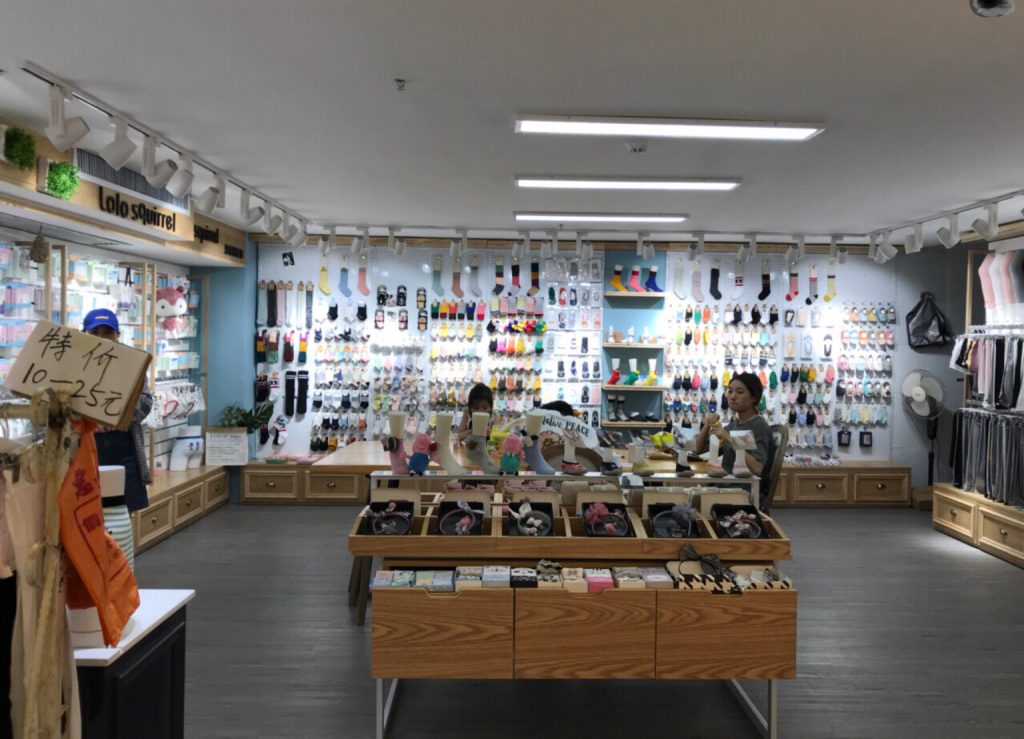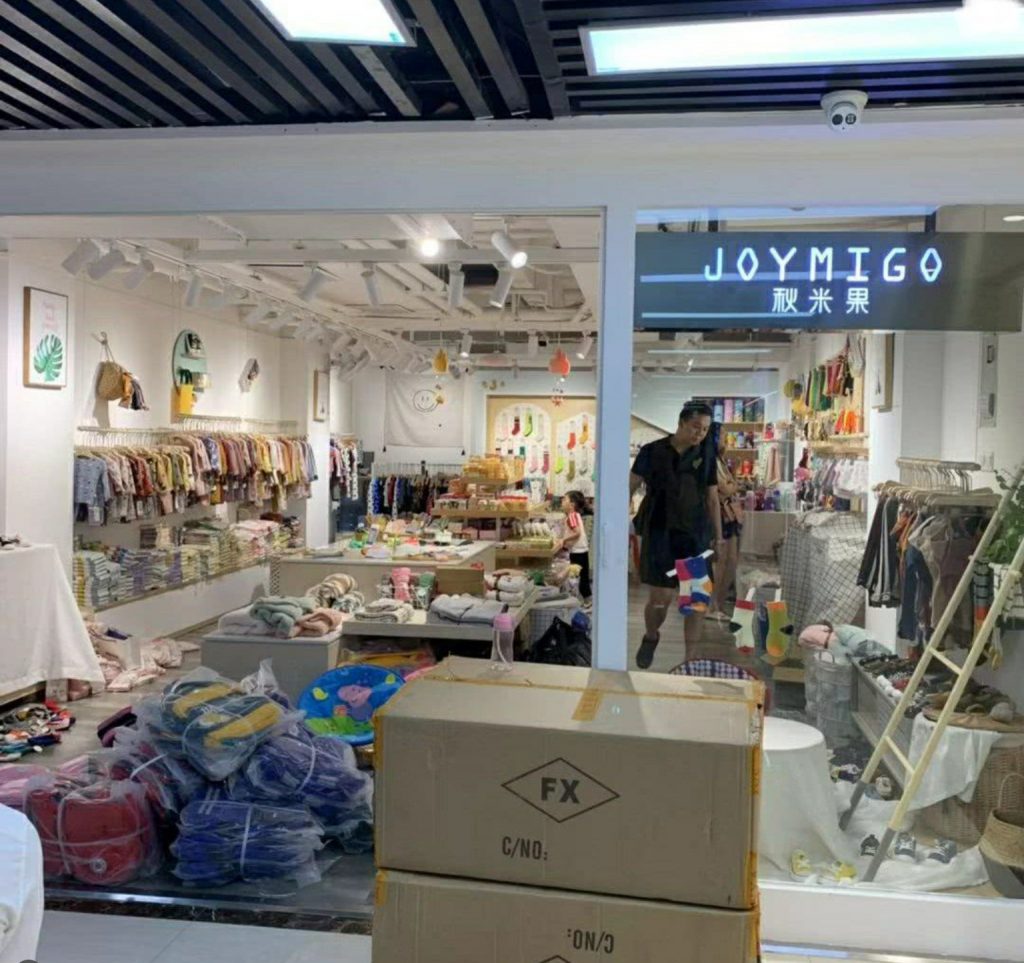 We said that Children's world, there is not only for clothing or socks,children's pants, but also we found others products like Children's hats, bags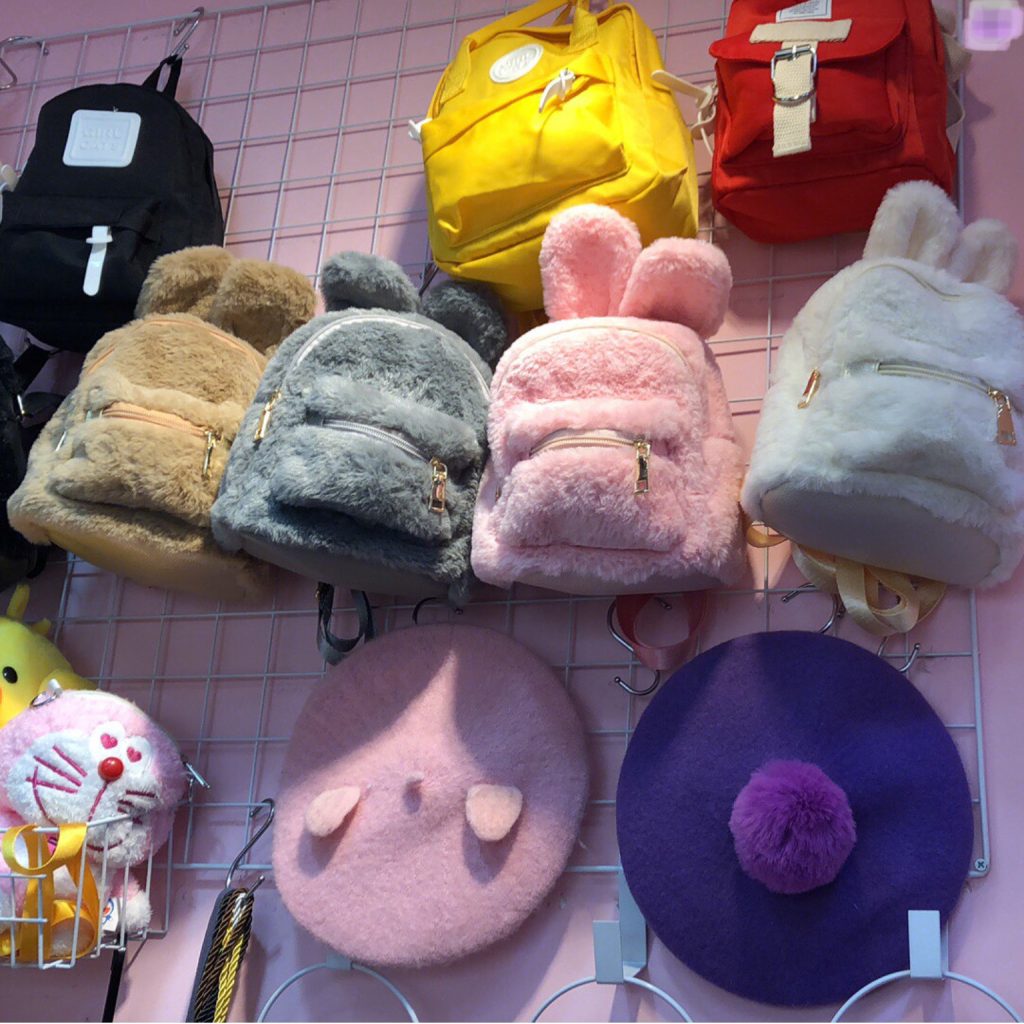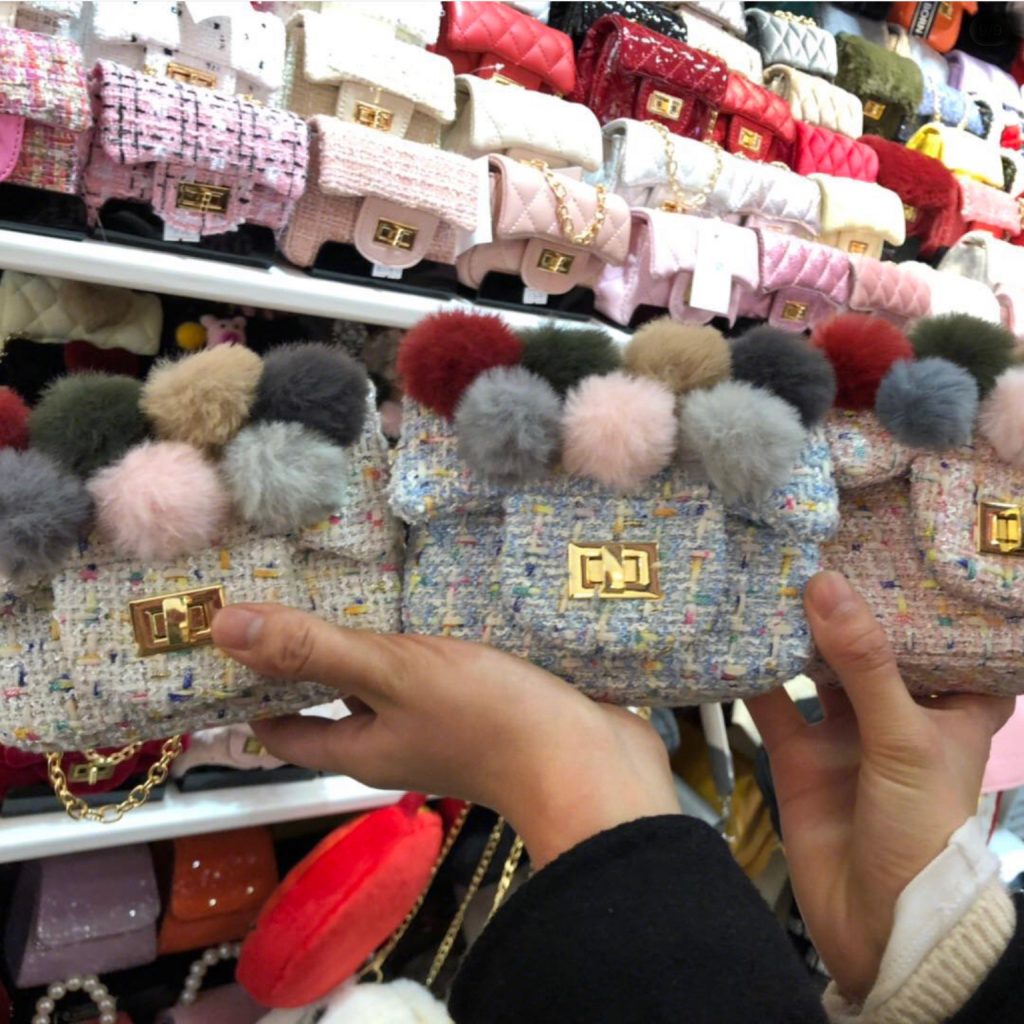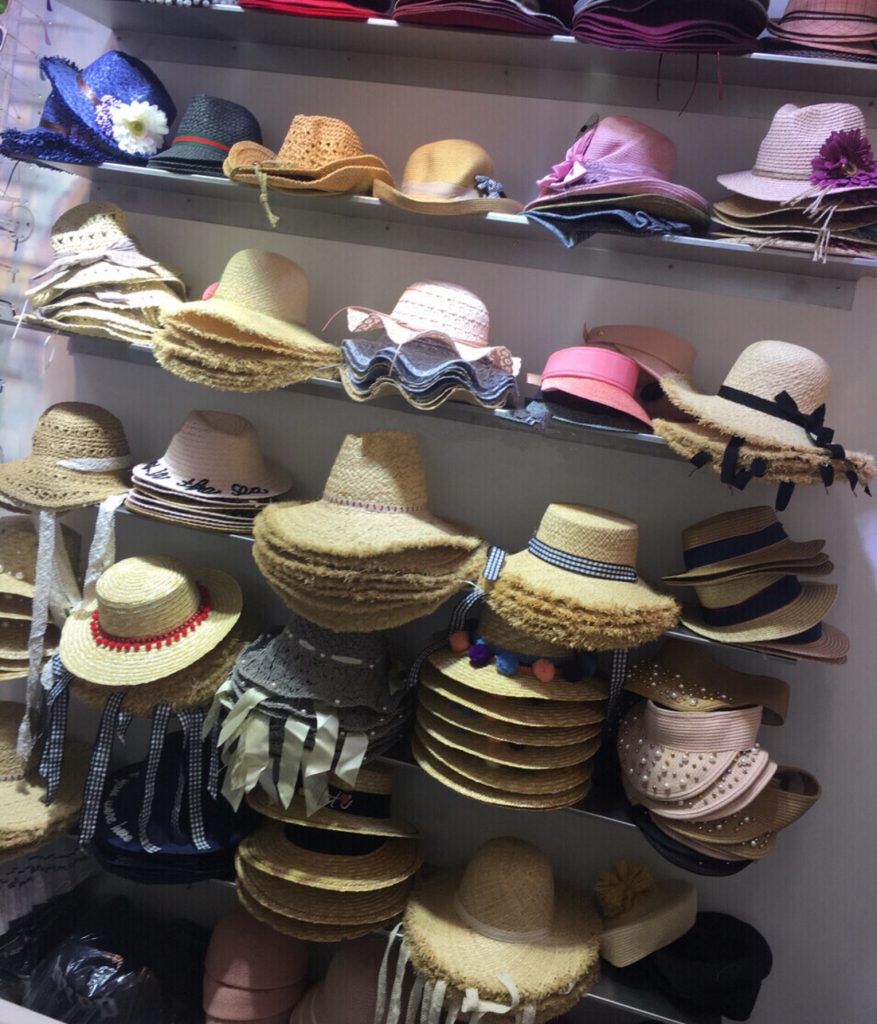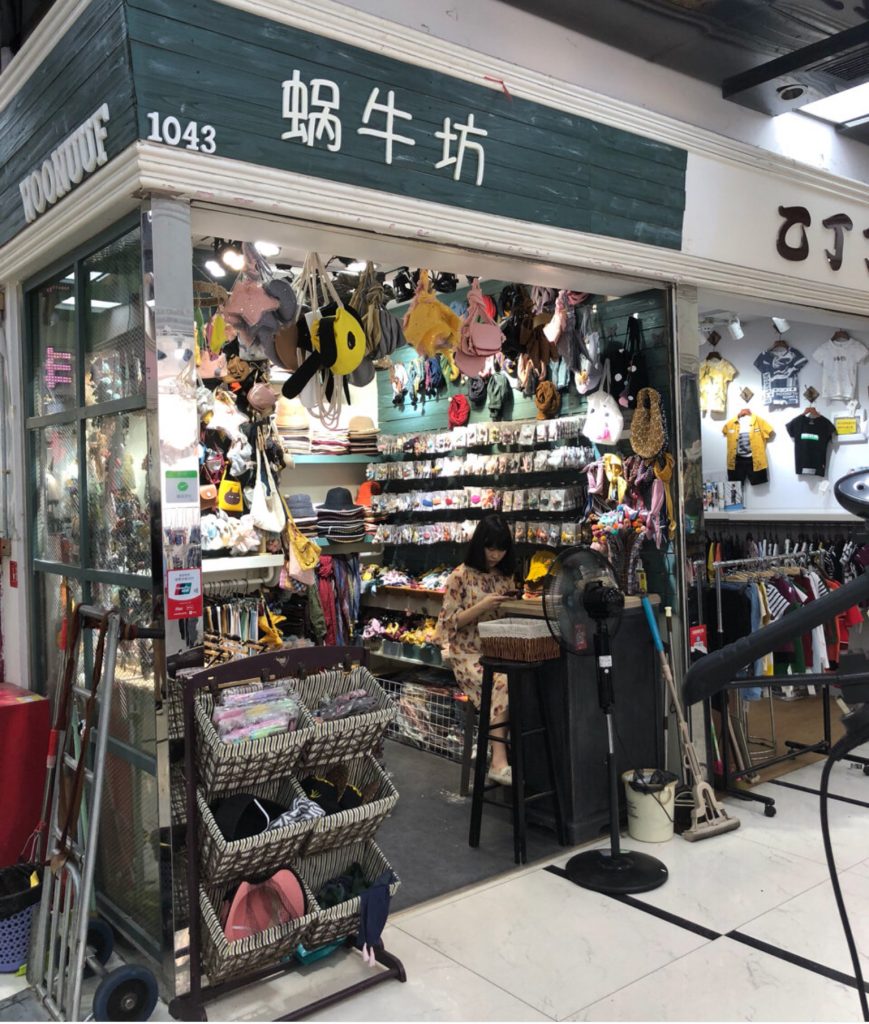 If you have enough time, you may spend one day but cannot walk around this long long street of the Children's world.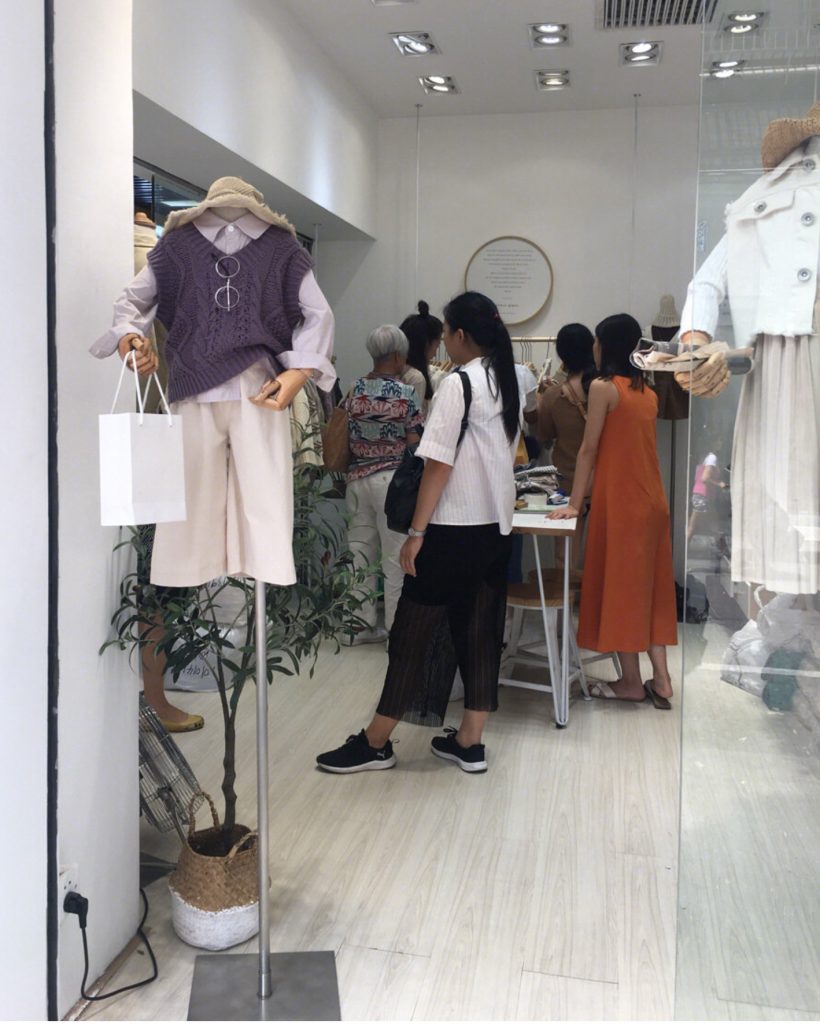 Most of the customer come to this market are mothers or retailers.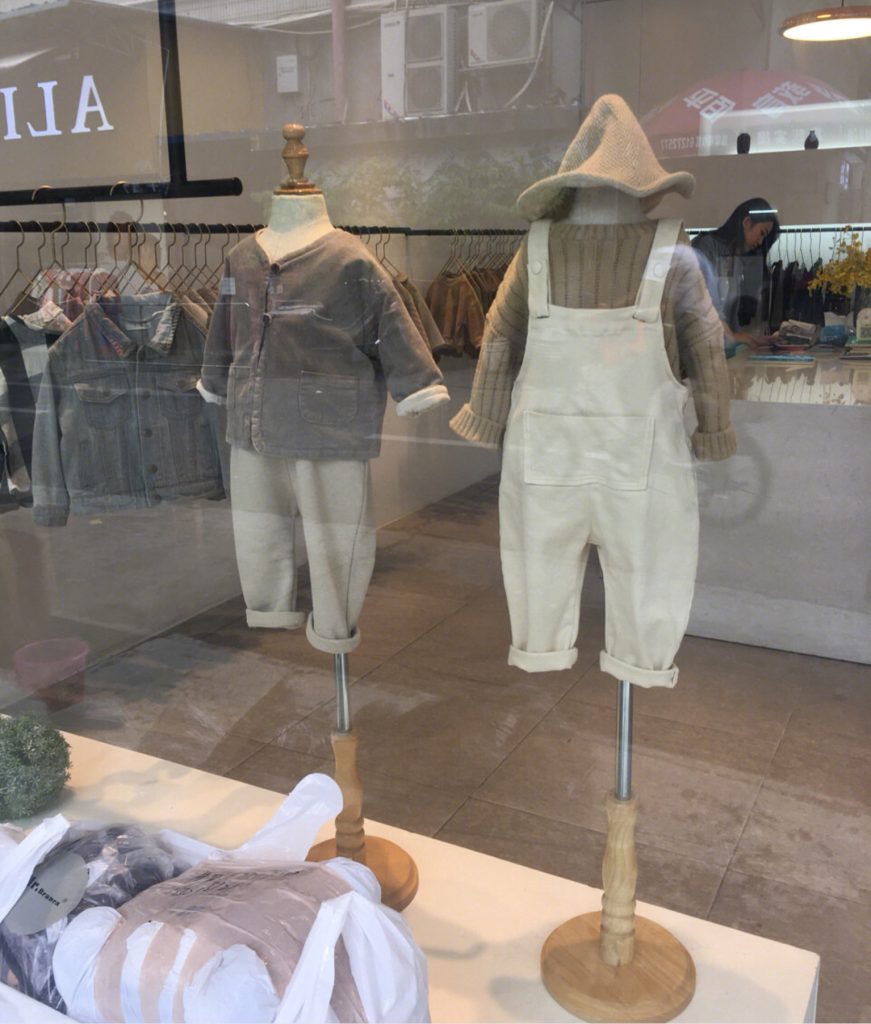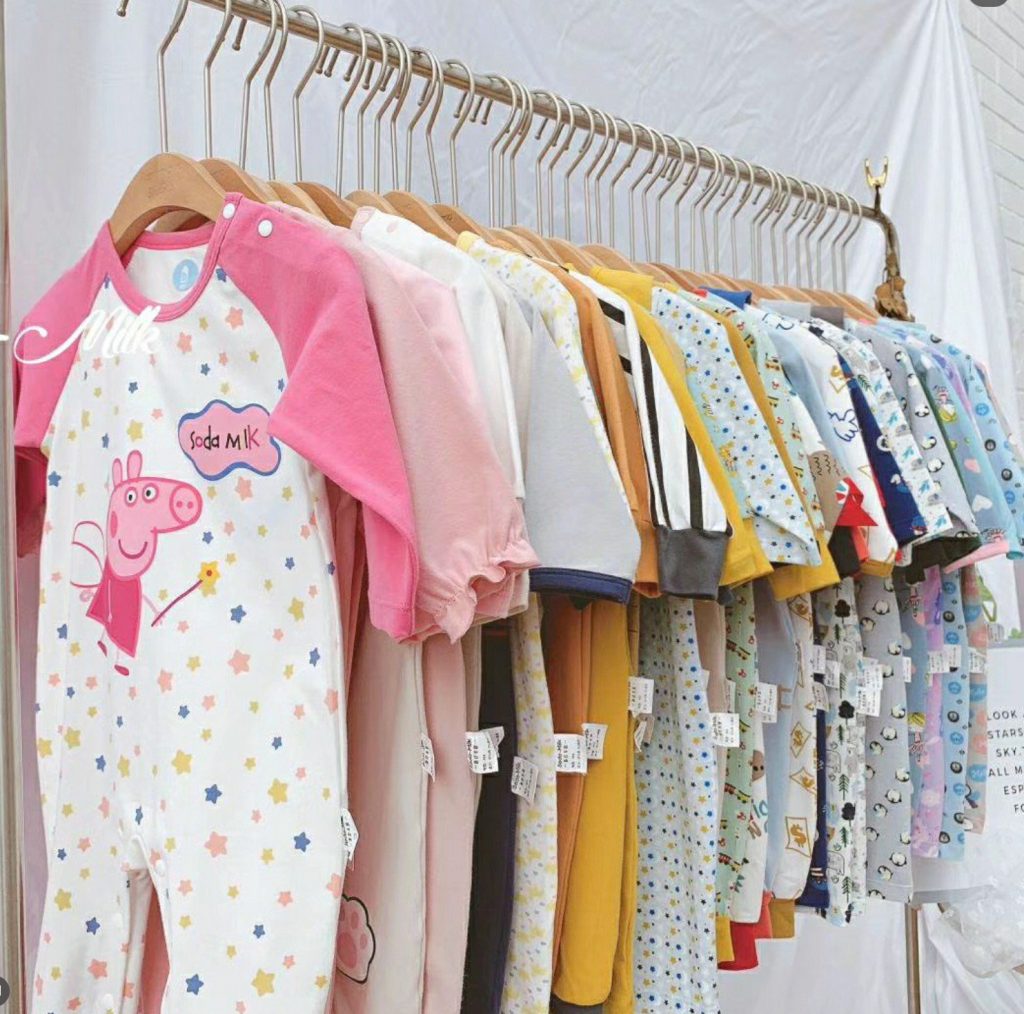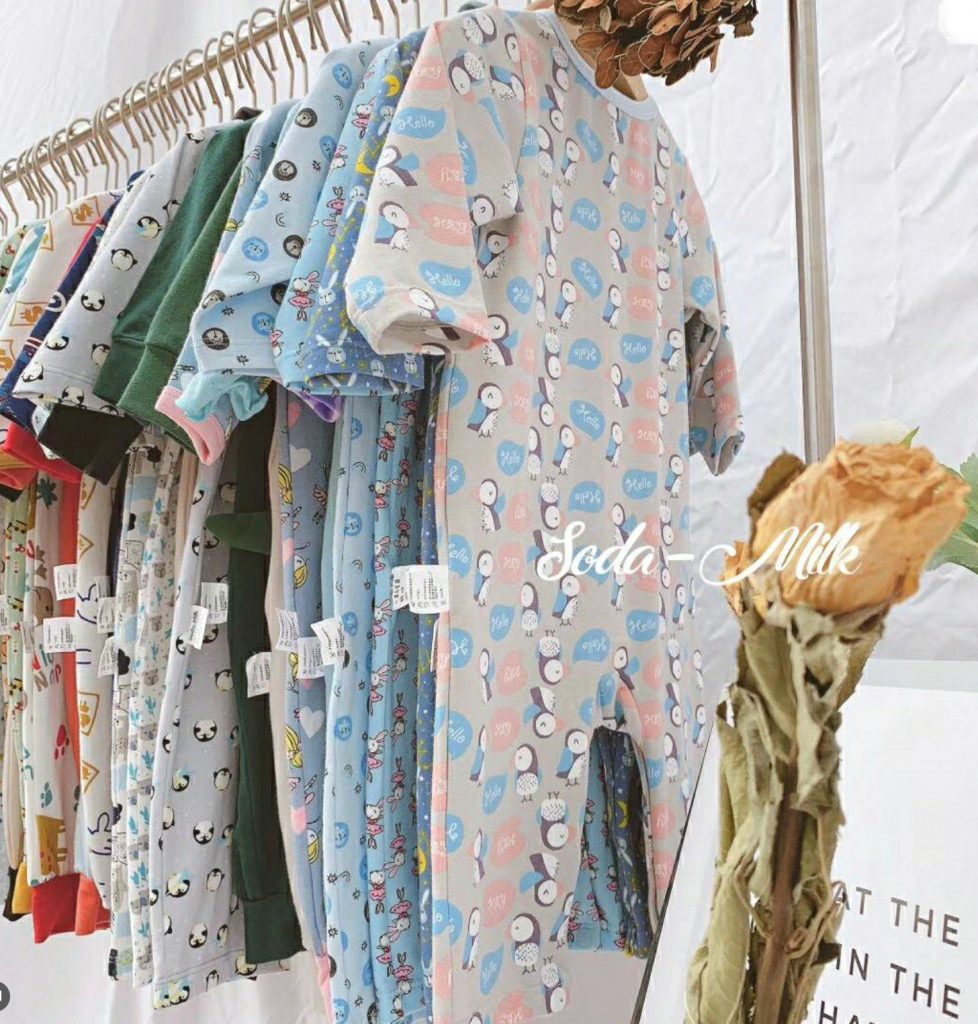 .
Most of the wholesale quantity of this market is 10pcs up.
Some stores can do MOQ of 5pcs per item.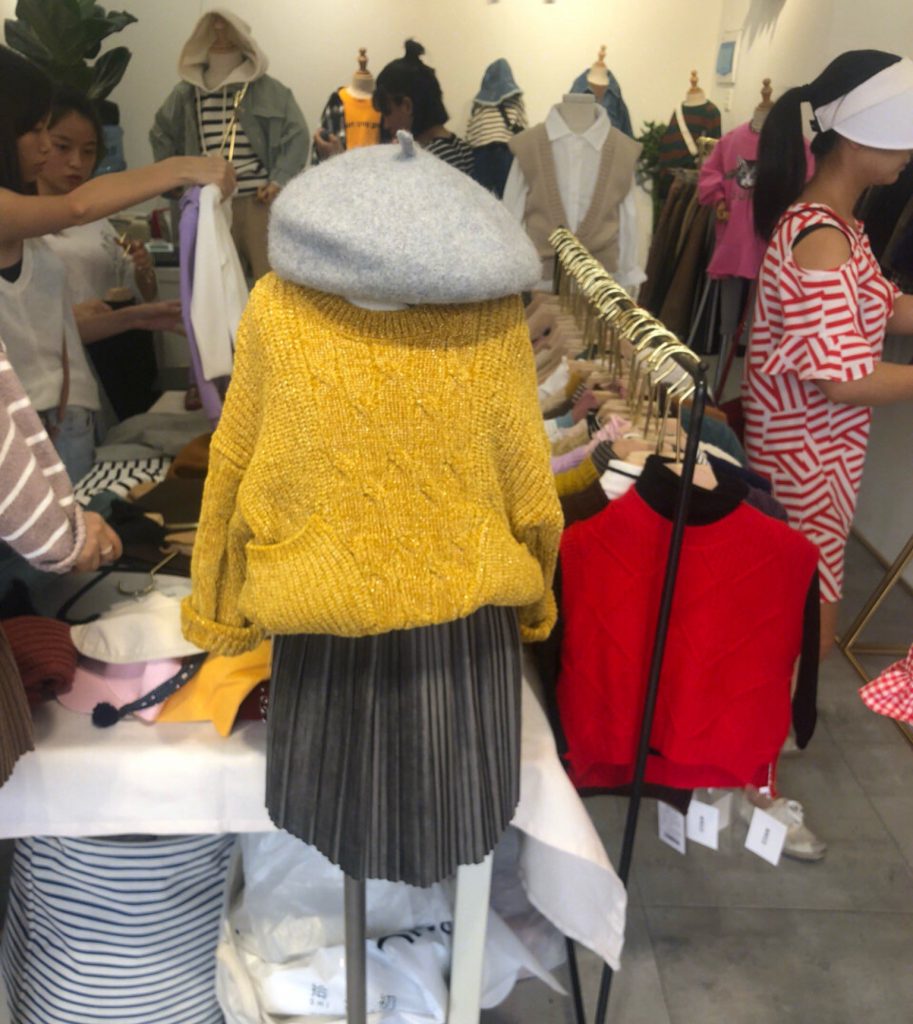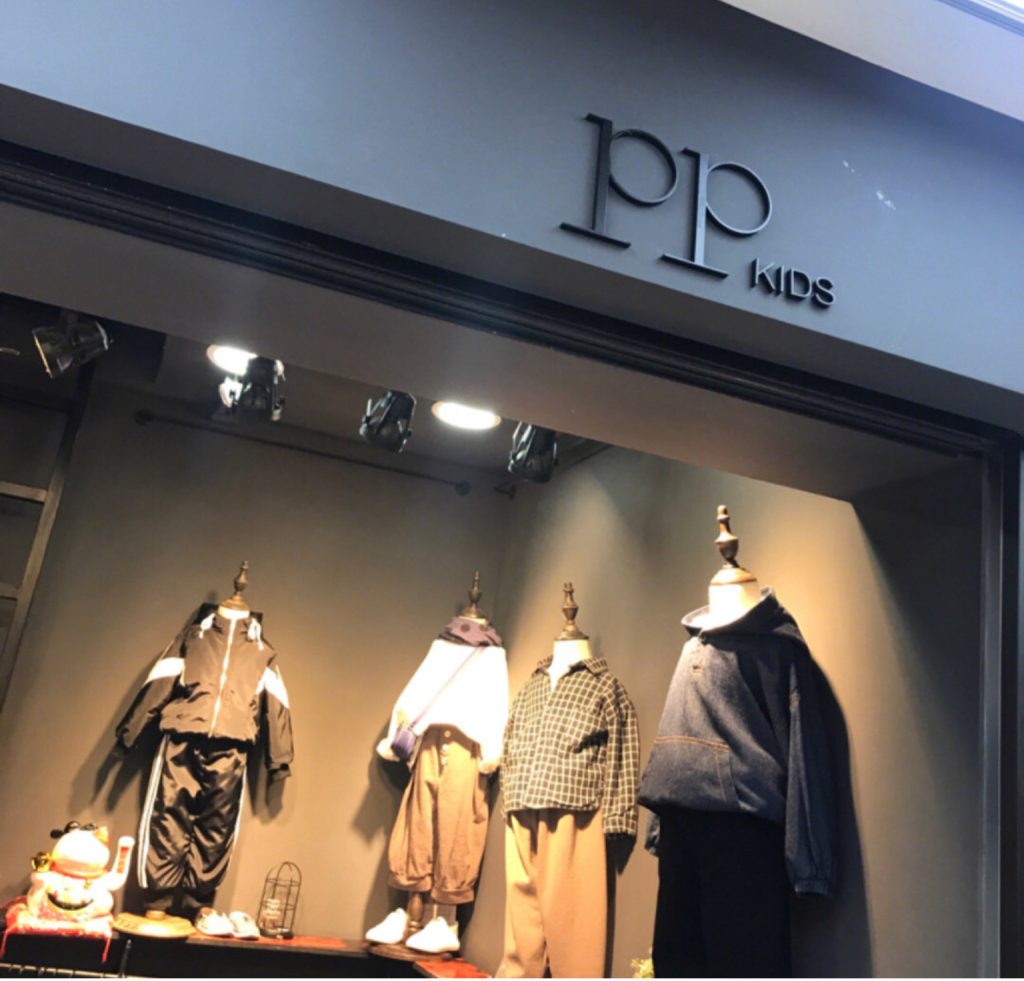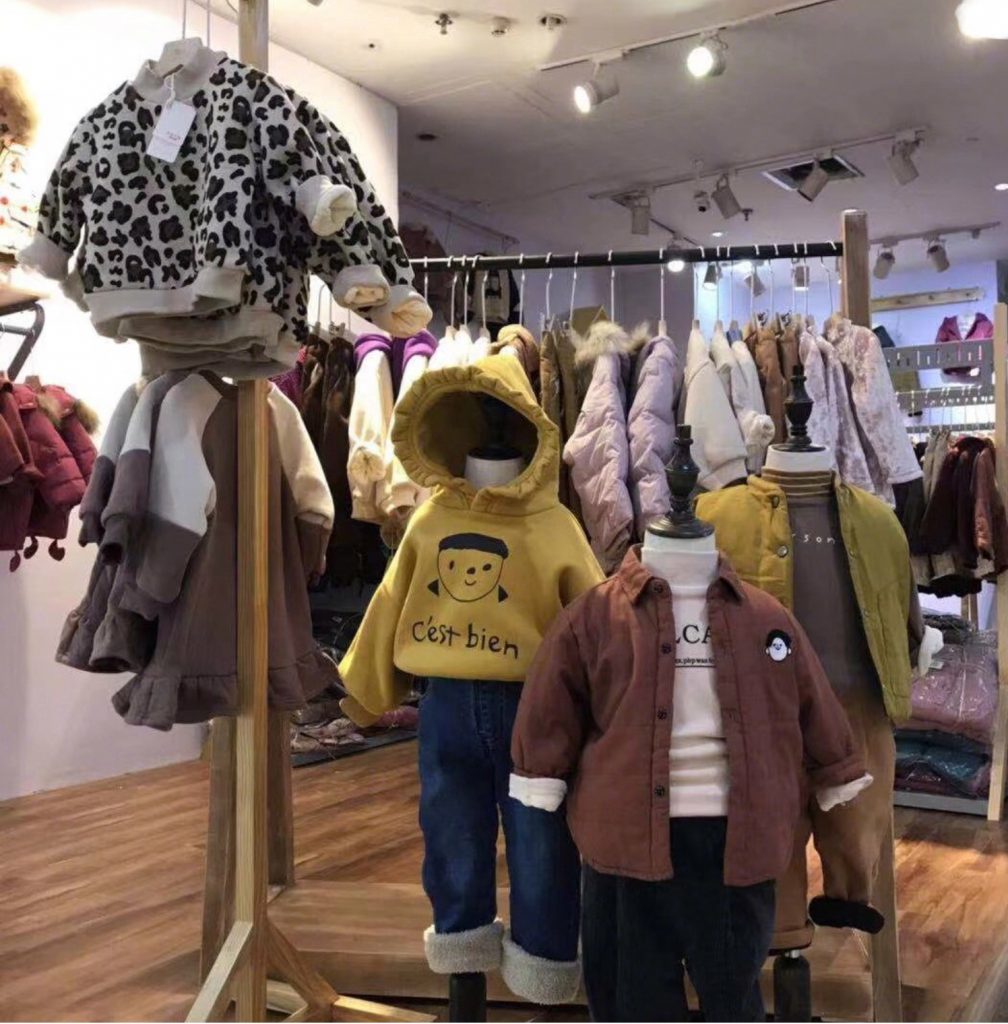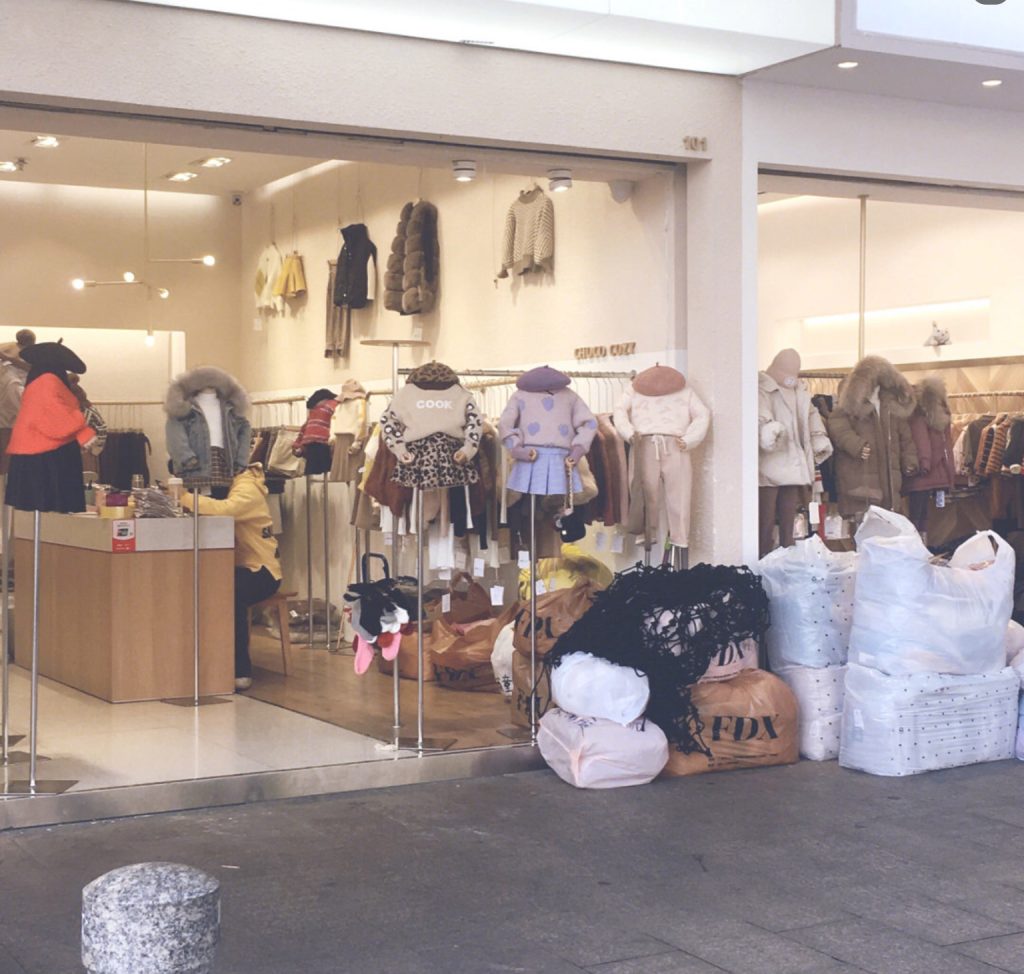 .
Tips to go to the Children's wear wholesale market:
If you do not have enough time, you should go to LiShang Building(丽尚大厦), you can buy most of things you want;
If buy clothes for your kids, it's better go with your kids.
Most of retail cannot return, you have better sure you need it or not.
.
.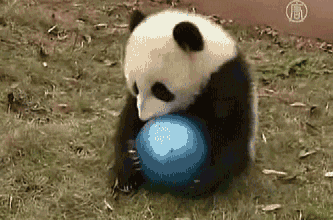 Our 4th station
Guangzhou Baima clothing wholesale market(广州白马服装批发市场)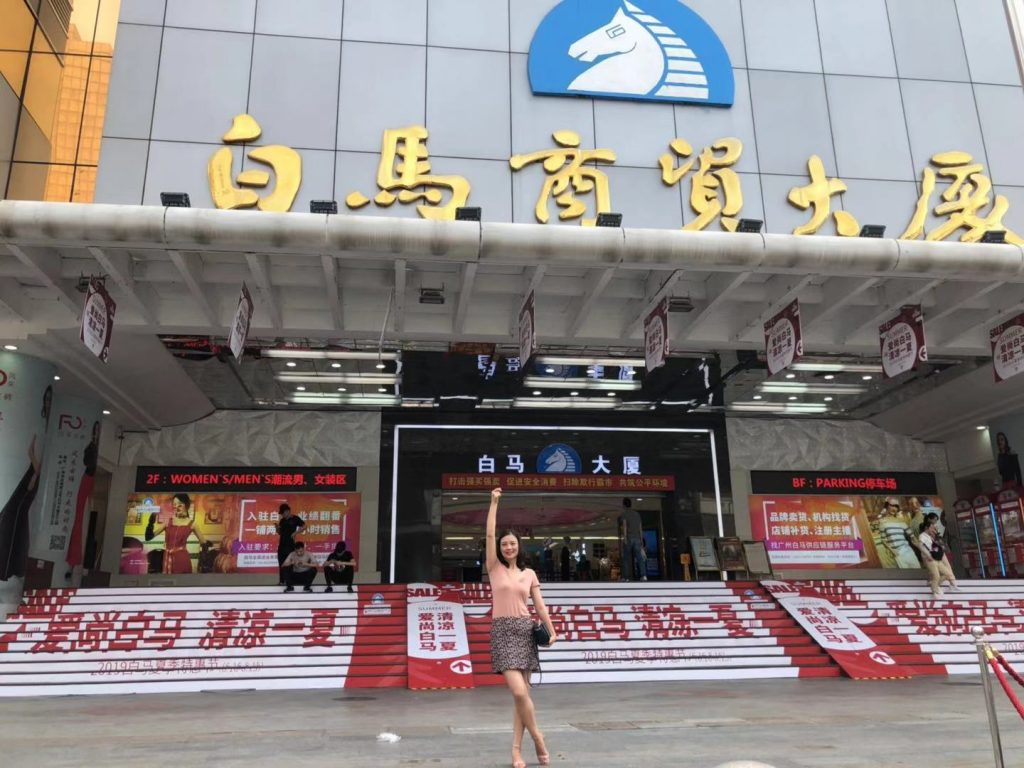 Address: No. 16 South Station Road, Guangzhou
Metro Station: Guangzhou Railway Station [Line 2 or Line 5], Exit G
Business hours: 8:00 – 18:00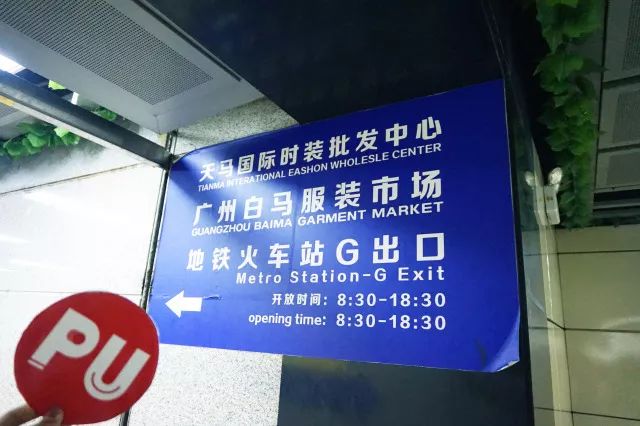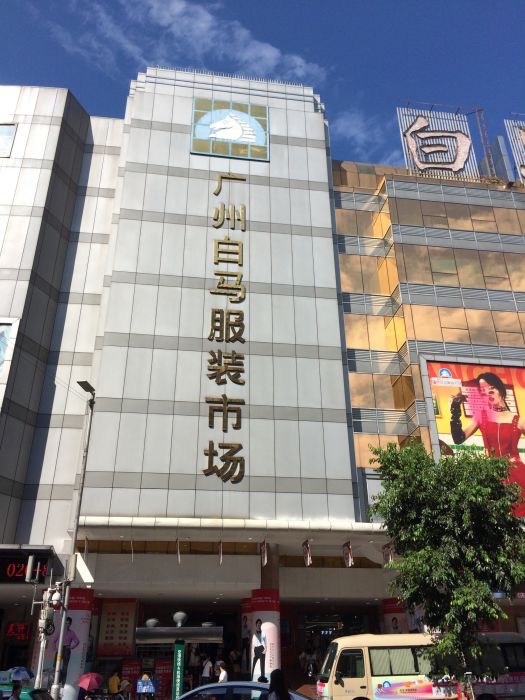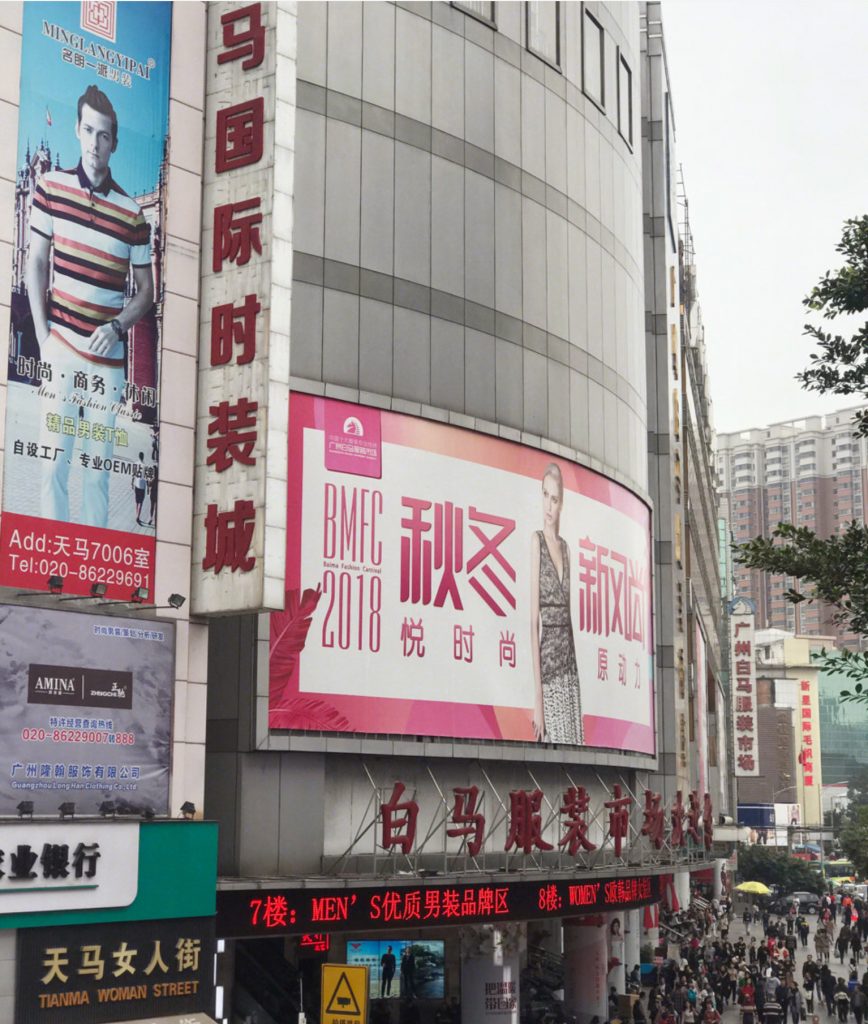 .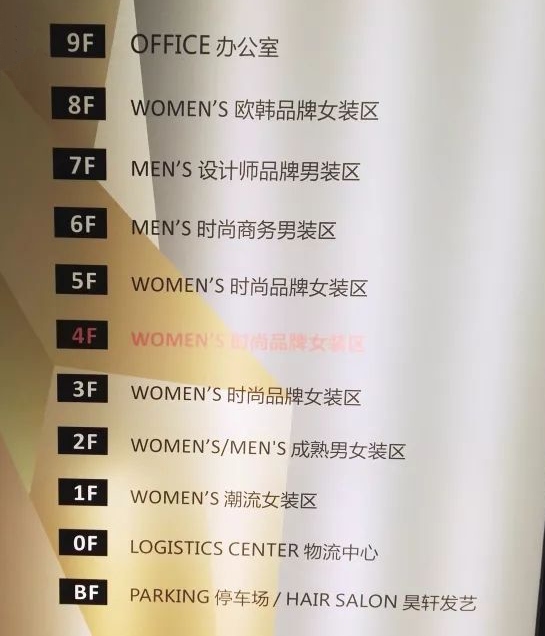 1F Women's wear/Girl's wear
The first floor mainly sells young fashionable women's clothes, which are suitable for women aged 18 to 25.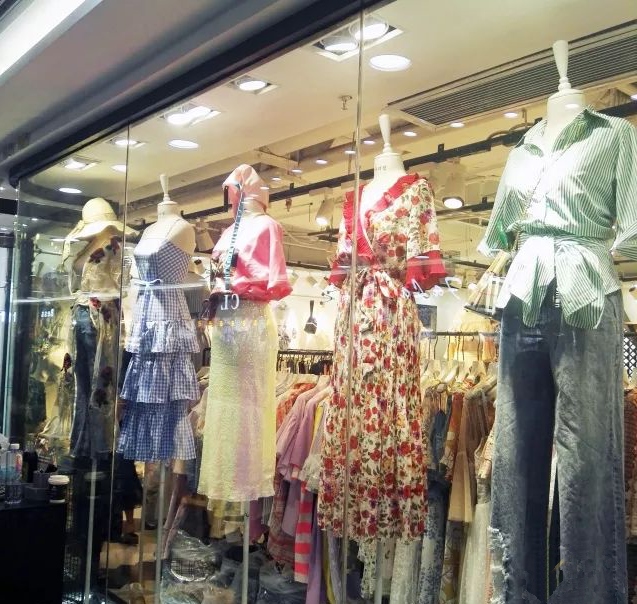 There will be 1 to 2 shop assistants in each store. And in some of shops you can see the "fitting models" in the center of the shop, because most stores in this wholesale market are not allowed to try clothes by the customers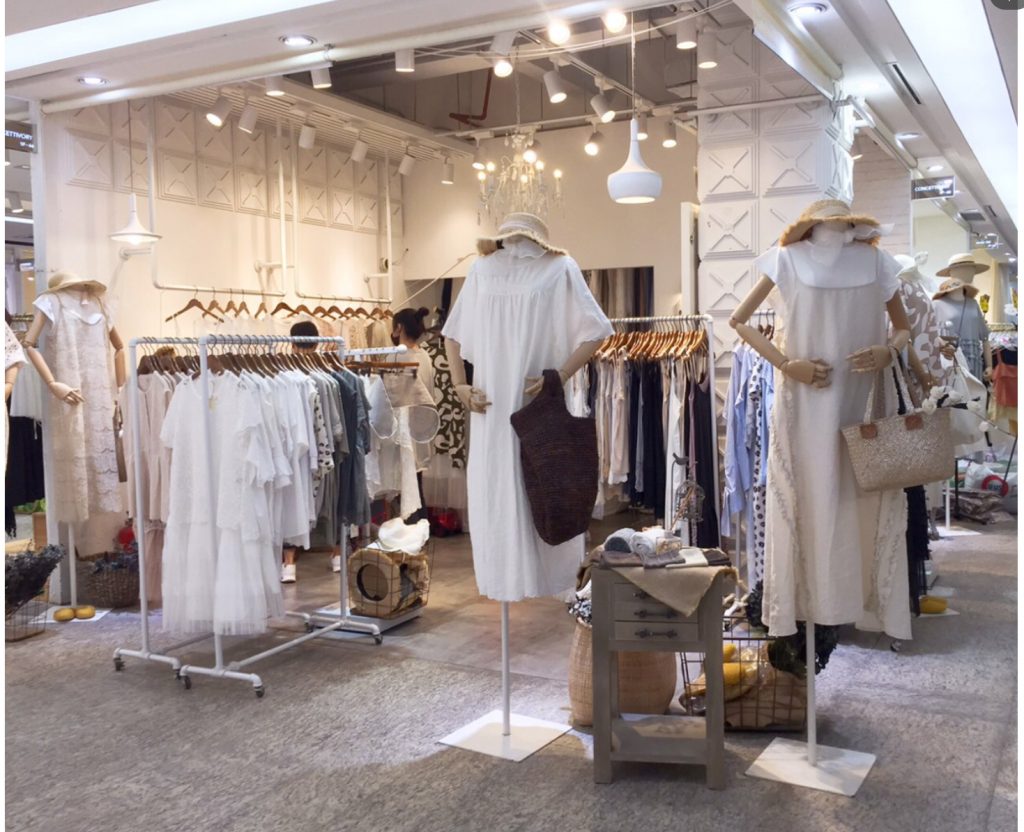 👆 If you find these packaged parcels in front of the stores, it proves that the store is doing very well. These parcels are all customers and will be delivered to other cities in China later through logistics.
Many of them are retailers who come here to wholesale clothes and buy them in their own stores or sell them in their online stores.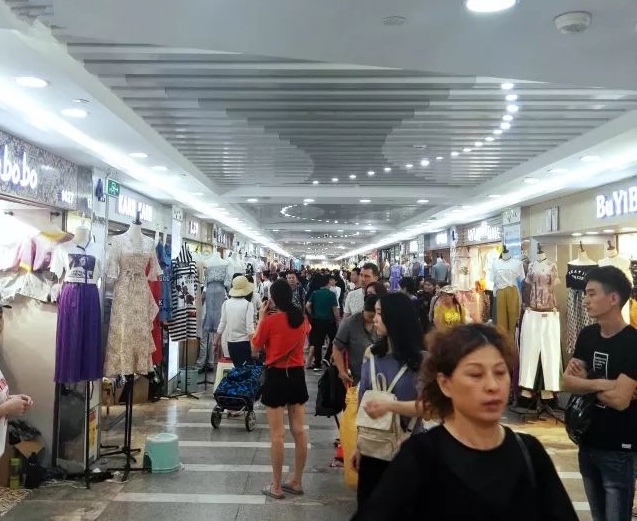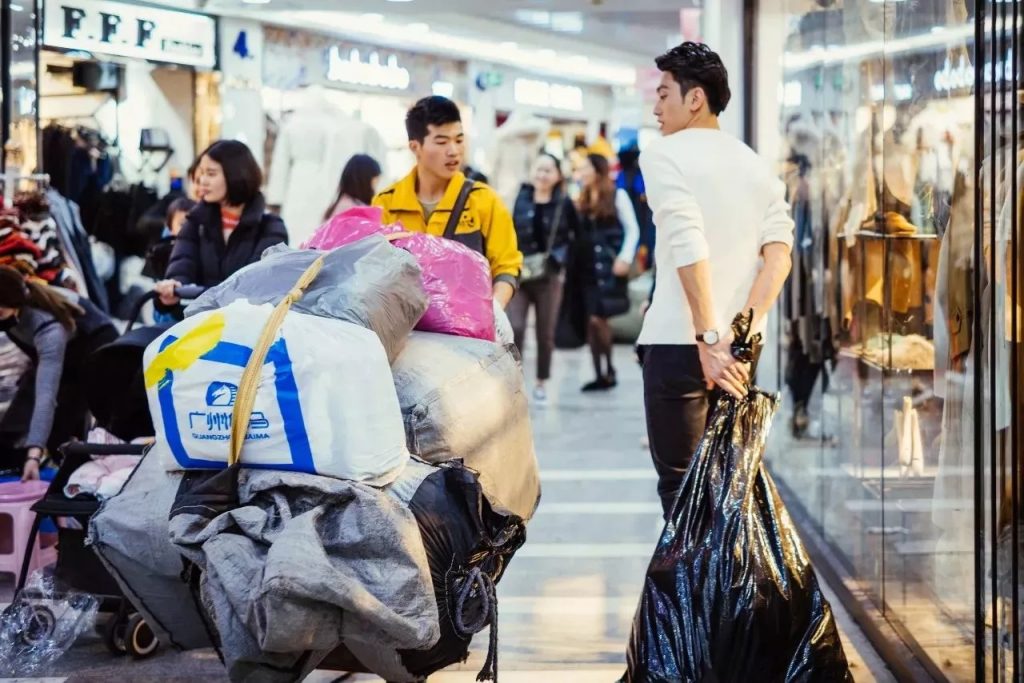 If you see someone with trolley or a small bag or a big black plastic bags carrying clothes, that's must be the retailer come here for purchasing.
Others are tourists. They can buy some clothes on sale, or clothes for season change. The price will be super cheap.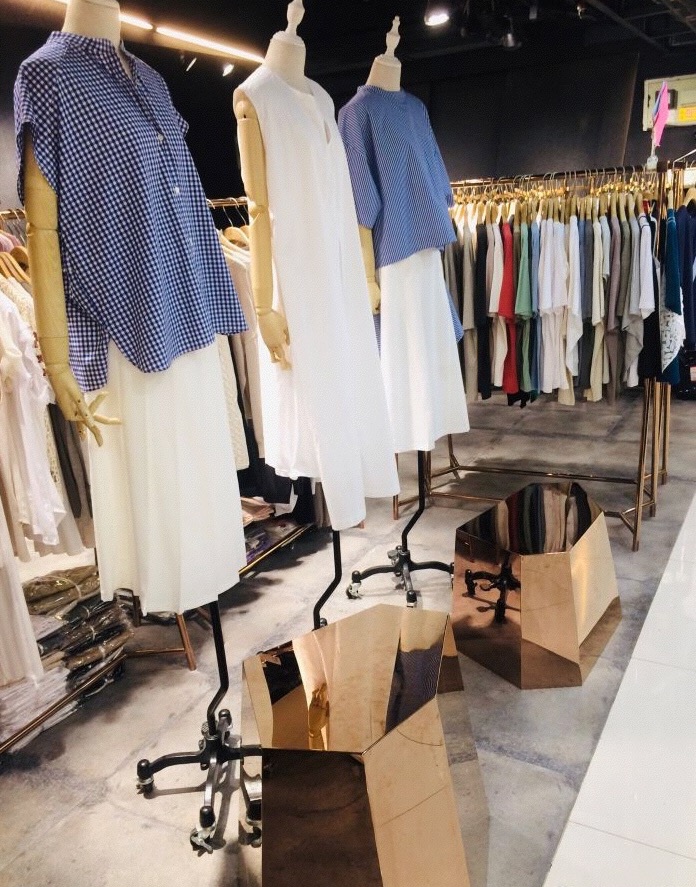 There are many different styles of clothes on this floor, which are suitable for young women aged 18 to 30.
Tips:
Some stores can be retailed, the price will be a little high, you need to check out before trying on clothes, if not suitable, you can change the size but cannot return it, or you can also add the money to change other styles.
.
2F Menswear
This floor is mostly men's wear, including T-shirts, suits, jackets, trousers, coats and so on.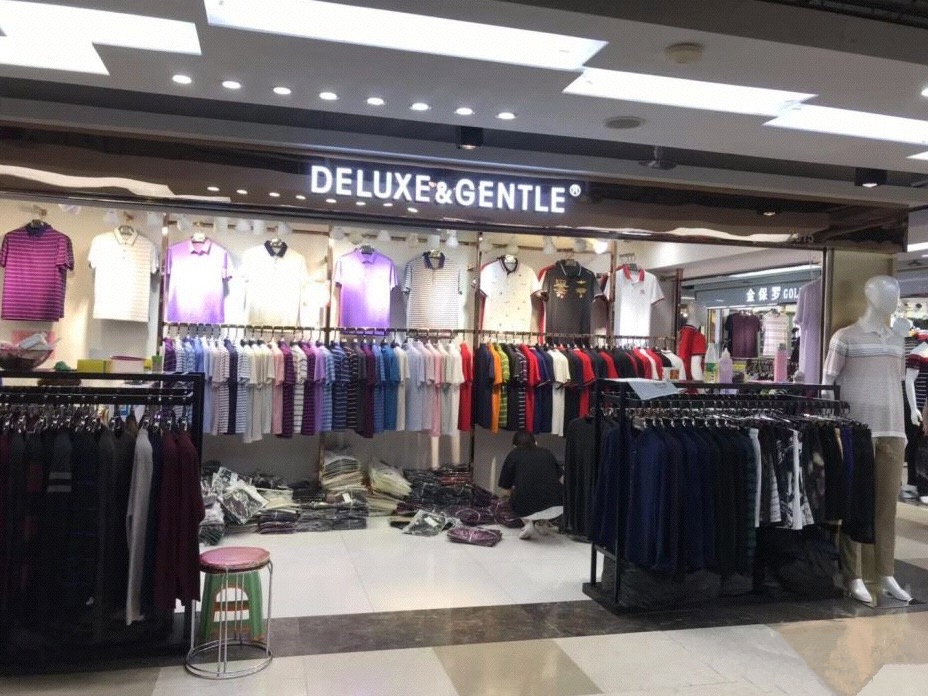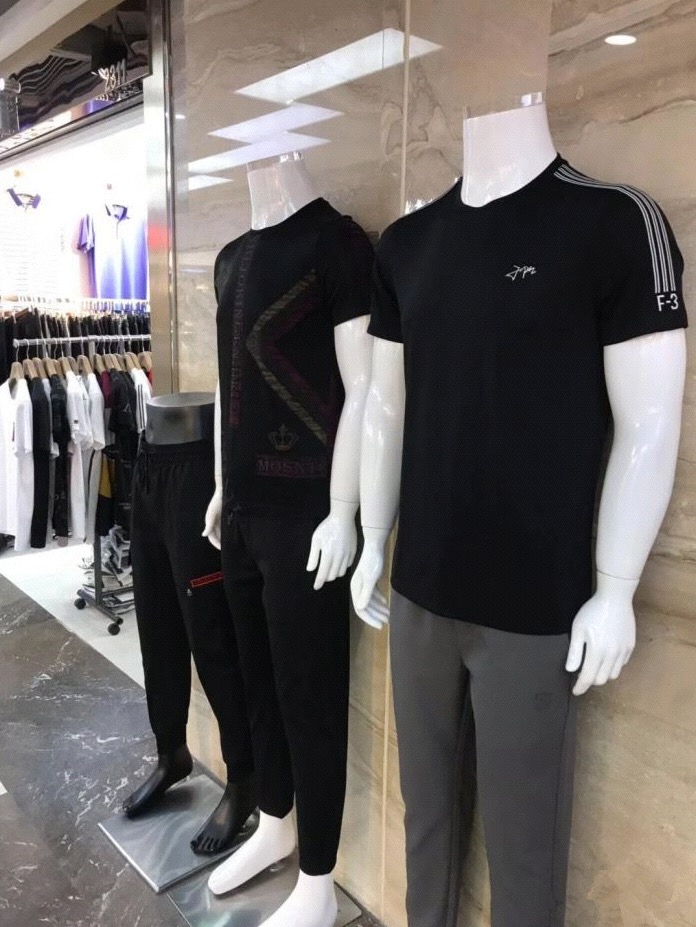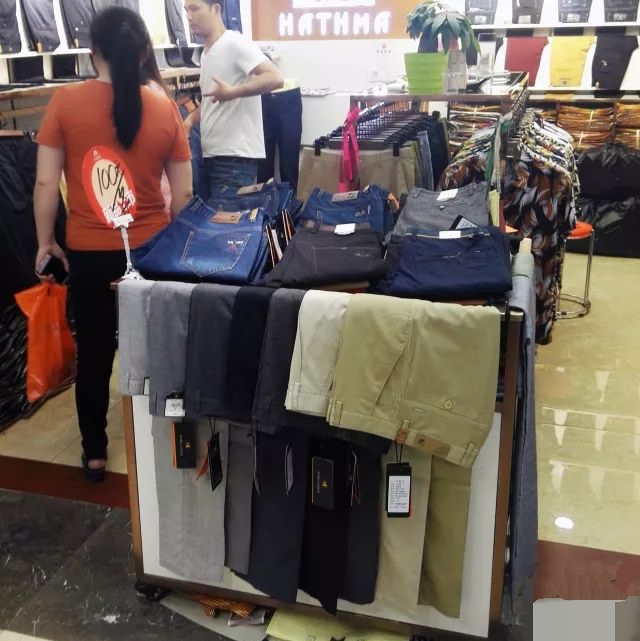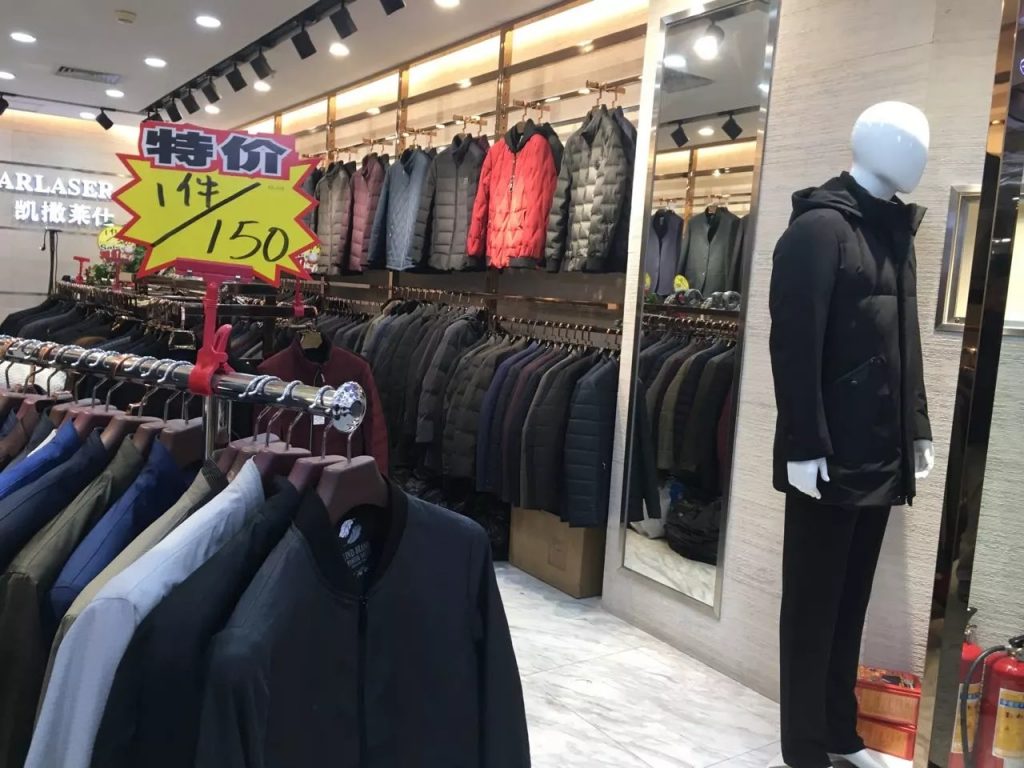 .
If you buy clothes here for retail sale, you may think that the price is not cheap, but the quality is really good.
For example, if you buy one clothes of ¥50RMB, you have to buy it of ¥80 up or more than ¥100 in a retail store.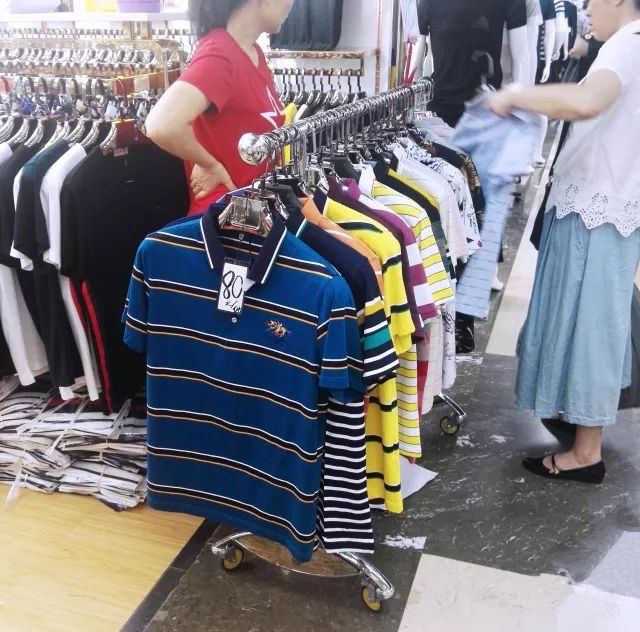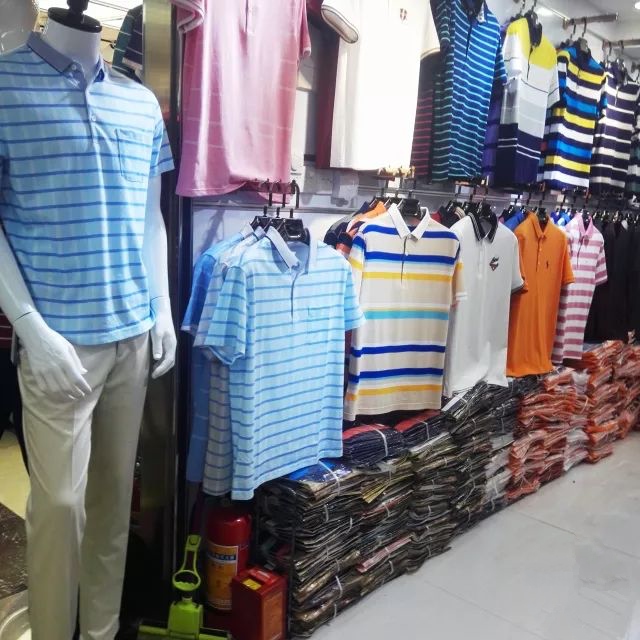 .
Tips for purchasing men's wear here:
1. The clothes in this floor are suitable for men over the age of 30+.
2. Some of the clothes on sale do not mean that their quality is not good, but that the clothes in some stores need to be replaced. Then the old ones will be sold out quickly.
3. Some clothes are on sale because of less of size or seasonal change, but the quality is very good.
.
3F/4F/5F
Fashion brand of women's wear area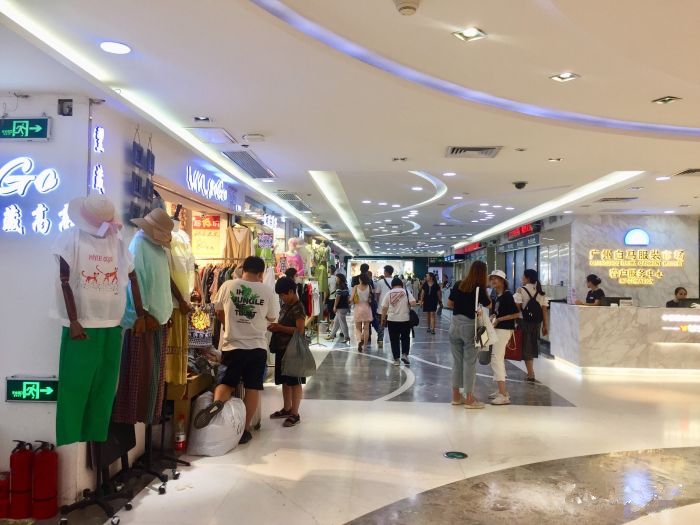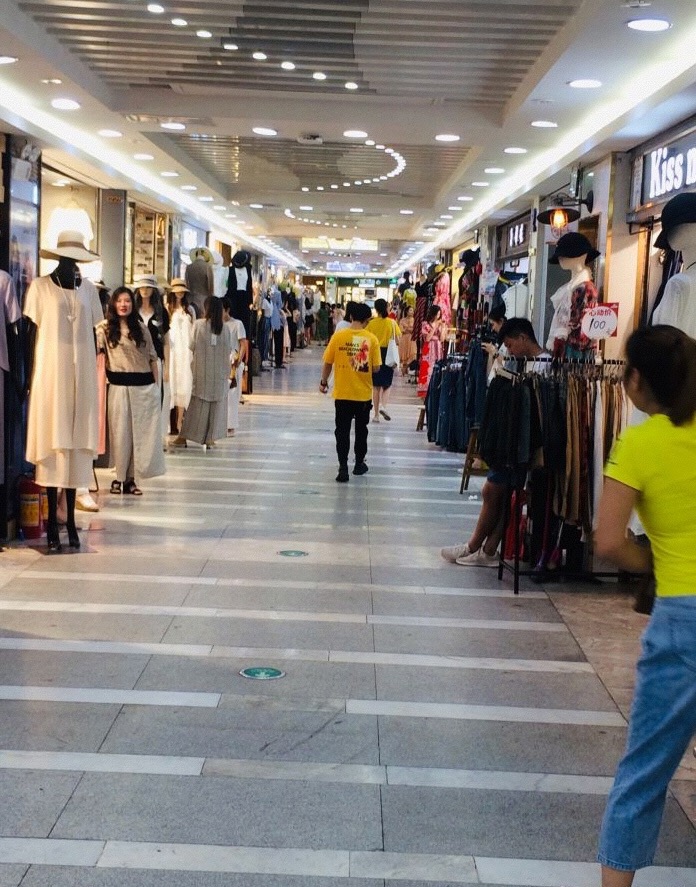 From the third floor to the fifth floor, the style of women's clothing will tend to mature women and the office ladies.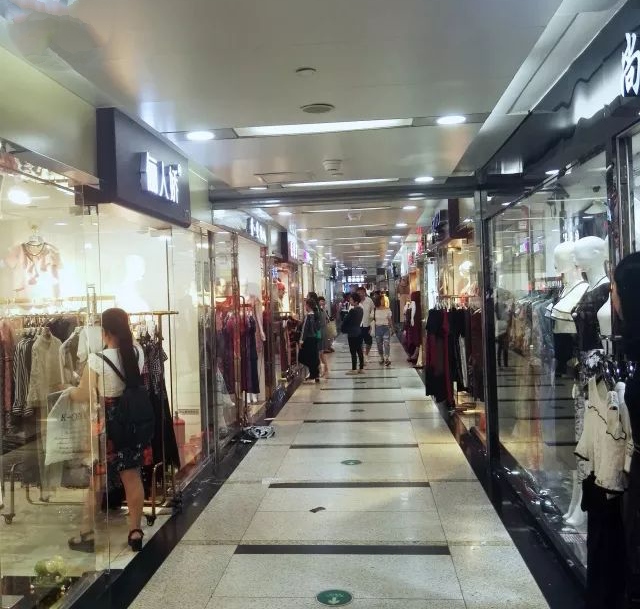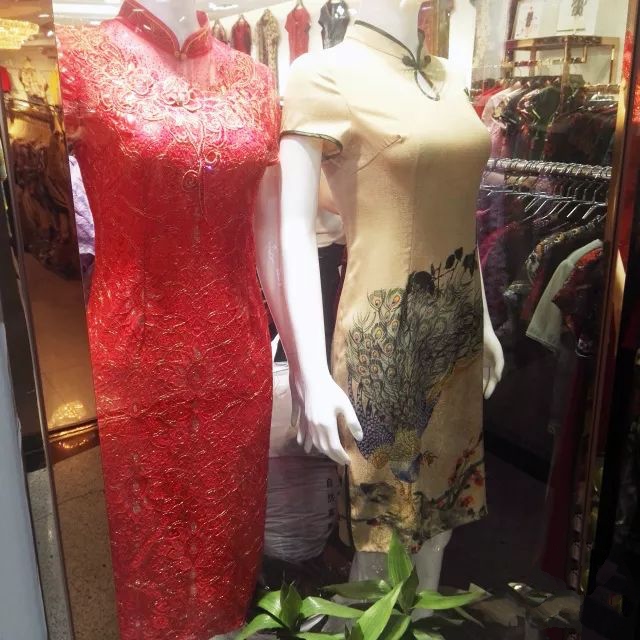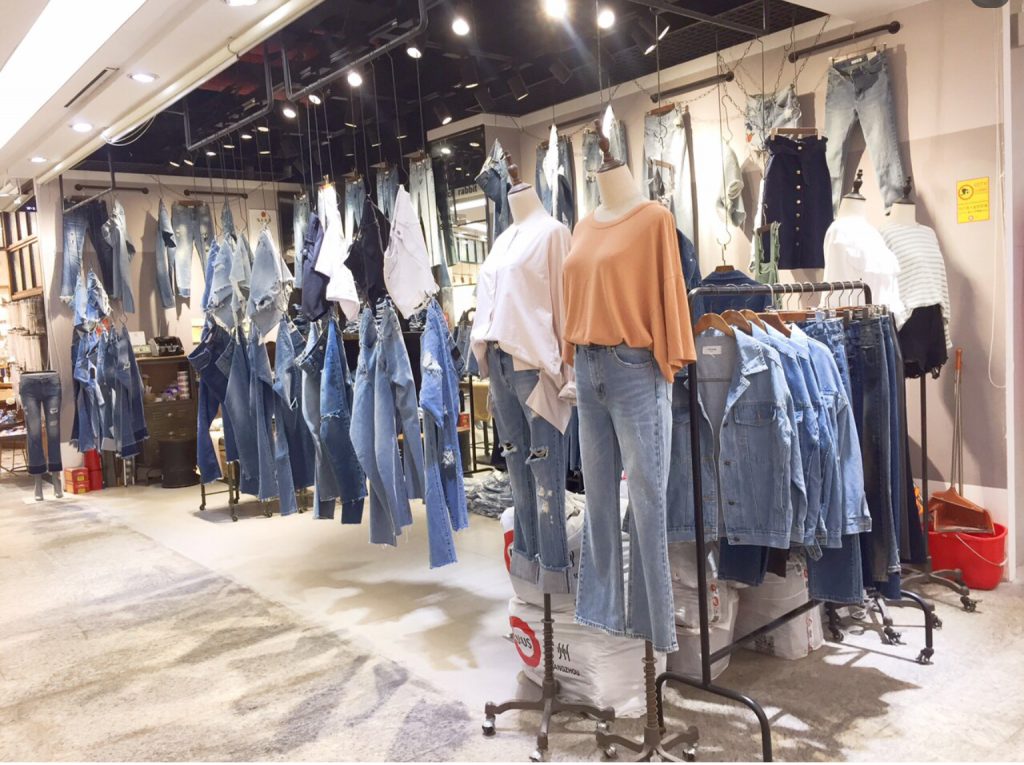 The higher the floors, the less people flow.
Maybe because of most of shops are brand reasons, and the price will be higher.
It's not surprising that the price of some clothes goes to 200 +.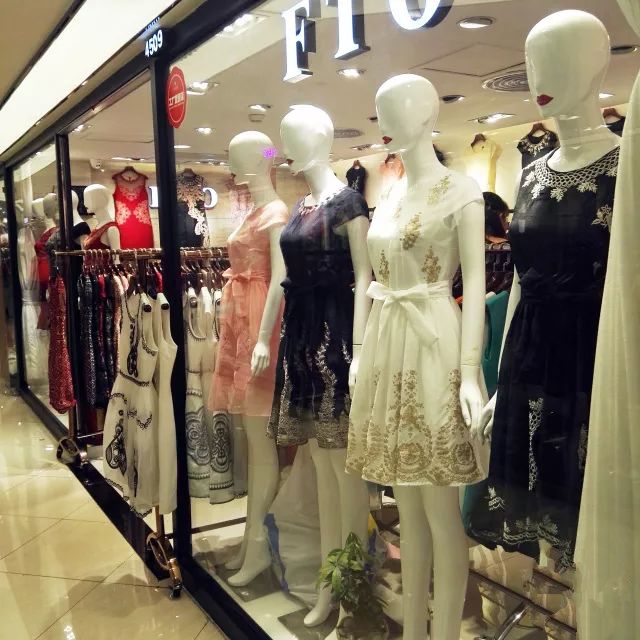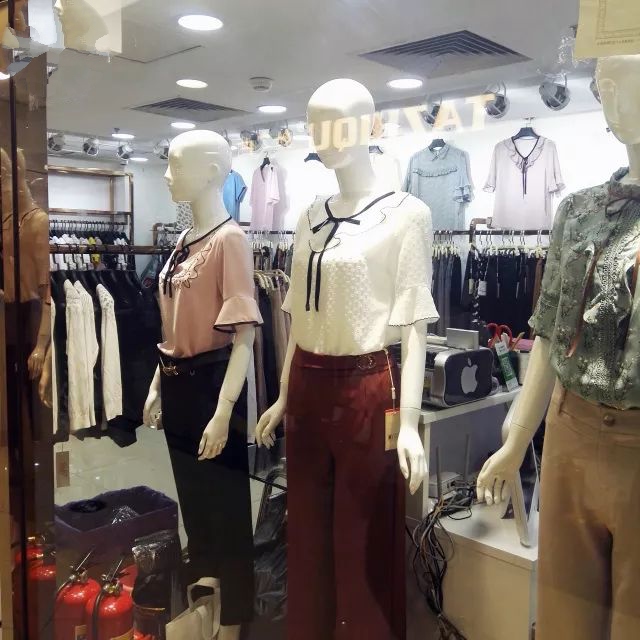 .
3F/4F/5F tips:
Suitable for women who need mature clothes;
People who with a certain income;
For Office Ladies
.
6F/7F
Brand-Business Men's Wear
Most of the clothing on this floor is brand and business men's clothing.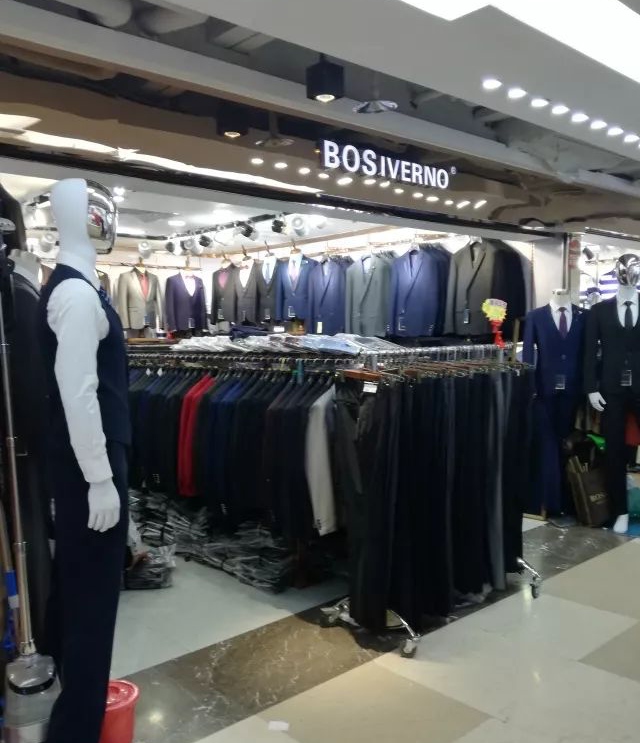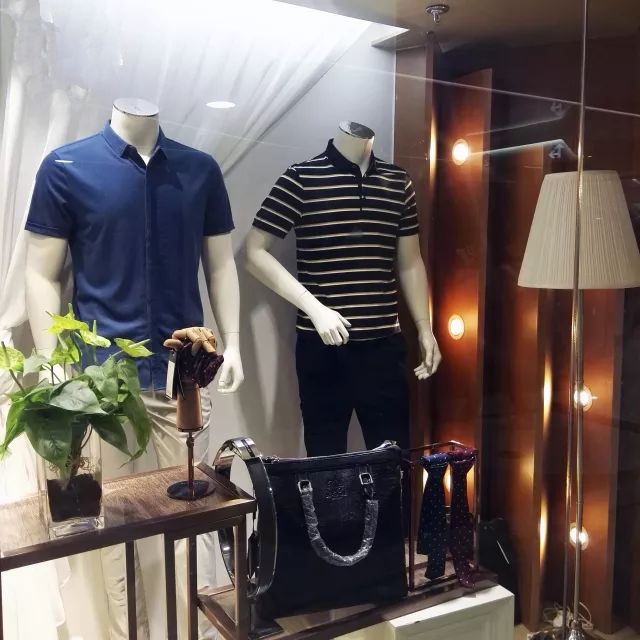 Every shop is decorated with high-grade atmosphere. There are not many people here.
Most of them are retailers who buy high-end goods.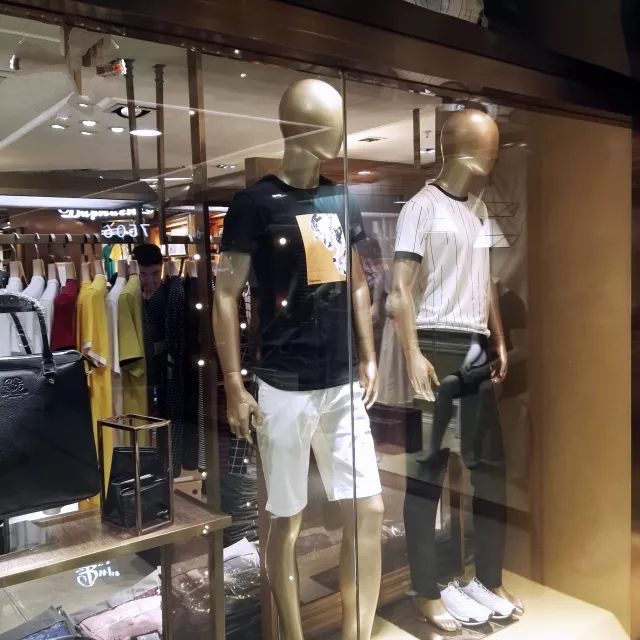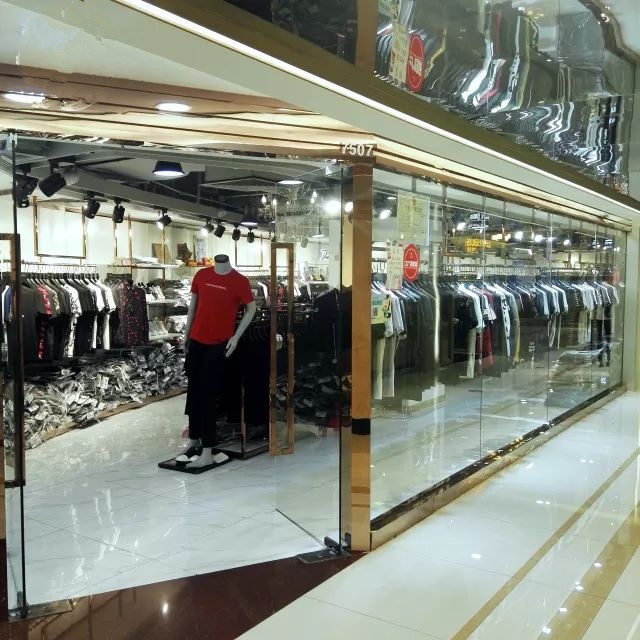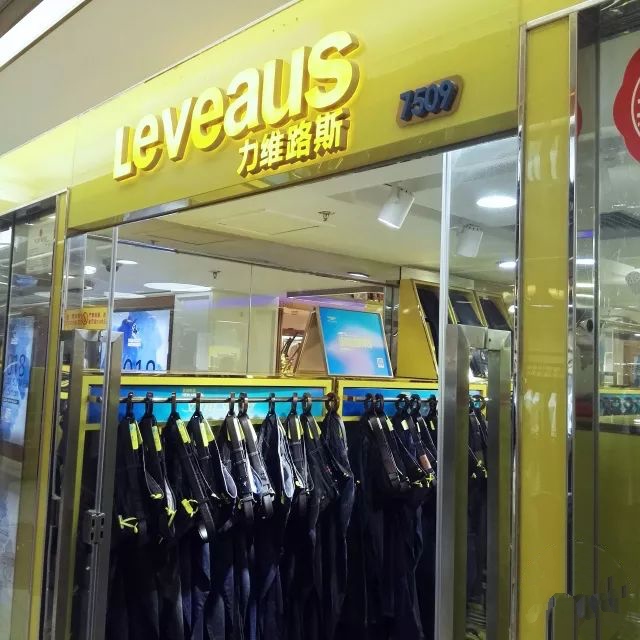 .
8F
Euro-Korean Brand Women's Wear
Girls who like Euro-Korean styles can go straight to the 8th floor ~
Compared with the lower floors, there are few stores on this floor.
But the clothes in each store are very beautiful and the quality is very good.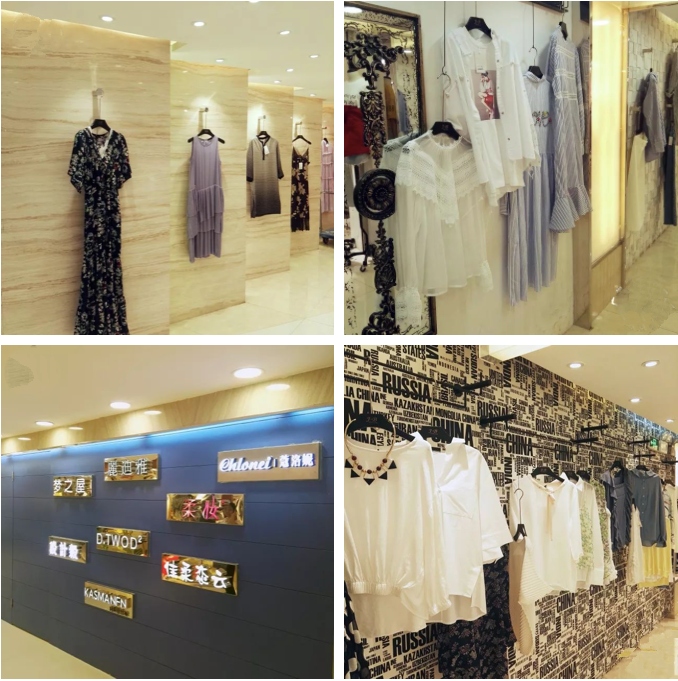 You can find there is full of different types of clothes hanging on the corridor.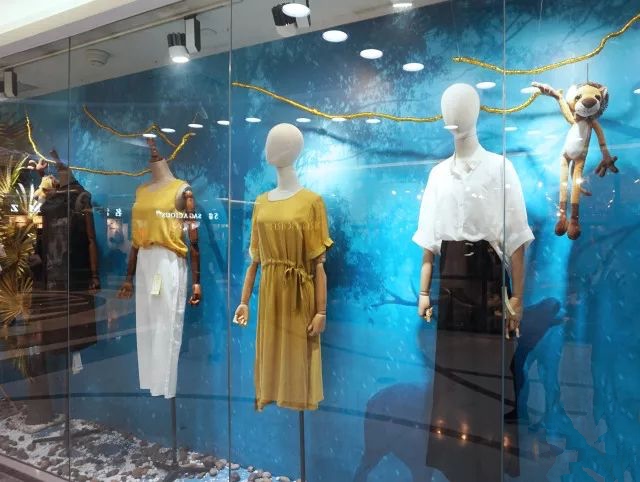 The clothes you bought outside in some high-end retail stores probably came from here.
.
The Basement 1/2/3 Floor
Selling middle-aged & old-aged clothes, some shoes and others.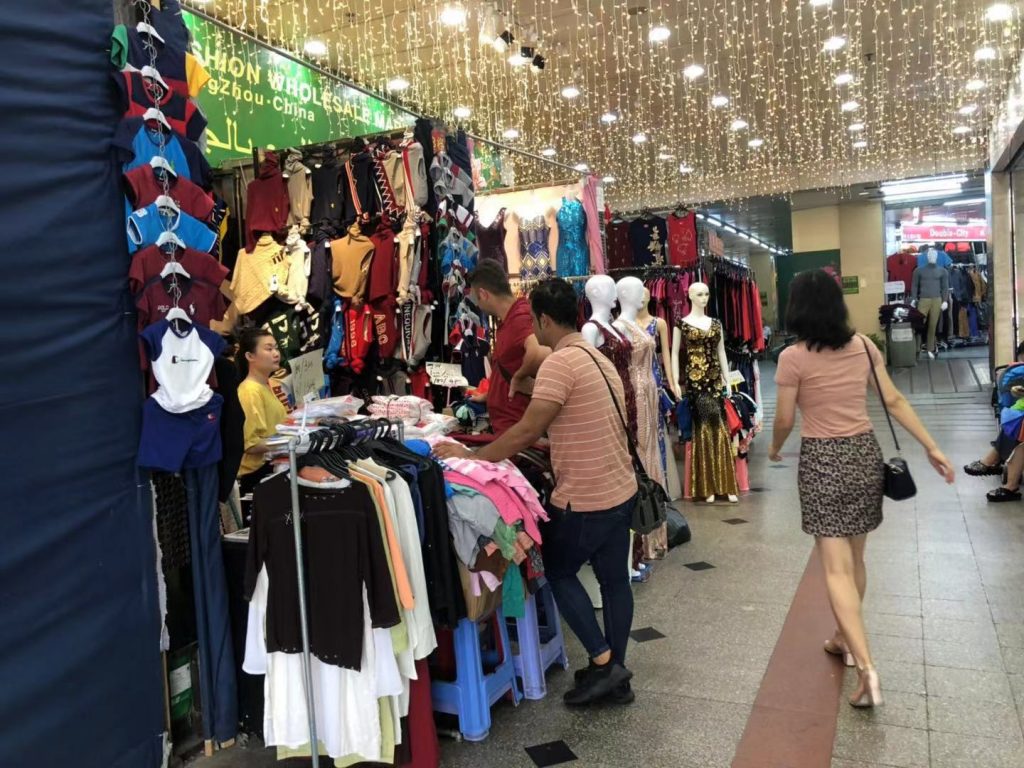 By the way, it is worth mentioning that the basement F1/2/3 floor is mainly for middle-aged and old people's clothes.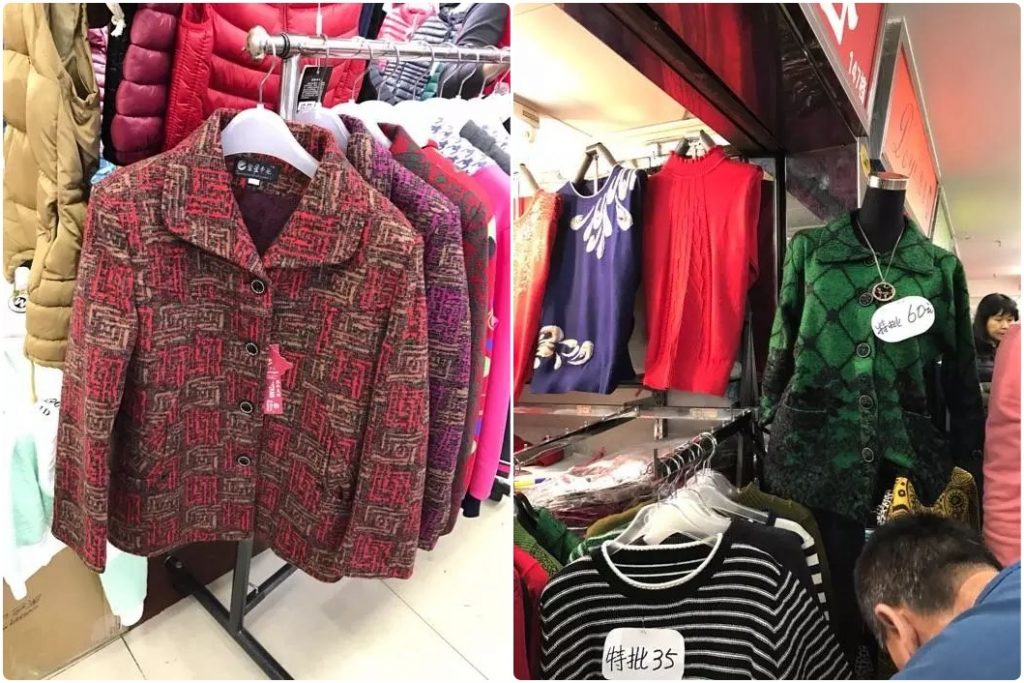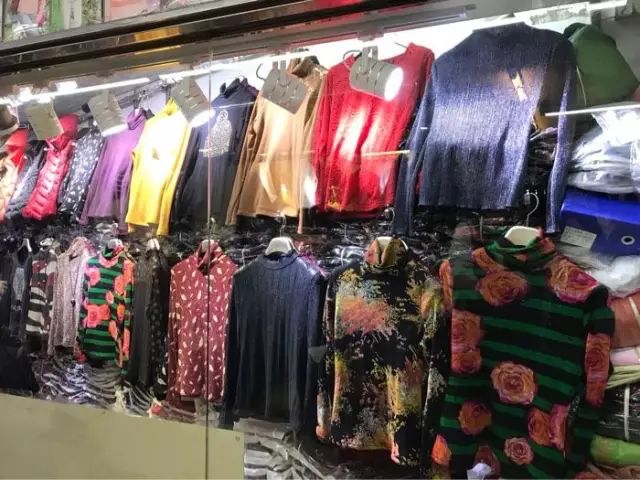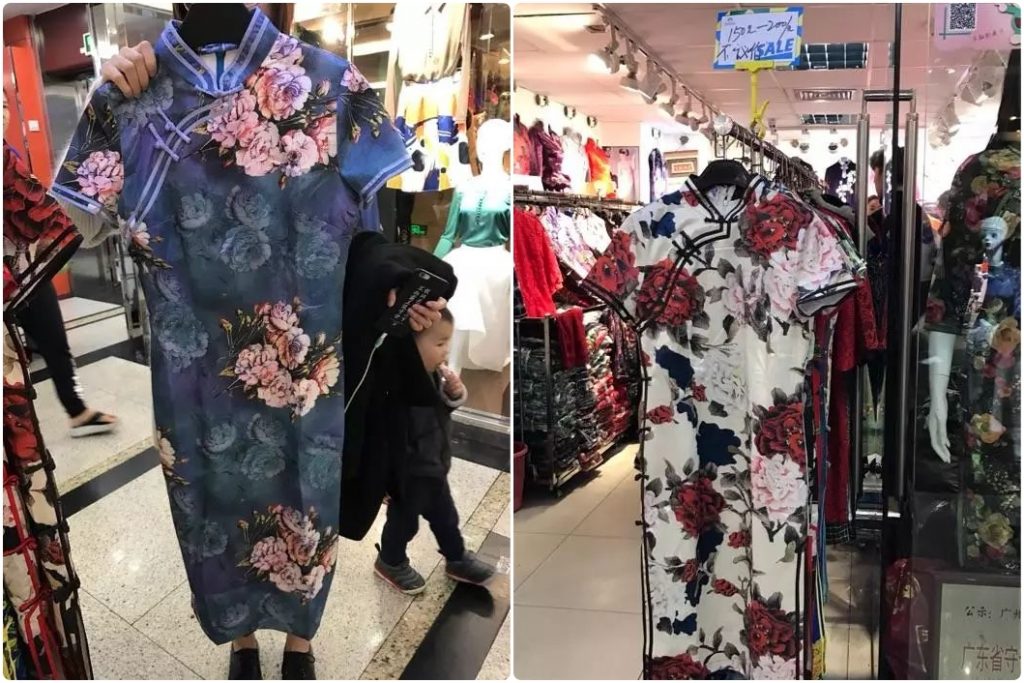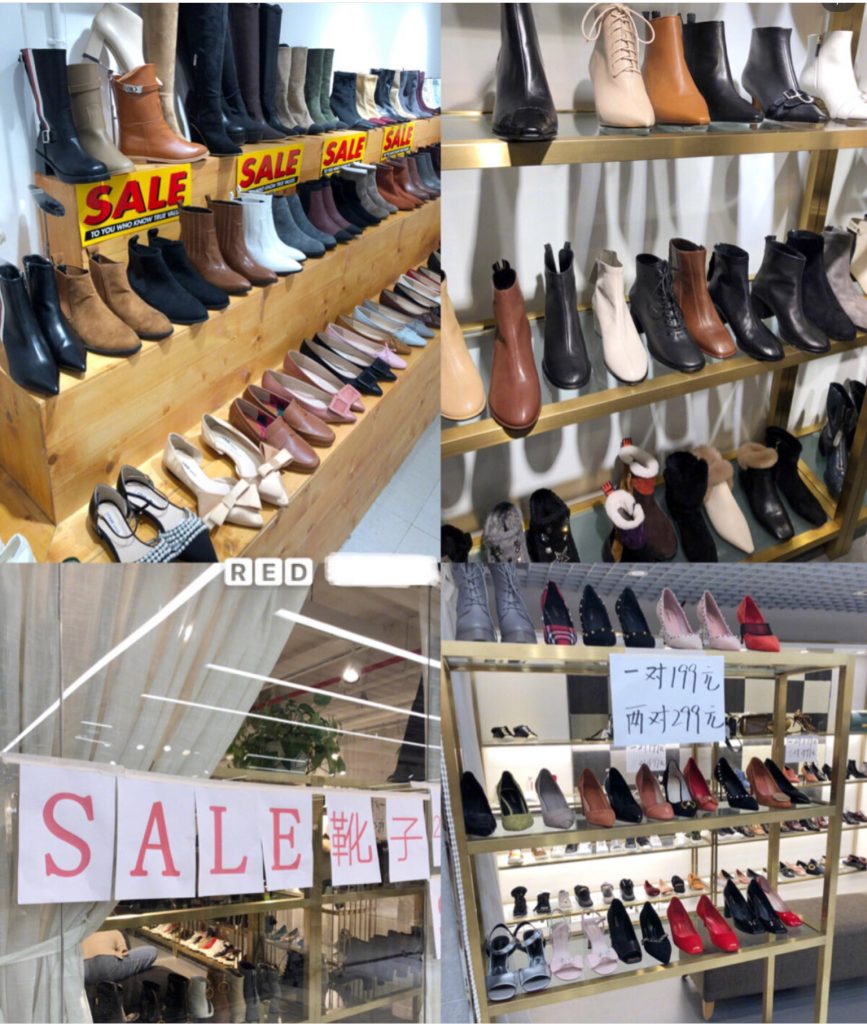 This is not mentioned in other clothing wholesale markets. If you are interested, go and buy some clothes for your parents.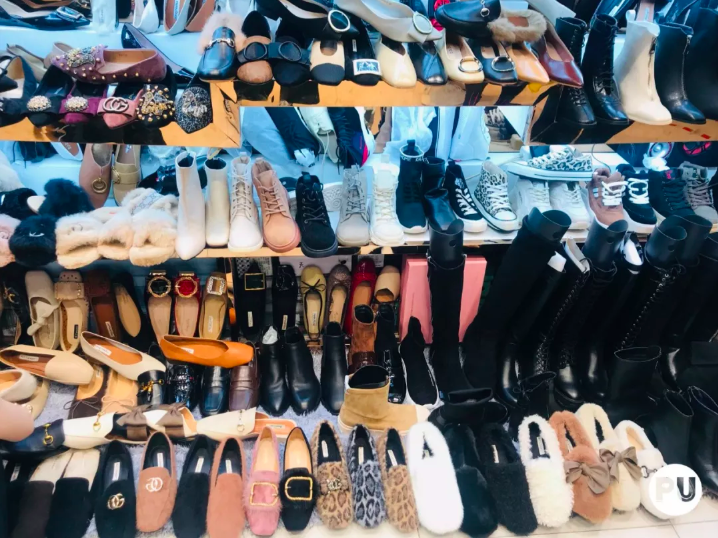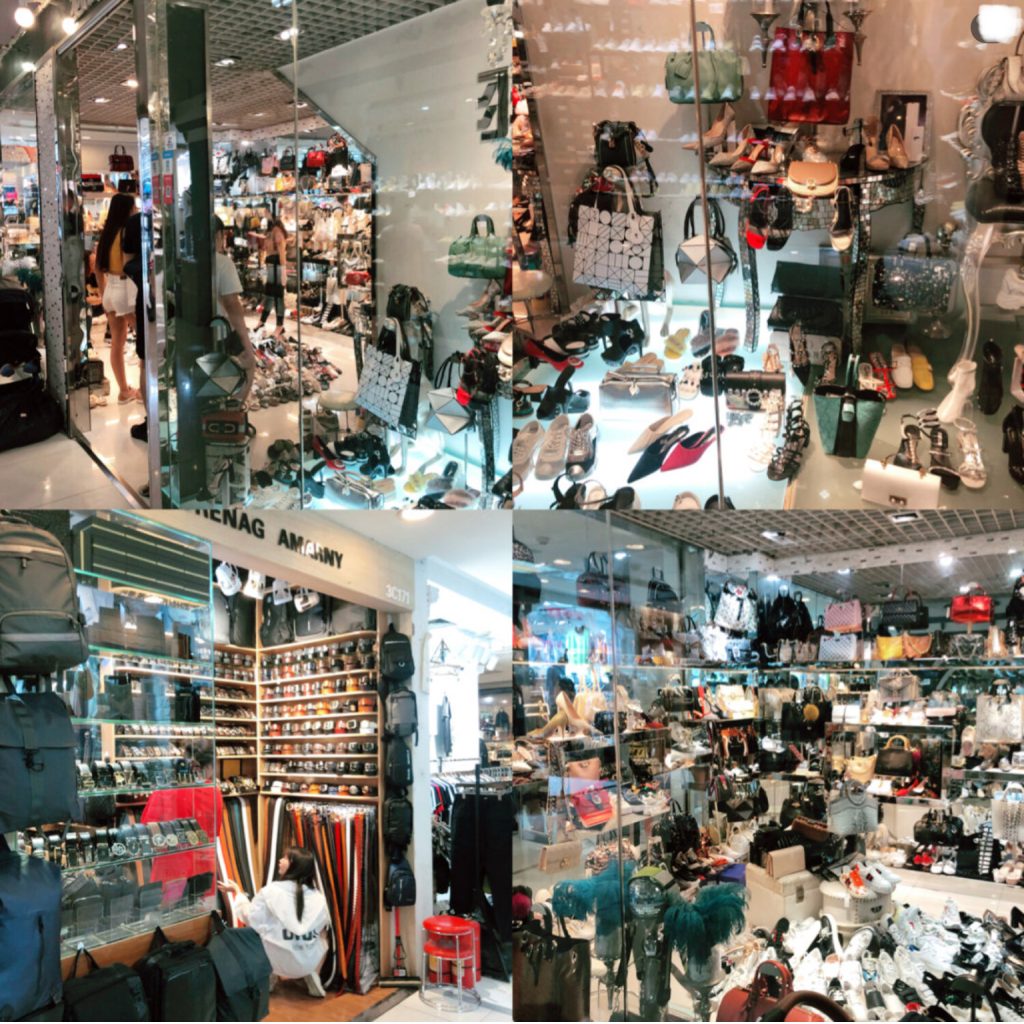 .
.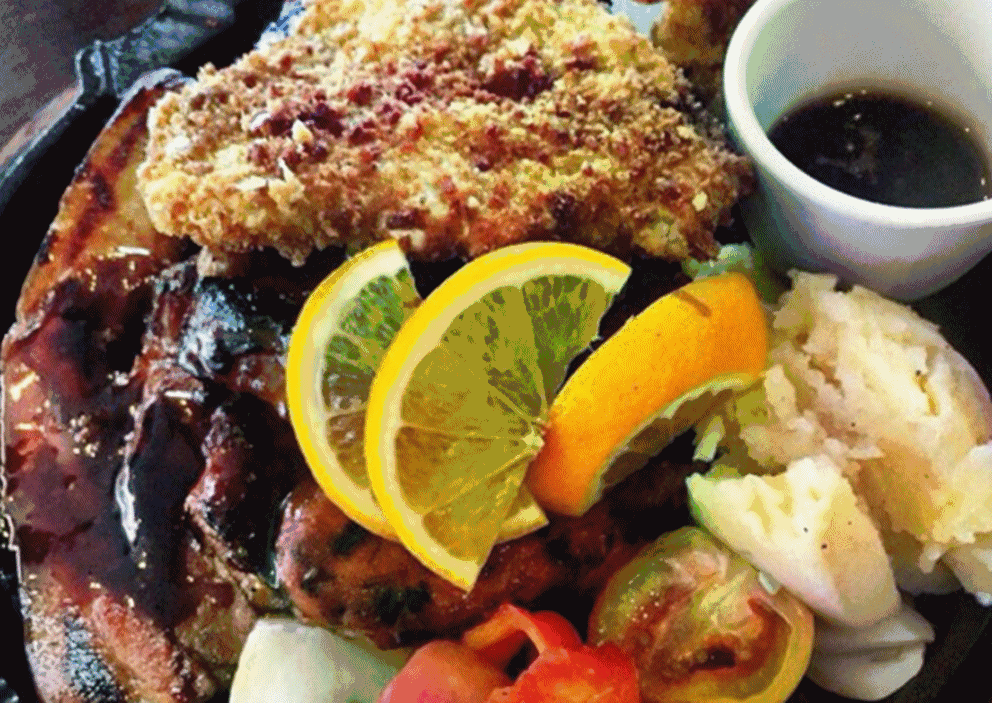 Special Recommendation
Some of Guangzhou delicious Food
There are also many delicacies on the 1st floor of Baima, such as Zhenkungfu, spicy hot pot, pickle fish, Chongqing noodles, roast fish, Dessert Shop, drink shop, etc.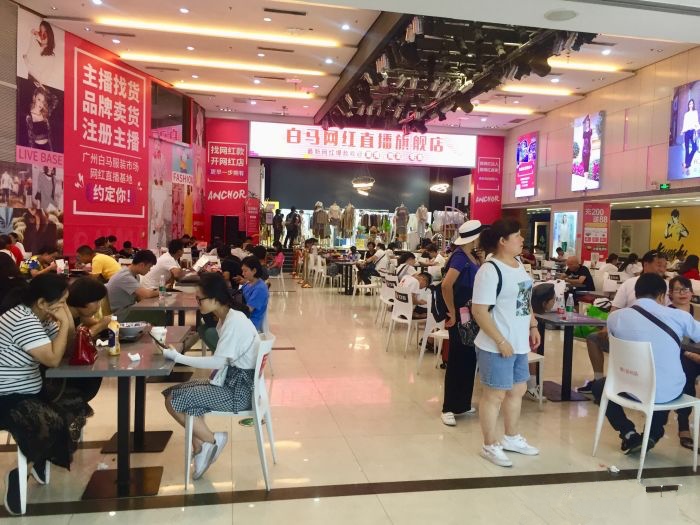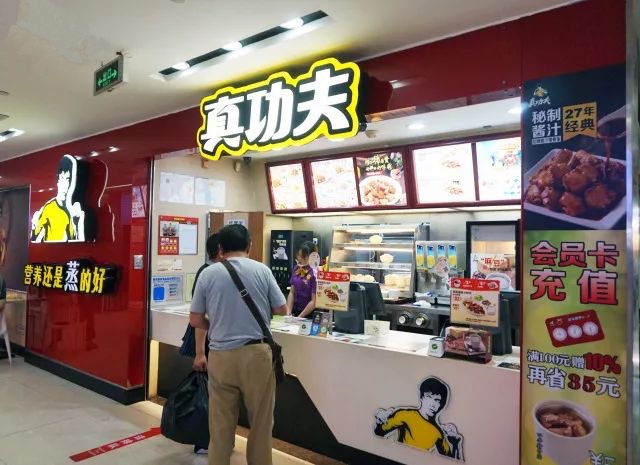 You can eat rice, soup, or a set of meat & rice, traditional food.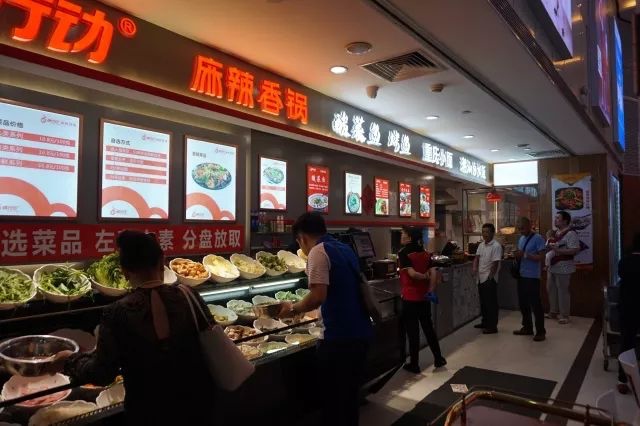 Spicy hot pot, noodles, Roast fish,and so on.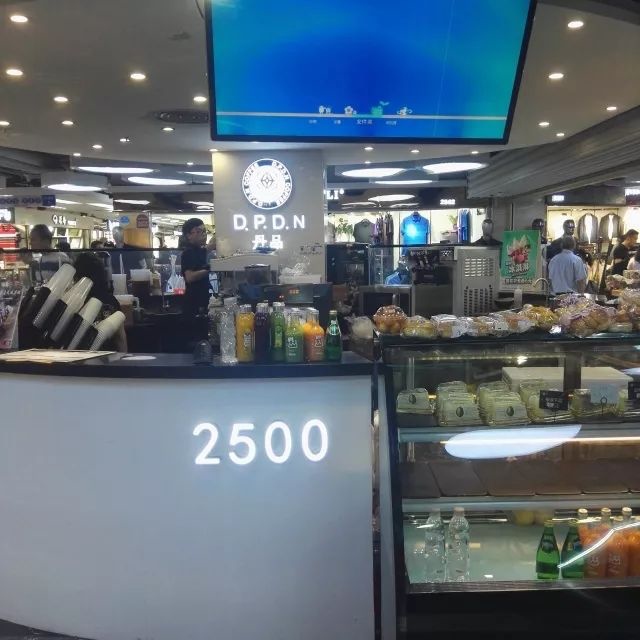 There are also coffee or different kind of drinks, and meal tea..
I'm not afraid to be hungry anymore ~
.
.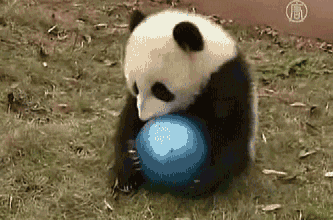 Our last – the 5th station
Yima/TianMa Clothing wholesale market & Guangzhou World Trade Clothing City Store(广州一马服装城 / 天马服装城,广州世贸服装城)
Yima Garment Wholesale City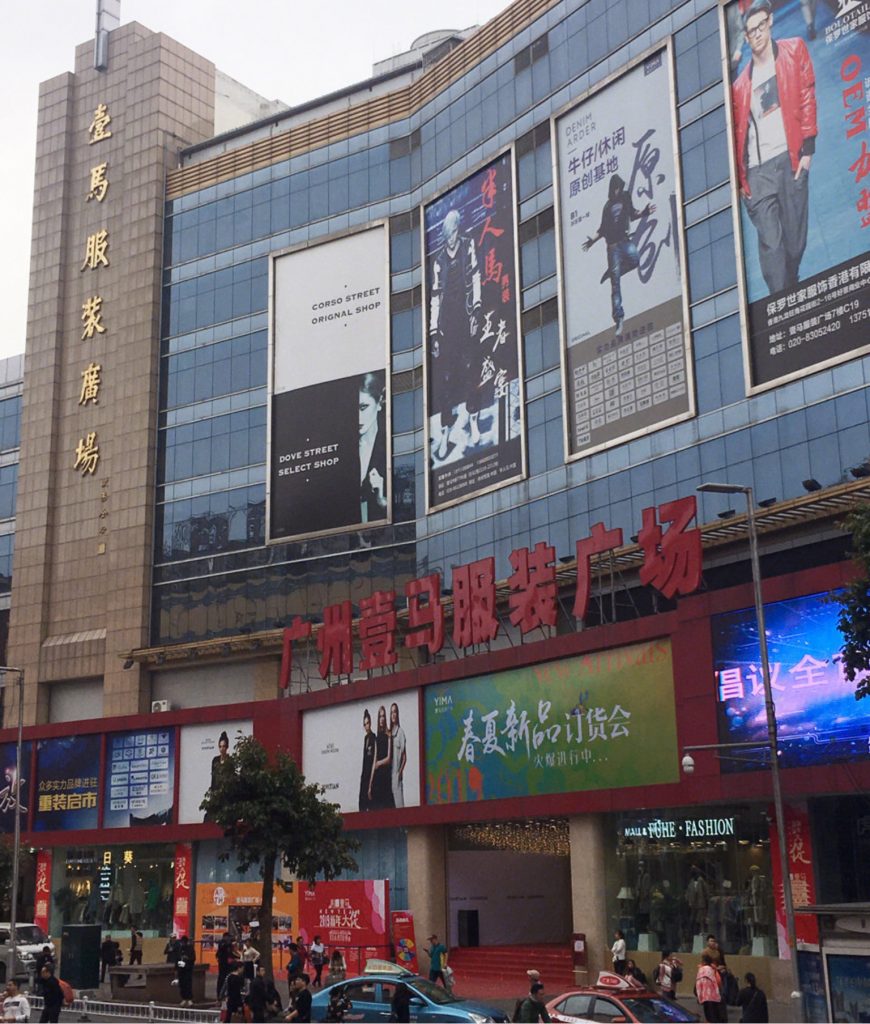 Guangzhou Railway Station is really a place where clothing wholesale market gathers.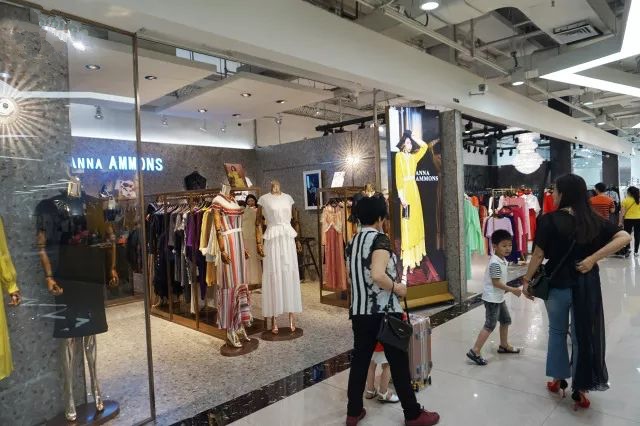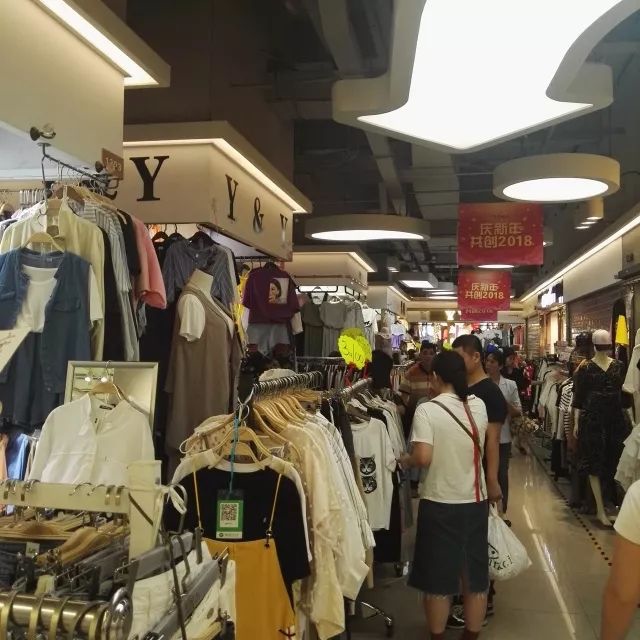 Because it's nearby the Baima market, many people come here while finish Baima market shopping.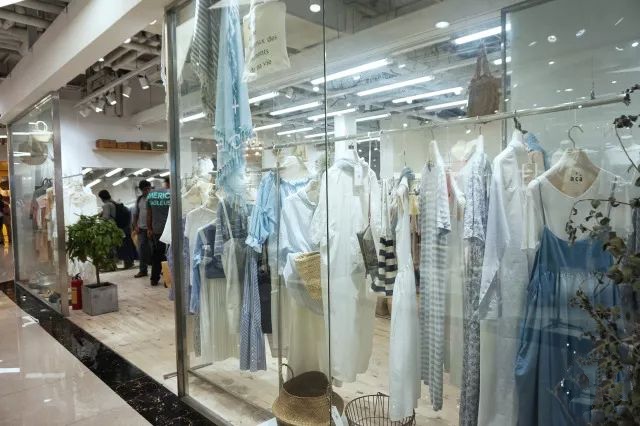 And the building is similar with Baima Building inside, more stores are doing women's fashion, but the garment's price sometimes is lower than Baima market.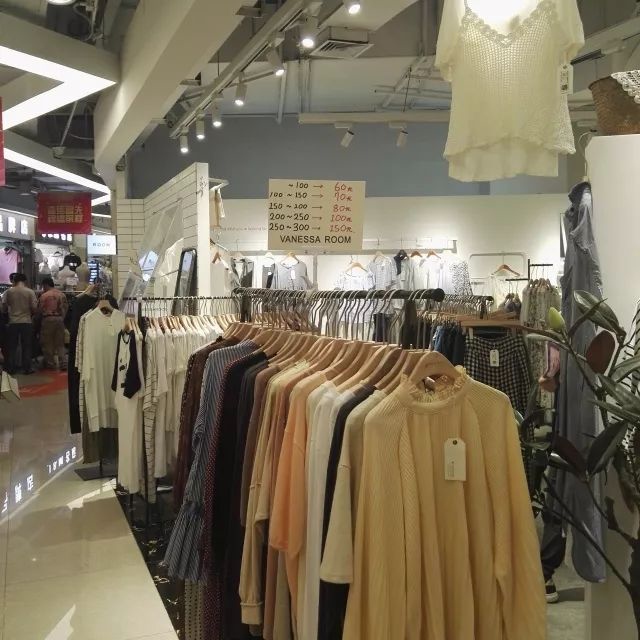 Garment styles usually for age of 20-35 of ladies.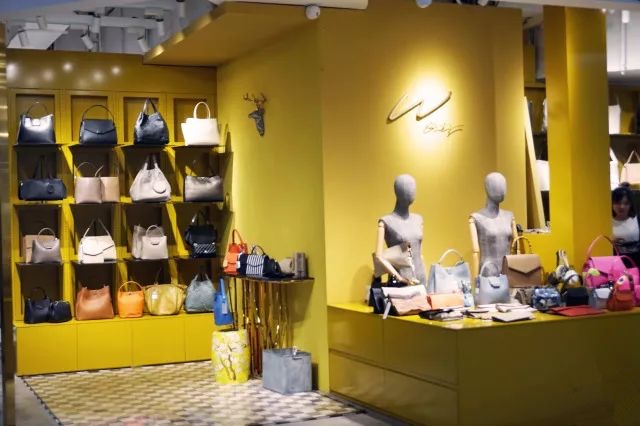 There are also some bags shops, pay attention while walk around there can find many products suitable for you.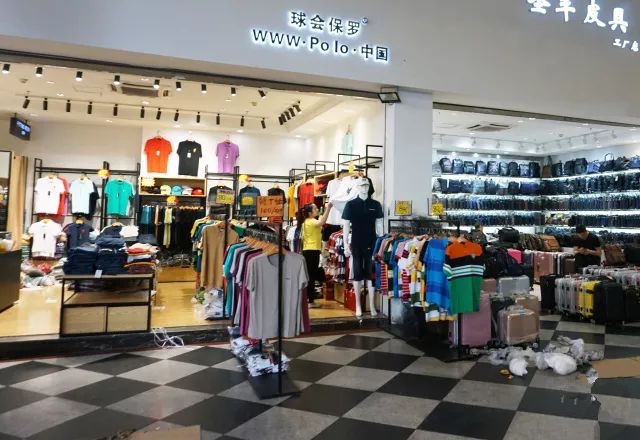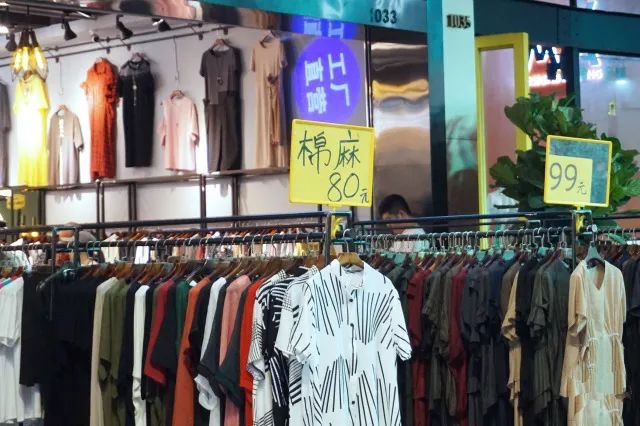 Most of stores are doing wholesale, but same as others wholesale market, some stores have their special styles are on sale, you can get it with a very good price.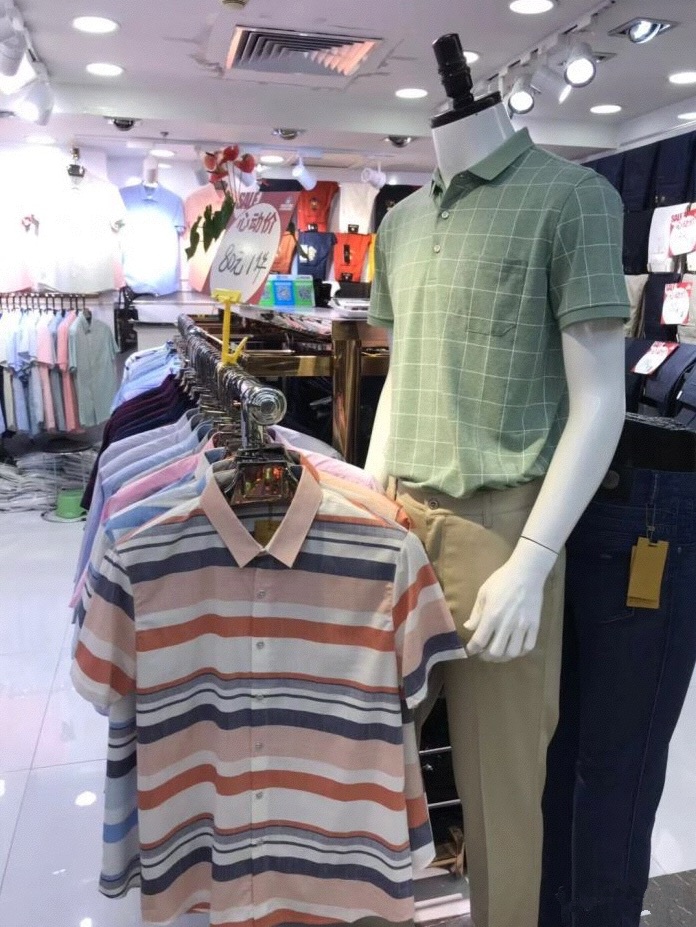 The quality of garments in Baima market or in Yima garment market is mid-high grade than others market. Although sometimes the retail price is a little high,but the quality it worth.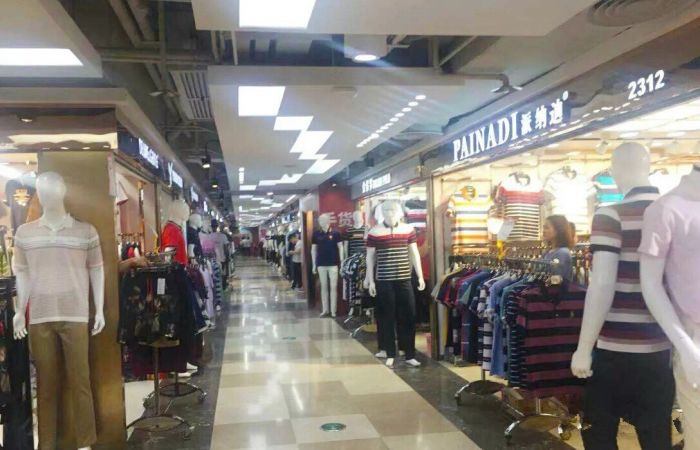 One the right side of street there is another street call "Tianma Ladies' Street ", it's said that the heaven for ladies haha..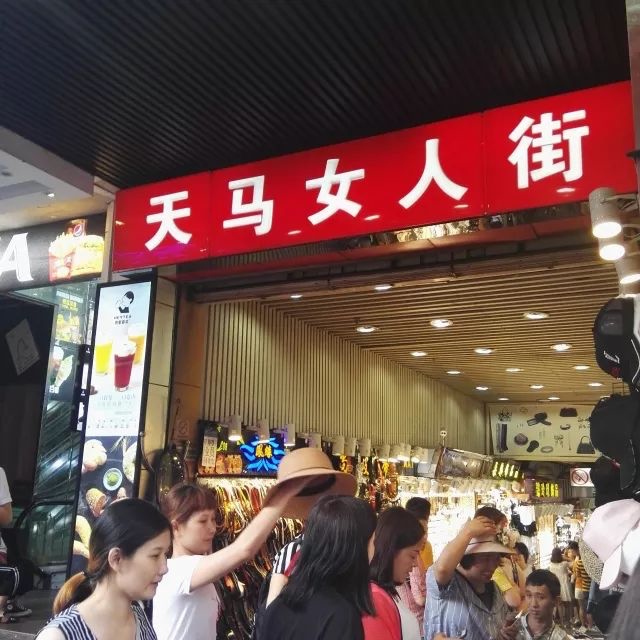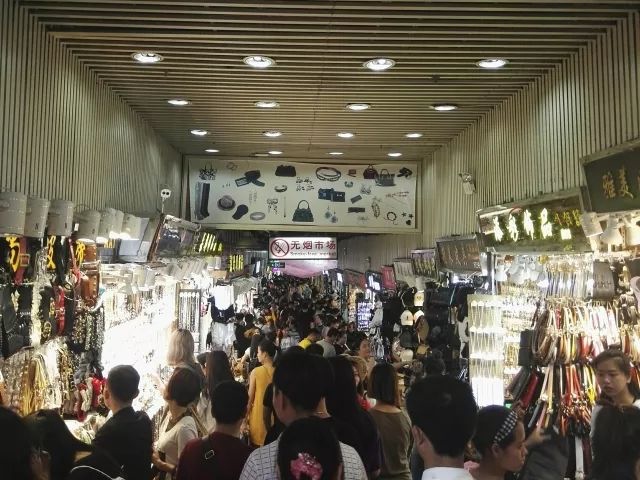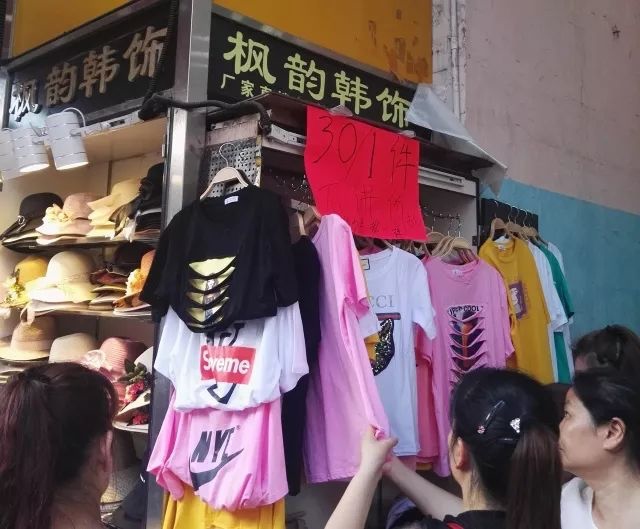 Ladies T-shirts in some stores are super cheap.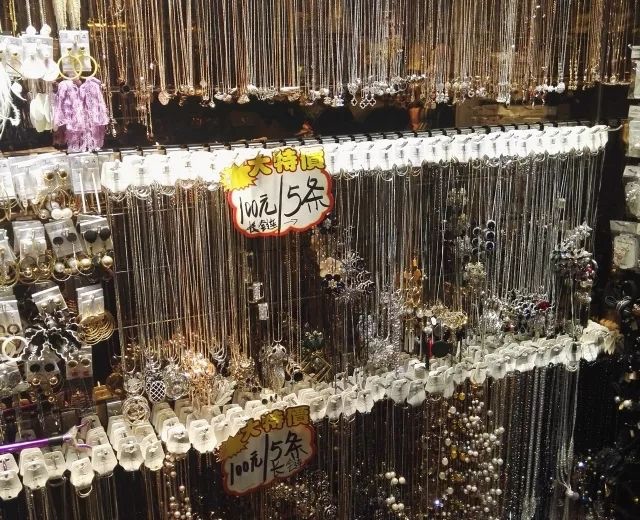 Fashion accessories and shoes, etc..
.
On the opposite of the Baima Garment City is the YiMa Garment wholesale market and the World Trade Organization Garment City.
Now that we are near here, why don't we explore this market together?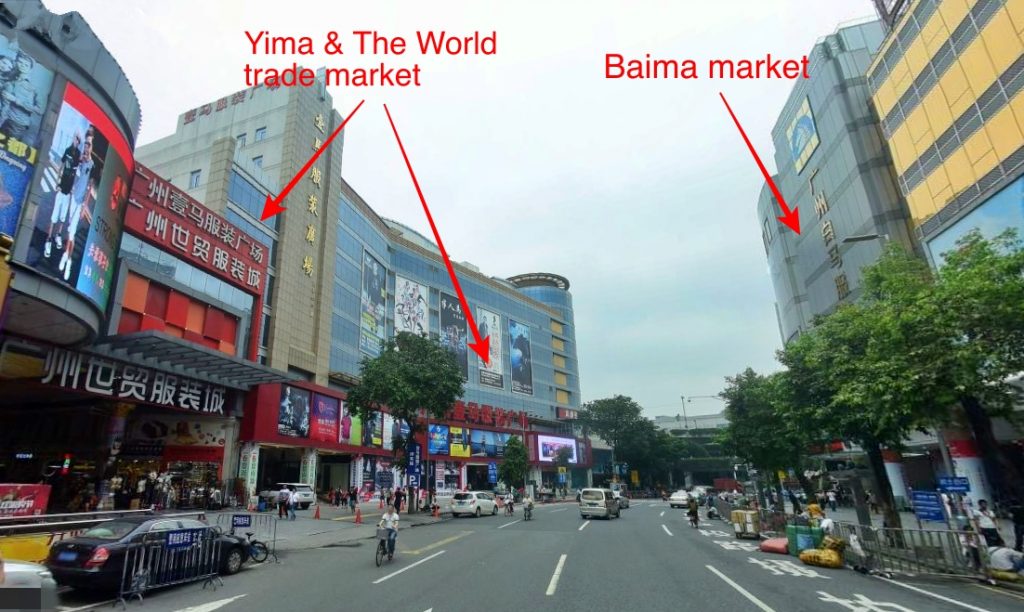 This is commonly known as "Guangzhou Railway Station Clothing Street"!
There are several super-large clothing wholesale markets in this long street. They are distributed as follows:
Baima Garment Market (广州白马服装市场)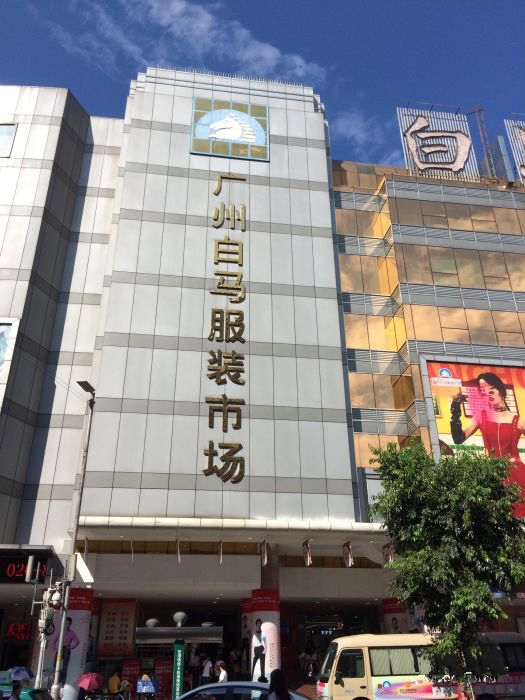 .
Yima Garment Wholesale Market (广州一马服装市场)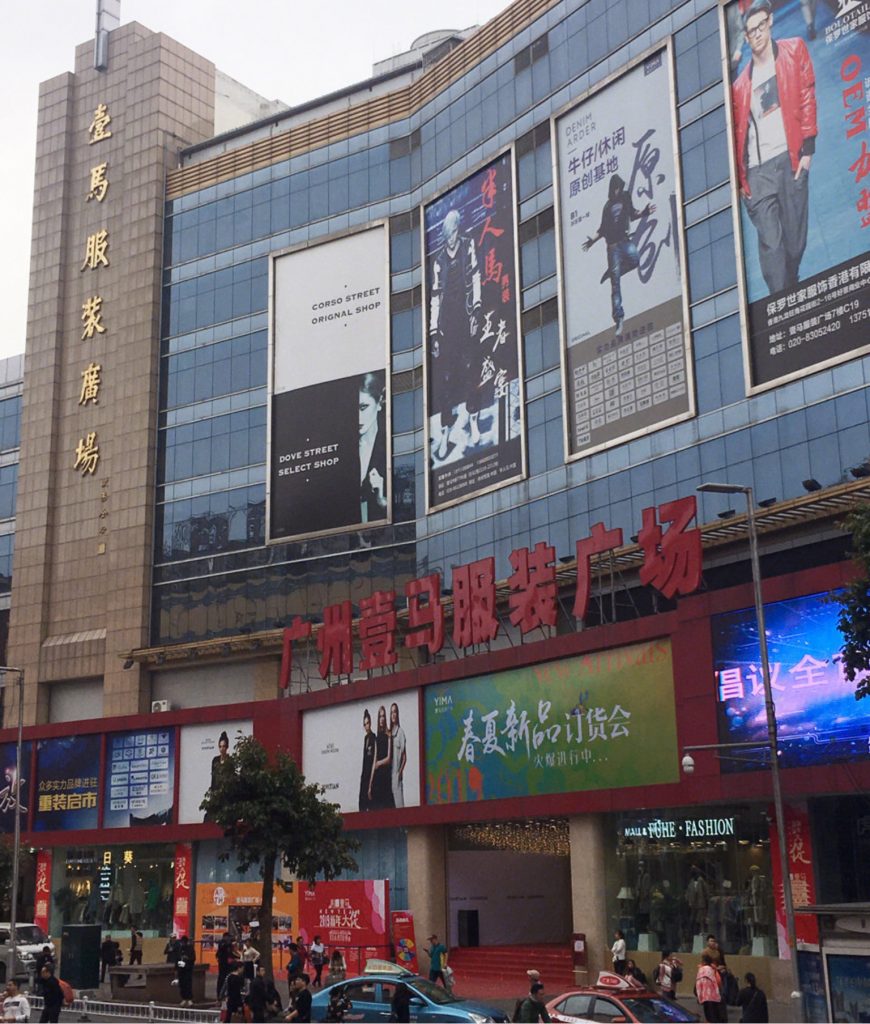 .
Guangzhou Tianma Ladies' Street (广州天马女人街)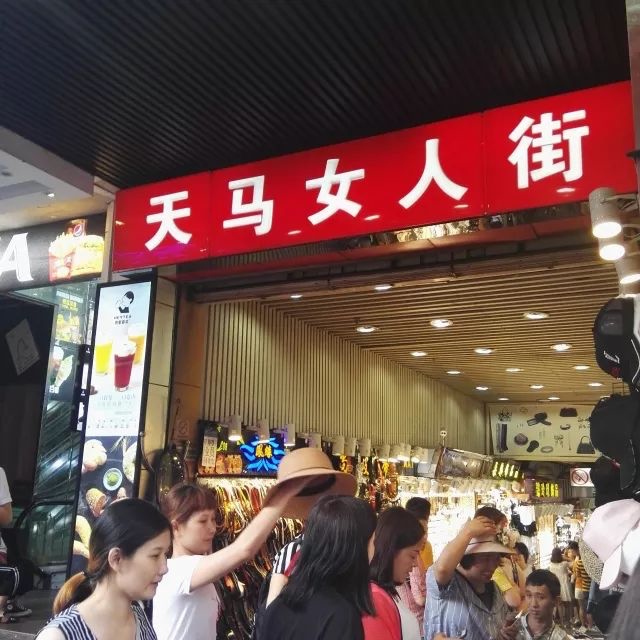 .
Guangzhou World Trade Clothing City Store (广州世贸服装城)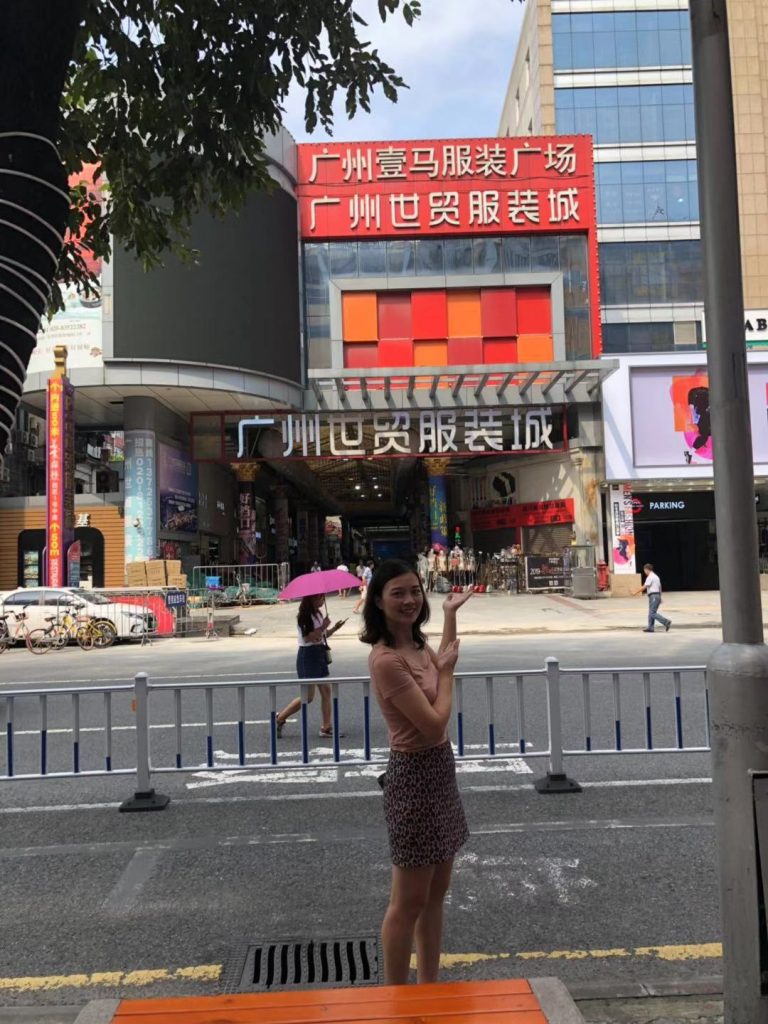 .
Guangzhou KINHO garment wholesale market(广州金鸿服装批发市场)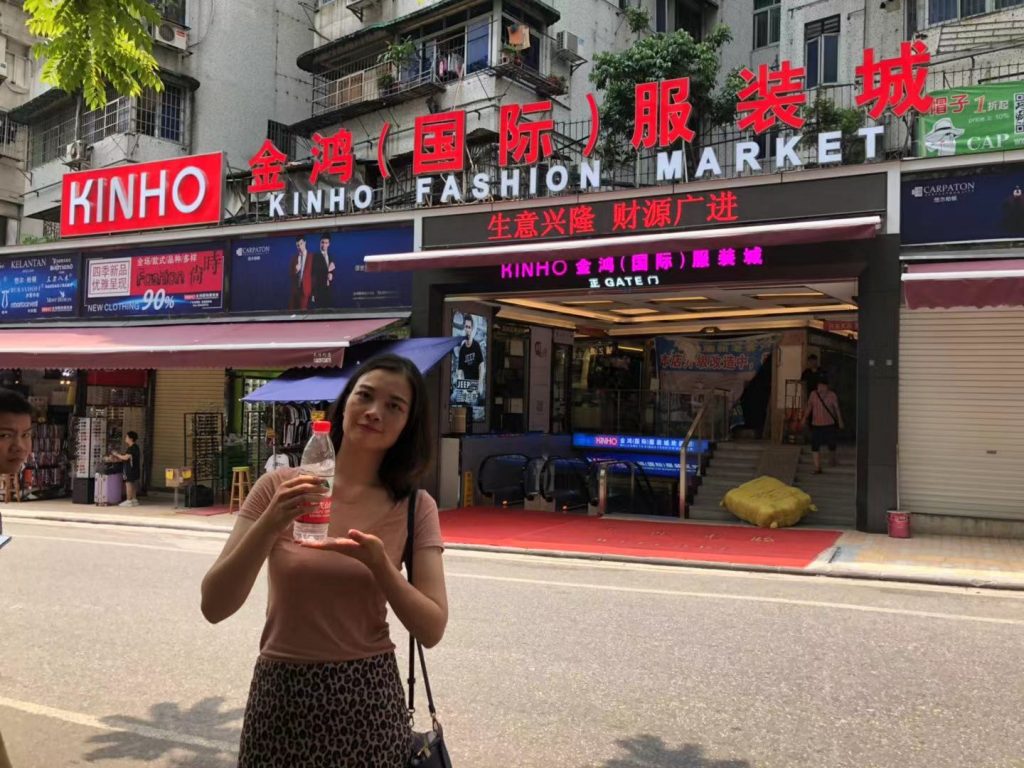 .
Guangzhou KINSUN garment wholesale market(广州金顺服装批发市场)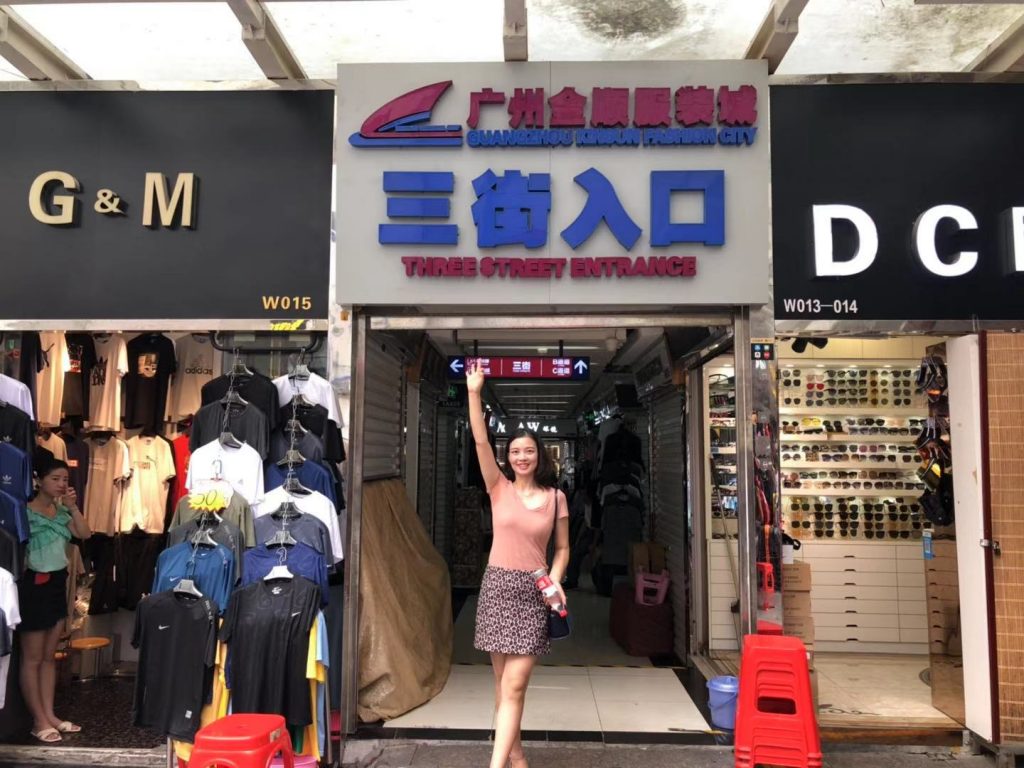 .
Guangzhou Jin Mu garment wholesale market(广州金睦服装批发市场)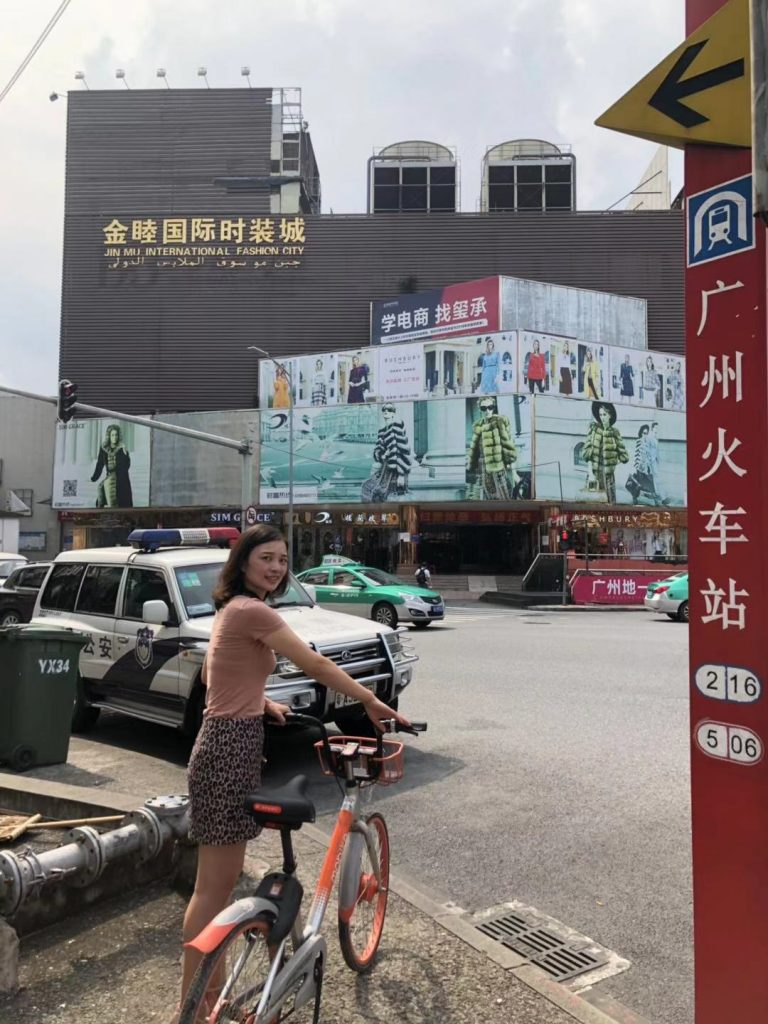 .
Guangzhou Jin xiang garment wholesale market(广州金象服装批发市场)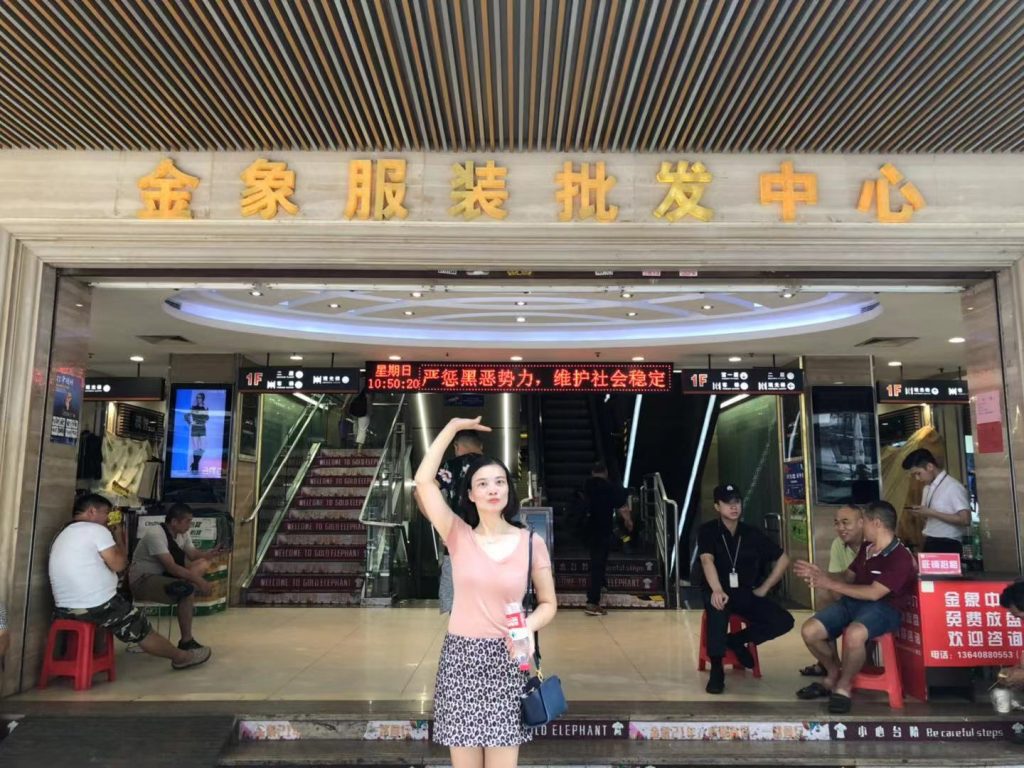 .
Guangzhou Liu Hua garment wholesale market(广州流花服装批发市场)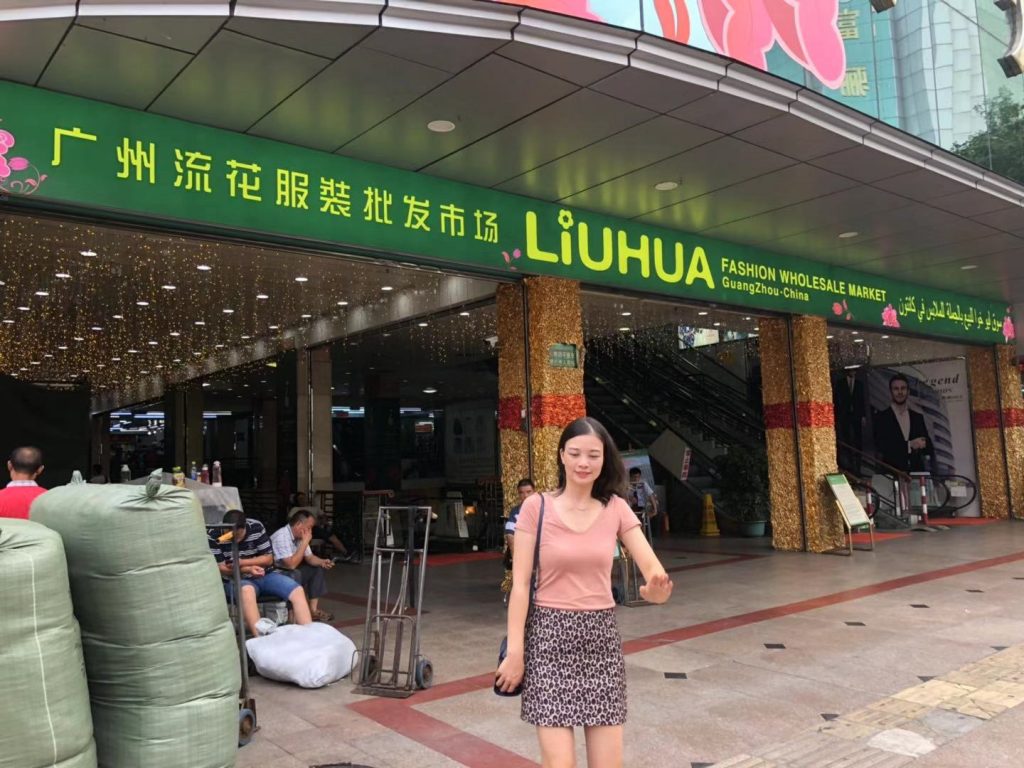 .
Guangzhou Zhanxi fashion wholesale market(广州站西服装批发市场)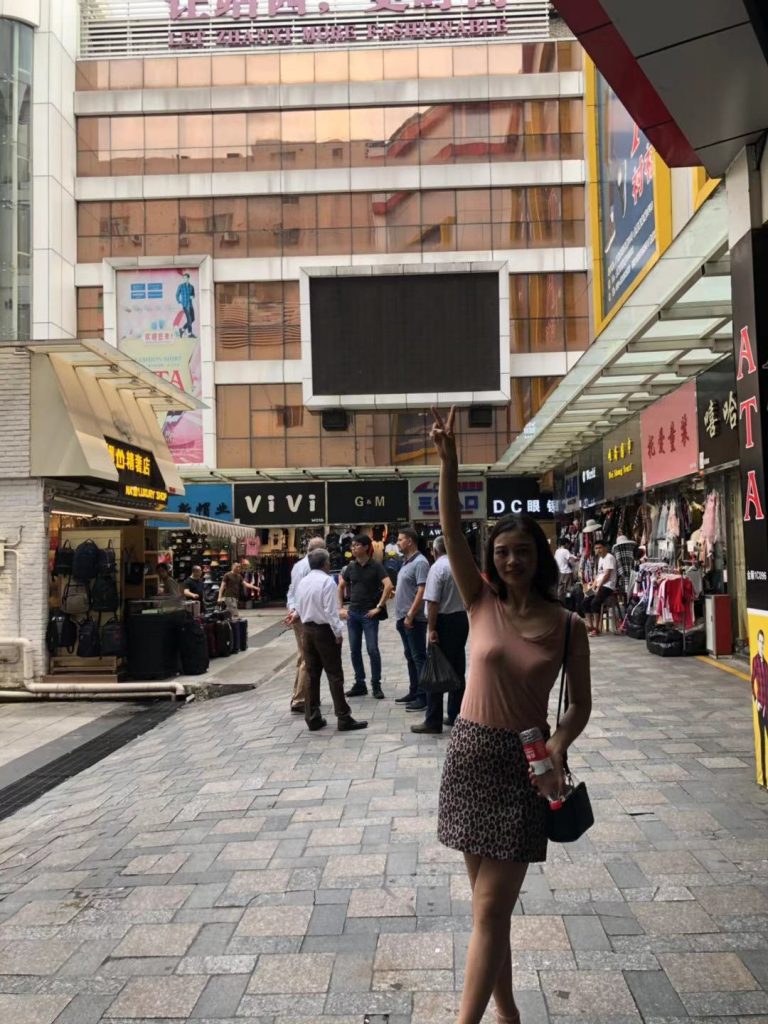 .
Guangzhou kai rong du garment wholesale market (广州凯荣都服装批发市场)
Guangzhou Changjiang international garment wholesale market(广州长江服装批发市场)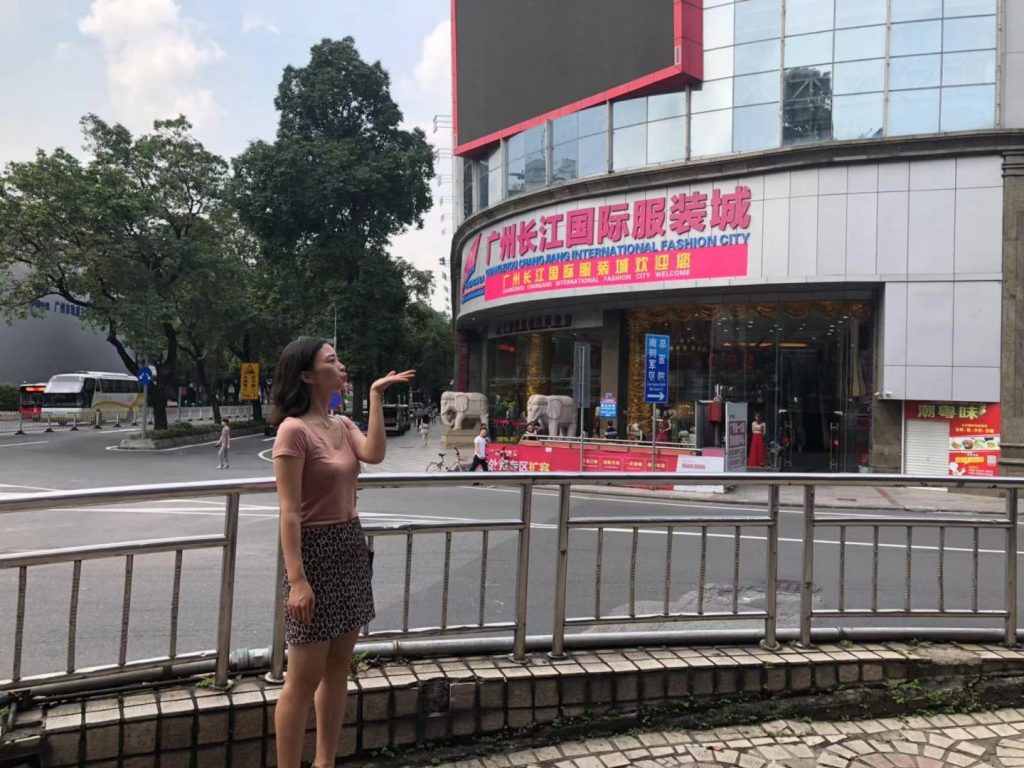 .
These clothing wholesale markets mentioned above are similar to the Baima garment market, where different styles of clothes are sold on each floor.
If you have enough time, you can visit these clothing buildings one by one, and you can only walk through one building every day.
In the Yima clothing market, the price here is cheaper than the Baima market, the quality is lower than Baima market, but at the same time the price also lower.
In a word, you can always get good quality and low price of things here if you go shopping slowly with your heart.
.
If you are interested in high-grade brand garment, please click the link below to learn more:
.
If you are interested in the fabric/textile market, the below article we sure you'll like it:
.
We make sourcing easily!
Take advantage of our services make your business stronger in China!
We provide all at cost ($99 up) service including:
China Company Verification
pre-travel service(invitation letter for visa , hotel list, visit scheduling)
samples and fabric sourcing
pattern and sample making
market and factory visit
inspection and shipping arranging
Your comments and inquiry will be highly appreciated.
More details about us, pls check on our website below: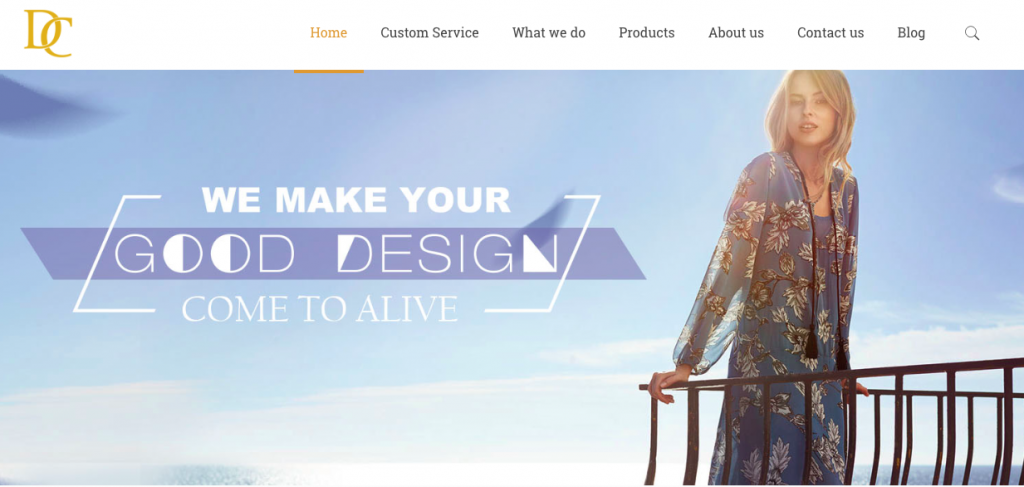 .
.
Contact: Jessica Liu
Email: dc@cndc.co
Tel: +86 020 31231044